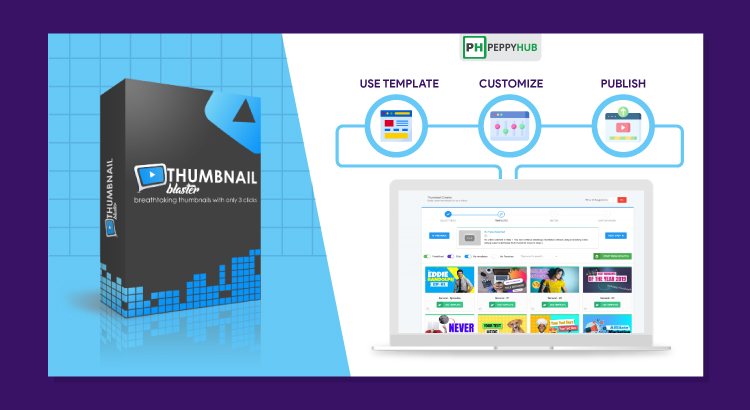 Thumbnail Blaster Review 2023: A Great Thumbnail Generator
Do you what a thumbnail blaster is? Do you freely want to target the traffic? Do you desire to boost your video views? Do you want to see yourself on the first page of YouTube? Read this thumbnail blaster review to get all your answers.
Do you know that every minute, 400 hours of video get uploaded on YouTube?
We understand that you want the viewers to first click on your video, but keep in mind that it doesn't always happen.
Now, you must be wondering where you are going wrong and the heck behind getting viewers to click on your video first.
If you want to get answers to these questions, then read this blog till the end. In this blog, we have covered the solution you were looking for to boost your view count and start earning money.
Now, it's time to answer your question. So, the answer is THUMBNAIL. Have you ever seen videos that present an attractive thumbnail upfront right? But you have to understand that just uploading a video and waiting for it to get millions of views can't just happen like that. You have to make yourself stand apart from the crowd. Without using attractive thumbnails, it becomes challenging to get views, and no one bothers to open it, no matter how good your video content is. So, to help you out today, we will be looking at the thumbnail blaster review.
So, without any further ado, let's move forward and look at it from different perspectives.
What is Thumbnail Blaster?
Thumbnail Blaster is an artificial intelligence-powered three-click online video thumbnail-creating app designed by the Blaster Suite team. This thumbnail-generating app will help you create world-class attention-grabbing thumbnails that will drive more views on the video and traffic on Facebook, Instagram, YouTube, or any other video platform.
You have to follow the below steps to start boosting your video view counts:
1. Pick one template (or let the A.I. pick it for you)- It comes with more than 30 templates over multiple niches.

2. Click, edit, and customize (or let the A.I. do it for you)- You do not need to install anything. All you have to do is simply drag and drop, resize, and adjust fonts and text. Everything is simple with its point-and-click interface. You can design a thumbnail for any video aspect ratio.

3. Publish and get views- Now, you have to click on publish button, and after that, it will quickly replace the existing video thumbnail with the one you have recently created, which will get you more publicity, more views, and more visitors. Otherwise, you can also download the thumbnail as a jpg and update it manually.
If you are tired of using complex and costly tools and wasting your hard earned money and valuable time. This tool will let you generate a pro thumbnail, that too in 60 seconds or less. It is as easy as child's play.
Now, it's time to move forward to another section of this thumbnail blaster review.
Features of Thumbnail Blaster-
What makes thumbnail blaster special from other video thumbnail makers? Let's see:
Simple to Use- It is not as complex as other designing tools like Photoshop, but it is comfortable to use and does not indicate that it delivers less than expected. Still, in turn, it exceeds your expectations in ease to use.
Drag and Drop- The tool allows you to customize colors, layouts, and themes, write texts, fonts and resize elements just by pushing a button. Everything can be performed utilizing the drag-and-drop feature which makes it more comfortable than using command-driven platforms.
Automatic Creation- It is a next-gen A.I. fueled app that produces winning thumbnails for any video in three easy steps or less if you automate the process. It allows you to create professional thumbnails without requiring any graphic design experience or utilizing any advanced tool.
Design Elements- You simply get access to a broad ever-growing library that has ready-to-use stock images and design elements. It saves you from spending hundreds of dollars. It's simple to find eye-catching elements and plug them into your video thumbnail, which improves the chances of video click-through rates.
Any Video Size- Let's discuss how it is more useful than other thumbnail generator tools in the market; it's the simplest and quickest to use, and it automatically optimizes for any device. You can build custom thumbnails using the platform's "from scratch" template feature in a minute or so with a customized layout for every niche.
Template Library- This platform has a template library of over 30 layouts covering a wide range of niches. It is effortless to find the ideal layout for any video, whether for fun or education, with click-bait templates apart from generic templates. It is more than sufficient to get any layout.
It's time to discuss the most crucial part of this Thumbnail blaster review.
Pros and Cons of Thumbnail Blaster-
Pros:
Internet-based thumbnail generator.
The only AI-based thumbnail generator.
It is a 3-step easy-to-use software.
Say goodbye to irresponsible and costly designers.
Generate high-quality professional thumbnails.
More than 100 thumbnail templates.
Massive collection of stock images and design elements.
You can customize any thumbnail with a drag-and-drop editor.
It offers a 60-day no questions asked full 100% money-back guarantee.
Cons:
Templates are not enough. You will struggle to get templates for many niches.
It would be better if the loading time is reduced a little bit.
It would be great if you still did editing to make it match your video.
You have to download the thumbnail to attach the metadata.
The A.I. image analyzer is free for anyone.
Pricing of Thumbnail Blaster-
The average price is $97. But for a short time, you can get this standard deal at just a $36.86 discounted price.
If you desire to upgrade depending on your usage, you can pick from four OTOs as well:
OTO #1: Pro Upgrade – $47
Multiple Account Support
Prolonged License Support
Sаve Your Own Templаte
Imаge Anаlysis
OTO #2: Agency Upgrade – $67
Agency Rights
Agency Website
Outsource Cheаtsheet
OTO 3: Template Club – $27/month
20 new Templаte/month
BONUS: 20 VIP templаtes
OTO 4: Lingo Blaster – $57
Trаnslаte your video titles аnd descriptions into more than 100 lаnguаges.
Note: All the packages mentioned above come backed up by a 60-day money-back guarantee.
What makes it the best Ready-Made Thumbnail Creator?
Now you must be thinking, why not just YouTube generates an automatic thumbnail for your videos? But as you know the answer, it will only display an image from your video and show it as a thumbnail for the video. And that is not a good option.
Utilizing a ready-made thumbnail generator like Thumbnail Blaster will not only save you time but will let you more money. While deciding which image to be displayed as a video thumbnail, it's essential to make the best choice without getting confused by the number of thoughts popping into your mind. Sometimes it takes too much time to determine which image will make a great thumbnail.
Popular Video sharing platforms such as Vimeo and YouTube rely on complicated algorithms that usually work well. But usually, it is not good enough to contend in a crowded place. One desire is to get higher click-through rates to overcome the competition. YouTube's algorithm builds thumbnails that don't show visitors the correct elements to get them excited to click through your videos.
Who are the creators of this tool?
The Thumbnail tool has two members: Stoica and Vlad. This platform has been designed by Vlad and Stoica, which has also given various other hits like Live Event Blaster, Video Marketing Blaster, Lingo Blaster, etc.
Thousands of entrepreneurs and small businesses have trusted and accepted their software to produce and edit videos with minimum effort. Not only they are a reputable name in the market with a long list of accomplishments and achievements, but they are also marketing specialists. That is why they have designed this software for businesses that need to generate stunning thumbnails for any video.
Final Verdict
After reading the complete thumbnail blaster review, you may get an idea about available templates, the way of working, and a lot more. We hope this review helps you understand this tool better.
Bonus Read: