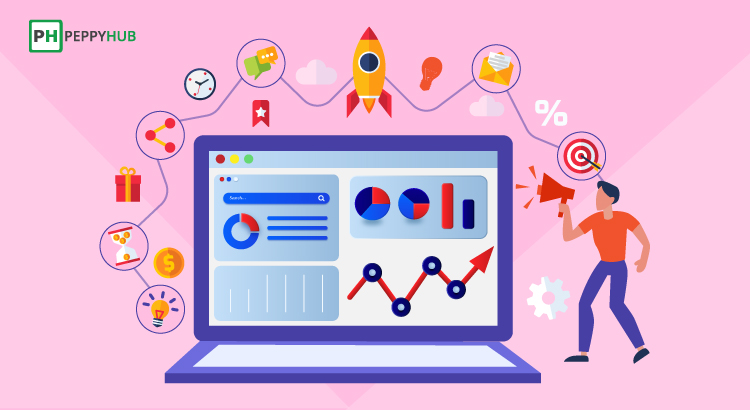 9 Best Digital Marketing Agency Tools For You.
The Pandemic has changed our ways like never before therefore digital marketing agency tools are so much in demand. Every year, it looks like new platforms and tools are entering the market and transform the way we think about digital marketing.
While at the same time, older tools become even more outdated. When developers don't recommend a tool, it doesn't take much time to fail to compete with others in the niche. If you are looking for a list of digital marketing agency tools then you are at the right place as we've compiled some of the best digital marketing agency tools for 2023.
As we will move forward you will find that these tools don't always overlap, so you may end up keeping a combination for your service. While some agencies focus on SEO, others are meant to help with automation, content marketing, project management, or a mixture of these things.
Whenever you think of choosing a platform make sure you think about your client's requirements and how a potential platform would combine with the systems already in place.
Some of the Best Digital Marketing Agency Tools
1. NotifyVisitors — Customer Behavior Analysis
Sometimes, you want to hold somebody on your website and ask what they're doing. In a physical shop, this is an option. But, online, we're bound. Luckily, tools like NotifyVisitors are making it possible to study visitor behavior and how people socialize with client websites.
We like the statistics and metrics available on NotifyVisitors as it presents an excellent understanding, even if not an indispensable service for marketing teams.
However, If you're watching for one feature to win you over, we think it could be the heatmaps. Heatmaps point where people click. This gives the most value to agencies that have clients seeking enhanced landing page performance. Alternatively, it might be a call to boost the performance of sales pages.
This is a tool with strong evidence and data. You can make changes with determination based on the behavior of website visitors.

2. Canva — Graphic Designing
Are you looking for a graphics designer to create stunning visuals? Earlier, it may sound complicated to design visuals yourself but not anymore as tools like Canva exist to eliminate the embarrassment for marketers who don't own graphics skills.
Whether you require fun, professional, funny, or simple, Canva shines in creating graphic design simple for people of all ages and skill levels.
You've probably utilized platforms that were deemed to be simple but actually caused lots of headaches. Then allow Canva to ease your concerns because it is really simple. Most things are drop-down menus, drag and drop, and simple clicks. What's more, everything happens on the website, which indicates no downloads.

3. Unbounce — Landing Pages
Building landing pages is another important task that leads to difficulties for marketing agencies, despite their experience. Holding decades of experience in marketing doesn't make landing pages any less stressful.
The sad story is that we all want landing pages for a powerful marketing strategy, but the good part is that Unbounce excludes the pressure from the process.
It doesn't limit the landing pages you manage just because they create problems.
Use a tool like Unbounce to build all the landing pages you require with ease. You'll build landing pages for clients and raise their profit, revenue, and conversion rates, without requiring hours of effort.
The issue with landing pages isn't a new one. Some marketing agencies are forced to raise their prices to accommodate landing page creation. With Unbounce, you are no longer required to charge higher prices, which improves your competitive advantage over all other services in the niche.
4. Zapier — Integration
As a marketing agency, you probably have subscriptions with dozens of various platforms. So how do you handle all of these apps? Well, with Zapier, you can now do everything under one roof. Zapier makes it possible to integrate over 1,500 different apps and streamline workflow immediately.
By linking all your different apps and platforms, everything works in unity, which has the potential to preserve many hours in a working week.

5. Google Webmasters— SEO
One of the main aims for businesses is to scale search rankings and get onto the first page of results. For the last 20 years, more and more clients have accepted this as their chief goal when reaching an ad agency. To do this, agencies need access to high-level tools like Google Webmasters.
Webmasters have added more features than we have time to discuss here, but it eventually revolves around promoting one's SEO.
As a marketing agency, nothing is wrong with adopting Google as a reliable partner. Now called Google Search Central, this service supports agencies to discover optimization opportunities for websites and pages quickly.
One thing we love about this platform is the guides and courses available for all marketers. Where better to study about the search engine and ranking system than from Google itself?

6. Xtensio — Content Marketing
For various marketing agencies, one of the biggest problems is attempting to amalgamate many voices into one. For instance, while administering a blog, how do you present one brand voice when numerous people create content?
Likewise, how do you bring everybody's thoughts together to create one cohesive content management strategy?
If you agree with this then understand that there are tools that exist to make your life more comfortable. Xtensio allows communication and collaboration features for marketers. Apart from creating, marketers usually utilize Xtensio for managing, sharing, and presenting content.
In real-time, teams work together on reports, presentations, proposals, and content. Suddenly, collaboration is easy, and all content matches the branding requirements before going live. It is one of the great digital marketing agency tools you will ever have.

7. Whatagraph — Agency Reporting
As a digital agency, you'll be well aware of clients asking for performance updates. However, it's sometimes challenging to present it so that the client knows when using data and statistics.
Therefore, we highly support programs like Whatagraph, generating reports, and managing all client accounts. This platform is so great because it was designed by marketers and is specifically designed for digital marketing agencies.
What do clients want to perceive? Even if you don't know, Whatagraph does. Not only can you list reports, but you can deliver them automatically while handling client accounts.
For those with dozens of clients and even more marketing channels, Whatagraph is the difference between successful reporting and getting lost in a sea of metrics. You can attach custom branding, share reports through email, and so much more.

8. Calendly — Organization
It is one of the most useful digital marketing agency tools. In an organization has become an issue for various marketing teams.
We understand that it's challenging to keep on top of articles, paid ads, videos, engagement with consumers, meetings, live chat, branding, funnels, user testing, and everything else that comes under the marketing umbrella.
If you feel that your brain is trying to remember everything, take a decisive step with a tool like Calendly.
If you have a universal calendar that makes all your marketing employees' lives more accessible, and stakeholders are aware of all relevant dates.
Not just that it integrates with Google Calendar and other platforms, but you can further invite clients and suppliers to meetings, keep track of all workers, and you'll never skip any important deadlines again.

9. Tropical — Ad Optimization
Finally, it would help if you didn't have to optimize ads manually when Trapica does everything automatically, such as optimizing targeting, creatives, A/B testing, and other aspects of campaigns.
Across all the largest ad platforms (and even the smaller ones), the Trapica AI marketing suite comprises a full set of tools that help to manage client accounts and reduce the pressure of social media advertising.

Wrap up
In this blog, we have seen some of the best and most useful digital marketing agency tools. Use these tools to strengthen your business.