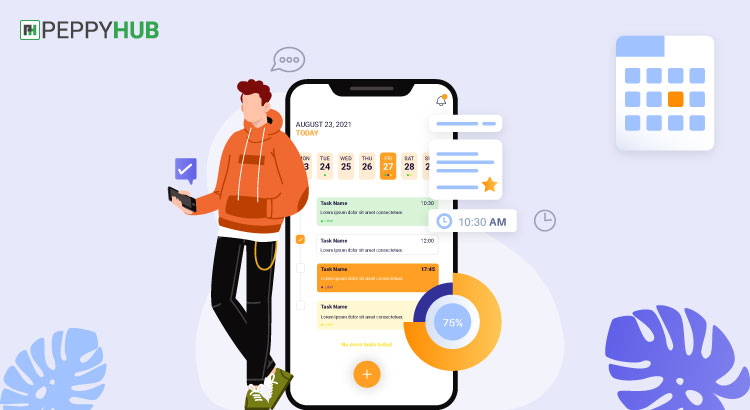 13 Best Calendar Apps for you in 2023
Whenever we want to do things quickly and effectively, we plan the day and how things get done depends on how you plan your day. Therefore to make your day more productive, you need to schedule your work and time that further paves the way for calendar applications. Let's dive into this blog to know about the best calendar app for you.
The idea behind calendar applications is to keep your day organized and escalate your productivity level. However, as we all believe "Time is money" thus, we must leverage several technology-based solutions to make the most out of our time and prevent delays in our work schedule.
Calendar apps let you schedule meetings, events, tasks, and customer calls in advance to manage your work. Several people have shifted towards calendar tools, but still, some users don't make use of calendar apps daily. They feel that calendar applications are hard to use. Moreover, the price and a lack of functionality can also threaten derivatives at the users' end.
There are several calendar apps available out there, but how to get the best calendar app that will fulfill your needs? Thus, we got you covered; today, this article will help you determine which calendar application best suits your requirements as a manager, entrepreneur, business person, and freelancer.
How to Choose the Best Calendar App:
There are a few things that you need to keep in mind while choosing the best calendar application:
a) Usability
It is the most significant question you need to ask yourself while choosing the best calendar app available. Therefore, it is considered the main yardstick on which we evaluated various applications.
People, who regularly experience a hectic work schedule, require to get an application that is simple to use. You don't need to study long manuals on how to utilize the calendar applications. Rather, the application usage process should be self-explanatory – so much so that even a novice could use it.
Thus to get software that provides basic templates for using the app for different industries and professionals.
b) Value for Money
You should go for a calendar application that doesn't strain your pocket. This way, you can utilize it for a longer period. But, on the other hand, it provides no privilege if you start utilizing one calendar application with the highest number of features and leave it because it didn't have the value factor going on.
It is your responsibility to determine the best calendar application for your personal use and your team. So let's jump on the significant part of this article and look at the different calendar apps.
c) Feature Sets of Calendar Apps
Features are the most obvious thing you need to check while choosing the best calendar app. However, first, you have to check if the given features in the calendar application are beneficial for you or not.
There are a number of calendar apps that are available in the market right now. So, you have to carefully choose which features matter to you and better organize your work schedule in the required manner. Of course, the best calendar app is sharing and giving other people access to your schedule.
Some of the Best Calendar App.
1. Google Calendar
The best part about Google Calendar is making multiple calendars in one app with your Gmail or Google account. Additionally, Google Calendar integrates with all other applications available in the cloud (SaaS) and desktop.
It is the official (default) calendar app for Android phones and other Android devices. Numerous people believe that there is nothing special about the Google Calendar app for FREE on Android devices. The app is easy to use and leads to hundreds of integrations.
Key Features:
Different color pallets
Smart title and text suggestions
G Suite and hundred other integrations
Simple calendar invite
Linked with emails
iOS and Android apps
Events from Gmail accounts are added automatically.
Price:
It is available for FREE with a Google account.

2. Apple Calendar

It is the most preferred app for Apple product users on Mac or iOS. Apple Calendar is the default calendar app on all Apple devices and encourages you to update your schedule on iPhone, Mac, iCloud, and iPad. In addition, it has a neat and simple user interface that helps you focus on your forthcoming events and get organized with its calendar app.
It adds integration on various other iOS apps with drag and drops functionality. You can plan new events, edit titles and descriptions, set location, create a note, set reminders, and welcome meeting members all in one apple device.
Key Features:
Run multiple accounts in one calendar
Integrate event map by adding the location
Integrate with Google
Change color code
Invite people and get invited on other's calendar
Include travel time to the event location
Invite team and family members
Pricing:
It is available for Free on Mac and iOS devices.

3. Outlook Calendar
Microsoft Outlook Calendar schedules functionality for Outlook users to integrate their emails, contacts, and other Outlook event features. With Outlook Calendar, you can organize events, appointments, group schedules, and organize your meetings.
It serves as a personal task manager with a simple-to-use UI. You can share the calendar with anyone in your team who can see and manage their schedules or subscribe to one another's calendars to see real-time updates.
You can use outlook calendar on iOS and Android devices. Unfortunately, the Mac version of Outlook is not so apt as it is a Windows Friendly app, but Microsoft is working on it. But, this calendar tool can make you more productive if you are a Windows lover and work more on desktop apps.
The Free version of Outlook can meet your basic needs like drag and drop options to generate a meeting or a task and send a meeting request. You can further subscribe to the Pro version of Microsoft Office to get more functionalities.
Key Features:
Create events, and appointments
Calendar view with Emails
Organize meetings
Group schedules
Overlay view
Manage other's calendar
Send calendar invites
Ability to subscribe to Internet Calendar
Pricing:
Free plan
Paid plan starting from $5.99/ monthly with Office 365 for desktop apps
4. 24me
If you want a calendar app that can run on multiple applications, then 24me will be the best for you. It acts as a mobile assistant with a unified interface for appointment booking, meetings, notes, and tasks.
You can quickly synchronize your Outlook, Yahoo!, iCloud, and Google Calendar to have one view for all your other apps. In addition, you can integrate other social media platforms such as Facebook and Twitter. You can also integrate your banking apps with 24me. Thus, 24me can make your disordered routine calmer and smoother.
Key Features:
Multiple calendar view
Create to-do items
Sync with all devices
Ability to set conference calls
Set personal reminders
Create notes
Smart alerts for notifications
Pricing:
Free plan
Paid plan starting at $4.99
5. Fantastical
Fantastical is a great app by Flexibits. If you want the best-paid calendar app for iOS and Mac, this app will satisfy all your needs. It is pleasing to have an app for Apple products, but you can also download it for the desktop.
It is a handy calendar app with a colorful view that provides you with more control. You can instantly add events to your calendar from the menu bar with the event details which allows you to see the agenda items for your set event. In the event details, you can attach links, invitees, notes, and location. In addition, you can integrate it with other Apple apps such as Safari and Maps.
The fantastical app can get the location directly from your event details and add it to your event. In addition, you can localize your Fantastical app into six available languages.
Key Features:
File attachments
Offer multiple event times
Ability to set light and dark app mode
Check contact availability
Integrates with other popular calendar services
Templates: You can add the most frequently used events and tasks
Plan and schedule tasks
See weather conditions for your set event dates
Get time zone support
Pricing:
Billed monthly: $4.99/month
Billed yearly: $3.33/month

6. Thunderbird Lightning
Thunderbird is one of the most useful free Linux calendar apps. This tool is also utilized for emails and gives calendar functionality. You can get the Thunderbird from the add-on and also quickly use it from the app. It gives you a tab for tasks, email, and calendar. So you can quickly use it for team communication, management, and appointment scheduling.
The Thunderbird Lightning provides you with a calendar tab to see the complete summary of all the events in your schedule. It also presents the events planned for the future. You can simply search for your events with the time filters and built-in categories for the client calls, birthdays, special events, etc. It is the most suitable choice for Linux users and can be downloaded for Windows.
Key Features:
Manage multiple calendars
Build a to-do list
Invite friends to the event
Subscribe to public events
Synchronize with your emails
Pricing:
It is available for FREE.

7. Any. do
Any.do is a calendar app available on almost all the devices you can think of. It is available on Android, iPhone, iPad, Mac, Web, Siri, Amazon, Windows Desktop, Slack, Chrome and Firefox extensions, and wearable gears.
It acts as an all-in-one application to handle your goals, tasks, notes, reminders, and schedule. Any.do let you stay on top of the loop with its elegant calendar app. It provides location-based reminders and real-time notifications on your schedule.
Just like Apple Calendar, you can calculate the travel time to location-based events with Any. do. Moreover, you can add custom colors for your specific events or appointments to save yourself from clutter.
Key Features:
Daily planner
Attachments
Reminders
Checklist items
Color the tasks
Location-based reminders
Customized theme
Recurring tasks
Share, delegate, and chat with the team on a calendar
Pricing:
Free plan
Paid plans: Starting at $5.99/ monthly (billed annually)

8. My Study Life
This app is the most suitable calendar app for teachers and students. Scheduling the course work is necessary for both students and teachers to complete work on time. The educational sector requirements are slightly different from the corporate sector, so utilizing a dedicated calendar app for students and teachers encourages people in this field.
The students in universities regularly follow a semester system based on a yearly quarter. With such apps, they can simply schedule their studies and courses, making themselves more productive.
My Study Life has made it more comfortable for educationists and students to get more with calendar apps. It is available on Android, iOS, and the web. You can further set the lesson plans, log assignments, keep track of exams, and simply create a task.
Key Features:
Manage schedules and timetables
Create tasks
Track your tasks
Set reminders
Manage classes
Sync with all devices
Store exams
Pricing:
It is available for Free.

9. TimeTree
TimeTree is one of the best calendar apps utilized for team collaboration. When you build a new calendar on TimeTree, the application will ask you the calendar's purpose, such as; for work, relationship, group, friends, and family, or personal calendar. It provides the capability to add comments and begin a discussion on the calendar plan. You can simply share your calendar schedule with others as well.
With the aid of TimeTree, you can build multiple calendars to showcase your events on the overlay and provide a complete view of your schedule. Moreover, you can pick different colors with the help of color codes and import others' calendars as well.
Key Features:
Various calendars with sharing capability
Fixed details of the plan with comments and images
Set a plan to be used later with the 'Keep' tab
Activity feed
Pricing:
10. Cozi
Do you want a calendar app for your family? Then Cozi will satisfy your needs to book your family schedules. Family schedules are challenging to maintain and have many conflicting appointments. It is intended for families that are very busy and find it difficult to get Time for them. You can combine different calendars in one view, build checklists, shopping lists, and set the schedules.
Cozi allows you to create the main calendar, and you can share it with anyone you want within your friends and family. Every participant in the calendar schedule is given a separate color, so it is simple to identify the responsibilities. Furthermore, you can collaborate with your family as well with Cozi in-built messenger.
Key Feature:
Plan activities and events in one place
Use it from mobile devices
Design and share to-do list and grocery list
Recipe and meal planner
Family journal
Pricing:
Free plan
Paid plan: Starting from $29.99/year

11. Woven
The woven app encourages you to manage your Time efficiently by taking all your personal, work, and family calendars in one place. In addition, woven grants you the power to manage your calendar with smart features such as scheduling links, templates, tags, analytics, insights, group polls, and calendar sharing.
You can simply sync your Woven calendar with many accounts like Gmail and Outlook. This gives liveliness to your calendar scheduling activity and encourages you to focus on your deliverables. In addition, woven updates its app background with more widgets and gives a dark mode view with smart fields.
The group poll feature gives an advantage to the Woven app, which is not given by other calendar applications. For instance, you can ask others for the Best time for a meeting and share your availability with your colleagues.
Key Features:
Smart time finding
Built-in group polls
Smart templates
Time analytics
iOS device integration
Availability sharing
Scheduling link
Pricing:
12. Timepage
Timepage is a visually appealing app created by the makers of the Moleskine notebook.
The interface is clutter-free and classic, with a red, white, and black color scheme. Timepage goes with the iPad, iPhone, and Apple Watch.
It is one of the best calendar apps with features you may not get anywhere else. For instance, it incorporates Time tracking with a smart "heat map" solution that enables you to understand you're busy during the week.
Key Features:
Split-screen option
Add events directly from the month view
Desktop mode with a daily schedule and live clock
Expand the month view full screen to set up six weeks at once
Double view options
Pricing:
$1.99 one-month trial
$11.99/year

13. Business Calendar 2
Just as the name implies, Business Calendar 2 is a user-friendly application intended for business and casual folks alike. Business Calendar 2 combines a stylish user interface, tons of widgets, and managing many calendars. So if you are into multitasking and team management, this tool is the right fit for your company.
This app allows many templates and pre-installed themes. Take your pick according to your specifications. The multi-calendar system comes with a nice design to not have to scroll over to each calendar.
The free version pretty much includes it all. However, if you would like the ad-free experience, then go for the paid version.
Key Features:
Various widgets & multiple calendar facilities.
Schedule appointments easily with just a few taps.
Setup automated alerts, employee, and real-time schedule updates.
Room booking management.
Multi-location support to facilitate 24/7 remote access.
Pricing:
Business Calendar 2 is free for all.
Contains in-app purchases.
Wrapping it up
You may desire to get productive with calendar apps, but nobody wants to waste long hours tweaking around with minor level complications. So instead, you are required to choose the best calendar app that enables you to generate repeat/recurring tasks and/or events.
Read More: