Top 10 Project Management Software To Use In 2023
Why is project management (PM) so time-consuming and inefficient? Are you still immersing yourself in post-its, updating spreadsheets, and attending weekly update meetings? These days, there is plenty of the best project management software available to help you stay on top of each project.
That is a total waste of time and effort. You may receive a complete image of your project at a single glance with the aid of the right software program.
What is Project Management Software?
Project management software is used by a wide range of enterprises to plan, assign resources, and schedule projects. It enables project managers and entire teams to keep track of budgets, quality control, and other project-related data. This program also serves as a platform for improving stakeholder collaboration on projects.
What makes a good Project Management Software?
There is a lot to consider while operating and managing projects, from tracking down deliverables to managing resources, and from budget management to cooperation with team members.
This is also true when it comes to selecting the best project management software product. To help you make your selection, here is a list of the top 5 main functioning characteristics of project management software.
Schedules – Many tools include calendars, Gantt charts, and milestone tools to help you see where work fits into the overall project and how much time you have to finish it.
File sharing – The ability to exchange and organize critical project papers cuts down on time spent looking for files.
Communication – This is important in project management because good communication allows for rapid and easy problem solutions.
Reporting – All team members need to be up to speed on the project as a whole. This is, however, a substantial benefit for project managers who want to ensure that the project is on track and that tasks are done on time.
Task lists – It's vital to be able to assign and adjust task statuses so that everyone in your team is on the same page.
Let's Take a Look at the Top 10 Best Project Management Software.
1. monday.com
Best for building custom workflows across teams
Hulu, BBC Studios, Coca-Cola, L'Oréal Paris, Adobe, and Deezer are among the firms that utilize Monday.com's award-winning project management software.
Monday.com's project management features include resource and project management, time tracking, communication, and reporting, to name a few. Users may add files to cards, provide comments, and identify teammates, among other things.
It also features a superb project reporting dashboard that can collect data from several boards, allowing for more accurate progress tracking. While monday.com may not offer the same extensive range of project accounting and invoicing tools as other programs, it can be used to monitor hours, deadlines, and bills.
Overall, it's a very adaptable software that allows you to work in whatever Kanban or other technique best suits your project and team. There are also some helpful workflow tools for automating sections of your procedure.
Project management software such as Slack, Google Drive, Gmail, Google Calendar, Jira, GitHub, Trello, Dropbox, Typeform, and many others are available through Monday.com's Zapier connectors.
Monday.com is free for up to two people to use. Paid plans begin at $11/user/month and include a 14-day trial.
2. ClickUp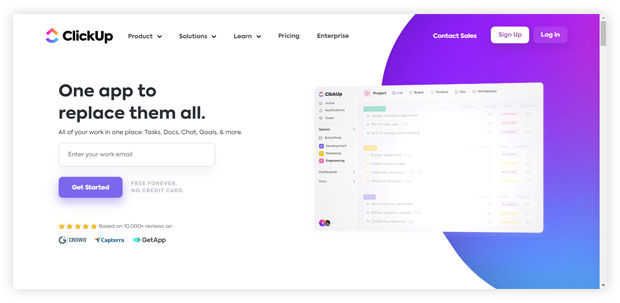 Best for unlimited users/seats
ClickUp is a robust project management software application that allows you to organize and complete all of your team's tasks in one place. Users may use a centralized workspace to plan projects, organize activities, and manage resources, as well as communicate and interact with team members and visitors.
Task management capabilities include task checklists, subtasks, and templates, as well as the ability to filter, sort, search for, rearrange, and view tasks in the most efficient way for the team. To visualize tasks, users may construct Gantt charts, calendars, and timelines.
ClickUp also includes tools for creating, sharing, and collaboratively modifying Wikis and documents. Users may leave comments on documents and assignments, assign notes, and engage with other team members to increase communication and cooperation.
One of the reporting features is the ability to create custom dashboards, as well as six built-in report types for team reporting.
ClickUp has native connections with Slack, G Suite, Dropbox, and a slew of other platforms, as well as Zapier connectors with over 1,000 more.
ClickUp's free plan is comprehensive and covers all of the essential features. The unlimited plan starts at $5 per user per month and includes more features.
3. Forecast. app
Best AI-native project planning tool
The forecast is a resource and project management platform that is used by agencies, software companies, and consulting organizations in more than 40 countries.
It comes with capabilities for handling everything from quotations to bills, as well as advanced automation for estimating project delivery dates, forecasting capacity demands, and enhancing productivity.
Their AI generates rules based on user input and hundreds of thousands of project learnings. It is one of the best software management software.
Let's have a look at the features. The Auto-Schedule tool is useful for project scheduling, estimating, and assigning resources to tasks automatically. It has a drag-and-drop module that allows you to quickly change plans and resources.
Another great feature is that the program creates a budget for each project automatically, along with crucial financial data for tracking projected vs. actual costs.
It also allows you to compare and contrast different invoicing methods (fixed price, time & materials) in real-time. It provides powerful real-time reports that you can personalize.
The forecast has added the first-of-its-kind functionality for managing projects on a retainer basis. A dashboard with retainer periods and totals allows you to keep track of current project finances while keeping an eye on team workloads and delivery time.
Several turnkey interfaces with popular project management systems are available, as well as two-way sync with Jira on the market. It also adds PM features to accounting systems like Quickbooks and Xero.
With a 10-seat minimum need, forecast prices start at $31.76/user/month (€27/user/month). A 14-day free trial is available.
4. PSOhub
Best for integrating project management with CRM
PSOhub is professional services automation (PSA) software that provides all-in-one project management, allowing users to keep track of all aspects of the process, from deal wins to deliverables, and everything in between.
PSOhub was created with grassroots marketing and creative agencies in mind, but it can also be used by accountancy businesses, architects, managed IT services providers and more.
Predictive project management, accessible task management, smart contract administration, real-time resource management, time and cost monitoring, and invoicing are some of the most important aspects.
The self-driving tools of PSOhub are its finest features, as they automate project creation, milestone alarms, time monitoring, and more. Users may focus less on administration and more on serving clients as automated and self-driving features handle monotonous and time-consuming activities.
Integrations are available for CRMs like HubSpot, Salesforce, and Dynamics 365, as well as accounting tools like Quickbooks, Xero, and others. Additional integrations are available through Zapier and the PSOhub API.
PSOhub has a 30-day free trial and charges $8.50 per user each month.
5. Celoxis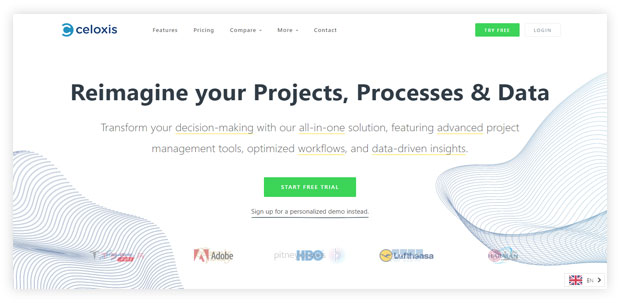 Best for customer-facing teams
Celoxis is an all-in-one project portfolio management and work collaboration software that is fully web-based. Celoxis is one of the most widely used project management systems in the world, with HBO, Rolex, Virgin Care, KPMG, Singapore Post, Del Monte, LG, and Deloitte using it to streamline their projects, processes, and people.
Celoxis' real-world project schedules and interactive Gantt Charts include all team and work dynamics, such as geographically spread project teams operating in various time zones, part-time resources, unavoidable absences, interim resource swaps, and even inter-project dependencies.
Celoxis has a robust and unique task management system. Teams have an advantage over other solutions by reducing the need for several software applications. Celoxis allows them to view all of their jobs and to-dos in one place, as well as report issues, handle tickets, and full time.
They also receive relevant alerts in their mailbox and have the ability to send updates without logging in. With project conversations, @mention comments, file sharing, document version control, and an activity stream, collaboration is a breeze.
80% of their common tasks, such as initiating a timer, uploading a file, or changing status, can be completed directly from their dashboards.
With a real-time project tracker, resource availability and utilization, timesheets, project finances, risks, issues, and to-dos, Celoxis offers executives a single source of truth.
Celoxis has tremendous analytical capabilities, and its colorful and dynamic charts give your project data a new lease on life. Organizations may use their built-in best practice reports and dashboards to get 360-degree real-time insights into project health, actuals vs. projections, team utilization, and profit margins.
You can effortlessly track all of your financial KPIs, such as NPV, with their extensive custom field library, which includes formula fields.
When it comes to diverse companies and sectors, Celoxis is incredibly configurable and versatile. You may design and customize the intuitive project and business processes within the project management system using their bespoke applications.
Celoxis is one of the few project management software packages that come in both SaaS and on-premise versions. On-premise costs $450 per user one-time and SaaS costs $22.50 per user each month (annually). Both come with a 30-day free trial and a minimum 5-user sign-up requirement.
6. awork
Best UI for usability & intuitiveness
awork is a project management tool with an easy-to-use interface that allows creative and project teams to swiftly integrate it into their daily operations.
Tools for organizing tasks and activities in to-do lists, creating boards and schedules, managing resources, and connecting with coworkers are all available in awork.
Teams may, for example, utilize project templates to organize all of their clients' schedules, then assign the team based on their availability and begin working on tasks and files right immediately.
Teams may track their progress against project milestones with time tracking tools incorporated into the project management process in awork. Visual reports that may be customized help teams to keep a closer eye on metrics and progress.
awork cannot determine charge rates or monetary budgets, while having direct interaction with typical billing systems.
The user interface of awork ensures a quick learning curve for all users, even non-specialists, and does not need any prior project management experience. An awork membership includes personal onboarding assistance as well as a wide choice of lessons and best practices.
Slack, Microsoft Teams, Google Drive, OneDrive, Google Calendar, Office 365, and Google Assistant are among the communication platforms that awork integrates with, as are various payment systems. Zapier has more integrations available. Also included is unlimited access to awork's open API.
awork starts at $11.76 per month per user (10€ per month per user). A 14-day free trial and a 30-day money-back guarantee are also available.
8. GanttPro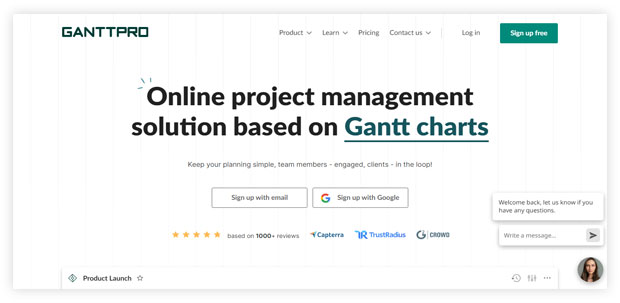 Best Gantt chart creation tool
GanttPRO is a Gantt chart-based project management software that can be used to manage a variety of projects and teams from various industries. It stands out for its user-friendly layout and extensive functionality.
The program contains tools for efficiently breaking down projects into subtasks, sibling tasks, and subprojects, as well as establishing dependencies and milestones. Users may pick between the Gantt chart, Board views, and task dashboards to gain better visibility.
Statuses, priorities, length & estimate, progress, dates and deadlines, assignees, and more are all included in GanttPRO's task management capabilities.
Using comments, remarks, and attachments, GanttPRO lets teams communicate in real-time. Resource management and workload functions are also offered for keeping track of team members' workload and responsibilities.
GanttPRO integrates with Jira, Google Drive, Slack, and a variety of other apps.
GanttPRO is available for $8.90 per user per month with a 14-day free trial.
9. Nutcache
Best for advanced time tracking
Nutcache is a project management software that may be used by teams of any size. Through budget, time, task, and expenditure monitoring, users can effortlessly manage every stage of the project lifecycle, from the initial project estimate through final invoicing.
Nutcache has all of the tools you'll need to better manage your workload and understand what jobs need to be performed or prioritized. Tasks can also be organized by the due date or project. With simple drag-drop-and-click editing tools, use the Gantt chart to plan, track, and graphically arrange work.
Nutcache allows you to create custom workflows, break work into digestible pieces, assign multiple assignees to a job, establish budget alerts, track budgets by the hour or amount, and utilize KPIs to remain on a budget, among other things (like the introduction of a freelancer version of the app).
Dynacom Accounting, PayPal, 2Checkout, Stripe, Authorized.Net, QuickBooks Online, Google Sign In, Google Drive, GitHub, Slack, and hundreds of more apps are among the Zapier integrations.
Nutcache has a freemium plan for up to 20 people with certain functionality limits that starts at $6/user/month. A 14-day free trial is included with all paid programs.
10. ProWorkflow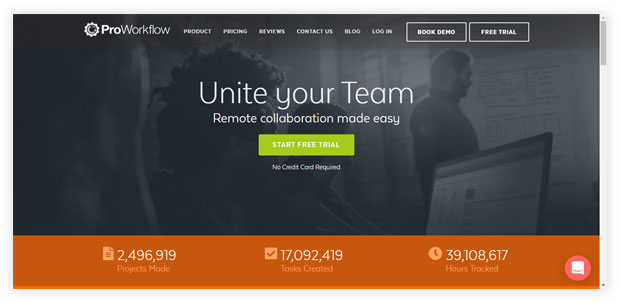 Best for unlimited client/contractor access
ProWorkflow is a comprehensive project management tool available online. Teams may follow projects from start to finish and report on every activity that occurs in the interim.
Tasks are one of ProWorkflow's most valuable assets since they enable you to establish start and stop dates, task assignees, hour allocations, and rates.
Based on how many tasks they're assigned to, when all of those tasks will be active, and how much time was given to these activities, it may then identify which of your employees could be accessible.
You'll always be completely informed and up to speed on project progress thanks to Tasks, which allow for both file sharing and communications.
Throughout the project lifespan, the application allows users to update any part of the project, including dates, assignments, categories, and more. Many aspects, such as the Gantt chart, the Kanban board, and assigning people to tasks, may be changed utilizing click and drag capability.
The tool's structure is also very simple — all active projects and associated data can be found on the projects page, all time-related information can be found on the time page, and so on.
All of the most popular accounting platforms, including Xero, MYOB, and Quickbooks, as well as major file storage platforms, such as Google Workspace, Box, and OneDrive, are directly integrated with ProWorkflow. SSO connectivity, such as Azure, is also available. Zapier is also integrated with the tool for anything else.
ProWorkflow has a 14-day free trial and costs $20 per user per month.
CONCLUSION
You'll need the top 11 best project management software in 2020 if you want to improve the way your team works and make sure you're on top of everything. That's exactly what we've got here. Hopefully, one or more of these will prove to be the most effective tool for your team.
You can ensure that you have all you need to keep your team focused and ready to go, regardless of what you require next. Each of these tools has great features, and we're confident you'll enjoy them. Examine how each of them may benefit you and how you can sign up for any of them.
Read more: