Top 10 Best Retail Management Software in 2023 (Free & Paid)
Because of one obvious reason, online retail, often known as eCommerce, has become the poster child of 2020. COVID quarantine and social distance restrictions put offline retail into the red, with Forrester forecasting worldwide losses of $2.1 billion. We have some of the best retail management software mentioned in this list.
Due to a huge shift in buying behaviors in 2020, Ken Fleming, president of Logistyx, predicts that eCommerce growth will reach a lofty 20% year over year.
Everyone in retail looked to technology for a rescuer when the business climate changed as quickly as it did in early 2020. Retailers aim to close the gap between online and physical sales, and eCommerce store managers must use automation to streamline all operations and reduce human involvement.
Let's have a look at the top eCommerce software solutions for the retail industry, which will, to some degree, determine the future of shopping — sooner rather than later.
If you're an experienced retailer wanting to add retail software to your tech stack, or an eCommerce newbie searching for advice, keep reading for a detailed look at the software used in retail businesses.
Types of Retail Management Software
With $5.4 trillion in retail sales in the United States alone in 2019, software developers will undoubtedly be on the lookout for ways to cater to this industry and provide solutions that will simplify or enhance certain processes in retail operations.
The software for managing retail shops is vast and daunting, ranging from readymade eCommerce platforms such as Shopify and BigCommerce to inventory management systems, social networking systems, and CRMs.
No worries.
We're here to assist you to figure out how to use these helpful tools. If you own a physical store or operate an online store, the retail software solutions in this study can help you expand your business.
These are the major types of Retail Software:
eCommerce Platforms
Retail management software
Retail inventory management software
Social media marketing
Omnichannel retail software
Metrics & Analytics solutions
Customer Relations Management tools
Payment processing software
Looking for a tech solution for running your retail business?
RMS software is an all-in-one application that offers comprehensive retail management system solutions, including accounting, point-of-sale, CRM, inventory management, e-commerce interfaces, and more.
Retailers may develop and use real-time reports with the aid of this retail management system or online retail software to stay up to speed on business dynamics and make informed decisions.
What is a Retail Management Software?
Retail management software is a collection of software products that help retailers manage, optimize, and streamline their in-store operations and workflows. The program helps merchants become more digitally proficient, increase sales, and overcome any problems they may have.
Customer segmentation and history, product, and sales management, marketing, supply chain management, checkout management, POS integration, personnel management, and reporting and analytics are all included in the retail management system.
How To Select The Best Retail Management Software for Your Business?
Recent technology advancements have simplified customer journeys and opened up new online shopping options for clients. Traditional brick-and-mortar retail establishments must embrace technology that keeps them current, competitive, appealing, and lucrative.
Choosing the finest retail management solution on your own, however, might be difficult. This is where GoodFirms comes in to assist retailers in making informed purchasing selections. GoodFirms is a renowned software research firm that links B2B buyers with cutting-edge software vendors.
Thousands of companies rely on GoodFirms' research and up-to-date listings of software products and services to make educated business decisions.
Before you buy, utilize the GoodFirm research team's list of the best retail management software and use sophisticated filters, read user reviews, and compare features and price plans of the top retail management software solutions.
10 Best Retail Management Software in 2023.
1. iAuditor By SafetyCulture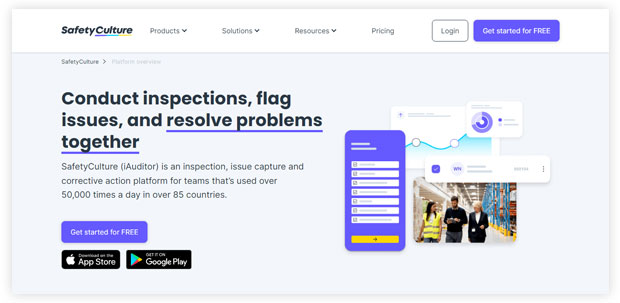 iAuditor is a digital tool that may be used to keep track of product stock in terms of quality and quantity. It is available on mobile and online.
With the function of its smart forms, which automatically transforms current paper files into digital forms, this is useful software for organizations that aim to shift away from using paper forms and checklists while performing retail inventory.
The iAuditor templates collection provides hundreds of free configurable templates whether you're just getting started with retail inventory management or seeking a product that better meets your needs.
Store managers and supervisors may access real-time inventory reports via the iAuditor mobile app, which are created automatically when an inspection is completed. Customizations such as media uploads, product SKUs, comments, logic queries, and location data make inspections even easier.
To optimize process automation, this software may be connected with other inventory management systems. Smart sensors from iAuditor operate in tandem with the app to track and preserve the quality of perishable goods.
Temperature, humidity, and air quality may all be monitored using the sensors. More functions for these sensors are being added all the time. For smoother onboarding, iAuditor also provides free customer assistance and training resources.
Should I Use an iAuditor?
iAuditor is inventory management software for small and medium businesses and corporations in any sector. Employees can learn how to use the app in minutes thanks to a user-friendly mobile and web app layout. Install iAuditor on your iOS or Android smartphone, or utilize the online platform to view your data in a variety of browsers.
Pricing
Free account- 10 users with unlimited inspections are included in the free account.
Premium – $19 per month for more than ten users including analytics and integrations.
Enterprise – For large businesses that require specialized account management and next-level assistance; pricing is available upon request.
2. Ordoro
Ordoro is a web platform that controls the whole product sales process from start to finish. This system comes with a robust product inventory management tool that works in tandem with shipping, kitting, dropshipping, automation, barcode scanning, supplier analytics, insurance, and returns.
Ordoro's purpose is to provide an automated software solution that updates product information on a regular basis.
Should I Use Ordoro?
If you have a medium to large-scale business, Ordoro retail inventory management is for you. It includes an inventory control center that can be used as a gateway to numerous selling channels as well as a hub for your suppliers.
A factor that generates a sense of scarcity is the maximum export amount. For example, the total stock available is 50, but this tool restricts the product number available in your shop to 10, and it automatically replenishes it.
Overall, Ordoro is an all-in-one system with a high price tag, so be sure you can take advantage of all of its capabilities.
Pricing
Express – $59 per month, however, this plan does not include inventory.
pro – Inventory management and supplier management are available in the Pro plan, which costs $499 per month.
Enterprise – $999 per month for large enterprises that want extra capabilities like integrations and customizable reporting.
3. inFlow Inventory
InFlow inventory, like Ordoro, is a digital platform for managing product inventory. The main difference is that the program is simpler and cleaner.
Additional capabilities include sales and billing in this retail inventory management software. With its automatic features, inFlow promises to keep your business operating smoothly. It is one of the best retail management software to know about.
Should I use the inFlow Inventory?
Small, medium, and big enterprises are all served by inFlow. Unlike the previous product, Ordoro, the inventory management capability is included in all plans.
If you need to link an elaborate inventory management software with your existing e-commerce shop, this is the program to use.
Pricing
Light – $79 per month for two team members, with one location, 100 orders, and two integrations.
Standard – $199 per month for 5 team members; unlimited locations, 1,000 orders, and 3 integrations are included.
Plus – $499 a month for ten team members; infinite inventory locations are available, similar to the standard plan; Plus users can fulfill 10,000 orders per month and utilize unlimited integrations.
4. PartKeepr
Partkeepr is a free and open-source inventory management system for retailers. The source code on their website includes the essential functionality for keeping track of product inventories.
The downloadable source code's design is evocative of the previous decade, although it might be modified with a few changes to the source code.
Should I use PartKeepr?
Partkeepr allows business owners and staff that are familiar with coding software and designing applications to save money. The very versatile yet time-consuming programming possibilities are the software's strong suit.
If you wish to develop your own inventory system or if program design isn't a top concern, this is the software for you. However, keep in mind that before using this inventory system, staff may require substantial training.
Pricing
Free – PartKeepr is an open-source software solution
5. Shopify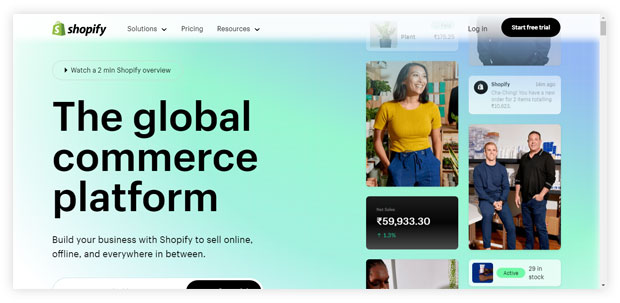 Shopify is an online marketplace that allows users to sell their goods and services. This virtual storefront may aid in the development of your brand and the management of your product listings. Choose from existing templates to save time developing your online store, or start from scratch using Shopify's simple interface.
Should I Use Shopify?
It's worth noting that Shopify's main focus is on building and developing online stores for businesses and artists. As an added bonus, it provides retail inventory management. If you're going to transfer your business to an exclusive online platform, you should utilize this software.
Shopify gives company owners more independence and flexibility by providing tools like an inventory of available items and a summary of completed orders.
Pricing
There's a 14-day free trial to get you started.
Basic – $29 per month for two staff accounts, plus a 2% transaction cost
Shopify – costs $79 per month for five employee accounts with a 1% transaction charge.
Advanced Shopify – $299 per month for 15 staff accounts and a 0.5 percent transaction charge; this plan includes two extra features: an advanced report builder and third-party shipping rates.
6. Sortly
Sortly is a simple retail inventory management software that makes the process simple for even the most inexperienced users. Sortly, unlike the previous programs, can track raw materials as well as other goods.
For quicker and more effective monitoring and recordkeeping, this inventory management tool can produce QR and barcodes for items and other commodities.
Fields for data entry can be adjusted to track only what's important or needs to be watched at any particular moment. The data from inventory reports may then be imported and exported in bulk using CSV files.
Should I Use Sortly?
Sortly is suggested for new businesses since it offers a simple, user-friendly interface. It supports common web browsers and is available on mobile devices and the web. The program is great for companies that keep track of stock and inventory.
Users may simply link the program with their existing systems, but it also works effectively as a standalone inventory management system if a POS or accounting system isn't required.
Pricing
There's a 14-day free trial to get you started.
Advanced – $49 for three users, including 2,000 entries and limitless QR codes.
Ultra – $119 for 5 free user licenses with advanced capabilities such as handheld scanning, integrations, and API access.
Enterprise – A customized account with more than 10 users is projected to cost $249. Multi-level user rights, wide-scale integrations, greater security, single sign-on service, and team member training are all included in this tier, which is more sophisticated than Ultra accounts. For additional information about this account, contact Sortly.
7. RightControl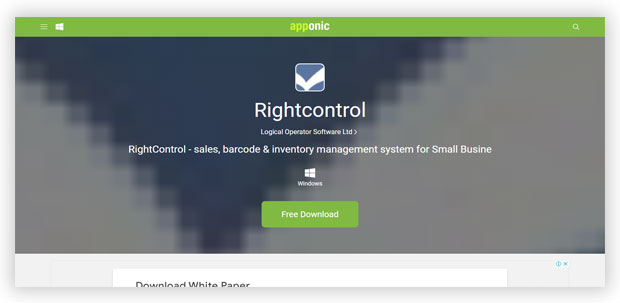 RightControl is a dependable and easy-to-use retail inventory management system. This retail inventory management software can only be used on personal computers and has a software design that is similar to that of other popular commercial software systems.
This software's capabilities are confined to inventory management.
Should I use RightControl?
RightControl is designed for intermediate users who are already familiar with previous applications. Because of the cost and restricted locations, this is best for small and medium-sized enterprises.
This system is not compatible with other software, which is a prerequisite for most major corporations or well-established organizations.
RightControl meets the essential requirements for retail inventory management software, however, it lacks a web platform and other capabilities.
Pricing
Lite – Lite is a free version with a restriction of one terminal and user and ten inventory lines.
Solo – £0.99 per month for a single terminal and user; 300 inventory lines
Pro – £4.99 per month for three terminals and users, plus 1000 inventory lines.
Workgroup – £19.99 per month for 10 terminals and users; limitless inventory lines
Every feature is available on all plans.
8. Revel
Revel is a retail POS system that includes both hardware and software. Retail inventory management works in tandem with other aspects like delivery and personnel management.
Real-time stock availability and the option to issue purchase orders when inventories are low made retail inventory management simple.
Should I use Revel?
The Revel retail management system is suitable for businesses of all sizes. If you need to integrate a POS system with inventory management tools for your physical stores, this application is for you.
Additional capabilities such as tableside ordering and floor plan and table management make this sort of retail inventory management software ideal for restaurants. For more information on the configurable options, contact Revel.
Pricing
The POS software and implementation fees for Revel are split in price. Unlike Shopify, which charges 2% for each transaction, processing remains free.
Hardware expenditures, such as iPads, printers, and payment devices, are extra. Revel-branded iPad stands and self-service kiosks are also available.
Starts at $99 per month for POS software.
The cost of implementation begins at $674.
9. ShopKeep
ShopKeep.com is a comprehensive point-of-sale system with retail inventory management capabilities. ShopKeep concentrates on real sales and product availability. The inventory tab of the app may be customized, and new goods can be added manually or by downloading a CSV file.
Inventory products may be sorted by department, category, and supplier, which saves time and prevents product problems.
Should I Use ShopKeep?
Shopkeep is more of an online shop platform than inventory management software, however, it does include inventory management capabilities. This software is a great choice for any company that needs a POS system that can also manage inventory.
ShopKeep's basic account features are not as limited as those of other POS system software competitors, making it easy to get started.
Pricing
Basic – $69 per month for one licensed user
Essential – $99 per month for a single registered license with extra capabilities including Quickbooks online integrations, gift cards, and mobile sales monitoring.
Advanced – $199 per month for unlimited licenses per location, with special features including a customer loyalty program, social media management, and a hardware bundle that includes a tablet pos system.
10. Vend
Vend provides retail inventory management software that is compatible with a variety of point-of-sale systems. If your company sells items on many platforms, this app is comparable to prior applications with inventory capabilities including stock control and multi-channel inventory. Vend has a mobile app as well as an online platform.
Should I use Vend?
Vend's cost is more than average for nearly identical capabilities to earlier retail inventory management software. However, see whether the user design experience is better in line with your company.
Pricing
Lite – $99 per month for a single location with a selling station.
Pro – $129 per month for two locations and a selling station.
Enterprise – For more locations and advanced features, contact sales.

Wrapping Up
I hope this blog must have convinced you to use one of the best retail management software for your business.
Read More: