14 Best Chatbot Software & Tools in 2023 [Pricing & Features Compared]
A chatbot is a response tool through which customers engage and ask their queries. To respond, the tool uses a predefined conversation flow. However, with technological advancement, intelligent AI chatbots are now available in the market, which learns and copy human conversation via natural language. In this blog, we have provided details of some of the best chatbot software available in the market. If you are also planning to use a chatbot, keep reading.
Today, the chatbot is the best tool to improve customer service, and we all know that good customer service is essential for a higher retention rate. Hence, a chatbot tool is also vital to accelerate business growth.
14 Best Chatbot Software & Tools in 2023
Here is the list of the best chatbots of 2023, which you can use and take your business to the next level.
1. Freshdesk
Freshchat is the messaging service provided by Freshdesk. It is a live chat customer support platform that provides sophisticated solutions. It is a built chatbot for Facebook Messenger, Apple, WhatsApp, etc.
Features:
24×7 email support
OOTB analytics and reporting
Automated resolutions
Multiple chat templates
Multilingual
Conversation APIs
Performance analysis by a bot
Pricing:
Freshdesk provides a 21-day free trial, but it also has a free version for up to up to 100 agents. The rest of the plans for the Freshdesk chatbot are as follows:
Growth – $15
Pro – $49
Enterprise – $76
2. ChatBot
ChatBot.com, as the name suggests, provides dedicated chatbot services that automate customer communication and improve business. It allows you to create no-code chatbots, which are easily buildable. Pre-built template, 14 days trial, and no credit mandatory policy make it one of the best chatbot services providers for all types of companies.
Features:
AI-powered chatbots
Pre-designed templates available
A/B testing
Analytics chatbot
Heat map presentation provided
Team collaboration possible
Integrations with Slack, Shopify, and WordPress
Pricing:
The prices of ChatBot are shown below.
Trial -Free
Starter – $42 per month
Team – $126 per month
Business – $424 per month
Enterprise – customizable
3. HubSpot
HubSpot needs no introduction. It is one of the most popular customer relationship management platforms, which provides one of the best AI-powered chatbot software. It offers a chatbot builder, which can be quickly set up and customized and is famously called as HubBot.
Features:
Pre-created questions and answers
Live chat
Extract and qualify leads automatically
Meeting booking
Customer support
Option for multiple languages available
Se-tup email sequence
Customizable option available
Integrate chatbot with HubSpot CRM system
Pricing:
The chatbot for HubSpot is a part of the Sales Hub. The Sales Hub is a sales software that one can access for free. Hence, the HubSpot chatbot can also be used for free but with limited features. Those looking for a customized version of the HubSpot chatbot can purchase the Sale Hub Starter, Professional, or Enterprise edition. The cost of these is as follows:
Starter – $45 per month
Professional – $800 per month (talk to sales option available)
Executive – $3,200 per month (talk to sales option available)
4. Chatfuel
Chatfuel is the best product available for creating AI chatbots for Facebook. Through it, you can easily create a no-code Facebook messenger board. As per the official website of Chatfuel, it has had 7M+ clients so far, some of which are top-notch companies.
Features:
Pre-created questions and answers
Analytical analysis of common inquiries to automate conversations.
Automatic lead generator
Customer support
Audience segmentation and integration with CRM system
Scheduled reengagement sequences
Pricing:
The price range of Chatfuel is suitable for all and is as follows:
Trial – $0
Entrepreneur – $12 per month
Startup – $20 per month
Small Business – $48 per month
Growing Business – $96 per month
5. Drift
Drift bot is the most suitable option for B2B companies. The Drift bot is designed to create scenarios that can use conversations and turn them into sales. It can be easily integrated with various email marketing services and CRMs. It is one of the best chatbot software.
Features:
Identify lead
Proactive Messaging
Live chat
Powered by AI
Calendar available in chat
A/B testing
Meeting booking
Integration of salesforce
Email fallback and signature
Available in multiple languages
Insight on audience
Reporting dashboards
Customer support
Customizable rule-based chatbot
CRM routing
Basic and revenue reporting
Analysis of conversations
Integration available Slack, MadKud, Google Analytics, Zapier, Hubspot, Zendesk, etc.
Pricing:
The price of Drift Bot varies as per the plan. There are Premium, Advanced, and Enterprise plans available for the companies. To get price details, one needs to schedule a meeting and state whether the company is of less or more than 50 employees.
6. Intercom
Chatbot by Intercom is famous in the SaaS world. It is suitable for very small businesses as well. One of the best features of Intercom is that it allows you to personalize the bot's reaction. Due to this, companies can filter customers into groups and segments and then make targeted sales.
Features:
Live chat option
Role-based permissions
Conversation rating and tags
Conversation routing bot
Resolution bot
Mobile Carousels
Outcome reporting
Autosaved replies
Chat and email support
Customer support
Behavioral data
Reporting dashboard
A/B testing
Salesforce & Marketo integrations
Integration with Slack, HubSpot, Pipedrive, etc
Pricing:
Since Intercom is considerate of very small businesses, it has a $74 per month plan for such companies. However, companies can customize the plan after scheduling a meeting with the Intercom sales team.
7. Zendesk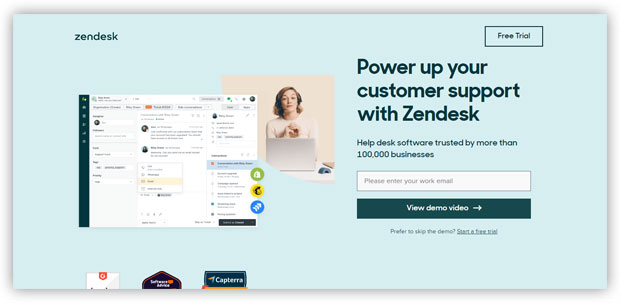 Zendesk's Answer Bot is probably the most promising no-code chatbot builder available for growing companies. It is an AI-powered live chatbot that automates messages. It has been specially designed to assist businesses in providing supreme-quality customer support. It is one of the best chatbot software.
Features:
Live chat
Builder for drag and drop flow
Email integration
Group messaging
Advance queuing and routing of tickets
Real-time dashboard
Omnichannel conversation management
Real-time reporting
Easy-to-use interface with powerful third-party integrations
Conditional ticket field
Provide support in 17 languages
Analytical dashboard
Skills-based conversation routing
Pricing:
Zendesk has a comprehensive pricing policy. However, the starting price of the chatbot is $49 per month. Zendesk does not give a free version, but companies can opt for a 14 days trial. All the plans for Zendesk are as follows:
Team: $49 user/month
Growth: $79 user/month
Professional: $99 user/month
Enterprise: $150 user/month
8. Ada
Ada is a software company that offers a chatbot-based platform. The platform helps companies to automate customer experience and make it smoother. But, it is fully automated, and thus the bot takes time to train. However, once trained, it is one of the most useful chatbots available in the market.
Features:
AI-powered
Creation and sequencing of leads
Proactive SMS and campaigns
Automated FAQs
OOTB ticketing CRM
Analytical dashboard
CRM integration
Smart detect
Multilingual
Chat notification
Pricing:
Ada does not provide the price. So, the companies need to contact the sales department for details.
9. Boost.io
Boost.io has a fast, easy, and scalable AI-powered chatbot. It is a no-code chatbot builder with a conversational AI that can be easily trained.
Features:
Ready to go intents
Intelligent AI that can transform data
Enhanced understanding with class-leading NLP and NLU
Analytical dashboard
SSO
Cloud/ hosting
Virtual agent network
Voice bot with IVR
Pricing:
To know the price, one needs to contact the company and get details from the sales team.
10. Tidio
Tidio is a customer service platform that also provides a live chat option. Tidio's live chat can be combined with the chatbot tool to get impactful mobile-friendly customer service support. It is one of the best chatbot software.
Features:
Easy chatbot builder
Dozens of templates
Lead generation
Survey for data collection
Automated response
Automatically recommend products
Predefined workflow
Automatically offers personalized discounts intelligently
Facility for customers to place orders directly
Real-time user monitoring
Team and chat analytics
Visual editor
Integrate with Zapier
35+ chatbot template options
Chat analytics
Email support
24/5 Live Chat
Pricing:
The chatbot for Tidio is priced at $39 per month, but a free version is also available. The fee is best if you just want a menial chatbot, live chat, and email support. The other price options for Tidio are given on the website and are as follows:
Free – $0
Communicator – $19 per month
Chatbot – $39 per month
Tidio+ – $289
11. Meya AI
Meya is an automation platform that has Grid, Orb, and Console. Grid allows users to use Meya's backend and code workflow. On the other hand, Orbs is a pre-built chatbot that companies can customize per their needs. Lastly, on the Console, the teams can create, design, and execute.
Features:
Built bot with BFML
Scalable hosting
Sandbox apps
Visual flow conversation builder
Pricing:
The prices provided by Meya are as given below but a 14 days free trial is also available.
Pro – $$799 per month
Partner – $2,500 per month
Enterprise – Companies need to contact and get details from the sales department
12. Certainly
Certainly provides a no-code bot builder which is easy to use. Companies can use a free trial first and then decide if they want to continue using Certainly chatbot.
Features:
Analysis of user intent
Routing from chatbot to agent
Multiple pre-made templates
Integration with CRMs
Cross-sell and add items to the cart
Post-sales customer support
Pricing:
The price for Certainly is not available but companies can get all the details by getting in touch with them.
13. ManyChat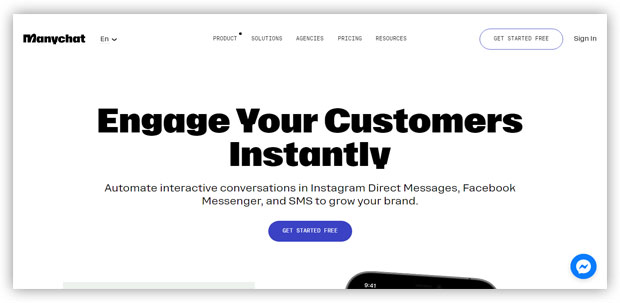 ManyChat is a chatbot builder for Facebook and Instagram. Through it, you can make sales, capture leads, and do more using Facebook messenger. It is one of the best chatbot software.
Features:
Generated leads
Integration with CRMs
Read-to-go templates
Email marketing and campaigns
SMS marketing
Facebook Messenger and Instagram automation
Pricing:
The plans for ManyChat are as follows:
Free – $0
Pro – $15
Premium – Companies need to contact and get details from the sales department
14. Microsoft Azure Bot
Microsoft provides Azure Bot services. It allows you to build an intelligent customizable bot. With it, you can create a simple Q&A bot or a very high-class virtual assistant. With Azure Bot Service you can build an intelligent, enterprise-grade bot and the most amazing part is that you will have complete ownership and control of your data.
Features:
AI-powered
Natural language
Automatic tracking of critical bot telemetry
Identification of future topics.
Integration with Microsoft Teams and telephony
Centralized management and safe scaling
Pricing:
To know the price of Azure Bot, Microsoft provides three options, which are – purchase directly from Microsoft, buy via Azure website, or buy after talking to a salesperson.
Conclusion
The general perception of a chatbot is that it automates customer services by replying to common queries. However, today the role of a chatbot goes beyond answering queries. Now, it is an integral business development tool that gathers data, automates services, increases the team's efficiency, and improves customer service.
Also Read: