15 Best Data Migration Software For You in 2023
Whenever we hear the term "Data Migration software", we wonder – What is data migration? Why is it required? How is it done? Thus to clear all your doubts, we will discuss data migration basics, and further, we will look at the top data migration software available in the market. Moreover, we will be reviewing the key features of these best tools in detail for better understanding.
What is Data Migration?
As the name itself implies, data migration is the process in which data is shifted between systems. These transfer systems can be data storage models or file formats. Data from the old system is shifted to a new system through a particular mapping pattern.
Mapping patterns include designs for data extraction and data load activities. The design works as a translator between traditional and new system formats, thereby ensuring smoother data migration.
Why is Data Migration Needed?
Data migration can be needed for several reasons where we require to move data among systems.
The most common reasons involve:
Application migration
Maintenance or upgrade activities
Storage/Server equipment replacements
Data Center migration or relocation
Website consolidation, etc.
How is Data Migration done?
Data migration is a tiresome task that would demand loads of human resources to perform the activity manually. Hence, it has been automated and is accomplished programmatically with the help of the software that is meant to serve the purpose.
Programmatic data migration includes phrases like extracting data from the old system, loading data to the new system, and validating data to make sure that the data is migrated correctly.
Best Data Migration Software:
In today's fast-paced era where IT trends, everybody is growing or seeking to expand, which puts more focus on data migration.
Let's look at the 15 best data migration software best suited for you in 2021
1. Xplenty
Availability: Licensed
Xplenty is a cloud-based data integration platform. It is a comprehensive toolkit for fabricating data pipelines. It presents solutions for marketing, sales, customer support, and developers. These solutions are available for the retail, hospitality, and advertising industries. Xplenty is an elastic and scalable platform.
Key Features:
Xplenty has features for smooth migrations. It will let you migrate to the cloud.
Xplenty gives the features to connect to legacy systems.
It will encourage you to connect quickly to on-premise, legacy systems and migrate data from them.
It supports Oracle, Teradata, DB2, SFTP, and SQL servers.
2. Azure DocumentDB
Availability: Licensed
Microsoft owns Azure Document DB Data Migration Tool. It is an outstanding tool for data movement from multiple data sources into Azure Document DB.
Key features:
It can successfully import data from any specified sources: CSV files, SQL, MongoDB, JSON files, Azure Table storage, Azure Document DB, Amazon Dynamo DB, HBase.
It carries a wide range of Windows operating systems and .NET frameworks 4.5.1 or higher versions.
3. DBConvert Studio
Availability: Licensed
DBConvert Studio by SLOTIX s.r.o. is the most suitable data migration software as it is easy to synchronize. Furthermore, it supports ten of the most popular on-premises databases, including SQL Server, MySQL, PostgreSQL, Oracle, and more.
It would be prudent to consider migrating databases to one of the following cloud platforms like Amazon RDS/ Aurora, MS Azure SQL, Google Cloud SQL, and Heroku Postgres for extensive data storage volumes.
Key Features:
The following three data migration scenarios are possible: Source to Target migration, One-way synchronization, and Bidirectional synchronization.
All database objects can be renamed during migration.
Data types can be mapped for all Target tables as separate tables.
Filters can be utilized to extract the required data from the Source database.
The source table can be reassigned to an existing Target table.
A flexible built-in Scheduler can be utilized to launch tasks at a particular time without GUI running.
4. Rsync
Availability: Open-source
Rsync is a data migration software that lets you transfer data across computer systems efficiently. It migrates data based on the timestamp and file size.
Key features:
It best goes with Unix-like systems and acts as a file synchronization and data transfer program.
Rsync processes work as a sender and receiver to build a data transfer connection between peers. It is able to perform local and remote data transfers by forming peer connections.
It utilizes SSH to connect to the remote system and invokes the remote host's Rsync to discover which parts of data need to be transferred over the secure connection.
5. IRI NextForm
Availability: Licensed
IRI NextForm is available in various editions as a standalone data and database migration utility or as an included capability within the larger IRI data management and ETL platform, Voracity.
You can utilize NextForm to change: file formats (like LDIF or JSON to CSV or XML); legacy data stores (like ACUCOBOL Vision to MS SQL targets); data types (like packed decimal to numeric); endian states (big to little), and, database schema (relational to star or data vault, Oracle to MongoDB, etc.).
Key features:
Reaches, profiles, and migrates data graphically in IRI Workbench, a well-known and free Eclipse IDE for job design, deployment, and management.
Supports around 200 legacy and modern data sources and targets, enabling more through custom I/O procedures or API calls.
Utilizes standard drivers like ODBC, MQTT, and Kafka for data movement and supports local, cloud and HDFS file systems.
Data definition and manipulation metadata are in simple, self-documenting 4GL text files.
That is also depicted in dialogues, outlines, and diagrams for better understanding and modification.
Create job tasks or batch scripts for execution, scheduling, monitoring from the GUI, command line, etc., plus secure team sharing in a GitHub for version control.
6. AWS Data Migration
Availability: Licensed
AWS Data Migration software that Amazon owns is best suited for cloud data migration. It lets you migrate databases to AWS securely and easily.
Key features:
AWS data migration software that supports homogeneous and heterogeneous migrations such as Oracle to Oracle (homogeneous) or Oracle to Microsoft SQL(heterogeneous) etc.
It reduces application downtime to a remarkable extent.
It expedites the source database to remain completely operational throughout the migration activity.
It is a highly flexible tool and can migrate data among the most extensively utilized commercial & open-source databases.
It can be utilized for continuous data migrations due to its high availability.
7. Informix (IBM)
Availability: Licensed
Informix by IBM is another wonderful tool repository that can be utilized to move data from one IBM database to another IBM database. It essentially supports homogeneous data migrations.
Key features:
It helps data migration between different operating systems like UNIX or Linux etc.
It also takes out data migration from one server to another.
It can do high-speed data checking transfers with the help of utilities like DB export & DB import utility, DB load utility, on load and unloading utility, Non-logging tables, high-performance loader, etc.
For data imports from non-Informix sources, IBM has specific tools/utilities to expedite that, too like – External tables, High-Performance Loader (HPL), and IBM Informix Enterprise Gateway products.
8. EMC Rainfinity
Availability: Licensed
EMC Rainfinity File Management Appliance (FMA) is a product of Dell EMC Corporation. It is intended to help organizations to overcome storage management costs.
Key features:
It performs automated file-archiving algorithms that can achieve data migration across heterogeneous servers and NAS environments.
It comes with simple-to-use wizards to transparently move files across NAS and CAS.
Rainfinity introduces files into the environment through easy and lightweight solutions offering an excellent solution to its customers.
Its prime features cover scalability, availability, and flexibility.
9. Informatica Cloud Data Wizard
Availability: Licensed
Informatica Cloud Data Wizard is a resilient next-generation data loader for any type of user.
An outstanding Salesforce app enables its users to quickly synchronize common and custom Salesforce objects with CSV files, with SaaS applications such as NetSuite and cloud storage like Box.
Key features:
It comes with Pre Built integration templates that enable the users to choose Salesforce objects.
Salesforce admins can build connections with external applications and conduct on-the-fly transformations.
It gives in-app integration to improve its user productivity.
10. Configero Data Loader
Availability: Licensed
Configero's Data Loader for Salesforce is a web-based data loader application. It boosts up the activities of entering, updating, and deleting Salesforce data. In addition, it has much-improved error management as errors are displayed in the grid, thereby enabling direct editing of errors.
Key features:
External ID support and capacity to save field mappings.
It comes with integrated error handling and gives basic support for mass editing.
Powerful multi-column filtering enables users to do final edits before data loading.
11. Rocket Data Migration
Availability: Licensed
Rocket Data Migration solutions cover all aspects of data migration comprehensively. It is intended to boost the installed migration procedures with the least manual effort. This tool simultaneously gives any level of support needed throughout the migration.
Key features:
Assures data integrity by safeguarding against data corruption or loss.
Decreases storage costs and thereby increases return on investment.
Minimizes the inhibition of migration activities in meeting the daily objectives.
12. Brocade's DMM (Data Migration Manager)
Availability: Licensed
DMM by Brocade is an innovative, compelling and performance-oriented solution for high–performance data migration activities. It runs efficiently in heterogeneous storage environments. It stands among the top 15 products of the year.
Key features:
DMM is a speedy and efficiently deployed data migration software for enterprise environments
It provides a high-throughput speed of up to one terabyte (TB) per hour.
It optimizes migrations across Storage Area Networks (SANs) with an effortless setup facility.
It has a unique feature to determine the migration time in advance. This feature enables the clients to plan time, budget, and resources associated with the migration activity.
13. HDS Universal Replicator
Availability: Licensed
Hitachi Universal Replicator software gives enterprise-level storage system replication while presenting business continuity at the same time. In addition, it is competent in working with heterogeneous operating systems.
Key features:
It implements powerful data management and recovery solutions and can replicate data to one or more remote sites.
HDS replicator diminishes resource consumption and provides notable data protection.
It allows data to be copied from any supported device to any authorized device regardless of the operating systems or protocol differences.
14. Apex Data Loader
Availability: Open source
The Apex Data Loader is a Salesforce product. It is a java based application that can handle bulk insert, update and delete commands on all the data objects. In addition, users can create queries to extract data using the Apex Web Services (SOAP) API.
Key features:
Data Loader is a simple graphical tool to use and encourages users to get their data into Salesforce objects.
It is an easy-to-use wizard interface that supports large files with up to millions of rows.
It supports local as well as custom objects.
It has a built-in CSV file viewer and is supported on Windows7 and XP.
15. Talend Open Studio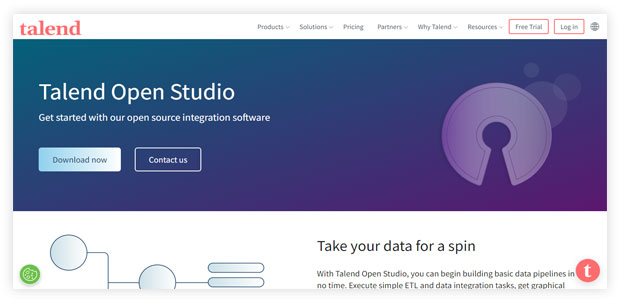 Availability: Open source
Talend open studio is an open architecture product that presents unmatched flexibility to users to resolve migration and integration challenges more reliably. It is very easy to adopt for data integration, big data, application integration, etc.
Key features:
It simplifies ETL processes for large and multiple data sets.
It maintains the accuracy and integrity of data throughout the migration.
Conclusion
We have discussed the best Data Migration software that can make your business data transfer process seamless.
Determine the best-suited solution and decide which tools deliver more value and revenue to the organization or customers.