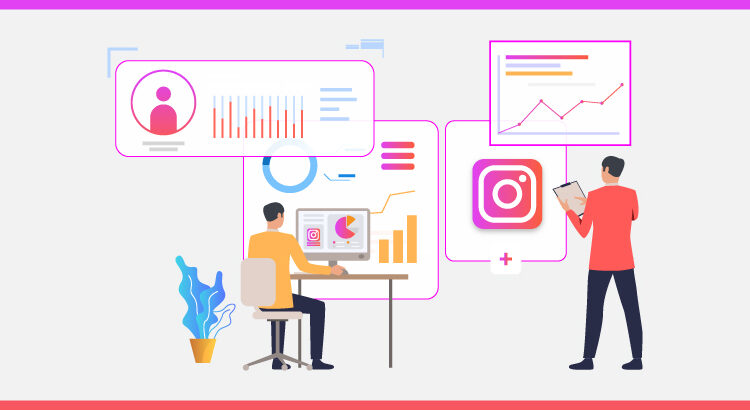 Fascinating Instagram Stats You Must Know in 2023
Instagram Witnessed massive growth in 2020. Today, we will be looking at Instagram statistics that show how it has a valuable network for your business. In 2020, new developments happened in Instagram, and some exciting new Instagram stats emerged along the way. Since Instagram is much more than a photo-sharing platform, it has launched several features to assist businesses in the market and sell directly from the app.
As if you plan an Instagram marketing strategy for 2023, it's essential to understand this top-rated social network's latest facts.
Let's move forward to know the most critical Instagram stats of this year.
Fast Instagram Stats:
1. Instagram turned ten years old in 2020
On October 6, 2010, Instagram officially launched, and in 2020 it turned 10.
Instagram comes in 6th position when it comes to the most visited website. Even though Instagram is primarily used through a mobile app, it is still in the top 10 for website visits. People may be seeing your posts on a bigger screen than you think.
2. Instagram has the 4th-most users of any mobile app.
Since Instagram is primarily a mobile platform, this stat shows more weight than website visits. If we talk about mobile app active users, Instagram is exceeded only by Facebook, WhatsApp, and Facebook Messenger.
User Instagram statistics
3. More than 1 billion people use Instagram every month.
It shows that Instagram is the second-ranked traditional social network in terms of active users after Facebook.
While considering all social platforms, Instagram ranks sixth – behind Facebook, YouTube, WhatsApp, Facebook Messenger, and WeChat.
4. 88% of users are outside the U.S.
Americans are the most massive Instagram audience, but they're pretty far from the majority. The top four countries for Instagram users are:
India: 120 million users
Brazil: 95 million users
Indonesia: 78 million users
Russia: 54 million users
It is important to define your target audience on Instagram and what sort of content to produce.
5. Instagram reaches 140 million U.S. users.
The U.S. audience represents only 12% of all Instagram users, but it's still a relevant audience growing consistently.
6. 14% of U.S. adults have never heard of Instagram
Keep in mind that while Instagram does have a massive reach in the U.S., it does not reach everyone. That's why understanding your audience is so crucial.
7. The gender mix on Instagram is pretty even: 51% female and 49% male.
However, in the U.S., a much higher percentage of women (43%) use Instagram than do men (31%). And it's worth mentioning that Instagram does not publish advertising data for genders other than "female" or "male."
These differences show that you can't make assumptions of demographics on Instagram—or any other social network. And you surely can't make assumptions about the demographics of your followers.
Alternatively, use social media analytics tools to see your audience's detailed information for a better content strategy and ad targeting.
8. 5% of U.S children under 12 use Instagram
That's despite Instagram user guidelines that expect users to be 13 years old before they can build an account. Among kids aged 9 to 11, 11% use Instagram.
Usage Instagram statistics
9. Instagram users spent an average of 30 minutes per day on the platform in 2020
That's a rise of almost 4 minutes over 2019. If that doesn't sound like a lot, consider that it's a 13.8% jump. Before the pandemic, eMarketer predicted time spent on Instagram would grow by only 1.5% in 2020.
In contrast, Facebook users only spent 1.4 more minutes per day on the platform in 2020, a rise of 4.3%
10. 200 million Instagram users visit at least one business profile daily
While those 30 minutes on the platform, most Instagram users are checking out business profiles. Is yours one they might want to visit?
11. 81% of people utilize Instagram to help research products and services
And 2 in 3 people tell that the network serves them to foster interactions with brands.
12. 130 million Instagram users tap on shopping posts every month
While the Instagram stat above reveals people's research purchases in the platform, people make purchases right from Instagram.
With all the new buying and e-commerce features rolled out this year, it's simpler than ever for brands to sell products immediately within the app.
13. More than 50% of Instagram accounts use Explore every month.
The Explore tab is a section for Instagram users to find new content and new accounts to follow. Making your content featured on Explore is a key way to showcase your brand to new followers.
14. 11% of people use Instagram as a news source
That's nowhere close to the percentage of people who get news from Facebook (36%), but it's still worth acknowledging while thinking about rolling out new product launches and other brand announcements.
In the U.S., 26% of people aged 18 to 24 have recently used Instagram, especially to access coronavirus news.
15. Only 1% of Instagram users use no other social platforms.
Instagram users are social butterflies: 92% of them also use YouTube, and 86% use Facebook. Interestingly, less than half of Instagram users (43%) also use TikTok.
16. Over 1 million Instagram posts every day mention the word "meme."
Memes are a trend on Instagram. Does that indicate your brand should generate a post for every new meme? No. But if the meme matches, it might be worth a try.
Meme accounts include some crucial lessons that all Instagram marketers should learn.
Instagram Stories stats
17. 500 million people use Instagram Stories every day
With half a billion people utilizing Stories every single day, it's evident that Stories are an important channel for brands. The stats below further emphasize why you should try Stories if you haven't already.
18. 58% of people say they have become more engrossed in a brand or product after seeing it in Stories
If you're not utilizing Stories yet, listen to the Instagram stats: 2021 is the year to start. So, what are you waiting for?
19. 50% of people have visited a website to buy after seeing a product or service in Stories
Purchase intent is one of the best returns you can get from your social media efforts. Don't miss out on all those clicks.
20. Brand Stories have an 86% completion rate.
That's just a slight improvement from 85% in 2019. Entertainment account Stories marked the most significant increase in completion rate, from 81% to 88%—sports accounts. Stories have the highest completion rate, at 90%.
21. 61% of Instagram users employed the Support Small Business Sticker in Stories during its first month
That's an informal figure based on a poll on the @InstagramforBusiness Story.
Starting in May 2020, Instagrammers can quickly mention a business within the sticker to give their followers a preview of the business's account.
Instagram business statistics
22. 90% of Instagram users follow a business
People are not just communicating with their friends and family on Instagram. Almost everyone who utilizes the app follows at least one brand.
23. 36.2% of B2B decision-makers use Instagram to research new products or services
That ranks it ahead of LinkedIn but after YouTube, FaceBook, and WhatsApp.
It's a clear sign that Instagram is an influential business tool, whether you're marketing to customers or other organizations.
24. Instagram business accounts see an average of 1.46% monthly follower growth.
Increasing your Instagram following can feel like a prolonged game. But you can use tactics to outpace the Instagram follower stats and draw in more followers faster.
25. The average engagement rate for an Instagram post by a business account is 0.96%
That suggests you should expect around one engagement for every 100 followers. Engagement is highest for photo posts (1.03%), followed by carousel posts (0.86%) and video posts (0.75%). But that will vary by industry and audience preferences.
Hootsuite's social team, for instance, sees that carousel posts get triple the engagement of regular posts.
Keep in mind that bigger accounts get lower engagement rates, while accounts with a small but dedicated audience witness higher ones. An Instagram business account with less than 10,000 followers sees an average 1.55% engagement rate, which drops to 0.62% for a business account with more than 100,000 followers.
26. 55% of fashion shoppers have made a purchase based on an Instagram creator's post
Instagram is an extremely visual medium, making it an ideal place for fashion brands to showcase—and even sell—their wares.
27. 50% of Instagram users are more interested in a brand after seeing an ad for it on Instagram
When Instagram ads are precisely targeted and visually appealing, they're an extremely effective means of connecting with new customers.
Instagram ad stats
28. Instagram's potential advertising reach is 1.16 billion users.
That's 19% of adults aged 13 and over. This signifies a 7.1% quarter-on-quarter rise in advertising reach in Q3 2020.
29. Instagram advertisers can influence a youth audience of 83 million.
To be precise, this Instagram stat points to users aged 13 to 17. That makes Instagram third in youth advertising reach, behind Facebook (123 million) and Snapchat (91.9 million).
30. Instagram will receive $18.16 billion in ad revenue in 2020
That projected figure represents a big jump from $13.86 billion in 2020 and just $9.45 billion in 2019.
31. 4 million businesses utilize Instagram Stories ads monthly
Stories ads enable brands to build engaging full-screen experiences that connect with Instagram users.
32. Mobile-shot Stories ads outperform studio-shot ads 63% of the time.
Instagram users expect Stories to be more informal and less polished. Stories ads shot on mobile feel more like organic content and less like a hard sell.
33. Stories ads with central text outperform ads without text 75% of the time.
This stat is focused explicitly on add-to-cart objectives, but it's worth trying to see how the use of text affects your Stories ads for other advertising objectives.
34. Stories ads that emphasize the call to action perform better 89% of the time.
Stories ads have a built-in call to action (like Swipe Up) at the bottom of the screen, but this can be easy to miss. Adding an enhanced call to action helps increase the chances viewers will interact with the ad.
Video Instagram stats
35. How-to tutorials are the most popular form of Instagram video content.
Followed by behind-the-scenes posts, interviews, and news coverage.
Think about what kind of fun, quick, easy-to-implement instructions related to your business or niche could convert into a short Instagram video content that inspires engagement.
36. IGTV videos are 4x larger than photos on the Explore page
That makes IGTV videos a good way to draw potential new eyeballs to your account. Of course, the first step is to get on the Explore page.
37. IGTV automatic captions are available in 16 languages
Captions are an important element of inclusive design, which is just good business.
38. NFL teams' Reels generate 67% more engagement than their regular video posts
The Patriots have the highest engagement with their Reels. They see an average of 121,800 engagements per Reel, compared to 21,600 engagements per video.
Wrapping it up
I hope you find this Instagram stats blog interesting and useful. Since you are now aware of its effectiveness, make sure you leverage it precisely.
Read More: