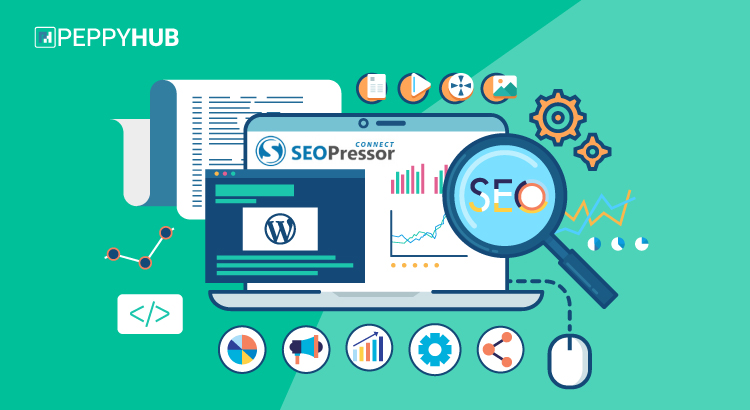 SEOPressor Review 2023: Is it A Useful SEO Plugin for WordPress Users
SEOPressor is a well-known SEO plugin for WordPress users as it quickly optimizes your content to drive more visitors from different search engines to your sites. Before we dig deeper into this SEOPressor review, it's important to learn the basics first. Let's move forward to know more about it.
What is an on-page analysis?
On-page Analysis means analyzing each and every factor that affects your search rankings within your website (content, keywords, Optimization, etc.). It is a must if you desire to get a higher rank on Google.
Although there are so many tools available in the market for on-page Analysis, nothing beats SEOPressor in this. With it, you can quickly optimize your pages or blog posts to obtain better search rankings.
How SEOPressor helps you better optimize your content in different ways
There are three ways through which you can optimize your content:
SEOPressor score
Suggested Optimization
LSI keywords suggestion
Let's discuss them one by one to better understand these features in this comprehensive SEOPressor review for 2021.
1. SEOPressor score
SEOPressor provides you with a score (0 to 100, 100 being the best) for every post you publish on WordPress. Your aim should be to enhance your score higher (although you can't score 100 for each post you publish, strive for 80 or above) if you require better rankings.
The best thing about using the SEOPressor plugin is that it provides you a score that includes things like;
Word count
Readability
SQ Density (Semantic Quality)
The higher your score is, the better your chances are to rank on Google for the keywords you're seeking to rank for.
2. Suggested Optimization
This plugin provides you with excellent suggestion recommendations to optimize your blog posts easily.
It shows you how to properly optimize your content by also providing you suggestions on where to place your keywords for higher rankings (title, meta description, h1 tags, image alt tags, etc.). It also alerts you if you're performing keyword stuffing (applying the same keyword too many times).
3. LSI keyword suggestion
This feature presents you with all the LSI keyword recommendations that you can utilize within your blog posts. And it also shows you all the LSI keyword suggestions that you missed utilizing within your content.
As you can see that SEOPressor is one of the best tools for content optimization that can help you promptly improve your search rankings even if you're naive to SEO.
Compelling Features Of SEOPressor Plugin.
Here are all the extraordinary features that you get with this SEO plugin.
On-page Analysis: You can utilize this feature to do multiple keyword analysis, over-optimization checks, LSI keyword suggestions, etc. It provides you with everything you require to optimize your content well for both humans and search engines.

Semantic builder: You can handle all your scheme settings and social media settings like Facebook open graph etc.

SEO Intelligence: You can do site audits to find and adjust all the technical-related SEO issues on your website.

Various keyword analysis: You can target up to 3 keywords at a time for every post to accurately optimize them for search engines and your target audience.

XML sitemap generator: This assists you in generating sitemaps for your sites without additionally installing any other plugins.

Automatic smart linking: Assists you to add keywords for particular links, so whenever you apply those keywords, they will turn into links automatically.

Link management: Handle all your links like a pro. Maintain all your outbound links and also fix your broken internal links from one place.

Control: Cawl control and many more
What Makes SEOProcessor Stand Apart?
1. Quickly check how your website is performing.
In this SEOPressor review, you will know that if you need to improve your website traffic, you have to do one thing regularly, and that is conducting site audits. Remember, performing a site audit is not simple. Either it demands a lot of time, or you have to access expensive tools like Semrush. But SEOPressor comes into handy, as you can easily conduct site audits and monitor your website score quickly from the WordPress dashboard.
Once you've connected the SEOPressor WordPress plugin from your dashboard, navigate the Site Audit section from the SEOPressor interface and click on Analyze website button. Instantly it will begin analyzing the average score and health. SEOPressor shows you both errors and warnings that you have to fix quickly for a better website score.
You can click on the View All option on each one of them and begin working on them one by one to increase your score for obtaining higher rankings on Google for your website. You have to understand that working on errors should be your topmost priority.
You can utilize the "Fix This" section and work on all the mistakes and warnings given by SEOPressor to completely optimize your content and website.
2. Boost your rankings with the LSI Keywords Suggestion feature
If you desire to get better search rankings on Google, start utilizing LSI keywords. Some of the reasons and benefits of using LSI keywords within your content. LSI keywords will aid you with the following things;
Improving your search engine traffic
Optimization of your content without keyword stuffing
Get high-quality visitors from search
Drive more traffic from a wide range of keywords and son on
If you are searching for highly profitable LSI keywords, SEOPressor review can help you out. SEOPressor owns an in-built LSI keyword suggestion feature that provides you with automatic LSI keyword recommendations that are extremely relevant to the keywords you are targeting.
Although there may be some mismatch or totally irrelevant keyword suggestions, make sure to utilize your brain while utilizing the LSI keyword suggestions.
3. Manage your website links like a pro.
Are you looking for someone who can manage your backlink profile like a pro? If yes, try SEOPressor as it presents you with all the features of handling your links like an SEO expert.
You can utilize their Link Manager feature to perform so many things such as;
Acknowledging the status of your links
Discovering broken links
Automatic linking of affiliate links
Maintaining your outbound links
Maintaining your sitewide links and so on
4. Manage your broken links
Discovering broken links is very easy with Link Manager. SEOPressor helps you to easily get the status of all your links. If any one of the links is broken or not active, it will quickly help you locate and fix broken links. In this way, you can fix all the broken pages or posts from your website.
5. Automatic smart linking
Do you know that utilizing SEOPressor can automatically include a designated URL to your keyword in every post or page you create? Yes, it's possible and simple to do that.
You just have to go to Link Manager from the SEOPressor interface and select the Automatic Smart Linking section to locate your links.
For that you to enter the following things;
Keyword to link (this is the point where you have to enter the keywords that you desire to receive automatic smart links such as Semrush, SEO, or any other affiliate keywords that you prefer, or you can also use informative keywords for blogging categories or pages, etc.)
Targeting URL (this is where your links will go to the pages automatically whenever you utilize the keyword you enter)
Cloaking folder (which is voluntary, which can be placed with words like "recommends," mostly used as cloaking links)
Maximum links per page (set up a maximum of 3 to 5 links and don't go overboard).
6. Take control of your external links.
In the link policy from SEOPressor's "Sitewide SEO" section, you can efficiently manage all your outbound, also known as external links.
You can use your external links to posts and images nofollow with the click of a button. Not only this, but you can also make them open in new tabs (which is recommended for external links so you can also lessen the bounce rate of your website)
7. Enhance your social shares and boost your traffic
If you are fascinated by SEO, you should know one thing: social media is SEO, and SEO is social media. Both SEO and social media go hand in hand.
For that very reason, this wonderful WordPress plugin added a feature called "Social," where you can quickly share your blog posts on major social media sites like Facebook and Twitter. You can utilize both Facebook Open graph and also Twitter cards to quickly share your blog content on those two social media platforms very easily and swiftly.
The great thing about utilizing SEOPressor for social media is that you can control how your content should seem. You can manage and customize everything from title, URL, and images.
Furthermore, you can also do the same thing with Twitter cards, so you can quickly promote your blog content on Twitter as well.
What does the SEOPressor interface look like?
In case you're questioning what the SEOPressor review seems like, let us give you a glimpse of it.
The SEOPressor control panel presents you with three primary things: ' Word Count, "Readability Score, 'and 'SQ Density Score. '
This plugin enables you to optimize your content for up to 3 keywords (you can use long-tail keywords or even LSI keywords). The word count provides you with a readability and SQ (Semantic Quality) density score to assist you in quickly optimizing your blog posts for search engines like Google.
These are the things that you will get (inside of the SEOPressor plugin).
Site audit (which determines the overall score of your website's health in search engines. The greater your score, the better optimization of your site is)
Sitewide settings (utilize this feature to make any changes to the plugin sitewide)
Homepage settings (you can manage your website's title, meta description, and tags using this section)
Link manager lets you manage all your backlinks from one place.
Score manager (you can view a score of all your blog posts from one place and also improve the score to better optimize your content)
Role settings (give separate permissions to separate users who've logged into your site)
Plugin settings
Support (contact with the support team if you face any trouble, and you can expect replies within 48 hours)
So there you go. SEOPressor (review) is simple to manage and can be used to better optimize your content for search engines.
Pros And Cons of SEOPressor WordPress Plugin
In this SEOPressor review, you will know all the pros and cons of utilizing the SEOPressor SEO plugin for WordPress sites.
Pros of SEOPressor WordPress Plugin
Here are some of the advantages of using SEOPressor over other SEO tools.
Scrutinize your website like a pro.
A lot of extra features have been added in the last year, and the plugin is continually getting updated with new features (which is good)
It is the most affordable SEO tool. SEOPressor costs you only $9 per month. Which's a big difference)
Easy to use. All you have is a self-hosted WordPress site. Purchase the license of this tool, and you can immediately download this plugin and then simply activate it for website optimization.
It provides you with actionable SEO insights to thoroughly optimize your overall website.
You can regularly monitor your website's backlink profile and make any modifications to their need from one place.
Cons of SEOPressor WordPress Plugin
Here are some of the cons of using SEOPressor.
It's not an absolute SEO package, unlike Semrush. You can utilize this plugin mainly for on-page Optimization to generate more search engine traffic to your sites.
You can target up to three keywords per post. That's the biggest drawback if you write content by focusing on multiple keywords (sometimes 10 LSI keywords per post).
What About The Pricing of SEOPressor?
SEOPressor gives subscription-based pricing where you can download and employ their plugin to improve your SEO by spending $9 per month (and you can use their plugin on any number of sites with a single license).
If you're someone who needs a powerful SEO tool to increase the SEO of a site, this is a must-have tool in your arsenal.
They do not provide any free trials or free versions of this SEO tool, mainly because it's a plugin and not a tool like Long Tail Pro or KWFinder (that you can download onto your PC).
Final Thoughts
SEOPressor is an excellent WordPress SEO plugin that has been around since 2010 and adopted by thousands of SEO enthusiasts globally to increase their traffic and optimize content.
Google is continually coming up with the latest algorithm, and so does SEOPressor making new additions to their tool to accommodate you and better optimize your overall website's SEO for higher rankings.
We hope that you like our detailed SEOPressor review, and that it provides you an in-depth insight into this tool.
Bonus Read: