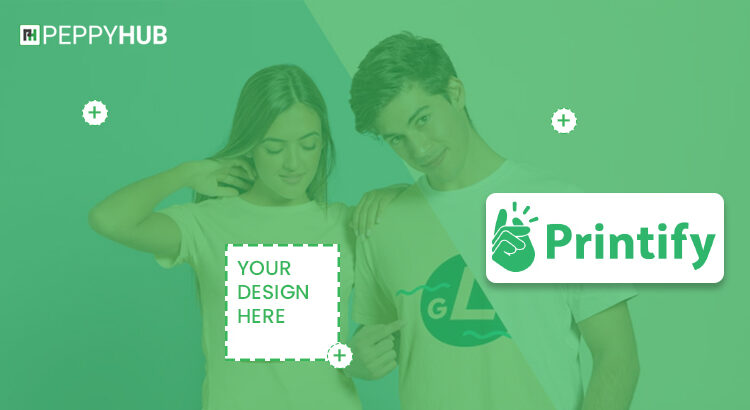 Printify Review: Is it the Best Print on Demand Company?
Have you ever fantasized about your designs being printed on pillows, phone covers, or shower curtains? Perhaps you have a fantastic phrase that would be a smashing success on a t-shirt? The print-on-demand (POD) sector is flourishing, and there are a lot of people selling unique items and designs on the internet.
By 2025, the worldwide market for bespoke t-shirt sales is predicted to reach $10 billion, therefore now is the best time to start your print-on-demand business. This profitable concept is a fantastic source of passive income.
Best of all, due to Printify, all of the normal difficulties like fulfillment, shipping, and printing are taken care of for you. The all-in-one POD service has been labeled the greatest, so in this Printify review, we'll look at all of the features, price, and other aspects to see whether it's what it claims to be.
Printify Review: What is Printify?
In the Shopify App store, Printify is a free print-on-demand drop shipping service. It's an all-in-one solution that allows you to produce items, sync them with your online Shopify or Etsy store, handle orders, and send them to your consumers immediately.
There's no need to make a large initial investment, and you'll have access to the best printing businesses in the United States, the United Kingdom, Germany, Australia, and China.
How Does Printify Work?
Even if you've never used print-on-demand before, the procedure is straightforward. Users are guided through the process by Printify, however, the purpose of print-on-demand is to generate money at minimal prices. Printify is the best at it, and here's how it works in six easy steps:
Create an account: To get started with your account, go to the Shopify App store and click the "Get" button. To set up your account, fill in all of your personal information, and then you're ready to go.
Choose your products: Printify offers a staggering 250+ product selection, which includes anything from socks to phone covers to flip flops to good old t-shirts. Choose your preferred goods from the list of things you'd like to sell.
Upload your design: Printify has excellent design tools as well as a robust mockup generator. Simply drag and drop your design into Printify, where you can edit size, colour, and location on the product.

Pick your printing partner: There are several high-quality printing companies to select from, and you may try out their services before committing to one. Samples may be requested immediately through the site, and suppliers can be found based on quality, customisation choices, or pricing.
Get your product to your store: Integrate with Shopify or Etsy to streamline the process and eliminate the need to store goods yourself. Choose a price and a product description, and you're good to go.
Start selling: Wait for your first sale once you've hit publish. Relax once you've received an order. Printify will handle your billing, production requests, packing, and delivery.
Printify Products
The vast selection of items on Printify is what truly sticks out. They provide a variety of materials, sizes, shapes, and colors within each category, in addition to a variety of categories (from fashion to home to stickers). Wearable items are divided into male/female/kids categories, making it simple to find what you need. Printify has over 200 items, but here are a few that stand out:
Clothing: Hoodies, varsity jackets, skirts, dresses, caps, bikinis, leggings, socks, and other items of clothing are available.

T-Shirts: T-shirts come in a variety of styles and colors, including long sleeves, scoop neck, crew neck, v-neck, sleeveless, tank, polo, box cut, fitting cut, all-over-print (AOP), and more.

Shoes: Flip-flops, sneakers, Martin boots, high-tops, and high-heels are examples of footwear.

Home Decor: Wall paintings, wall decals, pillows, blankets, towels, bath mats, mugs, and other home furnishings

Accessories: Tote bags, shopping bags, backpacks, accessory pouches, phone covers, and more are available as accessories.

Jewelry: Dog tags, bracelets, and necklaces are examples of jewelry.

Stationary: Notebooks, stickers, and other stationery

You may also use the Mockup Generator to simply personalize each product, pick where to print your graphics, add product information, and alter the price.
Printify Suppliers
A wide range of items is sourced from a big number of high-quality vendors. The majority of the suppliers are headquartered in the United States, the United Kingdom, and China.
There's also a wealth of information on the vendors to aid in your search, from location to cost to size possibilities and everything in between. Best of all, before you start selling, you may request samples from vendors to ensure that your ideas are accurate. Let's get deep into this Printify review.
Printify Shipping
Printify takes care of the printing and delivery, so all you have to do is pick a printing company. You'll be spoiled for choice because there's a long list of companies with different shipping charges for each country. Art Gun, DJ, T-Shirts and Sons, and more well-known brands collaborate with Printify.
Depending on your printing supplier and location, you may set up weight-based, flat-rate, and fast delivery. Shipping costs range from $8 to $15 on average, but you may compare all shipping costs for each printing company. Except for UK printers, most providers will offer tracking information.
Printify delivery times vary, but on average, they are as follows:
International: 10–30 days
Printify Shipping Calculator: Printify Review
Printify's Shipping Calculator may be used by advance plan holders to ensure that the correct shipping fee is charged every time. The calculator adds a flat shipping price to your shopping cart automatically, so you don't have to do it manually for each transaction.
Printify Pricing
From this Printify review, you can choose your option, you may choose from three versatile alternatives, and Printify is completely free to use. You get more features when you invest more money. Here's what you get for your money with each plan:
Free: 5 shops, infinite items, a mockup generator, Shopify and Etsy connection, manual order generation, 24/7 customer service, and a self-serve help centre are all included.
Premium $29: All of the above, plus ten stores, special order imports, and a 20% discount on items.
Enterprise Custom: All of the aforementioned, as well as an unlimited number of stores and items, a dedicated account manager, and branded customer service.
What is Printify Premium?
The Premium plan is best for merchants that are expanding their business and want more space and assistance. The major benefit of the Premium plan is that merchants enjoy a 20% discount on all items as well as a one-time joining bonus credit that is credited to your Printify balance instantly.
Whether it's a sample request or a client order, the incentive will be applied the following time you place an order.
How Much Does Printify Charge?
Printify has no hidden fees, which means there are no transaction or commission charges. Your profit margins are determined by the entire cost of printing and delivery, which you pay as you go. The following is how it works:
Let's say you're selling a Bella Canvas t-shirt for $20.
You have the choice of printing on the shirt with one of four printing companies — three in the United States and one in the United Kingdom.
Each supplier charges varying base pricing, in addition to additional variances (such as color availability, size, two-way printing, and so on). Let's assume you choose MyLocker, which implies the merchandise and printing would cost you $8.89.
Then, to check shipping charges for each location, click the "Shipping and additional details" option.
Assume you're sending a single shirt within the United States, which will cost you $4. As a result, your total base prices have increased from $8.89 to $12.89.
So your profits would be $20 — $12.89 = $7.11 for a single shirt.
That is true regardless of the product or overall quantity – everything you create is entirely yours.
Printify, Shopify, and Etsy
Printify is a feature that may be added to an existing online business. It's a Shopify print-on-demand solution, which means it'll work with your online business seamlessly. It also indicates it isn't self-contained.
Printify, in addition to Shopify, also works with WooCommerce, WordPress's sibling eCommerce platform.
Finally, in just a few clicks, you can link your Printify account to your Etsy business.
How Does Printify Work With Shopify?
Simply go to Shopify's App Store, search for Printify, and click install if you already have an existing (or new) Shopify online store. All shipping, production, and publication of your POD items will immediately sync with your Shopify store after you've completed the setup.
To get your goods on your Shopify eCommerce shop, all you have to do is utilize Printify's free Mockup generator to build bespoke items in four simple steps:
Upload your design,
Choose your products,
Customise,
Hit publish.
While you're mocking up your designs, you can also change product details, descriptions, and pricing, and those changes will display in your Shopify shop.
Printify vs. Printful
Printify is one of the greatest print-on-demand services available today, but the POD industry is rapidly expanding, which means competition is heating up. Let's see how Printify stacks up against Printful, its largest competition.
Printful is another print-on-demand service that allows consumers to design personalized items without having to worry about stock.
Is Printful Cheaper Than Printify?
In this Printify review, you will know, Printify only provides one membership level, and it is completely free. You will not be required to pay for any additional features once you have signed up.
Printing Network
Printify allows you to select your printing service provider, but Printful does not. Printify also gives you a greater selection of printers to pick from.
Merchandising
Printify also boasts a wider selection of items than Printful, as well as speedier average shipping times and a 20% discount on all products for Premium plan subscribers. Print, on the other hand, allows you to brand your items in numerous ways, such as packaging, neck labels, and pack-ins, whereas Printify simply allows you to brand neck labels.
Overall, Printify comes out on top. Not only will sellers have a bigger selection of items to pick from, but they will also be able to discover the best printing supplier for each item. Both platforms have excellent capabilities, but Printify appears to have a better understanding of what sellers and designers require to expand their businesses quickly.
Printify Review: Is It The One?
Printify isn't a self-service option for your consumers. It's an app that allows you to quickly sell your creative design online without having to spend a lot of money or worry about excess inventory. You only have to focus on the designs and sales while Printify handles everything else.
It's a fantastic print-on-demand service that makes it incredibly simple for merchants to get their designs online and into the hands of paying customers.
Conclusion
In this Printify review, Printify is explained with its pros and cons. It is one of the cheapest and most useful service options to use.
Read More: