15 Best Payment Apps in India to Use in 2023
A digital wallet is a type of virtual wallet that allows you to store money digitally and use it for a variety of online and offline transactions. It may be linked to your phone number and bank account to make monetary transactions quick, simple, and safe. You can use some of the best payment apps in India to use your digital wallet.
Which Digital Wallet App is the Most Secure?
Have you ever considered how many debit and credit cards you carry in your pockets daily? Have you considered a different approach? A single platform where all of your accounts might be merged? This is where the use of a digital wallet app comes into play.
These apps, which you may download to your phone, are linked to your bank account, debit card, or credit card information. You may then conduct transactions by tapping on your phone, entering a few details, or scanning a code.
For example, we may look at PayPal, which is the market leader in digital wallet programs. Google Wallet, MasterCard PayPass, and Square Wallet are all new additions to this program.
Many new users, on the other hand, are leery of data transfer through mobile networks, which is seen to be fraught with security problems. As a result, this danger exists in a digital wallet as well.
What if you misplace your phone and all of your personal and financial data falls into the wrong hands? Customers are also concerned about the possibility of fraud while using these mobile apps. When you use a debit or credit card, your bank holds you accountable.
However, digital wallets are exempt from scam.
So, what do you do in this situation? You must guarantee that the safest wallets are installed on your phone so that the relevant providers may be held liable in the event of fraud.
Installing reputable, trustworthy applications ensures that the percentage of unlawful transactions is kept to a minimum. The finest digital wallet applications in India are listed here, and they all provide a safe and easy transaction experience.
15 Best Payment Apps in India
1. PayTM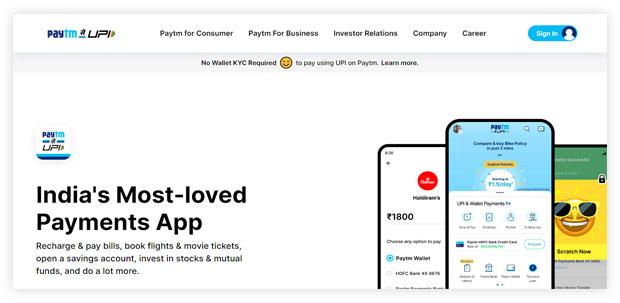 PayTM, one of India's most popular and widely used applications among the present millennial age, allows you to send money to a digital wallet and use it to make payments. It was created in 2010 with a semi-closed format that capitalizes on the massive mobile and smartphone market.
The app may be used by anybody to pay in stores that have partnered with the firm. PayTM may also be used to pay bills, transfer money, and access the services of travel and leisure websites. It is now widely used in educational institutions to make cashless fee payments. It is one of the best payment apps in India.
2. Amazon Pay
The next app on our list is Amazon Pay, another of India's finest digital wallet apps that are owned by none other than the e-commerce behemoth Amazon.
It was introduced to the rest of the world in 2007 and is frequently used by Amazon's vast customer base. It's safe and efficient, and you may use it to make payments with the amount in your Amazon account. It can also be used on third-party merchant websites.
3. Google Pay
Google Pay is currently available as a payment option at practically all brick-and-mortar and online establishments. It has a large user base and may be used to transfer money to pals, pay bills, order food, recharge your phone, and purchase in businesses.
It connects to your existing bank account and eliminates the need to load wallets or check KYC because it is immediately connected to your bank. It is one of the best payment apps in India.
4. PhonePe
PhonePe, a digital wallet software established in 2015 in India, has been downloaded by over 100 million users to date. It can be used to make UPI payments, recharge mobile phones, make secure money transfers, and pay bills online.
It is one of the most widely used apps in India because of its simple user interface.
5. Mobikwik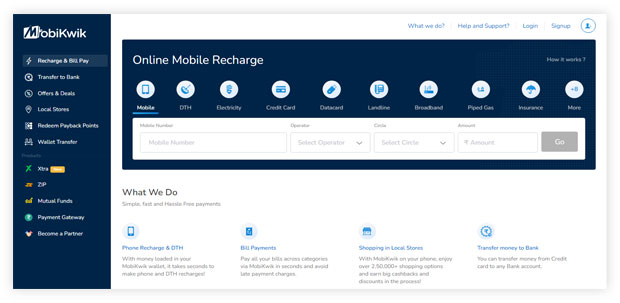 MobiKwik is a popular digital wallet software for online shopping. You may load money into your mobile wallet using your debit, credit, or net banking account, and then use it to recharge phones, pay bills, and buy online.
MobiKwik is used by many grocery stores and restaurants, particularly for its cost tracker function, which allows users to track their spending and keep track of their budget.
6. Yono by SBI
Surprisingly, when SBI debuted the Yono app, it quickly became one of India's finest digital wallet applications. This app allows you to send money to other users and bank accounts. Yono may also be used to pay bills, recharge your phone, book movies, make hotel reservations, and buy online.
It's a semi-closed prepaid wallet that comes in a variety of languages and can be used even if you don't have an SBI account.
7. HDFC PayZapp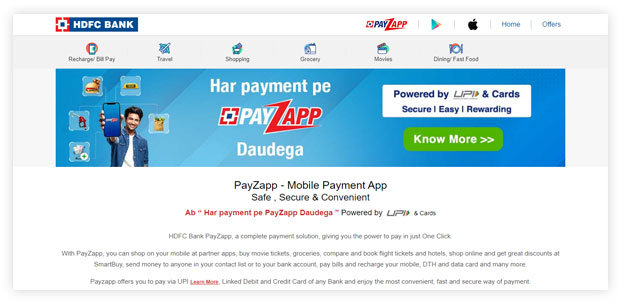 PayZapp by HDFC is quite popular since it allows you to make all of your payments with just one click.
You may use it to recharge your phone, DTH connection, and data card, pay utility bills, book airplane tickets (after comparing rates), make bus and hotel bookings, shop, buy movie tickets, and shop at music and food stores, among other things.
It may also be used to send money to anyone on your contact list. It is one of the best payment apps in India to use.
8. ICICI Pockets
The ICICI Pockets e-wallet app is available to everyone who has an ICICI bank account. Any bank account may be used to fund the digital wallet. You may send money to any phone number, bank account number, Facebook user, or email address using the VISA-powered e-wallet software.
You may also use it to shop online, recharge your phone, share bills with pals, buy tickets, and send presents. ICICI also offers the option of converting it to a zero-balance savings account.
You may also get a real debit card for your digital wallet, which you can use in offline places as well as online, for a charge. Exclusive discounts, promotions, rebates, and bundles from renowned companies are available through the app. The ICICI Pockets app is a great example of a well-thought-out mobile app.
9. JioMoney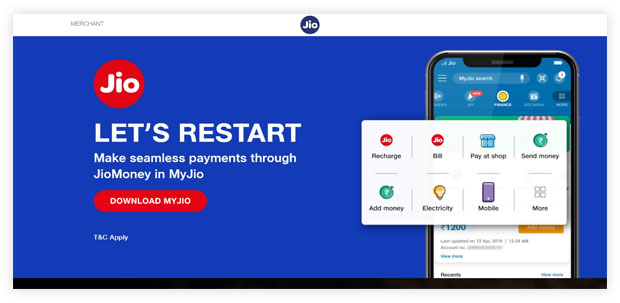 Jio SIM customers will get the JioMoney app loaded on their phones immediately. If you are not a Jio customer, you may download the app and use it on your smartphone. To recharge JioMoney, you don't need to have a bank account. It is one of the best payment apps in India.
You may also pay cash to a Jio dealer, who will deposit the money into your digital wallet. This functionality is especially important given the widespread use of Jio cell phones in rural India. When you use this e-wallet software, you may get unique discounts and deals from certain retailers, as well as receive several cashback rewards on various transactions.
10. Ola Money
Ola Money's e-wallet feature has been expanded. Various online merchants like BookMyShow, Yatra, IRCTC, Mumbai Metro, Dominos, and others now allow you to pay for not just cab trips but also utility bills, buy tickets, groceries, and much more.
Ola Money may be added to your account through a variety of institutions, and it can also be withdrawn from your bank account.
The Ola Money e-wallet app also has a function called Ola Money Postpaid. It eliminates the need to reload your Ola Money digital wallet.
This kind of payment may be used not just for taxis, but also for over 300 different applications. There are no extra fees or charges. Every 15 days, you must pay for all of your costs.
11. Mswipe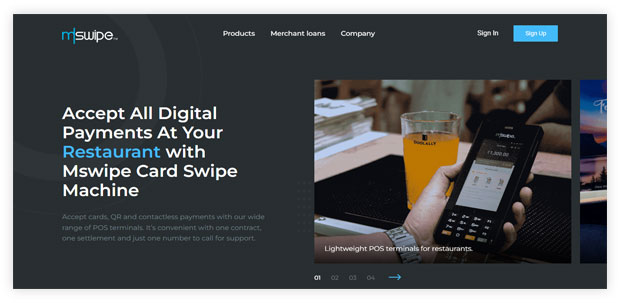 Mswipe is a mobile point-of-sale system that makes digital payments simple. It comes in the form of a gadget that can be connected to mobile phones, tablets, and even PCs to allow for card payments.
Your bank account is connected to it. MSwipe also offers a mobile app for its businesses, which contains capabilities that allow them to accept payments through QR codes.
MSwipe's mobile app generates complete records of all transactions and displays transaction history on a single page. The app has in-app help options that are quick and easy to use.
Optional features that are often utilized, as well as promotional offers for users, maybe launched fast. It also allows you to offer your consumers an EMI option.
12. Vodafone M-Pesa
Vodafone M-Pesa allows you to recharge mobile phones, pay utility bills, and send money to other M-Pesa users' digital wallets. To transfer money to someone, simply enter their phone number, the amount, and a four-digit code. It is one of the best payment apps in India.
When someone transfers money to your M-Pesa digital wallet, one of the noteworthy advantages of this e-wallet program is that you may receive the payment in cash at one of their M-Pesa stores.
All you have to do now is show them the transaction SMS and ID proof, and they will give you cash. M-Pesa also offers a 5% reward on a variety of purchases.
13. Airtel Payments Bank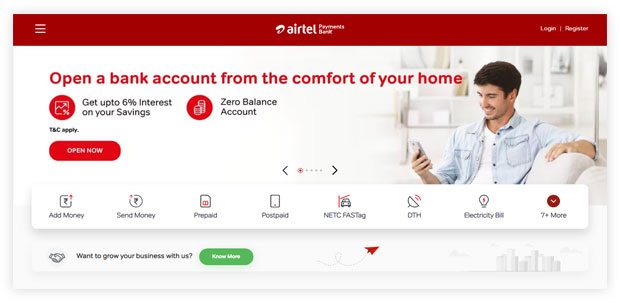 You may use the Airtel Thanks app to manage your Airtel mobile accounts and access the Airtel Payments Bank and Airtel Money Wallet on your smartphone. Money deposited into the Airtel Payments Bank account comes from the Airtel Money Wallet. In addition, it earns a little bit of interest.
You may spend the money on things like online shopping, recharging your prepaid account, paying your postpaid expenses, and sending money to others. You may also get discounts, rebates, and special deals on hotel, bus, travel, and cinema ticket reservations.
You may also get free access to services like Amazon Prime, Wynk Music, HOOQ, and Airtel TV using the app. All transactions are protected by a 4-digit mPIN.
14. CCAvenue
CCAvenue is one of the most well-known payment gateway companies in South Asia, including India. The payment gateway is easy to use, as well as speedy and secure.
This payment gateway allows over 200 different payment methods, including six different credit cards, 58 different net banking options, 97 different debit cards, 14 different bank EMI options, and so on. It enables the integration of websites and apps.
The transaction page is mobile-friendly, and the checkout process is quick and simple.
FRISK was created by the company for security purposes (Fraud and Risk Identification System & Knowledge). This guarantees that payments are made securely. The best thing is that this payment method has no withdrawal fees.
CCAvenue is utilized by firms like Air Asia, Lakme India, Myntra, and others that have had success in their businesses. CCAvenue and Magento 2 may be linked via Meetanshi's Magento 2 CCAvenue plugin.
15. Razorpay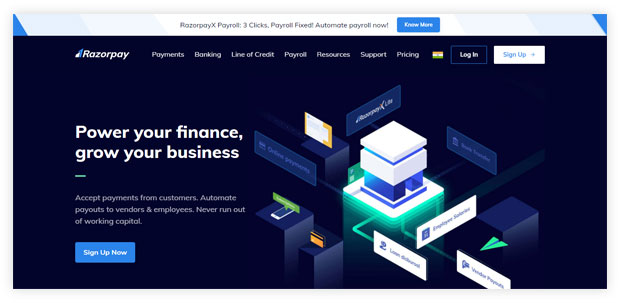 Razorpay is a well-known payment gateway provider in India. Razorpay is a payment gateway that was founded in 2014 and now has over 80,000 customers. It is one of the best payment apps in India.
The company was recognized as a unicorn startup in India in October 2020, with a valuation of over $1 billion. So far, more than $200 million has been invested in the Bangalore-based financial business.
Razorpay is known for its ease of use and quick activation. If you utilize this payment gateway to access real-time purchase details, you'll see a Dashboard. It's quite easy to use. Small, medium, and big enterprises, as well as freelancers and self-employed people, choose Razorpay.
The Razorpay payment platform is used by Unacademy, UrbanClap, Zoomcar, Groffers, and BookMyShow, to name a few well-known organizations.
RazorpayX is the business banking section of Razorpay, which enables end-to-end money transactions. It's a secure method of conducting business.
You can keep track of your marketplace and set up automatic bank transactions. Collecting regular payments, sharing invoices, and qualifying for working capital loans are all choices.
Meetanshi provides a ready-to-use solution called Magento Razorpay Payments that allows you to link your Magento site to India's Razorpay payment gateway and take safe online payments in 92 currencies.
Aside from that, Razorpay offers the Razorpay Route API, which may split payments into various accounts and regulate money flow—using the Magento 2 Razorpay Route extension to monitor marketplace money movement to link the Razorpay Route API with Magento 2.
Conclusion
Mobile apps are becoming more sophisticated, user-friendly, dependable, and risk-free, opening up a whole new avenue for making a cashless economy a reality.
Digital wallets and mobile e-wallet apps have provided a lot of value for consumers, and it's no wonder that more people are using them every day. Now we have some of the most used and best payment apps in India which you can select from.
Read More: