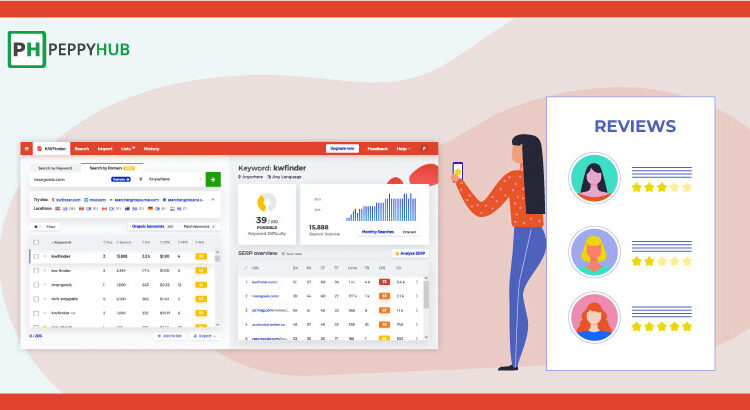 KW Finder Review: Is this Keyword Search Tool Worth Buying?
Keywords play an important role in search engine optimization. Every single search-engine-optimized web page employs targeted keywords. Those keywords are imperative for Google and other popular search engines. Keywords let search engines find what every web page is all about and based on the recommended relevant search results. Read this KW finder review to know more.
They inform search engines what a particular website is all about and help them to drive traffic to those web pages naturally.
One of the most useful things you can do is keyword research as per your industry or niche if you want to improve your search engine optimization. To make this task work, you'll require to know the following information:
What keywords are already being searched?
How many people search for the keywords that you need to use?
How hard is it for each keyword to rank?
After knowing the answers to these questions, you will be able to select the right keywords for your site. Your keywords must be related to your website and the niche that you need to reach.
The ultimate solution for getting low competition and high volume traffic keywords is utilizing a tool such as KWFinder.
KW Finder Review: Introduction
KWFinder is a widespread keyword search tool. KWFinder's intuitive and impressive interface allows you to get keyword difficulty scores easily.
KWFinder accommodates a lot of information for each keyword that you research. You can discover whether you want to rank for a particular keyword according to pay per click, cost per click, ranking difficulty, search volume, and other relevant data or not.
Utilizing this tool to search keywords provides you with a better understanding of every keyword's landscape. Without using such a tool, you might not understand a keyword's difficulty ranking, whether or not your planned keywords relate to your niche, or what is the keyword's search volume. You will be able to see the difficulty score for each keyword.
KWFinder presents enough information to decide what keywords are the most useful to use for your online business.
While you're applying KWFinder for searching a particular keyword, you can discover other keywords that are either more highly searched or more relevant. You can utilize the tool to analyze each keyword's difficulty ranking. This information can be utilized to discover how likely your website will rank due to using that keyword.
You can see who your competitors are for each keyword that you research and also find other keywords that they are ranking. You can also refine your keyword searches by language and location to get the most targeted results.
KW Finder Review: Who Can Leverage It?
KWFinder can benefit you make the most out of your search engine optimization strategies. It's ideal for people who are already ranking for keywords that they desire to use, for users who want to get new keywords that competitors haven't applied, learn about advertising costs associated with using specific keywords, and for those who want to search for keywords for their particular business or niche.
The tool lets keyword research simple. Just insert a keyword and use the resulting data to make informed decisions. KWFinder presents real-time information for search engine optimization results and terms.
This is very important for business owners who need to make data-led decisions on what keywords to use based on their relevance to the niche and whether their difficulty level is achievable.
You will also see that keyword value (difficulty) is usually different from values shown in other tools. Keyword difficulty, also known as keyword competitiveness, is a relevant keyword research metric, and every tool calculates this value differently. That's why keyword values can vary from one tool to the other.
Why Is Keyword Difficulty Important?
The goal is to discover relevant keywords that don't have much competition and seem more common in search engine searches. That's why it's necessary only to utilize keywords that are related to your company, niche, industry, your products, and services.
KWFinder will explicate to you the monthly keyword search data for every keyword that you insert. You'll understand whether or not the keyword is being searched for, and if so, you can see how many times it's searched for every month.
You can utilize this information to determine which keywords to target based on their search results and keyword difficulty scores.
The ability to know a keyword's difficulty score in a single click is one of the most in-demand features for keyword search tools. The score determines the ease or difficulty of that specific keyword phrase's ability to rank on the first page of Google.
Keep in mind that this score can differ, depending on the keyword search tool you utilize.
KWFinder's keyword difficulty data is determined in real-time. Whenever someone clicks on one of the keywords from a list of suggested keywords, the difficulty for that keyword is then cached for future users. However, the keyword difficulty for particular keywords is rarely calculated so that previous data won't be cached from prior user searches.
Keyword difficulty values are only stored for 30 days. If the difficulty weren't calculated for a particular keyword within that time frame, their values' opacity would reduce. Hovering your mouse over the keyword values will show you the last time a keyword's difficulty score was calculated.
When real-time data is calculated, technical constraints prevent all the data from being presented simultaneously. In other words, KWFinder doesn't show keyword difficulty for all suggested keywords because data can be rather expensive.
KWFinder Pros and Cons
Here are the advantages and disadvantages of using KWFinder as your keyword research tool:
ADVANTAGES
Lightweight and quick – KWFinder loads keyword suggestions and information amazingly fast! There's no lag time. You won't have any difficulty getting results quickly.
Ease of use – This tool lets finding keywords be simple. It is simple to use, no matter what your level of expertise is. The automatic interface makes sure that navigation and keyword searches go smoothly.
Diverse search engine optimization metrics – KWFinder extracts information from Moz, Majestic, and some others in addition to its own Link Profile Strength feature. You don't have to pay for these services separately because KWFinder presents data already.
Allows multiple logins – You and your team can utilize KWFinder and other apps designed by Mangools simultaneously, as long as you have the Premium or Agency plan. This can further create a smoother workflow and speed up the keyword search process.
It's a web-based application, so you don't have to install anything. You need to have an internet connection.
Five tools in one – You don't get KWFinder but also SERPChecker, LinkMiner, SiteProfiler, and SERPWatcher.
Ten-day free limited trial option (unfortunately, it is very limited)
You can filter results and save keywords.
DISADVANTAGES
It doesn't support multi-tabbed keyword research.
You can't customize the SERPChecker preview.
Your keywords results are limited. Keyword searches are limited, no matter which package you buy.
The pricing plans are not for every pocket.
Only two days money-back-guarantee
KW Finder Review: Pricing
Three KWFinder pricing plans can be purchased either on a monthly or annual basis.
Mangools Basic -$49.00 per month
Mangools Premium$69.00 per month
Mangools Agency $129.00 per month
You can save up to 40% with annual plans. Check their pricing by visiting their website.
KW Finder Review: How it Works?
KWFinder employs Majestic and Moz data to examine a difficulty score for a keyword that you insert. It also helps you to put that data into perspective. Once you have signed up for a free 10-day trial account, you can go straight to the app to do keyword research. This KW finder review will explain to you how it works.
You will see two tabs above the search box – Search by Keyword and Search by Domain.
#1 Search By Keyword – Most standard keyword research tools will ask you to enter a particular keyword into the keyword tool to get hundreds of keyword suggestions. This is a great way to brainstorm possible keywords for your website.
It can also assist you in learning who your contenders are and provide you with a general idea of what keywords may suit your particular niche.
You can also conduct searches using keywords or domain URLs.
#2 Search By Domain – This option is competitor-based. In search by domain, you do a process of reverse-engineering by inserting the URL of a competitor's website rather than entering a specific keyword in the search bar. This kind of search tells you what keywords your competitors are utilizing to rank.
1. Multiple Research Options
Three research options can be used. Those are related keywords, autocomplete, and questions:
You can view search results in the form of related keywords, autocomplete, or questions.
Autocomplete – This option utilizes Google's autosuggest feature to give keywords. These are the instructions you normally see when you're typing in Google's search box.
Questions – This feature is important while adding prefixes to your seed keywords. You will then view information-based keywords that relate to what you've inscribed in the form of questions.
Related Keywords – The standard default search option that most people work on. It gets keywords using Google's KW planner. Its internal algorithms are used in sorting search results.
2. Performing Keyword Research Using KWFinder
Employing KWFinder to search for keywords will also show results for other similar keywords that may be applicable. This function can be very helpful. Just when you decide that you've got the right keyword, you'll get information on other keywords that may be just as or more important than the one you had in mind.
Some of them will have higher monthly search volumes or be less difficult to rank. Small, subtle differences in keyword spelling and/or phrasing can sometimes influence their difficulty score and ranking, so pay attention to other keywords that are similar to the one you're focused on.
Take the appropriate time to review the list of suggested keywords that you get carefully. There may be some options that you earlier didn't consider, which are a far better fit.
After you notice the keyword suggestions based upon your seed keyword, you'll notice that each keyword is broken down into the following metrics:
CPC – Average cost per click in Google Ads for that keyword
PPC – Displays the competition level in Google Ads
Monthly search volume – This gives the current monthly searches for that keyword on Google
Keyword difficulty score – You'll notice an aggregate score that determines how easy or how difficult the keyword is to rank on the first page of Google search results based on KWFinder internal algorithm
Trend – Here, you can understand how searches for that keyword have changed over the last 12 months
Click on the "Filter" button if you need to improve your results further. You can fine-tune the data that you received. However, you see fit.
You can refine search results based on search volume, PPC, included or excluded keywords, CPC, keyword difficulty, and a number of words.
Clicking on any of the keywords will reveal more information about them on the right-hand side of your screen. This is one of the most notable features that this tool allows. It breaks down the data based on the top ten pages that rank for that keyword in search results.
KWFinder practices a kind of "credit" system to restrict the number of data requests that every user can make. This is unique, but it makes sense, particularly when you think about how extravagant requests can put a considerable strain on resources and increase costs.
Because KWFinder has different limits in the form of "credits" depending on which plan you buy, you could see this information from time to time.
Because of that, depending on which pricing plan you buy, you will have specific limits in keyword lookups, keyword suggestions search, competitor keyword search, SERP lookups, tracked daily keywords, site lookups, and backlink rows. The limits reset after 24 hours.
The biggest drawback with these limits is when it comes to how many keywords results in, will get (capped keywords). Depending on your plan, results are limited to either 200 or 700 keyword results.
Apart from keyword results being capped, the conditions also apply to any keywords you import into the tool.
There is also a multi-tabbed keyword research issue. Typical keyword research requires entering seed keywords and utilizing the resulting suggested keywords to discover alternatives. KWFinder provides users with the ability to generate new searches based on any keyword suggestion that they need.
However, you can't open a new window or tab to start these searches. Rather than the tool replacing your current suggestions. KWFinder requires users to pick a single path. It doesn't own a multi-task approach.
3. Import Keywords
Apart from using the tool to find new keywords, you can further import keywords that you need KWFinder to assess for you. For example, suppose you're already using Google Keyword Planner or similar tools to brainstorm keyword ideas. In that case, you can export that list in either TXT or CSV format and then import that data into KWFinder.
It lets you discover more keyword suggestions that you can then analyze using the KWFinder metrics. You can also copy and paste the keywords to the text bar.
4. Saving Keywords Using Lists
Many KWFinder users may want to organize their keyword research for later use. It can be very annoying having to insert the same search query every time you use the tool, particularly when you remember that the KWFinder restricts your number of keyword searches.
Therefore, you can build lists and save keywords.
It's a good approach to keep them in keyword lists not to forget or lose them. You can do this by going to the results page and clicking on the checkbox next to the keywords you need to put in a list.
When you're done with your selections, click on the "Add to List" option at the bottom. You can also add to the list by clicking the star icon next to keywords.
5. History Page
Checking the History page enables you to view what you've searched in the past. Select the History option from the menu to analyze your previous keyword searches.
KWFinder Review: Is KW Finder Right Choice For You?
KWFinder is a valuable resource for search engine optimization and keyword research. The tool produces results consistently and quickly.
The various Mangools applications complement each other very well. Even though KWFinder stands out, the other apps are powerful enough on their own.
KWFinder is a web-based tool.
Because it's a web-based application, you can utilize KWFinder on any computer that has an Internet connection. There's no need to worry about compatibility issues.
Another benefit is that you don't need to combine it with a personal Adwords account or any other kind of account, for that matter. Everything works right away. Even though KWFinder gets its search volume data from Google's Keyword Planner, it uses its algorithm to determine the search volumes and keyword difficulty for all keywords that you use.
KWFinder is a powerful tool and fantastic if you're a new blogger and begin with search engine optimization and keyword research.
It's the most intuitive keyword research tool that we have ever come across. It's a platform that allows anyone to start getting low-competition, profitable keywords in just a few minutes. I hope you find this KW finder review helpful. Do share your opinion with us.
Read More: