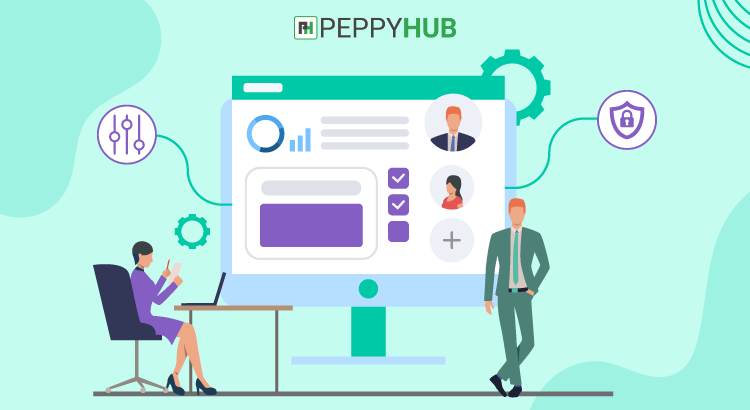 Top 5 Best Policy Management Software In 2023
Policy management is an important process for implementing and maintaining policies within an organization. Every company must have one of the best policy management software to provide guidance, accountability, and clarity on how an organization operates.
What is policy management software?
Simply put, the policy management software is an online or cloud-based program that helps users organize, amend, and distribute their policy and procedure papers.
Policy management software in the healthcare industry additionally adds security and authorization choices for sensitive information and documents, enabling open and simple collaboration between policymakers and editors, and includes a sign-off tool for training and legal purposes.
With so many new policies and procedures, as well as healthcare standards, policy organizers require a mechanism to confirm that all hospital employees have read and comprehended these rules.
Staff must manually sign off and "attest" that they have read these papers if policy management software is not in place. Meanwhile, their bosses must keep track of each employee and may have to track them down to get this confirmation.
Without it, a hospital may be held accountable if a mistake about that policy happens. This is made simple and automated by using policy management software.
Which Policy Management System Is Right For You?
Not every policy management system is made equal. We've seen everything from binders and files to intranets and cloud-based technologies during our research and development.

This might leave individuals working in the healthcare field perplexed about which system to employ, which is reasonable. What is appropriate for one healthcare practitioner may not be appropriate for another.
What is the best policy management solution for you? This is the first initial dialogue between PolicyMedical and every potential new audience member.
The perfect policy management system for you establishes a central repository for all policies, procedures, and forms, allowing staff to collaborate on their creation and maintenance. All of this should be given in a cost-effective and timely manner, with a high rate of acceptance.
A good system also supports training and accreditation initiatives and creates an audit record in the case of a lawsuit. In a hospital with hundreds of rules on numerous topics, a strong policy management system is vital.
The following four-step cycle may be used to define policy management: development, communication, management, and maintenance. Each step of the way, the best policy management systems assist your healthcare company.
Step 1: Creating Policies
When a need is found inside an organization, a policy is drafted and reviewed before being approved.
With a company logo, a proper legal disclaimer, and the inclusion of all major policy sections, a good policy management system allows you to use policy templates to provide a uniform look and feel for your policies.
Additionally, processes may be built when generating new policies or amending old policies, specifying who will get the policy in what order and facilitating cooperation.
Step 2: Communicating Policies
A policy must be conveyed to employees when it has been created and approved. Publication, dissemination, training, and attestation are all part of this process.
The finest policy management solutions allow you to send new and updated policies to employees quickly and efficiently, as well as track who has read them and when. It's also a great feature to be able to combine your policy management system with a learning management system.
This allows you to provide additional materials and tests to ensure that your employees properly comprehend the policies they've been given.
Step 3: Managing Policies
A policy must be available to the relevant persons at all times, be consistently implemented, and be easily amended when required.
The finest policy management systems allow administrators complete control over which users have access to which system functionalities, including reading, printing, amending, and approving policies. While maintaining accessibility, improves overall security management and privacy.
Step 4: Maintenance Of A Policy Management System
Policies must be reviewed, updated, and archived regularly after your policy management system is in place. The finest policy management systems establish a clear audit trail, recording who made each change, when they were made, and why they were done.
When policies are up for review, your policy management system should automatically alert the proper persons, and if policies are amended, it should archive prior versions.
The finest policy management systems also include comprehensive reporting capabilities, which provide insight into how the system is being used.
Five Policy Management Software Tools
Best Policy Management Software, like any other cloud-based service, comes in a variety of forms, sizes, and flavors. Some tools are just more well-designed and user-friendly than others. We'll look at five that get almost everything perfect in this part.
1. ConvergePoint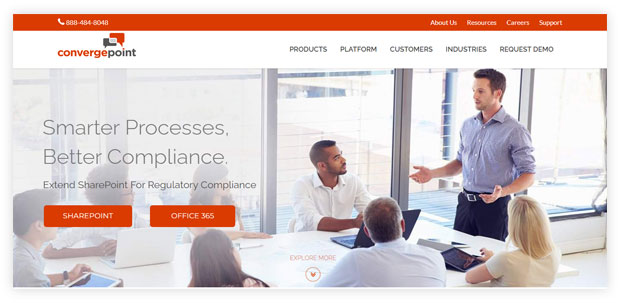 Because the ConvergePoint Policy Management package is connected with Office 365 and Sharepoint, you can write, evaluate, and approve policies from within your preferred productivity tool. ConvergePoint's rule-based workflows may be used to build all policies, which send out alerts and link the appropriate people with the right information at the right time.
Policies can be created by uploading papers to the suite or utilizing one of the numerous templates available. Real-time dashboards give insights into the status of each policy, while the program saves a comprehensive audit trail for subsequent reference.
Convergepoint centralizes all communication onto a discussion board where comments may be posted to any guideline, taking a page from social productivity tools like Slack. Role-based user access limits who sees what depending on their work responsibilities.
Convergepoint recognizes that the main issue with policies isn't always recording them, but rather obtaining relevant information when it's needed. As a result, their search and reporting capabilities are unrivaled.
Employees can access policies that have been published on a central site. Employees may rapidly discover the regulations and/or information they need by using metadata, tags, and keywords.
Finally, when a new policy is generated, you can use the suite to teach and test your staff by sending them quizzes. The dashboard allows you to keep track of your progress.
2. Onspring
Since 2010, Onspring has been at the cutting edge of risk, compliance, and business process automation technologies. Their policy management software is just one of the numerous business solutions they provide, which cater to practically any industry and are jam-packed with valuable features.
Onspring's solution is distinguished by its exceptional versatility. The out-of-the-box solution may be tweaked to fit the demands of users with special policy management requirements. Onspring, like many major policy management software systems, lets you upload your policies or use their templates to create new ones. The policy documents can then be sent in either MS Word or PDF format.
From within Onspring, users may also suggest new regulations or make modifications to current documents. Their requests may be sent straight via the policy workflow based on important parameters like category and owner.
In the same way that ConvergePoint can record and work on policy-related issues and exceptions within a process, Onspring can do the same. Users may talk about how to fix any difficulties they're having and make changes to documents as needed.
The policy attestation questionnaires from Onspring are meant to assist your staff in understanding each policy. A dashboard is used to obtain the reports. Finally, material may be provided through automated emails that remind staff to perform duties and help them remember policies.
3. PolicyHub by Mitratech
While many firms may try to attract more business by cramming their product with features, Mitratech has chosen to stick to the essentials and execute them better than the competition.
PolicyHub's policy creation is so simple that you won't need any specific lessons or training to get started. Even administrators simply require a day of training to grasp the software's complexities.
PolicyHub is a smart distribution system that sends out updates to everyone who is affected by policy changes. Attestation and compliance duties are very simple to complete and record. You may use the built-in tools to see if new policies are having the desired effect.
Unlike other suppliers, Mitratech develops its products and sells them to other businesses. As a consequence, you get a well-thought-out, ever-evolving solution that was built from the ground up by users for users. PolicyHub may be deployed as a cloud-based SaaS for ease of use or as an on-premise deployment if additional control is required.
4. Policy Manager by MCN
The necessity of having a strong healthcare policy cannot be emphasized. Simple guides may not be sufficient in healthcare companies with thousands upon thousands of policies to refer to.
MCN is a leading provider of healthcare documentation and content management systems, and its policy tool is unrivaled. MCN's policy management software solution comes with several features that healthcare providers will like.
To begin, the toolkit includes over 20,000 current, editable policy papers that you may use as templates to develop your own. The policy generation and implementation routines are not just well-thought-out, but also adaptable. If necessary, approval processes can be directed to specific groups inside an organization or transmitted to other entities.
MCN's stay alert! This function is especially valuable since it keeps you up to speed on the most recent regulatory developments that influence your healthcare programs. These changes can then be rapidly applied to a policy inside the suite (if necessary).
Stay alert! monitors all main sources, including the Department of Health and Human Services, the Centers for Disease Control and Prevention, the Food and Drug Administration, the Office of Civil Rights, HIPAA, OSHA, and others.
Finally, MCN's outstanding customer service is deserving of particular attention. Their speed is especially advantageous in the healthcare industry, where inquiries must be answered quickly and accurately.
MCN, in conjunction with weekly webinars and StayAlert!, can keep you up to date on all the newest developments in the healthcare industry.
5. SweetProcess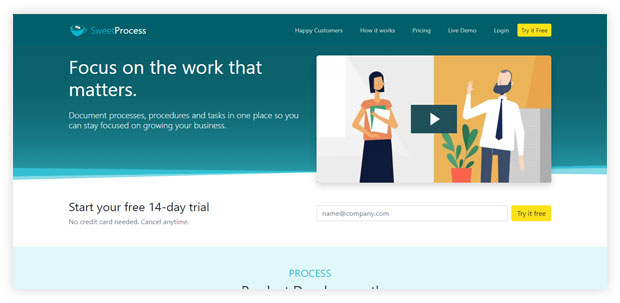 While policies are the theoretical foundation for how an organization should operate, procedures are the practical implementation of those policies, providing succinct step-by-step instructions on how to put them into action.
SweetProcess is organized into three categories: policies, processes, and procedures, and it provides a collection of tools for creating and implementing all of your internal documentation. You can develop and save an endless number of policies and processes, and you can also import existing policies into the system.
SweetProcess differs from other policy management suites in that it focuses on gathering real-time information about how a firm operates rather than attempting to impose a theoretical model on it. This document-as-you-go design concept enables the establishment of policies that are actually authentic and fully mirror a company's working culture.
Crafting the Perfect Policy for Your Company.
When it comes to drafting a policy, there's a lot to think about. Because a corporate policy is never finished, you'll need a procedure in place not only for drafting one but also for regularly revising it.
Even though the policy management software listed above comes with its own set of processes, there is still a lot of work to be done before and after you use it.
The Policy Cycle is a tool that has been utilized by businesses all over the world and is largely recognized as the best place to start when developing corporate policies. It was based on Harold Lasswell's work, and one of the more common variants, proposed by James E.
Anderson in his Public Policy Making (1974), offers the following steps in the policy-making process:
1. Agenda setting: Determine the problem and all parameters. Define the problem and comprehend its numerous components at this point.
2. Policy formulation: Set goals, determine expenses, and comprehend the solution's impacts. Select the most effective tools (or "policy instruments") for addressing certain situations.
3. Legitimation: Obtain the support of all stakeholders. Everyone involved in the policy's implementation, from management to the teams who will carry it out, must be informed of the concerns and the policy instrument that will be used to address them. At this point, feedback can be utilized to fine-tune the policy.
4. Implementation: Distribute the policy wording to all departments that are affected. At this step, make sure your business has the resources (people, money, and legal power) to implement the policy and hold teams and workers accountable for following the policy's directions.
5. Evaluation: Determine the extent to which the policy was successful. Was it successful in achieving the desired result? If not, why not? What were the negative consequences you had to deal with? Are you able to make changes to the policy?
6. Policy maintenance, succession, or termination: Once you've had some experience with the policy, you may decide whether to preserve it as is, update it with new information, or replace it with something else.
Conclusion
Policies, like the organizational culture in which they are embedded, are a never-ending process. Because a firm exists to respond to changing market dynamics (rather than to produce them), its policies must be flexible enough to adapt to new conditions as they arise.
Brands in highly regulated industries such as healthcare, banking, and information technology must go above and beyond to guarantee that their rules are understood and obeyed every time, on time.
Manual input and administration of crucial papers in such a fluid and fast-paced atmosphere may become highly tiresome, relegating the organization to the dark ages.
Best Policy management software packages are the ideal instrument for ensuring that the correct information is discovered promptly and that no mistakes are made unintentionally.
These tools include about every functionality you might want to guarantee that policies are produced, delivered, and understood as smoothly as possible.
You may test out different versions and choose the finest one for no additional cost because virtually all of them come with a free demo.
Read More: