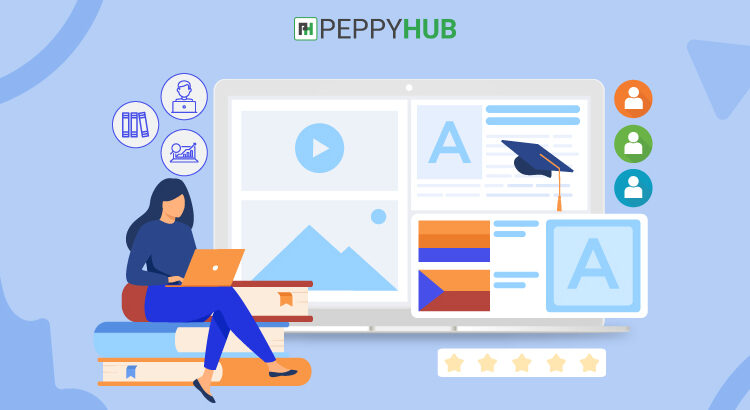 12 Best School Management System Software for Administration
It takes a lot to maintain track of records and boost data quality, therefore, incorporating school administration software is a great idea. Let's know more about the best school management system software.
The greatest school administration software also allows for huge savings in institutional resources by storing data digitally without jeopardizing the organization's sensitive data.
How to Choose the Best School Management System Software?
We have made it easier for you to choose the best school management system software. We have compiled a list of the finest school management system software to help you out.
1. Lightspeed Platform (Formerly Relay)
Lightspeed FilterTM (previously Relay) is a cloud-based web filter that works across several operating systems. It works with any device, including BYOD and 1:1, on school networks, at home, and any place else.
Lightspeed AlertTM assists instructors and administrators in detecting troubling behavior in students and teachers, such as cyberbullying, school violence, self-harm, suicide, and other harmful behaviors.
By delivering actionable information, Alert's superior AI, real-time notifications, and comprehensive reports assist schools in curbing these hazardous behaviors.
Lightspeed AnalyticsTM assists schools in making more informed, data-driven choices by offering comprehensive reports that address their most pressing concerns.
Also, Lightspeed MDMTM enables school IT staff to manage all of their devices on and off the school network (Windows, Mac, iOS, Chrome).
The monitor connects with the Apple App Store and Windows Business store portals, has smart hierarchical distribution, and controls that allow IT to push, remove, transfer, manage and report on programs across their schools and devices remotely.
Whether it's cyberbullying, school violence, self-harm, suicide, or other hazardous behaviors, Lightspeed AlertTM can help teachers and administrators notice them.
By delivering actionable information, Alert's superior AI, real-time notifications, and comprehensive reports assist schools in curbing these hazardous behaviors.
2. MyClassCampus
MyClassCampus is an all-in-one mobility-driven advanced ERP platform developed to help educational institutions in their digital transformation. Its one-of-a-kind Mobile App connects all stakeholders in an institute on a single platform.
Lesson planning, Exam Scheduler, User directory, Fee & Finance administration, Online admission with inquiry CRM, Leave management, QR attendance, User remarks Shared calendar, Time Table management, and digital library, are some of the characteristics.
3. Salesforce.org Education Cloud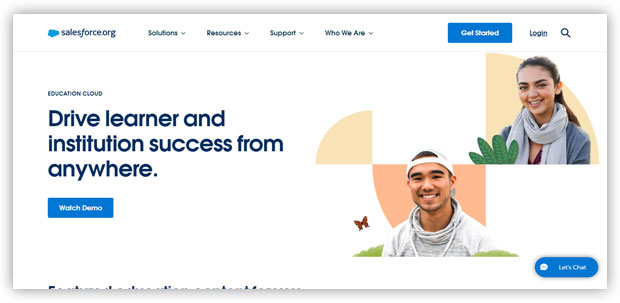 Education Cloud is a customer relationship management (CRM) technology that enables integrated constituent experiences. In one spot, manage engagements with students, alumni, educators, and staff.
Institutions may leverage Education Cloud throughout the complete education journey with products and solutions for recruiting and admissions, student experience, advancement, and operations. Education Cloud is based on the world's most popular CRM.
This implies that colleges may use technologies like Tableau, Mulesoft, and now Slack to power their digital campuses, in addition to purpose-built education products and solutions.
Education Cloud's versatility allows institutions to readily personalize the platform, including integration with a strong ecosystem of partner apps accessible on AppExchange, the leading enterprise cloud marketplace.
4. DreamClass
DreamClass is a cloud-based School Management System that makes administrative work easier and daily activities faster. Keep track of your student enrollment, monitor academic progress, manage payments and invoicing, and much more with a super-simple user interface.
DreamClass will relieve your administrative burden and allow you to focus on what matters most: your students! From traditional K12 schools to colleges, from dance studios to sports academies, DreamClass will relieve your administrative burden and allow you to focus on what matters most: your students!
5. Nolwaboard
Nolwaboard is a desktop as well as a mobile app. It is the only school ERP system with the unique capability of tracking a child's whole personality development.
Aside from academic success, know your child's talents and weaknesses so you can help them achieve their goals.
It gives each stakeholder (teachers, parents, admin, class instructor, hostel in-charge, library) their own login credentials. The simple mobile application makes it simple to keep track of a student's progress.
6. School Management Software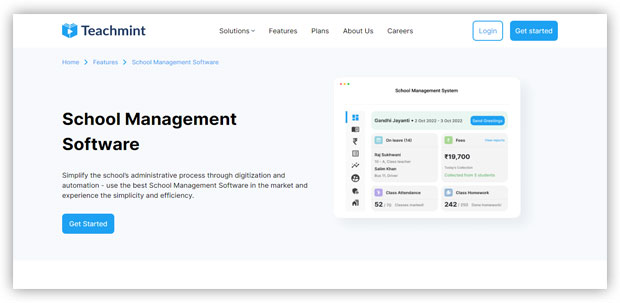 e-School ERP is a complete school management ERP software that automates your school. It is one of the most secure and customizable ERP software available.
It's basic and user-friendly software. Manage your school from student acceptance to graduation, including online admittance, biometric attendance, fees collection, tests (including online exams), inventory, HR Module, Transportation, Id Cards, Marksheets, Admit Cards, and other credentials, using a system like CBSE, ICSE, or the State Board.
e-School ERP includes more than 30 modules, as well as an 8-user panel (Super Admin, Admin, Parent, Student, Teacher, Accountant, Driver, Receptionist, Librarian) and a separate Android app for parents and students.
7. Springring
Springring is an EdTech platform that focuses on school communication management. Bringing school administrators, teachers, parents, and students together.
Springring intends to connect all EdTech platforms utilized inside the school, in addition to connecting individuals. Because improved communication leads to better education, Springring provides a central center for all of the school's communication requirements.
8. Udio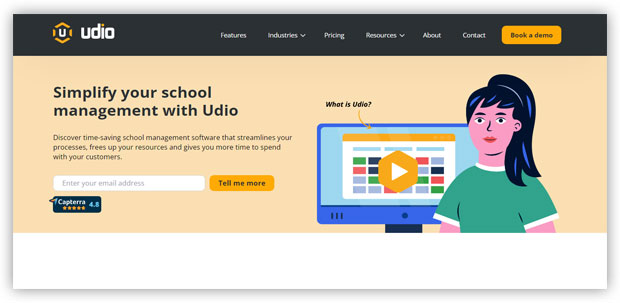 Udio's flexible school administration software assists class-based companies in automating time-consuming procedures, allowing them to focus on providing the best possible client experience. Staff can manage enrollments, arrange lessons, and collect tuition money from a single, easy-to-use system using Udio.
Managers may access a variety of real-time analytics to monitor how their business is doing, including booking statistics, income, attendance, skills, outstanding fees, and more.
With automatic booking/payment emails, bulk emails, and manual emails that can be divided to particular groups, Udio's integrated email platform allows employees to foster connections with clients and keep them updated.
Customers may also use the customer site to create, amend, and cancel bookings, as well as make payments and follow progress. By allowing consumers to administer their own accounts, admin hours are drastically reduced.
9. CommunityPass
Since 2002, top-rated leisure management software has been available. With online registration, payments, memberships & facility scheduling, touchless facility entrance, POS, capacity management, and more, our contactless solutions let you bring your community together safely.
With our cloud-based, mobile-friendly solution, you'll have complete control and productivity. For the general public, it is simple to use.
Administrative personnel must be adaptable, thorough, and efficient. With CommunityPass, you can improve income, participation, and community.
10. EZ School Lunch POS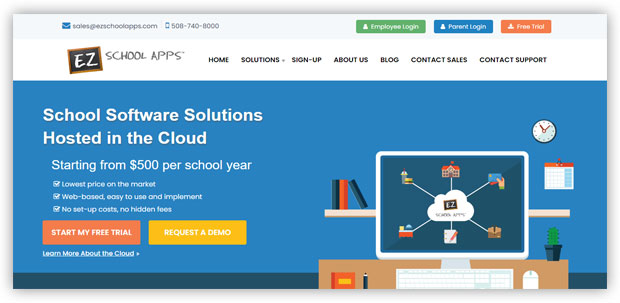 EZ School Lunch Software is a cloud-based School Lunch Software and School Cafeteria Management Software solution with a powerful POS system, lunch pre-ordering online with a calendar-based menu, and the ability to pay online from any device, computer, or phone, beginning at $695 per school year.
Aftercare Software, School Payments Software, and Substitute Management Software are all part of the EZ School Apps portfolio of products.
11. OpenEduCat
OpenEduCat is a fully open-source ERP for managing students, faculties, courses, and classes in universities, colleges, and schools. The core features are modules that are required to manage your educational institution.
OpenEduCat's key elements that are required for a seamless educational institute's operation. Simple to Use, Appropriate for All Types of Schools, Colleges, and Universities OpenEduCat is a search engine that connects administrators, students, teachers, and parents to relevant educational information in one place.
OpenEducat is a leader in educational institute ERP solutions, and its success in this field is due to its vision. Our mission is to give the finest possible solution for educational establishments, including schools and colleges from all over the world.
Because OpenEduCat utilizes odoo/flectra as a reference, all of the odoo/flectra modules are compatible with OpenEduCat.
12. Classter
Classter is a global leader in educational technology, providing an all-in-one SaaS that includes a Student Information System (SIS), a School Management System (SMS), and a Learning Management System (LMS).
Any educational institution can utilize the platform since it provides an end-to-end and flexible information management solution. Fully connected with Microsoft Office 365, Google G-Suite, and other third-party systems to provide a fully functional synchronous and asynchronous learning environment.
Conclusion
So this was it. Hope this article will help you choose the best school management System software. If you have any suggestions kindly comment below.
Read More: