7 Best AB Testing Software You Must Consider
If you're looking for the best ab testing software, look no further! In this blog post, we'll outline 7 of the best options available, so you can make an informed decision on which one is right for you.
Whether you're a small business owner or a large corporation, there's an ab testing software solution out there that's perfect for you. So what are you waiting for? Keep reading to find out more!
7 Best AB Testing Software to Try in 2023
1. NotifyVisitors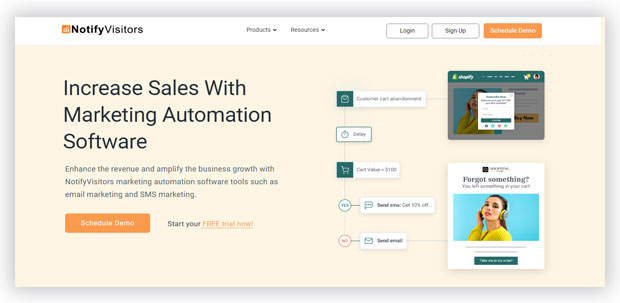 NotifyVisitors is a/b testing software that will take your digital marketing efforts to a whole new level. With its innovative features, it gives you a wide range of testing and marketing options that were never available before.
You're able to accurately track the performance of each tweak on a single page as well as know where each visitor came from and how they interacted with your page until they left. This allows you to make improvements while also noticing potential errors in real time.
Many businesses have already adopted this service due to its benefits in providing a better user experience and improving their overall conversion rate.
2. Google Analytics Content Experiments
Google Analytics Content Experiments provide a powerful tool to test, compare, and optimize website content. With its easy setup, users can quickly set up A/B tests that assign different versions of their webpage to visitors, allowing them to see which version performs better.
Through its reporting features, the user can then identify which page created the greatest engagement, leading to better website performance. Its highly customizable options help create experiments tailored to best fit your specific needs and objectives.
Utilizing Google Analytics Content Experiments can greatly help enhance your website and reach greater levels of success.
3. Optimizely
Optimizely is a powerful a/b testing software that helps businesses maximize their online presence and optimize their products and services.
With a simple-to-use platform, Optimizely offers a wide range of tools to help businesses increase effectiveness and accuracy in a/b testing, enabling them to make strategic decisions quickly.
Companies can use this tool to conduct experiments, track results, analyze data, and ultimately improve the performance of their digital products and services.
Furthermore, it has become a standard for a/b testing among many digital marketers who understand how essential a/b testing is for the success of digital campaigns. It is thanks to Optimizely that businesses worldwide are able to succeed in a highly competitive digital environment.
4. Visual Website Optimizer
Visual Website Optimizer (VWO) is an extremely versatile tool for website owners that want to maximize their visibility and appeal. With VWO, users can quickly and easily track visitor engagement on their sites through a wide range of metrics.
They can also tailor the content or design of web pages to suit different audiences, creating bespoke customer journeys with customized messages.
Furthermore, VWO makes A/B testing simple and reliable by letting businesses compare two different versions of the same page in real time, providing invaluable insights into how to make websites even more successful.
All this makes Visual Website Optimizer an indispensable tool in any marketer's arsenal. It is one of the best ab testing software.
5. Unbounce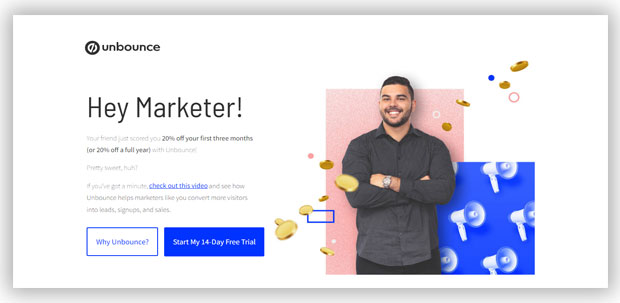 Unbounce is an incredible platform that makes digital marketing easier and more efficient than ever before. It takes the guesswork out of creating high-converting landing pages for any digital marketing campaign.
The user-friendly interface allows businesses to quickly build a well-optimized page with easy-to-use drag-and-drop design features.
With Unbounce, you also get access to comprehensive analytics that helps measure overall performance as well as detailed metrics for each individual page.
Additionally, it provides integration with a variety of other tools like webinars, email marketing, Google Suite Analytics, and more. With Unbounce in your toolbox, the sky's the limit when it comes to scaling up your digital marketing campaigns.
6. Convert
Conversion can be a tricky business, but with the right tools, it no longer has to be a guessing game. Convert A/B testing software has been a revolutionary tool for both developers and marketers alike, allowing them to easily compare how different versions of a website or feature will perform.
It is a powerful way to discover which elements will maximize a website's engagement rate, identify top pages and find best practices. As a result, businesses using a/b testing have reported significantly higher levels of success than those who rely solely on experience and intuition.!
7. KISSmetrics
KISSmetrics is an analytics software that provides user-friendly insights into website performance. Companies from all over the world use KISSmetrics to gain valuable insight and improve their digital presence.
The platform makes it easy to identify high-value consumers, understand how customers move through their websites, track key usage metrics, and devise strategies for engagement.
With KISSmetrics, marketers can make data-driven decisions by leveraging real-time customer data with tools that help them better understand customers, increase conversions, and optimize the user experience.
Thanks to its powerful functionality and wide range of integrations, KISSmetrics has become a go-to analytics tool among organizations large and small.
Conclusion
If you want to increase your website traffic and conversions, don't miss out on these powerful tools. NotifyVisitors, Google Analytics Content Experiments, Optimizely, Visual Website Optimizer, Unbounce, Convert, and KISSmetrics are all great options that can help you boost your business.
Try out a few of them and see which ones work best for you.
Read More: