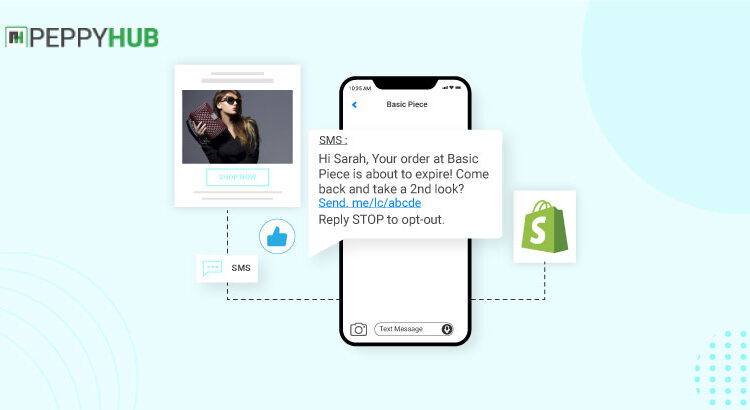 7 Best SMS Marketing Apps for Shopify to Try in 2023
Looking to take your Shopify store to the next level? SMS marketing is a great way to connect with your customers and promote your products or services. And there are plenty of great SMS marketing apps out there to choose from. n this blog post, we'll share 7 of the best sms marketing apps for Shopify stores
Whether you're looking for an app to help you automate your messages or one that offers robust features like drip campaigns and customizable templates, you'll find an option on this list that's perfect for your needs. So let's get started!
7 Best SMS Marketing Apps for Shopify
1. NotifyVisitors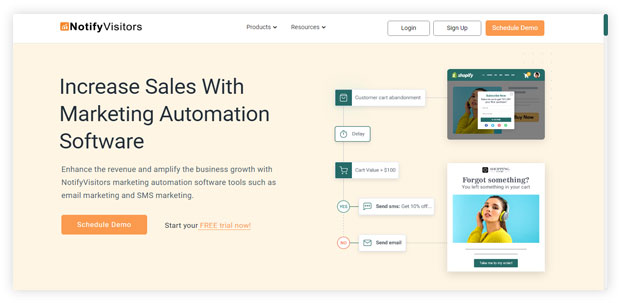 NotifyVisitors is an innovative, automated marketing service that provides Shopify stores with the best sms marketing apps and customer engagement activities. This application assists businesses in achieving their goals quickly, by helping them reach their target audience more efficiently.
With NotifyVisitors' intuitive app store integration, admins are able to customize messages to be sent automatically based on customer behavior.
The tool also allows quick access to real-time reports and insights into the effectiveness of their campaigns – empowering business owners with knowledge so they can make informed decisions about their customers' journey.
Best of all? Setting up NotifyVisitors takes only a few minutes and it's easy for anyone on the team to manage.
2. iSMS
iSMS is an sms marketing app that harnesses the power of text messaging to increase engagement with Shopify customers. With its simple user interface, it takes only minutes to set up and start customizing automated messages tailored to fit any brand's style.
From cart abandonment notifications to thank you notes, iSMS sends out sms campaigns that improve customer relationships, generate orders and drive conversions.
Unlike traditional email marketing strategies, sms marketing has immediate response rates, allowing users to take proactive steps towards engaging their shoppers and ensuring their brand stays top of mind. Try iSMS for free today for a smarter way to reach both existing and potential customers.
3. SMSBump
SMSBump is a powerful and customer-friendly marketing tool designed to make customer relationships easier. It allows businesses to connect with customers directly through text messages by sending personalized coupons, discounts, messages, and offers.
By utilizing actionable data analytics and customer insights, SMSBump helps businesses provide customers with the highest level of service, leading to increased loyalty and customer retention.
4. Shopify Checkout SMS
Shopify Checkout SMS is the perfect sms marketing app for Shopify stores. Its powerful platform allows shop owners to send automatic sms notifications to their customers whenever they checkout.
Moreover, Shopify Checkout SMS will ensure that your store stands out from the competition and provides an optimal shopping experience for your customers.
5. BulkSMS
BulkSMS is a powerful communication tool for businesses looking to reach large groups quickly and effectively. By leveraging its technology, organizations can stay in touch with customers or employees almost immediately.
It allows messages to be sent simultaneously at scale, making it an economical way of messaging large amounts of people.
With its easy-to-use interface and a range of customizable features, it is no wonder BulkSMS is becoming increasingly popular with businesses wanting to take advantage of texting capabilities without needing the additional costs associated with software licenses.
Whether used to alert customers about sales, inform employees about changes in policy or send direct messages offering products and services, BulkSMS is an invaluable tool that helps keep businesses running smoothly.
6. SimpleTexting
SimpleTexting is an innovative sms marketing app for Shopify. It allows store owners to customize and automate sms campaigns, offering personalized customer experiences with text messages.
With powerful features such as chatbot building, SMS scheduling, segmentation, advanced analytics, and more, SimpleTexting helps to maximize customer engagement and increase revenue for any Shopify store.
7. EZ Texting
EZ Texting is a revolutionary SMS marketing app for Shopify stores, making it easier than ever to connect with customers and spark loyalty. Businesses of all sizes can use EZ Texting to create an exceptional customer experience with personalized, automated messages tailored to individual interests.
With this powerful platform, you can reach countless customers anytime, on any device, and at any location. From promotional codes and special offers to product updates and reminders, EZ Texting makes staying in touch effortless. Ready to inspire loyalty with endless possibilities? Try EZ Texting today!
Conclusion
However, the right solution for you will depend on a number of factors specific to your business. Be sure to carefully consider your needs before making your decision so that you can choose the best possible SMS marketing app for Shopify.
Read more :