7 Best Popup Apps for Shopify
If you're looking to increase your online sales, one of the best things you can do is install a popup app on your Shopify store. Popups are proven to be effective at converting visitors into customers, and there are a number of great options available for Shopify stores. This blog post will look at 7 of the best popup apps for Shopify stores.
Whether you're looking for a simple way to add social proof or want to create highly customized popups, there's an app on this list that will suit your needs. So let's get started.
7 Best Popup Apps for Shopify
1. NotifyVisitors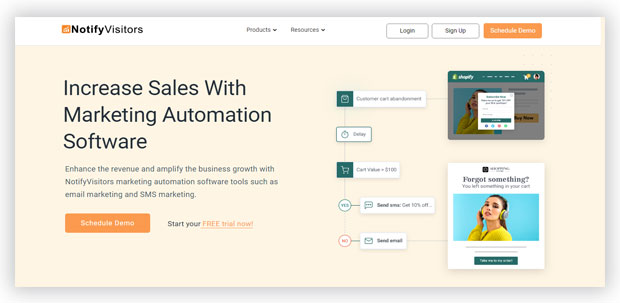 NotifyVisitors is one of the best popup apps for Shopify that you should be using. It is a fantastic tool to help your website drive more sales, capture leads, grow subscribers, and engage with customers in real-time.
Best of all, it requires no coding knowledge and does not need any extra time or resources to get started you can get ahead without taking any shortcuts!
Not only does it offer you powerful analytics that can help you track the performance of your promotions, but it also lets you customize & personalize campaigns for a great customer experience.
Give Notify Visitors a try today and see the impact it can have on your business!
2. Privy
Privy is a popup app for Shopify users that provides an easy and powerful way to grow customer engagement and increase sales.
With Privy, store owners can capture customer email addresses and segment those contacts based on their preferences, quickly create popup campaigns and discounts, create customized redirects for any popup or banner display, and track campaign performance across multiple devices.
In addition, Privy allows store owners to personalize the popup content they show customers so they have a tailored experience.
Utilizing these features, Privy puts store owners in the driver's seat when it comes to growing their business with pop-up apps.
3. Optimonk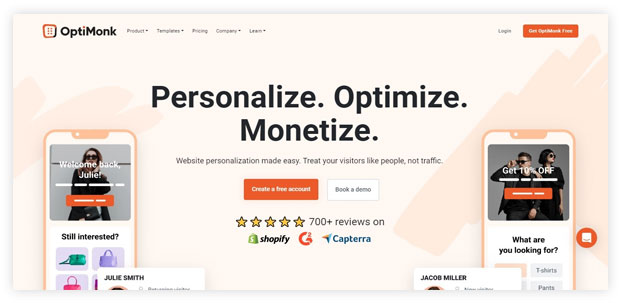 If you're running an online store on Shopify, Optimonk can help take it to the next level. As one of the best popup apps for Shopify, Optimonk helps increase conversions and drive sales by creating personalized engagement experiences directly on your website.
With pre-designed templates and dynamic customization options, it's simple to create high-converting popups that fit your brand and language. Plus, its detailed analytics give you deep insight into customer interactions so that you can make informed decisions regarding content and strategies to optimize results.
4. Sumo
Sumo is a powerful popup app for Shopify stores that helps merchants maximize their reach and sales. By leveraging Sumo's robust suite of outreach tools, businesses can build more meaningful relationships with their customers and increase website engagement.
From creative popup designs to automated growth campaigns, Sumo provides all the resources necessary to turn browsing into buying in a matter of clicks. And with an intuitive user interface and comprehensive analytics capabilities, it's easy to stay informed and make data-driven decisions that will keep customers coming back.
It's no wonder why so many savvy Shopify users rely on Sumo to grow their businesses and connect with customers.
5. Mailmunch
Mailmunch is one of the best popup apps available for Shopify. It has a simple setup process and offers a wide range of options so that you can customize your pop-up campaigns exactly to your preferences.
Best of all, it comes with free options which give you access to the basic suite of features.
The app itself is lightweight and fast loading, which makes sure that any popup campaigns you set up run smoothly through even the busiest e-commerce websites.
Advanced features such as triggered emails and A/B testing further enhance its usability and can help take your Shopify store to the next level.
6. Wishpond
Wishpond is an invaluable resource for Shopify stores looking to maximize the effectiveness of their online marketing efforts.
Best known for their popup apps, Wishpond's suite of progressive tools can help your store grow exponentially by refining every customer's experience.
Their best user-friendly designs integrate seamlessly with your store, plus technical support is available day or night to assist you with any queries you may have.
Wishpond is a highly recommended tool to take your shop to the next level if you're looking for top-tier popup app services.
7. Poptin
Poptin offers popup apps for Shopify users to help their businesses grow. In addition to providing popup functionality, Poptin also provides A/B testing and engaging customer interactions with surveys, email subscriptions, and more.
Utilize popup apps from Poptin to maximize your customer outreach, reduce bounce rate and increase conversions.
Its advanced popup solution is designed to be super intuitive and extremely easy to use so you can quickly create beautiful popup campaigns. Start using Poptin today and start seeing positive results.
Conclusion
All in all, using popups is a great way to increase conversions and sales on your Shopify store. By showing targeted offers and messages to your visitors at key points in their shopping journey, you can encourage them to take the next step towards becoming paying customers.
And with so many great popup apps to choose from, there's no excuse not to start using them today! So what are you waiting for? Try out some of these best popup apps for Shopify and see how they can help increase your conversion rate.
Read more :