21 Best Email Marketing Apps for Shopify 2023 (Reviewed)
Email marketing is one of the most powerful tools a business can use to reach and engage customers. Not only is it cost-effective, but email has become so widespread that it's now considered part of everyday life for many people. With an estimated 2.9 billion people using email globally in 2021¹, your brand should definitely be taking advantage of the opportunities presented by email marketing. But with the plethora of Shopify apps out there claiming to provide you with the best solution for your email campaigns it's hard to know which ones are worth trying out – that's where we come in. In this post, we're reviewing our picks for the 21 Best email marketing apps for shopify 2023.
Each app has been thoroughly tested by us before getting recommended here today! Whether you're looking to maintain existing customer relationships or draw new leads into your fold, these top options will help ensure that your next campaign gets more responses than ever before – let's get started!
Best Email Marketing Apps for Shopify 2023
1. NotifyVisitors
Shopping online can be an incredibly powerful way to increase your business's sales. One of the best ways to make sure that customers are aware of your store and the products you offer is email marketing. NotifyVisitors provides email marketing apps for Shopify that make it easy to reach out to prospective customers and keep existing ones engaged with your store.
This platform allows you to harness email's potential for increasing your customer base and boosting sales by creating personalized email campaigns for different audiences. With NotifyVisitors, you can tailor offers, track customer engagement in real time, build email workflows and more – all with great ease. Make email marketing a key part of your business strategy with NotifyVisitors' email apps today.
2. Mailchimp
Mailchimp is an email marketing app created for Shopify users to take their email and digital communication strategies to the next level. Mailchimp offers a range of email marketing services that are perfect for businesses of all sizes, including automation tools, email scheduling, comprehensive segmentation based on customer behavior and preferences, A/B testing, email deliverability insights and analytics, free loyalty program integrations, detailed reporting and more.
With Mailchimp's intuitive drag-and-drop editor you can create beautiful emails in no time as well as various automated workflows designed to connect with customers at just the right moment. Whether you're starting out with email marketing for the first time or expanding your existing email strategy with advanced features – Mailchimp has you covered.
3. ConvertKit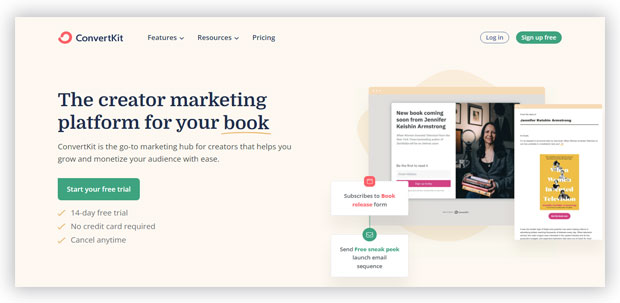 ConvertKit is an email marketing app specifically designed for Shopify. It enables businesses on the platform to create email campaigns quickly and easily, ideal for entrepreneurs who are just starting out. With ConvertKit, users can create automated email sequences to supercharge their email marketing. It also helps users find new customers with its lead generation tools, such as opt-in forms and landing pages.
Segmentation tools make it a breeze to customize email campaigns for different kinds of subscribers. On top of that, ConvertKit also offers comprehensive reporting and A/B testing so users can track how each email performs in order to achieve maximum results.
4. Privy
Privy is the perfect email marketing app for Shopify stores. This app allows store owners to capture email addresses from customers and turn them into email subscribers. With its comprehensive email tools, Privy can help stores create email campaigns that reach a broad audience in an effective way. Thanks to its robust features, store owners can segment users into various email lists based on user-defined criteria and then easily target new promotional initiatives according to these segments.
Privy also offers numerous easy-to-use templates that make creating stunning emails with images and unique content quick and simple. By providing an integrated platform, Privy ensures that store owners have all the tools they need to maximize their email campaigns' effectiveness.
5. Moosend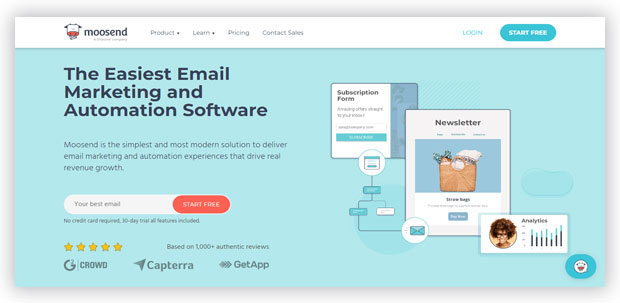 Moosend is the email marketing app for Shopify that makes it easier than ever to stay connected with your customers. It provides tools to craft beautiful email campaigns, automate email flows and track email performance. It also offers real-time analytics about email click-through rates and open rates for improved marketing effectiveness.
With its intuitive user interface and fantastic customer support, Moosend helps businesses of all sizes maintain healthy email relationships with their audience. Best of all, its features are easy to use yet powerful enough to increase engagement and grow sales – making Moosend an invaluable part of any email marketing strategy.
6. SendinBlue
Say goodbye to email marketing chaos with SendinBlue – the email marketing app that is tailored specifically to businesses using Shopify. Not only does SendinBlue come equipped with industry-leading email automation tools, but they also provide support and training that can take any email marketing campaign to the next level.
There's no better email marketing app for Shopify than SendinBlue, and the success stories of their customers prove it! Whether your goal is to reach more potential new customers or nurture existing ones, SendinBlue has the features you need for an effective email marketing strategy.
7. ActiveCampaign
ActiveCampaign is an email marketing app designed to partner seamlessly with Shopify. It empowers businesses to design and execute email marketing campaigns as part of their larger digital strategy.
ActiveCampaign features a suite of automated solutions that assist in marketing workflow, email delivery management, email automation and more, allowing businesses to send the right message at the right time. With ActiveCampaign, businesses have the tools they need to launch relevant content and campaigns, ensuring an effective and successful email marketing experience for Shopify users
8. Drip
Drip is the email marketing app of choice for Shopify stores. It offers marketers a simple and complete email automation platform, from email campaigns to email flows and analytics. With Drip, you can easily customize email campaigns by segmenting customers into different groups and targeting them with tailored messages. You can also adjust the timing of email delivery for maximum effectiveness.
It even provides an in-depth reporting system so you can track your email performance over time. Plus, its integration with Apple News allows users to send personalized stories directly from their Shopify store. Drip makes email marketing easier than ever for Shopify users, so you can capture more leads and boost conversions in no time. It is one of the best email marketing apps for shopify.
9. Marsello
Marsello is an email marketing app for Shopify stores that offers a smart loyalty program. It focuses on personalizing email campaigns to build meaningful relationships with customers through email and SMS messages. Marsello allows for creating automated email workflows that can be triggered by customer purchases or activities, as well as automating loyalty points, rewards and refer-a-friend programs.
Not only does it empower small businesses to deliver better email marketing experiences, but also rewards customers with personalized incentives they'll love. This app helps make running email campaigns easier so you can focus more efforts on growing your business in other areas.
10. Spently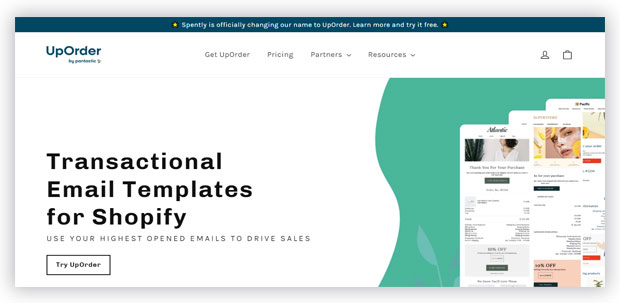 Spently is an email marketing app the makes it easy for Shopify users to create automated email sequences for their customers. This powerful tool will help you to nurture customer relationships and attract potential buyers through its features such as email customization, email templates, and email automation.
With Spently you can easily engage your customers with detailed product offers, tailored discount codes, personalized newsletters, or timely reminders. Plus, it integrates seamlessly with Shopify so you have everything in one place to make email marketing simpler. From increasing customer engagement to driving sales, Spently is your go-to tool when it comes to email marketing for Shopify stores.
11. BayEngage
BayEngage is the ideal email marketing solution for Shopify businesses. The platform provides powerful automation tools to create beautiful email campaigns with ease. With email personalization, it's easy to target customers and deliver highly-engaging emails that drive better results.
Furthermore, BayEngage integrates directly with Shopify's email marketing system, making it simple and convenient to jump-start your email marketing efforts. Plus its user-friendly interface helps design newsworthy emails in no time. Get more out of your email marketing with BayEngage – start today!
12. AWeber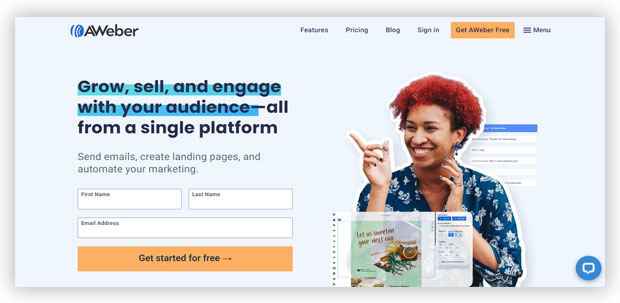 AWeber is the email marketing app of choice for many Shopify store owners. With powerful email building tools, they offer a complete email marketing solution tailored to small business owners. Their automated email sequences and reporting help store owners enhance customer engagement in their online stores. Moreover, users have access to advanced email segmentation and automation that makes email personalization easy.
AWeber also integrates easily with Shopify, making it simpler than ever to build relationships with customers simply and quickly. Overall, AWeber provides a suite of powerful email marketing solutions that perfectly cater small business owners using shopify.
13. GetResponse
GetResponse is an email marketing app for Shopify that's revolutionizing the way businesses communicate with their customers. With GetResponse, your business can send automated email campaigns to tailor fit every customer's needs. From creating email sequences, drip campaigns, email newsletters, time based email triggers and more, GetResponse helps your business increase conversions and maximize customer satisfaction.
Plus, its drag and drop email editor makes it easy to create beautiful email templates in a few clicks or easily integrate pre-built email templates from Shopify. Its interface is user friendly so you don't need design skills to get started. Start using GetResponse today to take your email marketing strategies to the next level!.
14. Seguno
Seguno is the email marketing app for Shopify that makes it easier and more efficient to keep in contact with your customers. Manage email campaigns, automated email sequences, and email lists right within Shopify. Take advantage of features like segmentation, templates, subscriber analytics, pre-built email flows and custom designs to better understand your audience and maximize email ROI.
Plus, use Seguno's built-in A/B testing capabilities to see which emails perform best – ensuring you always get maximum email effectiveness. Whether you're a new store just getting off the ground or an experienced shop owner looking to optimize their email strategy, Seguno has all the tools you need to make sure your emails hit the mark every time.
15. Constant Contact
If you operate a Shopify store, then email marketing is an important tool to cultivate and strengthen relationships with customers. Constant Contact email marketing apps for Shopify can help you make the most of email outreach, with personalization options, tracking and reporting features, and much more. Your emails become powerful brand assets for your business when you use Constant Contact's email marketing solutions for Shopify to target your specific customer groups and drive sales goals. Improve ROI and take email campaigning to the next level with Constant Contact's email-marketing apps on Shopify.
16. Jilt
Email marketing apps for Shopify have been a rising star in the retail business world, allowing shop owners to easily reach out to customers with discounts and promotions. However, many of these email recipients quickly become overwhelmed by flooding inboxes with too much email. This is why jilt has taken email automation technology one step further. By only delivering email campaigns when specific user activity is triggered – for example, when someone abandons their shopping cart – users receive timely messages that are relevant and helpful.
Furthermore, with its intuitive tracking capabilities, users can faithfully measure email performance on an individual basis to efficiently maximize email conversions. Companies utilizing this email task automation are able to better target customers who might otherwise be lost from their marketing campaigns due to too much email intensity that characterizes "spamming".
17. SmartrMail
SmartrMail is the perfect email marketing app for Shopify stores. With an extensive range of features and a user-friendly interface, optimizing email campaigns for your store and maximizing engagement with subscribers is easy. Whether you're a large business needing advanced email strategies or a small eCommerce store just starting out, SmartrMail has the tools to help you succeed.
This app lets you build segmented subscriber lists, manage email flows, run email automation campaigns and A/B test messages to get more opens, clicks and conversions. Without any coding knowledge needed, SmartrMail can have your email campaigns up and running in no time.
18. Campaign Monitor
Campaign Monitor is a powerful email marketing app designed to seamlessly integrate with Shopify. The development team behind Campaign Monitor has worked hard to ensure that it offers an easy-to-use, comprehensive email marketing solution for any owner of a Shopify store.
With relevant email campaigns, targeted messages and automated email streams, Campaign Monitor helps merchants create and manage email blasts with ease. Additionally, detailed reporting features give owners all the insights they need to track email performance and optimize strategies. Overall, Campaign Monitor is an all-in-one email marketing tool that allows shop owners to maximize their emailing potential.
19. Dotdigital
Dotdigital makes email marketing a breeze. Their suite of email marketing apps for Shopify make it easy to send campaigns to specific customer segments, create newsletters, and craft automated email journeys – all without hiring a digital marketing team.
Best of all, Dotdigital has comprehensive reporting and analytics capabilities, so you can easily track the success of your email marketing efforts. Whether you're a small business or an enterprise e-commerce shop, Dotdigital is the perfect email marketing solution to help you drive sales and nurture relationships with your customers.
20. Klaviyo
Klaviyo is an email marketing app specifically designed for Shopify stores. It makes email marketing for online retailers easier by creating customizable email campaigns that are triggered based on customer behavior. Using Klaviyo, businesses can build email newsletters, abandoned cart reminders, personalized welcome emails, and more.
Furthermore, Klaviyo integrates with a variety of other platforms such as Facebook Ads and Google Ads to help users create highly targeted ad campaigns. With its easy-to-use drag-and-drop editor, Klaviyo provides email marketers with the ultimate solution for executing successful eCommerce email campaigns.
21. Omnisend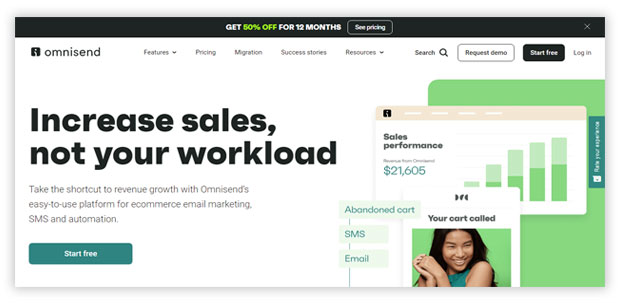 Omnisend is an email marketing platform specifically designed for Shopify users. It provides businesses with a suite of powerful email marketing tools to help them reach new heights with email automation and campaigns. With their easy-to-use drag-and-drop editor, companies can quickly create beautiful email messages that get results.
Omnisend also offers advanced automation features including segmentation, message personalization, remarketing capabilities, and more to ensure maximum engagement and conversions. For Shopify merchants looking for an email solution, Omnisend is the perfect choice for getting the most out of email marketing.
Conclusion
Email marketing is one of the most impactful and cost-effective ways to reach and engage your shoppers. By utilizing an email marketing app for Shopify, you can easily automate targeted email campaigns that will nurture your leads and convert them into customers. If you're looking for the best email marketing apps for Shopify in 2023, look no further than our list of 21 top options. All of these apps offer great features and integrations that will help you get the most out of your email marketing efforts. Thanks for reading.
Read More: