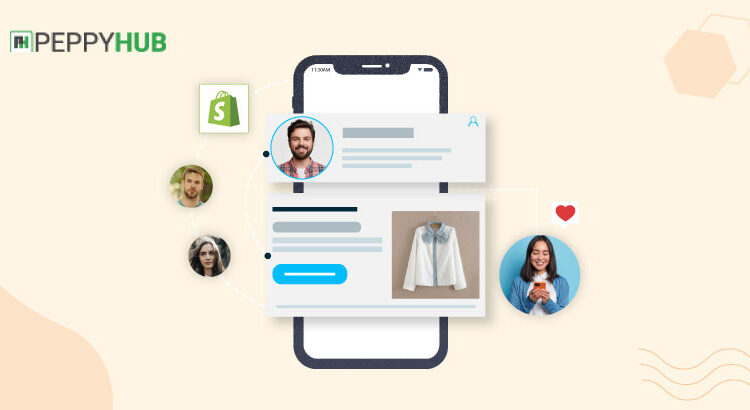 7 Best Marketing Automation Apps for Shopify
Are you looking to take your Shopify store to the next level? If so, then you need to consider using marketing automation. Marketing automation can help you save time and money while increasing your sales and conversion rate. Let's get started with these best marketing automation apps for shopify.
Several marketing automation apps are available for Shopify, so it can be difficult to know which one is right for you. This blog post will give you an overview of some of the best marketing automation apps for Shopify stores. By the end, you should better know which app is best suited for your needs. \
Best Marketing Automation Apps for Shopify
1. NotifyVisitors
NotifyVisitors is the ultimate marketing automation app for Shopify. It allows businesses to easily reach out to their customers with email marketing and sms campaigns.
With NotifyVisitors, you can target specific customer segments with personalized messages, build your contact lists and track the performance of campaigns.
It's an efficient way to strengthen customer relations while boosting sales and gaining a competitive advantage in today's e-commerce environment.
2. Tidio
Tidio is a powerful marketing automation app that empowers Shopify stores to reach customers faster and provide an improved customer experience.
With quick and easy customization, stores can set up automated conversations with visitors, providing personalized greetings and engaging customers regarding their inquiries.
This app collects valuable insights into user behavior, enabling businesses to understand their audience better. Similarly, Tidio-Live chat allows store owners to quickly review customer engagement and discuss products or services in real-time.
3. Flashyapp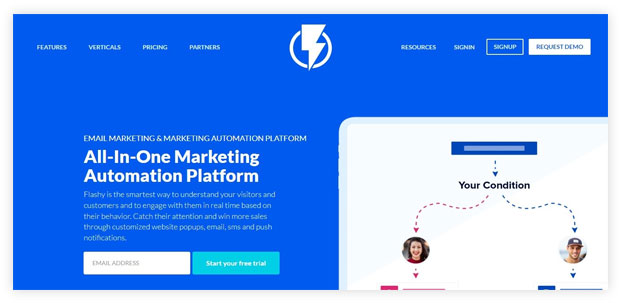 Flashyapp is the perfect app for any Shopify user looking to up their online marketing game. With automated marketing tasks, such as product promotion and sales tracking, it's easy for users to take control of their business's marketing strategy.
With Shopify, Flashyapp guarantees fast and seamless integration into any store canvas. Through its powerful analytics and insights, users can easily track their progress and keep a closer eye on how their strategies are working in the long run.
For anyone wanting to make a big splash in their market, Flashyapp is an absolute must-have!
4. Limespot
Limespot is a powerful marketing automation app on Shopify that takes the stress and time out of marketing. Businesses can create templates based on their shoppers' preferences and past buying behaviors, allowing them to deliver targeted messages easily.
With Limespot's data-driven approach, businesses can segment their customers into precise groups and use personalized messaging to boost sales and maximize reach.
From email Marketing automation to product recommendations, customers appreciate companies that truly understand their needs, likes, and dislikes.
With Limespot's advanced analytics capabilities, companies can make intelligent decisions about best serving their customers for maximum efficiency and effectiveness.
5. Postpilot
Postpilot provides Shopify store owners with an innovative marketing automation app that turns everyday manual processes into easy, automated tasks.
This is quickly growing and the popular platform is designed to help entrepreneurs save time and money while maximizing sales. With Postpilot, users can easily create high-converting emails, automate lead management, generate insights around their campaigns, and more.
Postpilot's user-friendly drag-and-drop interface enables users to easily build complete marketing automation systems all in one place while customizing workflows to fit their brand's specific needs.
Whether you want to email campaigns or create a complex multi-step workflow – Postpilot makes it easy for every type of user to succeed at Marketing Automation for Shopify stores. It is one of the Best marketing automation apps for shopify.
6. Contact Pigeon
Contact Pigeon is a marketing automation app for Shopify that revolutionizes how businesses interact with customers. It makes it easy to create automated emails, track customer activity, and monitor account performance to help make more informed decisions.
With its powerful insights, detailed analytics, and personalization tools, Contact Pigeon provides an easy-to-use platform that reduces the time and effort associated with managing customer data, allowing businesses to maximize their marketing efforts.
Moreover, its features, like automatically triggered emails based on customer behaviors, allow for highly customized interactions that drive better results.
In short, Contact Pigeon is the perfect Marketing Automation solution for businesses of all sizes looking to improve their customer engagement without compromising quality or sacrificing resources.
7. Retargetapp
Retargetapp is a powerful yet simple marketing automation app for Shopify. It allows store owners to add a layer of customer engagement across platforms, helping to boost sales and grow their business.
Retargetapp comes with customizable features such as automation campaigns targeted to abandoned carts, targeted email marketing, and a real-time overview of your store's performance. WordPress and WooCommerce users can also benefit from its convenient sync feature.
As such, Retargetapp is the ultimate Shopify tool to help you achieve maximum online visibility and maximize your business potential.
Conclusion
When it comes to marketing automation apps for Shopify, there are a lot of options that you can explore. From email and social media marketing to product recommendations, surveys, and events, the seven best marketing automation apps outlined in this blog post can help you take your eCommerce shop to the next level.
Each application featured here offers unique features and functionality that can give you powerful insights into customer behavior, provide high-impact communications and simplify many aspects of day-to-day operations. No matter what type of automation app you're looking for, make sure you do your research— read reviews, view demo videos, and consult with experts.
Read More: