27+ Best Shopify apps You Need To Consider In 2023
As a Shopify store owner, you're likely already aware of the importance of having reliable and effective best shopify apps to help run your business. Whether you need help creating an eCommerce website, analyzing data, managing inventory or improving customer engagement – Shopify has you covered.
But with so many apps at our disposal these days, it can be overwhelming trying to figure out which ones best meet your needs. That's why we've compiled this list of the 28 best Shopify Apps available in 2023 – from analytics platforms to SEO apps and marketing solutions – that are sure to take your business to the next level!
29 Best Shopify Apps
1. InviteReferrals
InviteReferrals is a Shopify App designed to build successful customer loyalty and referral programs. If you have an online Store that runs on Shopify, then InviteReferrals will be a great asset to drive more sales and boost customer satisfaction. The app features easy-to-use intuitive tools to engage customers with powerful rewards.
From increasing sales with fixed incentives or discounts to offering reward points for referrals, there are plenty of ways for store owners to benefit from the app. It helps foster relationships with customers, enabling brands to gain higher user engagement and better reviews from customers.
As a shopkeeper, the efficient tools offered by InviteReferrals make it easier to achieve desired results in terms of customer loyalty and referrals in no time.
2. NotifyVisitors
NotifyVisitors is a Shopify Apps service that allows merchants to send personalized messages to customers directly from their store. It helps in boosting return visits and increasing conversions, allowing merchants to recognise and reward loyal customers.
Through detailed tracking and analytics, NotifyVisitors also provides complete visibility on campaigns, allowing users to monitor performance real-time and make actionable changes for improved results.
With the ease of tracking and an extensive array of features, NotifyVisitors is sure to revolutionize the way merchants communicate with their customers.
3. Oberlo
Oberlo is a fantastic Shopify app that makes it easier for entrepreneurs to run and manage their eCommerce businesses. It enables business owners to search for products and add them to their stores with just a few clicks of the mouse.
Plus, Oberlo's features make it easy to track inventory automatically, customize product information, fulfill orders quickly, and take advantage of global markets. One of the greatest advantages provided by the app is that it syncs with your store's stock so nothing ever runs out of stock or oversells.
With Oberlo, it's never been easier to manage an eCommerce business and expand into new geographic markets.
4. PageFly
PageFly is an amazing Shopify app that helps online business owners take their store to the next level. With a wide range of features, PageFly empowers store owners to easily design and customize their storefronts with its drag and drop user interface
Its assortment of powerful tools enables merchants to build more engaging websites to capture the attention of customers while optimizing pages for better conversions.
The intuitive platform eliminates the need for coding knowledge, allowing businesses to quickly establish a professional looking format without prior experience or technical skills. PageFly brings a whole new level of flexibility to Shopify Apps and is an absolute must-have tool for all serious ecommerce entrepreneurs.
5. Avada Seo
Avada Seo is an innovative Shopify app that provides automated optimization for your website. It uses powerful technology to scan over 40 indicators in order to identify what improvements need to be made for the best SEO performance.
Rather than having to learn SEO or employing an expert, Avada Seo provides easy-to-follow instructions on how to make your websites more user friendly and search engine optimized so you can drive better online traffic and gain more customers.
This is a great way for even anyone without any technical knowledge to have their website rank higher on Google, Bing, and Yahoo!
6. Shopify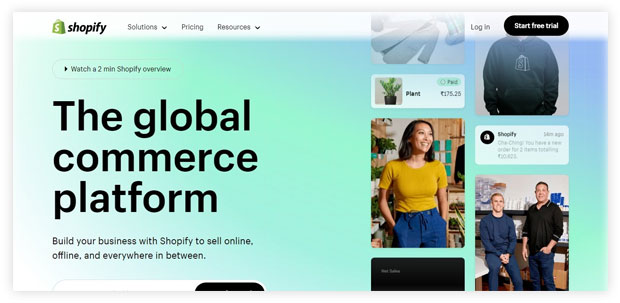 Shopify is a great platform for any small business to get their store up and running quickly. But one Shopify app that many people don't always know about is Privy. Privy allows for owners to customize the shopping experience for each user, prompting customers with things such as coupons, loyalty programs, email capture and more.
With these kinds of powerful tools businesses can quickly increase customer engagement and motivate shoppers to purchase items from their store. Additionally, Privy can help small businesses create an overall better shopping experience by connecting customers with a smooth checkout process every time they visit your store.
Many businesses have already used Privy successfully and reaped the rewards of its features – including increased revenue, more leads, and stronger engagement with current customers.
7. Kit
Kit, a Shopify App, is the perfect solution for any business looking to increase its online presence. With Kit by your side, you'll be able to easily manage and customize your e-commerce store with tools designed specifically to help you achieve success in the digital space.
From creating striking advertisements and beautiful product pages to analyzing your sales data and engaging with customers on social media, Kit has everything you need to grow your business quickly and effectively.
Whether you're a novice entrepreneur or an experienced marketer, Kit is the ideal tool for taking your company's success to the next level.
8. Printer Order
Printer Order is an invaluable tool for busy shop owners. This app, available on Shopify Apps, simplifies the tedious task of preparing and printing orders for quick delivery. Printer Order can even find customer addresses quickly, saving businesses time and money.
With its user-friendly interface and intuitive design, Printer Order makes it easy for anyone to efficiently process orders – even during peak times when demand is at its highest. Whether you're running a small or large business, this app provides an essential service that offers big rewards with minimal effort.
9. PushOwl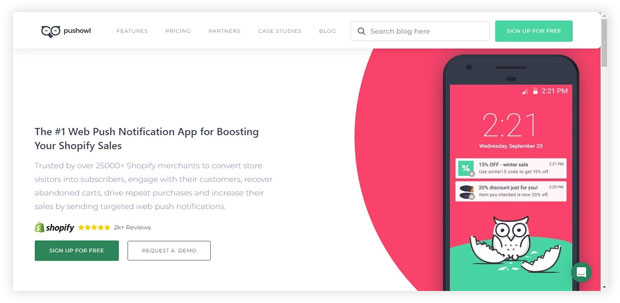 PushOwl is the simplest and most cost effective way to engage customers on Shopify. It helps businesses maximize sales through automated push notifications, order tracking and abandoned cart follow-ups. PushOwl is the perfect Shopify app for simplifying customer engagement efforts and boosting overall Engagement scores.
With customizable campaigns, automatic triggers for targeted messages and comprehensive analytics tools, PushOwl gives businesses everything they need to quickly increase their ROI from Shopify apps.
10. Shopcodes
Shopcodes are the perfect way to take your business to the next level. They provide a seamless solution for customers to shop on their phone or computer through the use of Shopify Apps. This allows them to quickly access products, add them to their cart and checkout with ease.
Shopcodes are also easily shareable, meaning that you can quickly spread the word about your business with just one click. By leveraging these apps, businesses can reduce customer frustration and increase overall conversion rates.
11. UserGems
UserGems provides evolutionary insights into Shopify Apps usage with one-click installation. Without any coding or technical knowledge, users are able to measure app engagement in true time so that adjustments can be made for maximum efficiency.
With automated data visualizations, retailers will have the clearest picture of their shop's performance as UserGems dynamically tracks customer segments, feature usage and more.
UserGems also makes it easy to compare results across different rows which allows admins to quickly identify any irregularities. As an all-in-one analytics tool, it is powerful with simplicity and ease of use.
12. Tidio Live Chat
Tidio Live Chat is quickly becoming one of the most popular Shopify Apps. Providing a smooth and efficient solution to customer service issues, this unique app offers customers the chance to interact with a live chatbot.
Currently rated highly among its peers, Tidio Live Chat sets itself apart by allowing customers and businesses to communicate in real-time without sacrificing security.
With its vast array of options and tools, Tidio Live Chat is revolutionizing how companies handle customer service while ensuring that they maintain their online presence professionally.
13. TrustBadge
When looking for a trustworthy and reliable shopping experience, having a Trust Badge can be a great way to give customers the assurance they need to complete their purchase. Shopify Apps offer trustworthy and customer-focused Trust Badges that are easily integrated into any Shopify store, setting customers' minds at ease when they are paying for goods or services.
For an added layer of reassurance, these Trust Badges include features such as money-back guarantees and links to customer reviews, so shoppers can make sure they're making a positive decision before handing over their payment details.
With Shopify Apps's extensive selection of Trust Badges, store owners can make sure their customers always feel safe and secure when rounding out their purchase.
14. Vajro
Vajro is revolutionizing the way retailers do business. Founded with the goal of creating a unified eCommerce experience for Shopify merchants, Vajro delivers an app that goes beyond basic commerce.
Their Shopify Apps enable merchants to offer their customers useful features such as loyalty programs and social media integrations usually only found in large-scale enterprise solutions.
As a result, stores of any size can take advantage of cutting-edge technologies to create an engaging customer experience and drive more sales with fewer resources and efforts.
Whether you're a small mom-and-pop shop or a large multi-brand chain, Vajro has a solution to fit your needs.
15. Printful
Printful is an essential Shopify app that helps business owners make and ship custom products quickly, conveniently, and affordably.
From easy-to-use product personalization tools to comprehensive fulfillment services such as printing, embroidery, cut & sew production, and more, Printful ensures businesses have the means to create unique items that are sure to be a hit with customers.
It integrates seamlessly with Shopify accounts so merchants can easily track and manage orders all within one platform. With Printful, businesses are just a few clicks away from having their own line of apparel, home goods, accessories – even pet supplies.
16. Instafeed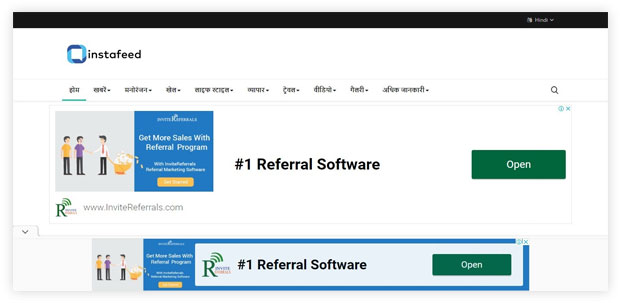 Instafeed is a great tool for Shopify merchants who want to maximize their social media presence. With Instafeed, you can quickly add an Instagram feed of content to your store, customizing the appearance and functionality to fit seamlessly into your existing website.
This allows customers to see your products through the eyes of your followers on Instagram, providing a visual engagement that they can appreciate.
It is also easy to monitor and manage customer interaction with this app from within Shopify by offering tag-a-thons or giveaways that encourage customers to interact with each other and support your brand.
With Instafeed, you can give your store visitors a unique way to engage with your brand on social media, driving customer engagement and ultimately leading to more sales.
17. Videowise
Videowise is a revolutionary Shopify app that helps you make the most out of video marketing in your store. With this powerful tool, you can easily build an engaging shopping experience for your customers by adding personalized videos to product pages.
It also provides analytics to track viewer behavior, enabling you to assess customer preferences and tailor the online shopping experience accordingly.
Furthermore, you'll be able to maximize ROI with targeted automated campaigns designed to increase conversions. With Videowise, you'll have everything you need to elevate your eCommerce business and stand out from the competition.
18. Adroll
Adroll is a great multi-channel advertising platform helping businesses of all sizes to turn clicks into customers. It integrates directly with Shopify Apps, enabling businesses to easily unify their marketing efforts and grow their business faster.
Not only can Adroll accelerate performance across channels such as Google, Facebook, Instagram and LinkedIn but it also provides transparency into every step of the targeting process.
With detailed tracking capabilities and top-level data security, businesses can have confidence that their marketing efforts focusing on acquisition and retention will produce positive results.
19. Refersion
Refersion is a powerful Shopify app that makes it easy to offer affiliate commissions and incentives to bolster sales. It gives users more control over their promotion strategy than ever before, allowing flexibility in creating tracking links and rewarding those who help drive customers.
With helpful insights into how affiliates are performing, plus the ability to easily configure parameters for offers and incentives, Refersion has become a popular choice among emerging entrepreneurs looking to make the most out of their marketing efforts.
With its ease of setup and intuitive user interface, Refersion also helps large brands build successful partner programs. Regardless of size or industry, organizations can easily track referral data on orders and accelerate their existing promotional efforts.
20. Loox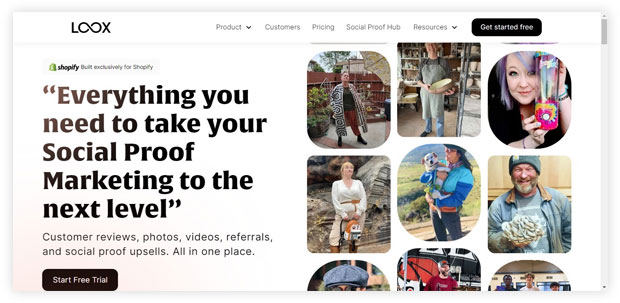 Loox is an industry-leading Shopify app designed to help merchants boost their store's customer experiences. The app offers features like product reviews, which allow customers to read feedback from other people and make up their own minds about products.
Additionally, the app also allows for easy access to customer photos that have been taken with the products and featured on social media. Merchants can leverage this content to build trust in their audience, ultimately helping them boost conversions.
By leveraging its diverse set of features and easily integrating with Shopify stores, Loox is an invaluable asset in any merchant's arsenal.
21. Growave
Growave is a revolutionary Shopify app designed to help merchants increase sales and engagement with their customers. This innovative app provides features such as reward points and referrals, product reviews and questions, discounts, social media integration, loyalty programs, wishlists and more.
With Growave's help, businesses can create a comprehensive customer experience that drives higher levels of engagement and sales.
These features make it simple and easy to turn shoppers into repeat customers while also increasing the visibility of one's store in the market. Moreover, businesses can boost leads and conversions with Growave's helpful integrations and marketing automation tools.
With its flexible plans and excellent customer support services, Growave has quickly become a go-to tool for many successful online stores.
22. Smile.io
Smile.io is an award winning Shopify app that allows businesses the ability to rapidly implement loyalty, referral and VIP programs for their customers. Whether you want to reward customers with points for referring friends or reduce prices for loyal shoppers, using Smile.io unlocks countless ways to boost customer engagement and lifetime value.
The modern interface makes setting up and managing these programs simple, allowing you to turn browsers into life-long buyers as quickly as possible.
Furthermore, Smile.io is packed with powerful analytics to help you tailor your loyalty program based on individual customer behaviour, giving you access to unparalleled insights in the click of a button.
If you are serious about growing your ecommerce business, then Smile.io is one of the fastest and most effective ways of doing so.
23. Automizely
Automizely is a Shopify-approved app that helps ecommerce business owners streamline their processes. It automates key parts of the check-out process, including currency conversions, providing one-click-upsells, cross-sells, and email campaigns. This can significantly reduce customers' check out times, making them more likely to return to the store.
Additionally, Automizely has the capability to allow AB testing and target segmentation to tailor marketing efforts for individual customers. By making complicated back-end tasks easier to manage with its automation tools, Automizely helps Shopify store owners build a better relationship with their customers.
24. Govalo
Govalo is an innovative and powerful platform for merchants looking to improve the customer experience on their Shopify stores. With Govalo, merchants can integrate a variety of specialized apps into their store quickly and easily, giving customers a better selection of product filters, quick view options, delivery selections, loyalty programs, and more.
Thanks to Govalo's AI-powered algorithms, merchants can also gain valuable insights into how customers interact with different options in their store so they can adjust settings in order to boost sales or increase customer satisfaction. In short, Govalo is an essential tool for Shopify store owners who are keen on optimizing their offerings for maximum engagement.
25. Retention Rocket
Retention Rocket is a top-of-the-line Shopify app that can help businesses maximize their online presence. It has been designed to meet the needs of store owners who want an advantage when marketing their products through the Shopify platform.
Through automation, Retention Rocket allows store owners to increase their profits without having to manually interact with customers themselves.
They will also be able to track and measure customer engagement, increasing customers' loyalty and ultimately leading to greater success in terms of sales. The intuitive interface enables users to quickly set up campaigns, creating a seamless experience that makes it easy to manage marketing efforts.
This excellent tool ensures businesses gain maximum value from the Shopify platform while making sure they retain loyal customers over time.
26. Octane.ai
Octane.ai offers easy and effective automation for growing Shopify stores. It features the use of cutting-edge chatbots that make onboarding and communication with customers simple and efficient.
With its automated triggers, marketing campaigns, coupons, and customer segmentation capabilities, businesses of any size can quickly grow their sales or subscriptions with minimal effort.
Additionally, it's incredibly user-friendly so that even those who are less tech-savvy can take advantage of this powerful new tool. All in all, Octane.Ai is a great Shopify app for streamlining existing operations and optimizing store performance.
27. SuperCEO
SuperCEO is the ultimate Shopify app for anyone looking for an easy way to get more out of their business.
With features like product and inventory management, sales automation, customer loyalty programs, and analytics tools, SuperCEO ensures that business owners have all the information they need to make data-driven decisions and maximize profits.
What's more, SuperCEO makes it easy to understand every step of the process by providing personalized support, advice from experienced professionals, and educational videos – helping store owners master digital marketing strategies and become eCommerce experts.
Whether you're a beginner or a seasoned pro in Shopify apps, SuperCEO is here to help jumpstart your business success!
28.Triple Whale
Triple Whale is a renowned Shopify Apps development company that creates specialized solutions to help companies maximize their online presence. With an experienced and certified team, they are able to take businesses of all sizes and optimize the tools they need to succeed in their industry.
Their apps feature powerful capabilities such as analytics, inventory management, customer service, payment integration and more, making them the perfect choice for serious ecommerce entrepreneurs.
Triple Whale also offers exceptional customer support – meaning customers are covered both with high quality programming and technical expertise while they're using their Shopify stores. This combination of expertise and reliability is what makes Triple Whale one of the most trusted names in Shopify Apps development today.
Conclusion
As you can see, there are a variety of apps that could greatly enhance your online business. Shopify is an excellent tool to give your business a powerful and accessible platform, and these are the 28 best Shopify apps that can take your digital storefront to the next level.
Whether it's having quality hosting services or beneficial applications, they make up a comprehensive solution to assist you in achieving success in eCommerce.
With more features expected to be released in 2023, future generations of entrepreneurs must pay attention as many breakthroughs are set to come this year. What's really encouraging is that these technologies are sending marketing apart from being carried out manually by hand.
Taking advantage of well thought-out strategies will help you build a successful online business through Shopify that gives customers an enjoyable shopping experience with an impeccable service.
Read More.