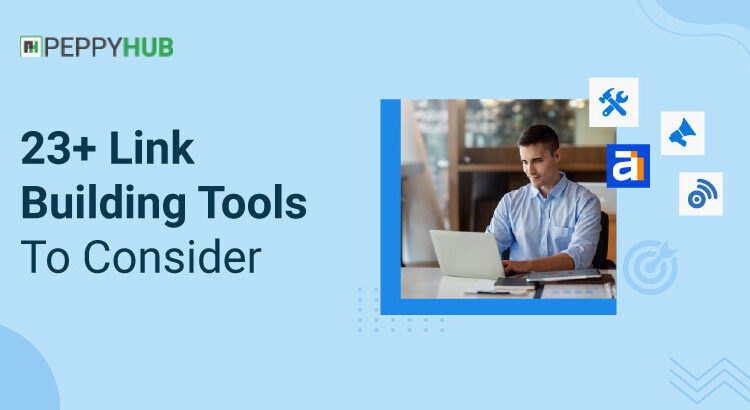 23 Link Building Tools To Consider in 2023
Is your business ready to grow its digital presence and capture leads online? With the right link building tools, you can create a powerful presence over search engines that will help drive long-term growth. From these tools, there are dozens of ways you can start building a comprehensive list of backlinks.
In this blog post, we'll explore 23 link building tools you should consider in 2023 for driving targeted leads and conversions.
23 Link Building Tools To Consider
1. Ahrefs
Ahrefs is a link building tools that helps businesses to send out high-quality link requests faster and easier than ever before. With its intuitive interface, users can easily search for link opportunities, discover link building sources, and organize outreach campaigns using their link building database.
The platform goes beyond traditional link building, by taking into account all the factors required to build strong and effective links over time, like content quality and placement, to ensure maximum traffic generation.
Its comprehensive analytics allow users to know how their link building campaigns are performing in terms of visibility, ROI, and much more – giving them actionable insights on how they can continually improve link building efforts. Overall, Ahrefs provides a powerful platform for businesses looking to build meaningful links with reputable influencers.
2. Guest Post Tracker

Guest Post Tracker is a link building tool that helps you keep track of your guest posts, manage connections with blog publishers, and increase the visibility and reach of your content. Its dashboard keeps all posts organized, showing information such as titles, link targets, authors, URLs, and link statuses for each post.
Its link manager provides more than link building data – it also shows detailed contact information for blog owners to grow relationships with them. With Guest Post Tracker you can easily find potential link opportunities among thousands of blogs.
Additionally, its API enables advanced customization options that let you transfer data to your own database or take advantage of its link building capabilities in a preferred way.
3. GroupHigh
GroupHigh is an excellent link building tool that combines speed, simplicity, and power to create the most efficient link building process. With its powerful search filter, users can target link opportunities by website type, DA range, and link quality—
allowing them to quickly narrow down the link sources and select the perfect ones for their campaign. What's more, GroupHigh's seamless user-experience allows link builders to maintain a real-time visibility of link prospects, making sure that no competitor is beating them to the punch.
Finally, its intuitive dashboard allows link builders to control and easily monitor their link building activity all in one place. With GroupHigh, link building has never been more simple or effective.
4. BuzzStream
BuzzStream is the ultimate link building tool for anyone looking to expand the reach of their website or blog. With features such as link prospecting and link checker, BuzzStream can make link building simpler and easier than ever before.
It also works with an impressive range of top-tier platforms like Google, Bing, Twitter and BuzzSumo. This allows users to keep track of link sources in one unified dashboard as well as rankings. Furthermore, its powerful automation tools help streamline link campaigns from start to finish.
For any online marketer out there looking to optimize their link building efforts, look no further than BuzzStream.
5. Disavow. it
Disavow.it is a link building tool that helps you protect your website from link-based penalties by allowing you to easily identify and denigrate bad links quickly and effectively.
With Disavow.it, link validation tools can help webmasters find the 'bad' links damaging their websites and remove them with simple drag-and-drop functions that understand the process as well as any manual link assessment.
This means that link building efforts become more secure, since link removal actions are only taken when needed because of toxic links, rather than merely for housekeeping purposes. The time saved compared to a manual link validation process can be incredible, whilst also ensuring maximum link security.
6. Just Reachout
Just Reachout has revolutionized link building by offering experts and ambitious entrepreneurs the tools they need to reach out to members of the media and build connections. Busy professionals can use their powerful software to quickly search for relevant contacts, craft persuasive messages, and accelerate link building.
Tailor-made for link building success, their software helps users narrow down long lists to find important influencers in hardcore niches and grows relationships that result in link building growth. In addition, users get real-time analytics so they can track replies and link prospects with ease, making Just Reachout a must-have link building tool.
7. Moz
Moz Link Explorer is a link building tool that can help businesses create comprehensive link profiles and find link opportunities to drive traffic, increase rankings, build domain authority, and gain competitive insights.
With Moz Link Explorer, link building becomes an effective and efficient process for finding new link prospects and evaluating existing link partners. You can discover potential link partners based on your website's link profile, uncover important analytics data, monitor link development over time, and much more.
The best part about using this link building tool is that it makes the entire process easier than ever before – from finding new link opportunities to measuring the effectiveness of current efforts.
8. Ninja Outreach
Ninja Outreach is a revolutionary link building tool that helps businesses of all types and sizes find, engage with, and build relationships with influencers.
With Ninja Outreach, users can construct highly-targeted outreach campaigns to quickly reach relevant bloggers, social media influencers, and other key connections in the industry.
Utilizing intuitive filters, advanced search capabilities, and an easy-to-use CRM system that helps store collected data from outreach activities.
Whether you're looking to get your name out there or seeking to form new collaborations and partnerships, Ninja Outreach has the tools you need to successfully execute link building projects of virtually any scale.
9. Link Prospector
Link Prospector is an invaluable link building tool, combining powerful features to help the user quickly and effectively target link opportunities.
It streamlines the link building process by providing an easy-to-use, intuitive interface for users to join forces with competitors, spot link prospects and discover link building possibilities. With access to a large directory of domains, link extractors and link evaluation tools, Link Prospector is the ultimate link building solution available.
Best of all, it's completely free! Experience how simple loading up your link profile can be with Link Prospector today.
10. Buzzsumo
Buzzsumo is an incredibly useful link building tool. With its intuitive interface and powerful search functions, Buzzsumo can be invaluable in helping professionals link to the right content quickly and accurately.
It can provide insights on who has shared and linked to certain content, so it's easy for users to find appropriate link partners for any given topic. It also helps you track your link building process, as results can be sorted by date or domain to give a sense of what's working.
If you're serious about link building or staying on top of the ever-changing online rankings game, Buzzsumo is definitely worth considering.
11. Cognitive SEO

Cognitive SEO is an innovative link building tool that makes it easy for businesses to get higher search engine ranking. The software uses advanced AI technology to analyze the web and detect opportunities for link building.
It improves link quality by suggesting link patterns and pointing out potential problems with link profiles. With its user-friendly interface, Cognitive SEO gives businesses access to automated link building processes without having to know technicalities of link building or write any code.
Tuning into what your competitors are doing, it helps to create a complete plan for successful link building campaigns. Simply put, Cognitive SEO is the ultimate link building solution for marketing success!
12. Pitchbox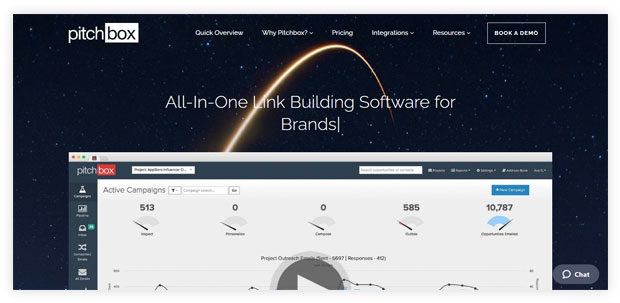 Pitchbox is the link building tool of choice for digital marketers and SEOs everywhere. It streamlines link building processes to turbocharge campaigns, automating link discovery, link outreach, link tracking and reporting, and more.
Its intuitive user interface makes it easy to customize link building strategies to your specific needs, from link prospecting to content generation. As a comprehensive link building software package, Pitchbox can take your campaigns to the next level- quickly and efficiently.
With no limit on device or user license numbers, you can scale outreach as needed without dreaded extra costs.
13. Ontolo
Ontolo is a link building platform that provides users with powerful link building tools. These tools help link builders discover link opportunities, develop custom link building strategies, and measure link building success.
In addition to these link building tools, Ontolo also offers detailed research reports and resources for link building best practices. The platform makes it easy for link builders to find the right link opportunities quickly, allowing them to save time and effort in their link building efforts.
With Ontolo, link builders are able to generate more powerful links faster, resulting in more successful link building campaigns.
14. Hunter.io
Hunter.io is a link building tools that business owners can use to boost their online presence and increase brand awareness. This web-based service provides users with up-to-date contact information so they can quickly connect with website owners and build strategic link partnerships.
It also has an email verification feature which ensures that links are accurate and remain active over time. With its user-friendly interface, Hunter.io saves business owners time and effort while helping them create valuable links to cultivate relationships in the digital landscape.
15. Monitor Backlinks
Monitor Backlinks is a link building tools that simplifies the process of link building. It allows users to identify link opportunities and track link progress with ease.
Apart from link building, Monitor Backlinks can also help enhance your website's overall performance by regularly checking for broken links and finding ways to improve page speed. By keeping track of your backlinks, you can analyze link data to assess their success.
This helps you create a better link-building strategy going forward by recognizing which links are most effective.
With access to more powerful features such as SEO audit, link management, and competitor monitoring, Monitor Backlinks is an essential tool for any digital marketer looking to build quality backlinks for their website.
16. Google Alerts
Google Alerts is one of the most effective link building tools that any business should be using. This helps businesses keep track of their back link profile by monitoring relevant keywords so they can quickly identify when and where a link has been provided.
It's an easy and cost effective way to manage link building because it allows companies to create alerts for specific terms, phrases, websites, or matches even events that are posted online. With Google Alerts, businesses can rest assured knowing they will know exactly what people are saying about them regarding link mentions or even brand reviews.
17. ScrapeBox
ScrapeBox is a powerful link building tool that can help businesses and individuals build high-quality link profiles for SEO success. It's fast, efficient and easy to use, finding link opportunities that are nearly impossible to uncover manually.
With features such as link harvesting and automated link checking, ScrapeBox makes link building a breeze. Whether you're looking to improve your website rankings or stay ahead of the competition, ScrapeBox has the link building tools you need to ensure your link profile is up to date and relevant.
18. HARO
HARO, or Help a Reporter Out, is an excellent link building tool for people looking to increase their back link numbers. Through the use of its platform, companies can connect with journalists and bloggers in need of sources who have expertise in a given area.
This allows companies to receive free press and link backs from the journalists and bloggers they collaborate with. Customers interested in gaining more linkbacks through HARO can sign up for one of its subscriptions which grants access to hundreds of new opportunities every day.
With such a wide range of options, any company with link building needs would benefit from using HARO as their link building tool.
19. Muck Rack
Muck Rack is an amazing link building tool that can help website owners, bloggers, and social media users to quickly link their content with relevant networks. Link building helps increase the website visitors and followers while developing a professional network.
Tools like Muck Rack make link building easy by automating content distribution and simplifying link management processes. With its WordPress plugin, users can link Twitter profiles, bios and articles to link-bait resources. It's easy to use interface makes it ideal for a variety of link building strategies whether you are a beginner or veteran in SEO marketing.
20. URL Profiler
URL Profiler is one of the most popular link building tools available on the market. It allows users to easily grow their link profiles, while automating much of the process. The tool provides a link analyzer that helps users measure link quality, and identify link opportunities they can exploit to maximize their link
recognition. It also has other features such as a link finder and an automation engine, making it an ideal tool for link building campaigns. URLs Prolifier gives users peace of mind that their links are accurate and trustworthy, which is paramount in successful link building campaigns.
21. Screaming Frog
For anyone doing link building, or SEO in general, Screaming Frog is an invaluable tool. It performs a thorough, top-down website audit to ensure link health and integrity, while also presenting you with link building opportunities that are hard to find without such a powerful web crawler.
It can detect missing page titles and off-site links, photograph alt text tags, look for canonicals and mark up problems and more.
With the ability to whittle down link analysis by type, link domain and even relationship type – Screaming Frog can help you quickly identify any link issues on your site and make improvements where necessary. If done properly, Screaming Frog can be a link building powerhouse.
22. Mailshake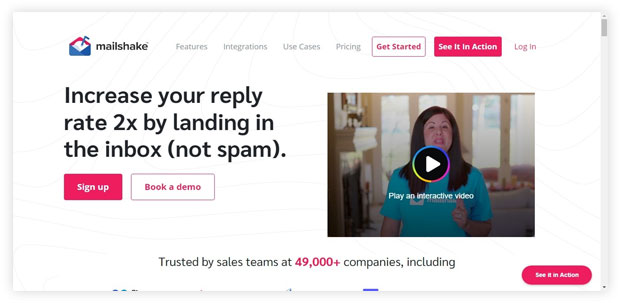 Mailshake is a powerful link building tools that makes link building easier and more efficient. It allows users to quickly and accurately identify link opportunities, craft email outreach campaigns, measure link-based marketing performance, and more.
It's an excellent choice for link builders who want a comprehensive solution that can streamline the link acquisition process from start to finish. With its intuitive dashboard and customizable automation features, link building has never been so easy.
So if you're looking for a tool to help you take your link building efforts up a notch, try Mailshake today!
23. Majestic SEO


Majestic SEO provides businesses with professional link building tools to boost their website's visibility on the search engines. With these link building solutions, businesses are able to build important relationships with webmasters and other link sources which will help them rank higher in organic search engine results.
Experienced link builders will benefit from Majestic SEO's comprehensive data about link popularity and freshness, which can be used to tailor link building campaigns for maximum engagement with target audiences.
Not only will businesses improve their online presence, but they may also get an edge over the competition that can be hard to replicate.
Conclusion
After reading this blog, you may have got some ideas about 23 link building tools that you can use to take your website to new heights. We hope you find this blog helpful.
Read More.