10 Best Sales Software for Small Businesses in 2023
Owning a business is exciting, but only if it is lucrative. Some may disagree with this statement, but if you run a business, you understand that it makes no sense to operate without a solid client base. We have mentioned the best sales software for small businesses in this blog. Let's get started.
So, it goes without saying that if you don't have customers driving your sales, you won't have much of a company, and even if you do have consumers, it will be tough if you don't have adequate sales tools to help you along the path.
Large firms spend billions of dollars on marketing campaigns to raise sales, improve lead generation, and get their product in front of the public because of this desire for recognition. Your organization will be better off if you have more effective sales tools and CRM software on your team.
However, due to the diversity of today's marketplaces, quick marketing strategies are essential, and the following facts demonstrate the need for good sales techniques:
Only 2% of cold calls result in an appointment for a follow-up.
After a single follow-up, 44% of salespeople abandon a lead in lead creation.
According to research conducted by Phonetics, the salesperson who responds immediately earns up to 50% of the sales.
Don't be alarmed; these figures aren't designed to shock you. They were just brought up to show you how critical it is to have a sales plan that will help you today and in the future, and for which sales tools are crucial.
We'll go through 10 of the most effective sales techniques in this post to help you get better results and make more money.
Best Sales Software for Small Businesses
1. HubSpot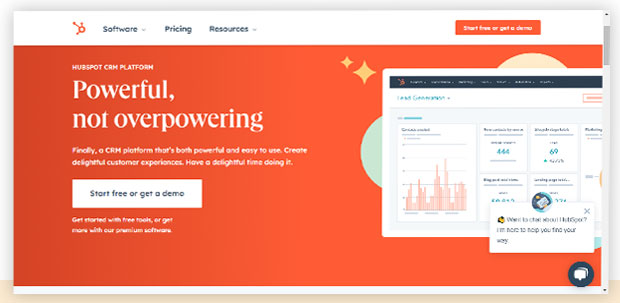 HubSpot is the sales enablement solution for you if you're searching for a sales platform that can handle all of your sales operations. It is one of the best sales software for small businesses.
HubSpot is now regarded as one of the most effective sales-boosting solutions available. HubSpot provides three different options for you to choose from, depending on how serious you are about increasing your sales:
HubSpot Sales Free
HubSpot CRM
HubSpot Sales Professional
If you want to grow your small business, the free solution is a good place to start. The Sales Free edition provides you with access to useful tools that may help you improve many parts of your sales approach, including live chat.
Before deciding on a sales approach, many organizations want to understand more about their prospects. They're in luck since this sales tool has a function called decision-maker that can assist them.
You may also look into user involvement with your company to get a better sense of what items and services people are interested in, so you can push them farther into the market and produce more sales.
This sales tool is rather comprehensive because it contains numerous wonderful features created for every member of the sales team, and with the option to test it out for free, we don't see why you shouldn't.

2. LinkedIn Sales Solutions
You can't go wrong working with LinkedIn Sales Solutions if you want to generate more sales in the worldwide market. With 450 million users worldwide, you may utilize this platform to build real buzz about your products and increase income.
You're certain to build some substantial connections on LinkedIn, which is the Facebook of the professional world, that will help you create more and more sales scope in digital marketing.
While you may figure out who your prospects are by wasting time and money doing so, you can save the bother by using LinkedIn Sales Solutions, which will handle all of the heavy liftings for you.
This program will help you in making decisions about which goods to sell and which services to continue to provide so that you may maintain your position as the social media and digital marketing world's Victor.
The Sales Navigator on LinkedIn is an excellent sales tool that makes prospecting sales a lot easier. The following are some of the tool's additional characteristics:
InMail may be used to contact any LinkedIn member.
Get personalized lead recommendations.
Customers and prospects receive real-time sales updates.
You'll have access to a sophisticated search tool to help you identify the best leads for your company.
A dashboard for tracking and assessing the success of your social selling efforts.
The Sales Navigator tool has a free trial available, and you should give it a shot if you've ever used LinkedIn for sales. Who knows, this may be the sales tool that propels you further into potential consumers' hearts and thoughts.
3. ProProfs Chat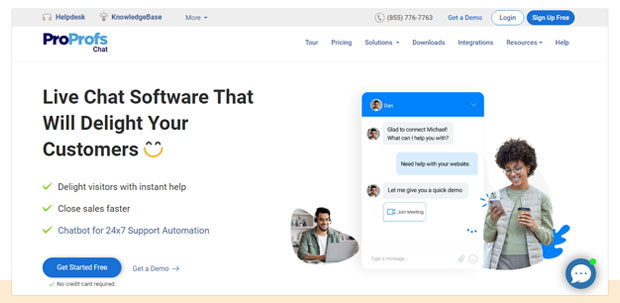 ProProfs Discussion is your go-to option if you're searching for a platform that enables your sales team to understand the intent of visitors on your website and begin a chat with them at key moments.
ProProfs' live chat software identifies visitor intent, allows you to connect with them in real time, and instantly classifies sales-qualifying prospects. It even helps you engage with your website visitors faster using live chat triggers and eye-catchers.
Aside from these, there are several other advantages to using the tool, including:
With the pre-chat form tool, you can capture eligible leads for your business in real-time.
With a simple connection procedure, you can automatically save recorded leads and operator discussions in your choice CRM platform.
With the aid of CRM connectivity and the Announcement function, your sales staff may identify upsell chances, allowing them to close more transactions faster.
With precise data, your sales staff can have a better understanding of how pleased your visitors were with their services and enhance the quality of future conversations. It is one of the best sales software for small businesses.

4. Acquire
Acquire is a customer engagement platform that contains all of the digital tools necessary to deliver the greatest possible sales experience. Simply said, it is the best customer communication platform accessible for all types of businesses, large and small.
Secure co-browsing, AI chatbots, live chat, and HD video calls are among the features. Using this cutting-edge live chat software, your customer care representatives can handle complicated sales activities and real-time support issues across many channels.
You can increase all of your digital client engagement statistics by measuring them properly using Acquire's analytics tool. This customer data platform may help you gain a better knowledge of your whole client journey.
It allows you to be customer data-driven by giving you a deeper insight into your consumers. While using the live chat platform, Acquire Analytics provides you with detailed information on your client profiles.
Because we're discussing customer engagement, analytics may be able to assist you to track all aspects of consumer participation in one spot. This includes robust chat statistics, chatbot reports, knowledge base numbers, and agent performance.
Because we're discussing customer engagement, analytics may be able to assist you to track all aspects of consumer participation in one spot. This includes robust chat statistics, chatbot reports, knowledge base numbers, and agent performance.
Acquire may be used as a sales bot 24 hours a day, 7 days a week to gather contact information from potential clients. This important data aids the business in generating more leads.
5. ToutApp
This tool may be used to set sales goals for your team, allowing them to convert more sales leads into actual customers. It is one of the best sales software for small businesses.
One of the nicest aspects of this program is the ability to create a "pipeline playbook," which is one of several. Throughout the sales process, this keeps you and your team on the same page (linked to a single contact with all the data).
This feature also provides many possibilities for enhancing your pipeline. The following are the details:
Emails and phone calls are better integrated, allowing the entire team to stay in continual contact with one another, making it easier to discuss strategy and organize meetings.
Better sales campaigns that allow all sales reps to be more consistent in achieving their objectives and keep everyone on the same page with total transparency.
This program also allows you to track all of your emails, websites, and documents, allowing you to gain a comprehensive picture of customer interaction across all social media platforms and other kinds of communication.

6. Yesware
Many business techniques may help you increase sales, but what if you wanted to create clever selling strategies that didn't need a lot of hustle but yet delivered results? Yesware will take care of you.
By digging through your organizational data, every major sales tool may assist you to find out who your prospects should be, but what do you do next? Yesware will make your life a lot simpler in this area.
You'll never have to wonder what to do with all of the data you've collected if you have clear and actionable insights. Instead, the data is carefully broken down and presented to the relevant team members, ensuring that everyone is on track and aware of whether they are making the proper decisions.
Yesware's three-point method of describing the analytical data it collects is fascinating:
Succeed on a larger scale. Once you've figured out the key to success, share it with the rest of your team so that you may all succeed.
I'm completely focused on the activity. You are offered practical advice based on the relevance of the data.
Results are updated in real-time. Yesware is a much-needed solution since it provides real-time data that helps you succeed in today's fast-paced industry.
The only disadvantage to this great tool is that it is highly sophisticated, and learning and utilizing its full potential takes time. However, once you get started, it's difficult to quit.
7. Calendly
Do you have a strategy in place to schedule all of your meetings with prospects? Calendly can assist you with this.
In the past, you could only book appointments by email or phone call, but times have changed, and now you can use Calendly to correctly schedule your meetings and other activities straight into your calendar.
Calendly features everything you might want in a scheduling application, including sales meetings, interviews, and demos.
It competes with several high-end rivals, but the distinctive feature that distinguishes this product is its simplicity of use for any sales agent who chooses to utilize it.
There is no charge for the basic plan, which is rather comprehensive and may fulfill many of your basic scheduling needs, as well as a 14-day free trial. It's worth a shot. It's one of the most powerful sales methods accessible!
8. Zoom
You had to personally engage with prospects to see demos before the introduction of internet marketing, but with Zoom, it's a whole new ballgame.
This product is one of the top digital marketing sales tools and is an excellent solution for video and web conferencing issues.
With over 300,000 clients, you know you'll be in excellent hands when it comes to managing your remote communications.
Some other features that have:
Group collaboration.
Fullscreen and gallery view
Webinar capabilities.
HD video and voice
Dynamic voice detection
It's simple to share a meeting with one or more people.
For iPhone and iPad, mobile screen sharing makes it simple to conduct meetings on the move.
Zoom offers this crucial characteristic. Sales tools must be simple to use. You may simply invite someone to a meeting just like you would in person, and the other person will need to enter the meeting ID or Meeting Room Name to get access. It is one of the best sales software for small businesses.

9. Proposify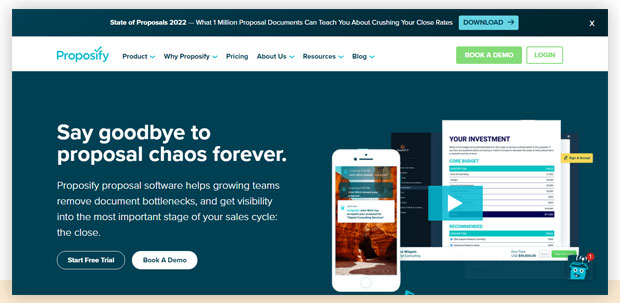 Proposify is a fantastic tool that will help you develop flawless sales proposals that will set you apart from organizations that still use MS Word or other rudimentary word processors.
You may save a lot of time by utilizing Proposify to develop excellent proposals that are nicely edited and maintained in the cloud for faster shareability.
Some of the features that the tool has are as follows:
Use of electronic signatures.
Access to an online preview tool.
The ability to keep track of everything and understand where each item is in the sales funnel.
Drag and drag the library to make it easier to manage.
It's a fantastic option to enhance your bottom line and one of the greatest sales tools around, with a large free trial and a cheap $25/month starting pricing.

10. Salesforce
Salesforce is one of the most widely used sales systems. It has a lot of integrations and can be customized a lot. It assists you in tracking your behavior by generating detailed and insightful data. It is one of the best sales software for small businesses.
Management may also keep track of team activities and development. You may create a "Bookmark Bar" with commonly used tabs for better navigation using a configurable dashboard.
Salesforce's search tool is also excellent, allowing users to search throughout the whole Customer Relationship Management (CRM) database.
It's also worth noting that the key to any business solution or software product is for employees to learn about it and incorporate it into their daily routines.
As a result, practice and training are critical. The software is great for rapid evaluations and confirmations of pending prospects, as well as the flexibility, to personalize data depending on the salesperson, deal size, account, and industry vertical.
You can derive the following benefits with Salesforce's sales tool:
Customer information tracking
Drive customer engagement
Deliver social experience
Active customer support 24/7
AI-powered cloud app
Create sales funnels
SMS, MMS, and group messaging
Ability to create the 1-on-1 customer journey
Overall, we think the product is easy to set up, and it comes with a cloud version, which is a plus.
Conclusion
For many years to come, sales tools will be beneficial to you. In the digital world, if you want to improve sales and expand your revenue-generating net, you should use the right combination of apps to reach your organizational goals and spend your money intelligently rather than wasting it on unsuccessful analog marketing approaches. You can use any of the best sales software for small businesses.
Read More: