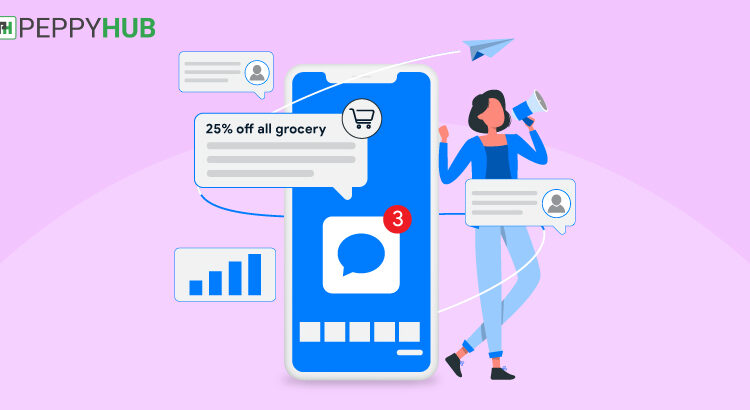 10 SMS Marketing Tips for Local Businesses You'll Need In 2023
A library of expensive marketing tools isn't required to grow a small firm. Modest text messages can attract more clients through your doors or to your website without costing a fortune. Learn some important SMS marketing tips for local businesses.
SMS text marketing succeeds because it is customers' top priority medium and their favorite method of communication with businesses.
To help you start, we've put up a list of 10 SMS marketing suggestions for small businesses. These pointers begin with texting tools to think about, information to incorporate, and strategies to use texting for marketing.
10 SMS Marketing Tips for Local Businesses
Here are 10 SMS marketing tips for local businesses.
1. Do not send text messages to consumers from your personal phone.
It may be tempting to jump right in, but don't text consumers from your personal phone's default messaging app. Apart from the lack of marketing capabilities that companies require to reach their clients effectively, texting from a personal phone without texting software installed might be a problem for your company.
2. Reconsider using shortcodes
Shortcodes are five or six-digit numbers that are used to deliver text messages to a large number of people at once. They're excellent for one-way communications like marketing blasts, two-factor authentication, and alarms, but they don't support two-way messaging, which is popular among consumers. When they can't react to a company's SMS message, three out of four customers are irritated.
Instead, try using texting software to send texts from your current business phone line. Your clients will not only be able to text the same number they may call, but they will also be able to react to your messages with any queries they may have.
Let's imagine you sent a coupon code to your clients for a major deal your shop is offering this weekend. A consumer answers your message with the query, "What are your store hours on Monday?" because it's a holiday weekend. If they use a short code, they'll get a scripted response that says something like, "We're sorry." Your instruction was misunderstood by us. For assistance, please drop us an email or give us a call."
Employees would see the text and be able to respond to the customer's query in the same text discussion via two-way texting. Although it may appear to be a little exchange, the value of making oneself available to your consumers should not be underestimated. Being accessible will distinguish your company from the competition, and your clients will remember you as a result.
3. Copy is important
Text messages should be properly crafted in the same way that copies of commercials, retail signs, emails, and brochures is meticulously prepared.
Use natural, conversational language. You and your customers are both humans! Avoid appearing robotic (the receiver may see this as spam), and write in a way that engages your consumers.
Stay on brand. Text messaging should be part of your overall marketing communication plan. If your brand doesn't appear that way in other communications, don't confuse clients with slang and snappy language.
Include a call to action (CTA). Create a compelling CTA that encourages your recipient to click on a link, take advantage of a discount, visit your business, or do anything you want. They don't have to belong or be complicated, but they must be clear: To shop the deal, tap the link; to get a free estimate, show this text at the cashier on your next in-store visit; or to get a free estimate, reply with QUOTE.
There won't be much to write (with a few exceptions, SMS messages should be brief), but bear in mind that content sets the tone for the client experience.

4. Get familiar with TCPA guidelines
Brush up on the Telephone Consumer Protection Act before getting started with SMS marketing for your small business (TCPA). The Telephone Consumer Protection Act (TCPA) is a federal law that protects customers against unwanted phone calls and text messages, as well as techniques to avoid your text messages from being misinterpreted as spam, such as:
Customers who have chosen to receive text notifications from your company will only be texted. Never (ever) text a customer who hasn't given you permission. There are a variety of techniques to get people to opt-in, and they will differ based on your business.
Give clear instructions for opting out. Provide explicit details on how to opt-out. Customers should be able to unsubscribe from your emails with ease, and the procedure should be simple. It's best to use simple wording at the conclusion of a text message, such as "Reply STOP to unsubscribe from future messages," as well as software that supports the STOP command by eliminating those users from your list automatically.
Keep texts short and relevant. If your communications don't include the material your customers want to view, they'll ignore them and unsubscribe. Your consumer should only receive weekly discounts if they sign up for them.
5. Use images when applicable
Images can help your SMS marketing messages stand out and encourage your recipients to act.
When conducting a product promotion, for example, you might include a snapshot of the item in your text message. Create a visually appealing picture to herald an approaching deal. Images are very useful for adding more content to your message without using up important word space. This is one of the important SMS marketing tips for local businesses.

6. Don't send too many texts
Sending your consumers too many indirect marketing texts will simply cause them to unsubscribe from your texting list (they might view your messages as spam).
If feasible, be clear about your desired frequency when they opt-in and stick to it. If clients sign up for event alerts, only send texts when those events occur; if they sign up to be alerted of new product launches and early access to special offers, only send texts when those events occur.
7. Keywords are your friend
You've probably come across examples of keywords in the wild. Businesses may use keywords to designate a phrase to an SMS marketing campaign, such as TAKE20 or FLASH, and when someone texts that word to the business's phone number, it will trigger an auto-reply message with more instructions or confirmation.
Shortcodes are frequently used with keywords, although as previously stated, shortcodes have limits (and they can be expensive for their limited capabilities). Instead, business-texting software is a less expensive choice that allows you to employ keywords and has more capabilities that can help your SMS marketing campaigns succeed. Keywords can be used for a variety of purposes, including:
Exclusive coupons. Offering bargains that clients can't obtain anywhere else, such as on social media or through your email list, is a terrific approach to expand your subscriber base. Contests. Customers may enter contests to win rewards by texting a keyword.
Flash sales. These are great for social media sharing. Let your followers know that they may enjoy a limited-time discount by texting a phrase.
Audience voting. Allow your consumers to vote on your next product or menu item.
Online reviews. It might be tough to get clients to submit reviews for your company, but if you make the procedure simple for them, the chances of them doing so rise. Create an auto-response with a term, such as REVIEW, and a link to your Google My Business Page, Facebook page, or Yelp profile.
8. Use texting to capture leads
Texting is useful for keeping in touch with existing customers, but it's also useful for acquiring leads. It's as simple as putting "Text or Call" next to your phone number on ads, web forms, AI chatbots, and other places. You can grab leads that don't want to phone but consider texting as a low-pressure way to communicate with you.
You may also include a Click-to-Text button on your website. A popup will appear when a visitor clicks or taps on the button from their phone or desktop, asking for their phone number and message. The visitor will get the message on their usual messaging app, where their chat will be taken up by an employee when they press "send." Click-to-Text allows website visitors to contact you by text without having to take their phone out of their pocket.
9. Don't forget about the metrics
It's critical to track the success of your SMS marketing activities if you want to expand your small business. Look for tools that measure texting volume when looking for business-texting software so you can figure out when your clients are most likely to text.
Also, look for keyword reporting tools to assist you to figure out which terms have a greater response rate and better engagement.
10. Use text to send reminders and confirmations.
SMS is the most convenient way for customers to communicate with service providers and businesses. According to reports, 67 percent of individuals would like to connect with businesses by text rather than email or phone concerning appointments and scheduling.
Furthermore, email can easily lose small and useful communications like appointment reminders, invoicing reminders, and booking confirmations.
CONCLUSION
SMS marketing is effective, which is one of the main reasons small businesses employ it. Small business entrepreneurs, in fact, do not have a lot of time or resources to devote to marketing.
As a result, they seek out ways to communicate directly with their customers. Automated SMS messaging saves the day for them.
Texting is not only inexpensive, but it also makes it easier for small business owners to create their own marketing strategies. Hope these SMS marketing tips for local businesses will help you in long run.