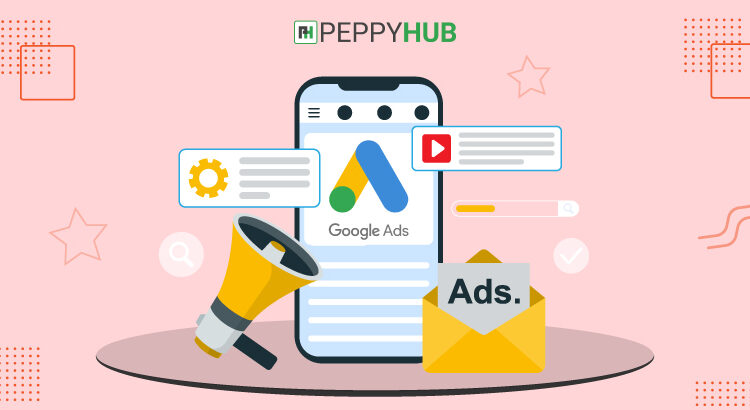 Top 9 Benefits of Advertising online with Google Adwords
The marketing environment has changed dramatically in recent years, and Google Ads is one of the platforms driving this change. Without question, one of the most successful paid internet advertising platforms is Google Ads. Let's get started with the benefits of advertising online with Google Adwords.
Google Ads enables companies to reach out to everyone who uses Google to look for information, goods, or services on the internet. Google Ads, when used effectively, may bring you a large number of people who are specifically seeking what you have to offer.
If you don't have a Google Ads account for your business yet, or if you aren't using your Google Ads account to its maximum potential, you should strongly consider doing so.
What is Google Ads?
When you see an ad for a company's landing page rank as the top (or second, or third) search result on a Google search, it's almost probably because the company is running a Google Ads campaign.
You may pay to have a Google ad for your business displayed to people who search for relevant phrases on Google Search and Maps using Google Ads (previously known as Google AdWords). Google Ads is an important digital marketing tool for any company trying to get relevant ad text in front of its target audience.
You only pay for genuine, quantifiable outcomes with Google Ads, such as website hits and company calls. A pay-per-click (PPC) campaign is what this structure is called.
You may choose to make your target audience global or local, and you can establish a monthly Google Ads campaign ad-spend cap that Google will automatically follow. Let's get started with the benefits of advertising online with Google Adwords.
How does Google Ads work?
Now that you know what Google Ads is, you might be asking how it works. When you start a Google ad campaign, you'll tell Google which of these three objectives you want to achieve:
Increase calls to your business.
Direct more visitors to your store.
Direct users to your company's website or landing page.
After that, you'll choose whether your ad copy will be sent to a worldwide or local audience. Next, you'll tell Google what makes your business unique by using photos or three brief lines, and Google will utilize this information to help you write your ad content.
Finally, you'll set your budget, which Google will use to anticipate your Google Ads campaign's success, and your ad will go live. Your ad will rank high and show as a top search result, and as more people click on your PPC campaign advertising, your firm will move closer to meeting its budget.
The five types of Google Ads
The methods outlined above are the same for all Google Ads campaigns. However, no two Google Ads campaigns are similar; in reality, there are five main categories of Google Ads:
1. Search Network campaign- Your ad will display not only on Google Search and Maps but also on hundreds of other Google search partners, such as YouTube and Google Shopping if you run a Search Network campaign. When consumers search phrases relevant to a keyword for your campaign on any of these sites, they'll see your ad.
2. Display Network campaign– You can get visual advertising in front of individuals who use Google Display Network products like Gmail and YouTube by running a Display Network campaign.
3. Shopping campaign– Instead of using a user's keyword, Google will utilize product data from your online shop to determine how and where your ad will appear within Google Shopping.
4. Video campaign– Your firm will be promoted via a video ad on YouTube and other Google Display Network properties as part of a Video campaign.
5. App campaign– Your ad will appear on Google Search, YouTube, Google Play, AdMob, the Google Show Network, Google Discover, Google's search partners, and many other publishers that display app advertisements when you run an App campaign.
How much does Google Ads cost?
One of the most compelling reasons to utilize Google Ads is that you have complete control over the price. If you establish a budget, Google Ads will never go over it, and the computer will forecast your outcomes based on it.
9 Benefits of Advertising Online with Google Adwords
1. Increase Brand Awareness
Previously, brand awareness was largely achieved by a blind strategy of advertising on newspapers, billboards, radio, and television.
This strategy might have worked for consumer items, but it failed miserably for B2B products since transmitting advertising messages to a large audience is ineffective and expensive. Digital advertising, particularly Google AdWords, has changed the way businesses advertise.
Brands may use Google AdWords to target their audience while they are searching for information about their product category on the search engine
. Advertisers may further expand their audience by using Google Display Network to target users on other websites. As a result, one of the most typical Google AdWords benefits is brand recognition. It is one of the important benefits of advertising online with Google AdWords.
2. Faster Result Than SEO
In terms of increasing sales, the visibility that businesses acquire on Google is significantly more valuable than any other medium. Businesses have a fantastic chance to appear in front of customers when they are searching for their product or service on a search engine.
However, if the potential is so huge, there will be a lot of competitors. As a result, ranking organically on search engines is a time-consuming and difficult effort. Organically, appropriate website optimization and gaining trust from approved websites through backlinking can produce fantastic results, but it takes time.
Google AdWords can help businesses get results much faster. Rivalry exists in this domain as well. The good news is that, in addition to the bid amount, the keyword's quality score, which includes ad relevance, landing page experience, and projected CTR, decides the ad's position. As a result, appropriate Google AdWords optimization combined with the needed bid might result in a high return on investment.
3. Outrank Your Competitor Ads
We've all heard about and seen brand battles, especially on billboards. AdWords allows you to outwit your competitors more cleverly and less irritatingly. Let's imagine you're in a close battle with one of your niche brands, and you feel they're sharing the majority of the potential sales.
To back up this assumption, the AdWords outrank share report indicates that your competition outranks you on Google the majority of the time. You may pick "Target Outrank" automated bidding techniques in Google AdWords to change your bid to outrank the specified competitors in the auction. One of the most important features of Google AdWords is the ability to outrank competitors' ads.
4. Persuade the audience to buy something
When you visit a website for the first time, how many times do you make a purchase or provide your contact information? The most popular response is "very seldom!"
The reason for this is because in today's age of the internet, all information is at the consumer's fingertips, and before making any purchase choice, the consumer conducts extensive research, evaluates several possibilities, and makes a selection. Companies must influence website visitors' decisions involve them through the buying funnel. It is one of the important benefits of advertising online with Google Adwords.
This approach is fairly straightforward and successful with Google AdWords' remarketing advertisements. The audience that visits a website from any source can be divided into different groups and targeted on Google Display Network websites.
5. Increase Ad Visibility To The High-Quality Audience
Advertisers have a common belief that every term should have 100% search impression share. Is it, however, feasible to pay money on every search? Many times, the searches are conducted just to conduct research by persons working on a project, rivals, or others who have no intention of purchasing the goods.
AdWords allows you to target adverts to those who are more likely to make a purchase. One must select automatic bid techniques such as Ecpc (Enhanced Cost per Click), in which the bid is changed based on prior conversion statistics and a mix of different information provided by those converters, such as location, device, model, browser, time of day, day of the week, and so on.
6. Test, Test, Test, and Let The Winner Be The Best
Let's assume you have a new product feature that you think would appeal to buyers, so you replace it with existing features in your ad copy and update your landing page to reflect this. In the meanwhile, you've chosen to put one of the automatic bidding tactics to the test into boosting conversions.
Your AdWords performance in terms of CTR and conversions improves after a month. Your employer is impressed when you show him the findings. Now he/she advises you to apply this to all of your campaigns. The only difficulty is that you have no idea whether the new feature or bidding technique works!
Google AdWords offers the option to test one modification each campaign over time to see if the original or the experiment produced the better outcome. The experiment's data is statistically checked to eliminate unpredictability. It is one of the important benefits of advertising online with Google Adwords.
7. Make campaign strategies based on the demographics of your users.
One of the most recent Google AdWords additions, especially for search campaigns, is data on user demographics such as age, gender, parental status, and so on. Consider the following scenario: you are an interior designer, and your target clientele is people who own or are intending to buy a home.
You've begun utilizing Google AdWords and noticed that your conversion rate isn't very high. You decide to investigate your audience's demographics and discover that 30% of visitors are between the ages of 18 and 24, which is not your target demographic.
You decide to undertake an experiment that excludes this age group for a while. By the end of the trial, you've seen that your conversion rate is far higher than the original. One of the perks of Google AdWords is the ability to target customers based on their demographics.
8. Advertisements Should Be Scheduled To Reach The Audience At The Appropriate Time
One of the most appealing features of Google AdWords is the ability to choose the time and day when you want your advertisements to appear. Isn't it, however, useful to run commercials 24 hours a day, seven days a week? Certainly not. It is determined by your industry specialization, product, service, and, most crucially, historical data.
After 3-6 months of running your campaign, analyze the data by time of day and day of the week to identify the time or days (or combinations of them) that are draining your bank account (no conversions, only clicks), and either decrease the bid or halt the ads at that time or day. Run the test for a few days and observe if your conversion rate and cost per conversion increase.
9. Remarket Audience With Best Deals
Remarketing is one of the most important elements of Google AdWords. It is already common knowledge that remarketing is one of the most effective techniques to persuade consumers to go through the sales funnel. It doesn't end there; remarketing advertising may be tailored to a user's online browsing habits.
If a person sees a certain brand's mobile phone page but does not add it to the basket, the retargeting ad for that visitor may be the same mobile phone with an extra offer such as a cashback or free shipping offer.
To make this customization easier for huge websites, dynamic remarketing advertising may be used, which changes advertisements based on the page the visitor visits. One of the main advantages of using Google AdWords is that you may influence your audience by offering them the finest bargain.
FINAL THOUGHTS
These are not the only advantages and benefits of advertising online with Google Adwords, but they are the best. Google has always strived to improve its search results to provide the best results for users.
In the same manner, they're working to improve their advertising platform so that advertisers can get the most out of it. It's now up to the advertiser to maximize these advantages and increase their AdWords success.
As previously said, the marketing landscape has evolved, and Google AdWords has played an important part in this evolution. Join our Search Engine Marketing Course to learn more about Google AdWords, which is one of the most important aspects of digital marketing.
Read More: