Ultimate Marketing Automation Statistics for 2023
Marketing automation statistics are real-time evidence to ace the digital marketing arena. Automation is a go-to-use tool for every enterprise despite its size and goals. It has helped many businesses to rise above the ashes. Its rise is inevitable, considering its innumerable benefits, which allowed us to overcome difficult situations in a pandemic.
Digital businesses are emerging, and many brick-and-mortar stores have shifted to the digital space. In such a scenario, marketing automation makes every marketing process look so easier :
Right from creating campaigns to engaging customers and optimizing conversion rates.
Marketing automation reduces the friction caused by the repetitive nature of tasks. Also, it helps businesses save time by becoming more goal-oriented.
Read this blog to learn about marketing automation's importance with measurable statistics for 2022.
Note: More than 90 % of marketers are using marketing automation, helping a business acquire more than 450% of qualified leads.
What is marketing automation?
Marketing automation is web-based services and software to reduce repetitive tasks and automate them to focus on business goals. The marketing automation software in the customer journey helps you build workflows, automate the journey, and a lot more.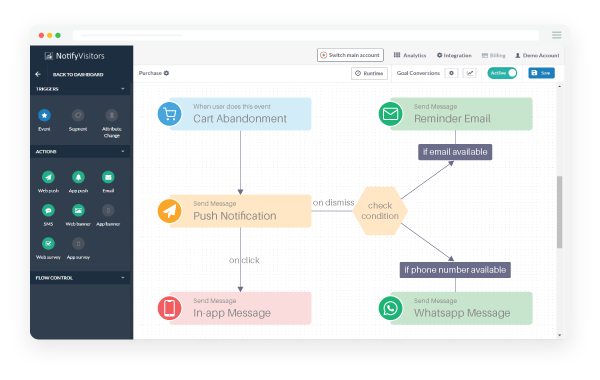 You can enhance revenues and build up a strong relationship with the customers.
Why do you need marketing automation?
As we stated earlier, most of businesses are moving to the online space; you shall ask yourself about the functioning of the following areas :
How would you recognize, identify and engage buyers online?
How would you prioritize the customers based on different factors such as geographical location, needs, and preferences?
Can you filter leads based on their engagement levels?
Can you measure the ROI and optimize the conversion rates on your own?
If the answer is no, then you need marketing automation for all the above processes.
Now, you have concluded that marketing automation is the need of the hour. Let us look at the top benefits of marketing automation through some insightful statistics :
Benefits of Marketing Automation
1. Sales productivity :
The automation industry is already taking a hike, and it is a strong pillar of the digital marketing industry.
It claims to generate a more than 15 % increase in sales productivity, and more than 13 % of the marketing overhead is diminishing. Marketers could see an 80% enhancement in the number of leads.
2. Lead nurturing :
Marketing automation effectively helps a business to generate leads and nurture them through engaging content and automated emails. It transforms a lead into a fully committed buyer.
Due to the long sales cycle, more than 85 % of the manufacturers need to nurture leads. Lead nurturing is necessary as it cuts off the costs as compared to emails. Also, nurtured leads make more purchases (more than 47 %) than non-nurtured leads.
3. Instant Returns on Investment :
More than 76% of the companies have instantly raised their ROI within a year. Such companies are reporting to grow much faster than the companies that have not adopted marketing automation.
Therefore, different companies generate profits and higher ROIs depending upon their maturity levels in terms of business, skills, and processes.
4. Ability to save time :
The major benefit of marketing automation is that it saves a lot of time. Due to this factor, more marketers are claiming to use marketing automation.
More than 60 % of marketers are increasing their budget investments, as statistics say, more than 70% of the respondents believe that it saves a lot of their time in performing tedious tasks.
5. Personalization in content :
Marketing automation helps you to engage customers with tailored and personalized content.
More than 94% of marketing professionals believe that marketing automation helps boost business productivity. It lets them target users with different factors and prompts them to take action.
6. Business productivity :
As far as business productivity is concerned, marketing automation improves it by more than 20%.
But productivity is not the only factor that prompts businesses to choose the marketing automation tool. There are other factors, such as higher revenues, conversions, and a shorter span for the sales cycle.
After discussing marketing automation's proficient benefits, let us jump to some of the vital statistics for marketing automation, to adopt it as a vital tool in 2022 and maximize its usage.
What are The Key Marketing Automation Statistics for 2022?
Below are the vital statistics for marketing automation that show its importance and prompts to look at integral aspects of marketing automation.
It is essential to look at every aspect of marketing automation to understand it much better. Therefore we segment the marketing automation statistics into five parts :
1. Adoption and market growth for marketing automation :
Use of marketing automation tools :
According to the recent "marketing automation survey report," more than 75% of marketers are currently using at least one marketing automation tool.
Also, more than 67% of marketing companies are using marketing automation platforms. Personalization is one of the most useful tools for more than 48% of marketers.
Wide popularity and acceptance of marketing automation :
According to the Social Media today 2022 state of Marketing Automation Survey Report, more than 90% of marketing automation users conclude that it is an essential tool for marketing campaigns.
It's clear and concise that the majority of brands are adopting marketing automation.
Increase in spending for marketing automation :
Companies are increasing their budgets for marketing automation tools. It is reported to reach 26 billion dollars annually by 2023, and 12 billion dollars in 2017. More than 55 % of marketers are planning to increase their investments in the tools.
2. Goals of marketing automation :
Some of the essential marketing automation objectives are enhancing productivity and ROI, improving database quality, and last but not least, evaluating and measuring performance.
Sales as a priority :
According to the "marketing automation benchmarks for success," more than 24% of marketers state sales as their priority for marketing automation.
They believe that marketing automation shortens the sales cycle by automating most of the steps, such as creating campaigns, targeting, and retargeting users with email automation and personalization.
Enhance Customer engagement :
Along with sales, engaging customers is another top objective that companies want to fulfill from marketing automation.
Although Conversions top the list of objectives, sales revenue leads nurturing the second place, and customer engagement is another primary goal of the automation (37%).
Campaign targeting and improving measurability :
More than 22% of marketers use marketing automation to enable them an easier way to target campaigns and improve their performances. With real-time insights and analytics, they can evaluate the effectiveness of campaigns ( ROI, average order value, conversion rates, drop-off rates, and so on).
3. Marketing automation results :
The success of marketing strategies :
More than 90% of marketers say that their marketing strategies are successful and reported a tremendous increase in revenues within six months of adopting marketing automation software technologies.
Cashing in marketing automation :
Marketing automation is one of the most trending tools in the digital marketing arena. Many software companies are cashing in marketing automation. The worth of the marketing automation company is around 1.6 billion dollars. It is going to double by the year 2023.
Improved customer retention rates :
More than 90% of marketers claim that they have successfully acquired qualified leads with marketing automation and retained more than 88% of the customers.
Acquiring new customers requires extra budget and effort, whereas retaining customers almost cuts off the costs. You can retain customers quite easily with automation tools.
4. Reasons for purchasing marketing automation :
Ease of implementation :
Most companies( 64%) choose marketing automation with the ease of implementation being the core reason. Whether you are a medium-sized enterprise or a smaller one, you can use marketing automation based on your needs.
Another reason for purchasing the tools is technical support and cross-platform integration.
Segmentation capabilities :
With the increase in online marketing activities, marketers find it difficult to segment customers. But with marketing automation, segmentation has become much easier for marketers.
Marketing alignment with sales :
90% of B2B marketing companies can align their marketing goals with sales with marketing automation. Your marketing team and sales team also attain profits by allowing them to observe the prospects' activities in real-time and get in touch with them.
5. Uses of marketing automation :
The trending and topmost marketing automation uses are email automation, personalization with dynamic content, creating a user profile, and targeting. Email automation (64%) tops the list.
Social media advertising and posting :
Apart from email automation, marketing automation plays an essential role in scheduling social media posts. More than 83% of marketers use automation for the same cause, following chatbots whose use is gaining popularity with time.
Tracking customers' actions :
Marketing automation enables you to look into every nook and corner of the website. You can track the actions of your users in each element through heatmaps and user session replays. More than 75 % of marketers use these tools to watch out for how users appeal to their websites' content.
Blending marketing automation with CRM software :
More than 70% of companies are using a blend of marketing automation and CRM. There are a lot of companies where marketing companies and sales companies are working and evolving together.
The marketing team focuses on generating the leads, whereas the sales team focuses on closing the leads.
CRM software accelerates the lifecycle of a lead and enables a sales team to integrate with customer data through behavioral tracking.
Therefore, a company can easily track a lead's behavior and engage him to turn him into a customer eventually.
Conclusion
All the above marketing automation statistics are pointing toward the perpetual and inevitable use of marketing automation.
Meeting the customers' expectations requires instant and continuous support from a business, and marketing automation proves to be the best marketing automation tool for all kinds of companies.
Read more: