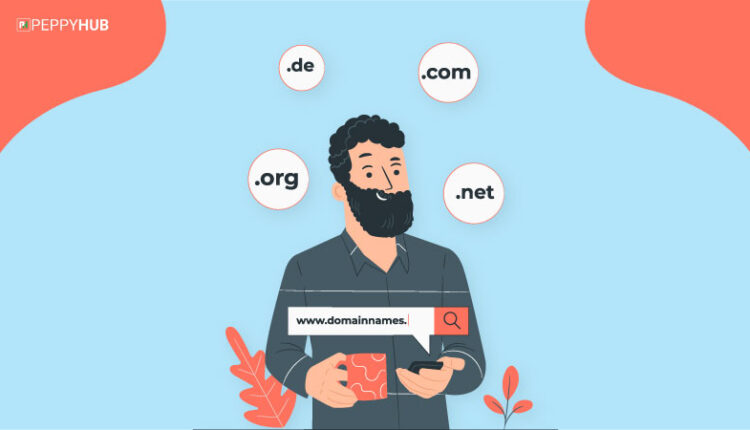 What is a Domain Name? Get your Domain Name Now!
The address of your website that visitors put into their browser to access it is known as a domain name. To put it another way, if your website were home, your domain name would be the address.
The entire internet is a massive computer network. An IP address is a unique number assigned to each computer that looks like this:
66.249.66.1
This address is now difficult to recall or memorize. Consider what it would be like if you had to use this address to access your favorite websites.
To address this issue, domain names were formed.
Domain names can contain both letters and numbers, making it easier for business owners to come up with memorable names for their website's address.
How Do Domain Names Actually Work?
We'll look at what occurs when you type a domain name into your browser to get a better understanding of how domain names work.
When you type a domain name into your browser, it sends a request to the Domain Name System, which is a global network of servers (DNS).
The name servers connected with the domain are then looked up, and the request is forwarded to those name servers.
If your website is hosted on Bluehost, for example, the name server information will be as follows:
ns1.bluehost.com
Ns2.bluehost.com
These name servers are machines that are managed by your hosting company.
Your hosting provider will send your request to the machine that houses your website.
This computer is called a web server.
It has specialized software installed (Apache, Nginx are two popular web server software). The site page, as well as any associated data, is now retrieved by the webserver.
The information is subsequently sent back to the browser.

How to Get a Free Domain?
You won't be able to use this strategy unless you're ready to upgrade to a higher plan or switch to a different host if you currently have hosting services. As a result, if you're intent on acquiring a domain name for free for the following year, timing is important.
However, in addition to a domain name, you'll need web hosting services if you're beginning from scratch.
As a result, grouping them together makes sense. It's a simple and inexpensive method to get everything you need in one transaction and save some money.
The most important factor to consider in selecting the correct host for your website. So, let's have a look at how to go about doing that.
Free Domain Hosting Providers
We want to assist you to save as much money as possible when it comes to launching a new website.
Many web servers provide free domain names and low-cost web hosting to assist newcomers to get up and running as quickly as possible. The following are some of our top suggestions:
Hostinger – A most affordable option
Wix – Best website builder
DreamHost – Best WordPress hosting
Bluehost – Best shared hosting
1. Hostinger – Most Affordable Shared Hosting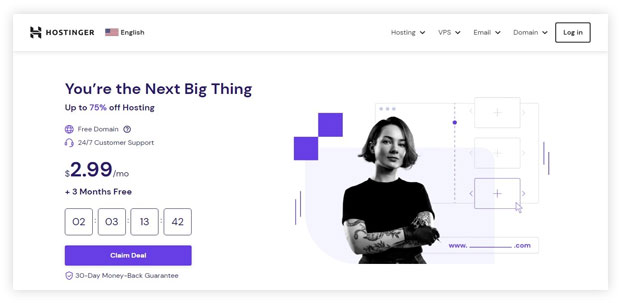 Hostinger is the way to go if you're looking for budget hosting that doesn't feel cheap. You must sign up for (at least) an annual package on the Premium plan, which starts at $2.59 per month for a four-year commitment, to qualify for a free domain.
You'll spend $124.32 for four years of hosting and get a free domain name for the first year with that package.
The monthly price reduces to $3.99 per month if you pay for two years in advance, or $95.76 total. If you want a shorter commitment, Hostinger's yearly agreement costs $5.99 each month, for a total of $71.88 for the first year.
A domain name and all of Hostinger's domain name services are included for free for the first year, regardless of the term you pick.
A monthly option is also available, however, it does not include a free domain.
The premium plan from Hostinger has more than sufficient capacity for new websites or those moving from another hosting provider.
It includes:
100 GB of storage space
Up to 25,000 monthly visitors (approximately)
100 free email accounts
One-click WordPress installation
Automatic plugin and core updates
LiteSpeed caching plugin to improve site speed
Weekly backups
Up to 100 subdomains
Despite its low cost, you receive everything you require (domain name included).
There are hundreds of top-level domains (TLDs) to select from when it comes to naming your website, including.com,.net,.tech,.online,.live,.digital, and more.
As a result, there are plenty of possibilities. So, let's have a look at how to go about doing that. Furthermore, Hostinger's simple DNS administration makes setting your domain name a breeze, even if you've never done it before.

2. Wix – Best All-in-One Website Builder
Wix is an all-in-one website builder that can be used to create blogs, eCommerce stores, company websites, portfolios, and other types of websites. Its drag-and-drop interface is simple enough for beginners to use, and it includes over 900 professionally created templates without limiting design freedom.
Wix's ease of use is praised by everyone from total novices to developers.
You receive a free Wix subdomain with Wix's free plan… for life. Your domain name will become yourdomain.wix.com instead of yourdomain.com.
It's not quite as stylish, but it's a good place to start if you don't want to spend any money.
You'll be able to utilize a domain without the. Wix component if you upgrade to one of Wix's paying plans. The good news is that for the first year, all of Wix's premium plans include a free personalized domain name.
Wix's plans aren't the lowest we've seen, but it's one of the most user-friendly site builders available, and it comes with a free one-year domain name. The cheapest package is $14 per month.
It comes with 3 GB of storage, Wix's acclaimed drag-and-drop editor, almost 1,000 free templates, and unlimited creative flexibility to create the website of your dreams.
3. DreamHost– Best WordPress Hosting

Another web hosting service provider that provides a free domain name is DreamHost. DreamHost, like several other web hosting companies, provides both standard shared hosting and WordPress-specific hosting.
You'll get a 97-day money-back guarantee, as well as unlimited storage and bandwidth, regardless of the level you choose.
The shared web hosting packages are simple and easy to comprehend. There are two options to choose from: "shared beginner" and "shared unlimited."
If you join up for a minimum of one year, you'll get a free domain with both options.
With a three-year web hosting plan, the beginning package costs $2.59 per month, and with a one-year plan, it costs $3.95 per month. Email, on the other hand, is an extra price of $1.67 each month.
Both the three-year and one-year subscriptions cost $4.95 per month for the unlimited package, which includes email.
4. Bluehost– Best Shared Hosting
Bluehost is one of the most well-known web hosting services available. It's well-known for being dependable, beginner-friendly, and cost-effective.
Additionally, when you join up for their web hosting services, you will receive a free domain name for the first year.
You should anticipate spending $12.99 each year for your domain beyond the first year.
Each domain name also includes complete control over DNS records, auto-renewal options, domain locking, and 24/7 expert customer assistance.
Plus, with prices starting at only $2.95 per month, Bluehost's web hosting options are hard to match if you're on a budget.
However, you must pay three years in advance to receive this pricing. This… may appear frightening at first, but developing a lucrative website takes time, and paying in advance will save you money.
Instead, you may pay $5.95 each month if you join up for a year.
However, this is still a reasonable price, with a year's worth of web hosting costing $71.40.
As your website grows and you want more sophisticated hosting capabilities, you may switch to a higher plan.
If you require more than what your shared hosting plan provides, Bluehost also offers VPS hosting, managed hosting, WordPress hosting, and dedicated hosting.
Conclusion
After reading this post, you get an idea of all about the domain name, how it works, and free hosting service providers. We hope you find this post useful and helpful. Stay tuned for many posts.