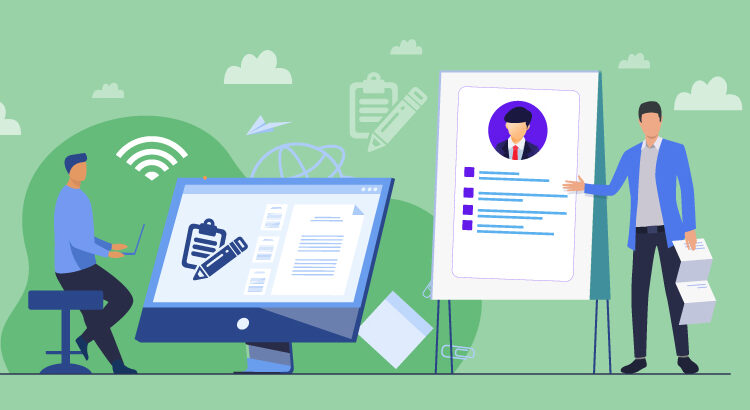 How to Draft a Perfect Digital Marketing Resume in 2023
A digital marketing resume represents you in front of employers and showcases your skills, qualifications, and a lot more. Every candidate wants to show potential employers that you're one for who they've been looking for. While every CV will differ for every position and company, they all adhere to the same fundamental principles.
Understanding what language an employer is looking for will make your application stand out amongst other applicants. Therefore, if you are looking for a digital marketing job, you need to keep these factors in mind while drafting your digital marketing resume.
How to draft a Digital Marketing Resume.
Step 1: Make It About You
Make sure you focus on your name as the resume's title and your contact and professional details at the top. Do not consume or waste valuable space, where you could be highlighting your skills, rather than writing a gaudy "Curriculum Vitae" as the title. Keep in mind that you are the product, and your resume is your marketing. So, make yourself stand out amongst others with your name as the title.
While the resume format is flexible, your phone number, email, and city you're based on should promptly follow the title in a smaller font. Since you want the employer to contact you, make sure that your reader can easily learn where and locate you. Consider adding a LinkedIn profile or any other professional site on your resume's top.
Add a LinkedIn profile or any other professional site at the top of your CV. These links enable the employer to know you better and show that you are interested in the job.
You should add a professional profile at your resume's top before showing your experience and education. For example, if you are preparing a digital marketing resume, then place it at the top. Add summary skills, experience, and particular goals while applying for the job, and it presents recruiters a quick impression of what your resume will include. There is no need to include information like your date of birth, and you certainly don't need to add a photo in the head. 
Learning- Consider yourself a brand and promote yourself.
Step 2: Keep it clean and consistent.
It is advisable to make your digital marketing resume clear and consistent. Ensure that you check your content accuracy, don't carry so many fonts or visual designs, and showcase your skills and experience. Your interview questions will be based on your resume. The best way to create a clean resume is to use bullet points. As per the job search expert, "the recruiter or hiring manager on average spends a few seconds going through a candidate's resume. To get shortlisted, you have to bring out your experience, and that too quickly. A bulleted list can benefit you to build your case. It instantly and clearly shows the employer that you are suitable for the job.
The best fonts are plain and easy to read. Adhere to basic format, to Arial, Times New Roman, or Calibri in 10-12 points. The larger font size of 14-18 points is good for headlines, headers, and subtitles, but keep it all in one style. Your margins must also be patterned.
Learning- Keep it short, concise, and straightforward.
Step 3: Know your audience
You have to make sure that you customize or tailor the digital marketing resume as per the position you are applying for. Be particular about what expertise, volunteering, and skills you prefer to include. Like, ten years of ballet? It is probably not suitable if you apply for a job in the ad, so leave it out. But that part-time job when you were in high school managing your local hardware store's social media campaign is worth noting.
Do a little bit of research about the company you are interested in. Please familiarize yourself with the keywords they utilize in their documentation. It will further show recruiters that you've done your research and show that you're a good fit for the job.
Learning- List only relevant and recent experiences.
Step 4: Numbers and Platforms Matter
A numbered list of achievements will keep your digital marketing resume work explicit and display your skills and dedication to previous projects.
Next Generation thinks you should use analytics and statistics to demonstrate how you have developed your business, such as increased traffic to a site or overall revenue. It would be best to deliver tangible things, such as a 20% increase in organic traffic.
Not only do quantifiable results help you. It will assist in making your resume more specific, but it will also enable you to show how your skills and work ethic have made a worthwhile contribution to your former employers' goals. If you highlight that organic traffic has grown on a project, your skills in using SEO analytics tools like WordPress, Moz OSE, SEMrush tool, or Google Analytics will help you stand out. All of this will present your digital marketing resume much more personal and specific to you and your accomplishments.
Learning- Link a business portfolio or website under your analytics.
Step 5: Proofread
The final step is to proofread your digital marketing resume. It can make or break your chances of getting a job. Although it's easy to assume that you haven't committed any errors, it never hurts to go back and scan your CV for any errors.
If you are applying for a digital marketing job filled with content, the worst thing you can do is have simple syntax errors. These mistakes will make recruiters think you are careless when creating content, and these errors will ruin an otherwise well-made resume—rectifying simple mistakes when proofreading. Watch out for spelling and grammar mistakes. Another right way to verify your CV is to run it via Grammarly.
Learning: Ask a friend to read your resume. Sometimes having a new pair of eyes can spot mistakes that you may have committed.
Conclusion
If you understand all of these tips, your digital marketing resume will be more precise and show your skills. All you have to do is to press the send button.