8 Best Shopify Apps for Subscriptions
That's why we have compiled this list of 8 best shopify apps for subscriptions that will help you get started on developing the perfect platform! If you are an entrepreneur looking to make the most of your ecommerce business, there is no question that offering subscription-based services can be both lucrative and immensely beneficial.
But as with any online store, setting up a successful subsciption model requires finding the right tools to ensure everything runs smoothly both for yourself and your customers.
8 Best Shopify Apps For Subscriptions like –
1. Chargebee – Automate billing & subscription management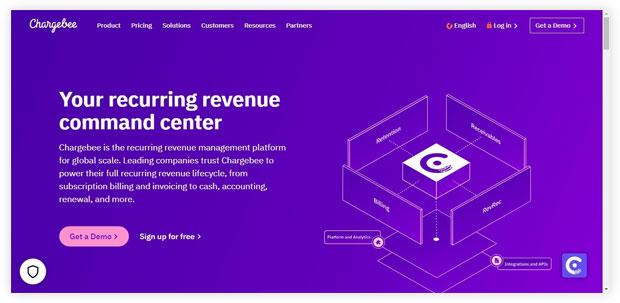 Chargebee is a shopify app that helps to automate billing and subscription management, allowing shop owners to streamline their payments and simplify the customer experience. It's specifically designed as an easy-to-use solution,
with features like the automated invoicing of billings and the ability to set up customizable notifications along with data-driven insights that give shopowners far more control over their store. Its robust customization options also makes it a great fit for shops of all sizes,
giving customers unrestricted access to their payment options while also offering shop owners more painless ways to stay on top of their shop's financials. Chargebee is an invaluable shopify app for managing subscriptions effectively and boosting shop profitability. It is one of the best shopify apps for subscriptions to try.
2. ReCharge – Easy to use subscription platform for Shopify
ReCharge is a shopify app which makes it incredibly easy to offer subscriptions to your customers. With a few clicks, shop owners can create subscription plans with flexible payment and delivery options, allowing customers to customize their shop experience on-the-go.
What's more, market leading features such as automated order management and easily customizable subscription settings are included to ensure shop owners have the best tools to manage their shop's subscriptions.
ReCharge makes it easy for shop owners everywhere to set up the shop of their dreams without having to worry about complex settings or back end configurations – now any shop owner with a shopify account can get started quickly and easily with their own subscription platform! It is one of the best shopify apps for subscriptions to try.
3. Bold Subscriptions – Manage product subscriptions with ease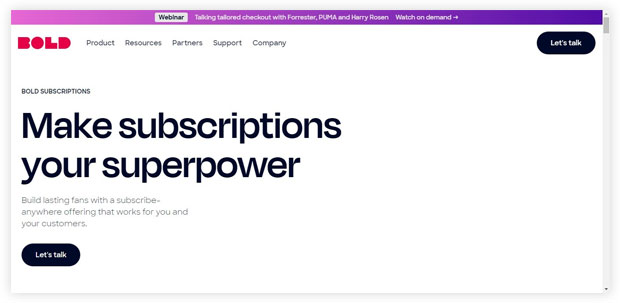 Bold Subscriptions lets you take the hassle out of product subscriptions. You can easily keep track of your multiple subscriptions and update or cancel them quickly without having to contact each company individually. With Bold Subscriptions,
you'll get the convenience of organizing all your subscription needs in one place while enjoying complete flexibility when it comes to customizing your product plan. No more waiting on customer service lines or keeping outdated records; just simple, intuitive subscription management! It is one of the best shopify apps for subscriptions to try.
4. Recurly – Automate billing for recurring payments
Recurly is an innovative shopify app that automates billing for recurring payments. Whether you're running a subscription-based business, offering memberships and loyalty programs, or simply selling products with monthly payment plans, Recurly can help streamline your billing process and make managing customer accounts much more efficient. It is one of the best shopify apps for subscriptions to try.
The app offers robust features like automated dunning, invoicing and payments, fraud detection and prevention, custom discounts for promotions, API integrations with popular accounting software systems, reporting tools, and more —
all designed to help shop owners successfully manage their shop's subscriptions. Save time and effort by taking advantage of this shopify app's comprehensive approach to billing!
5. Subscriptions Go – Create personalized customer experiences
Subscriptions Go is an amazing best shopify apps for subscriptions that helps you create an amazing customer experience. It stops your customers from being bogged down with the details of their subscription to allow them to enjoy a personalized and customized experience as a subscriber. Everyone — both merchants and customers — can benefit from its robust platform.
From automated emails to flexible payments plans and product bundles, Subscriptions Go makes it possible to curate a unique customer experience tailored just for them. The best part? Subscriptions Go is highly affordable, making it the perfect way to manage your business while delighting customers!
6. Skio
Skio is an innovative subscription app that is taking Shopify stores to the next level. With customizable subscription plans, product recommendations and a highly sophisticated pricing engine, Skio enables small businesses to attract customers with subscription models that suit their customers' needs. Their focus on flexibility means subscription boxes are built precisely for the consumer. It is one of the best shopify apps for subscriptions to try. It is one of the best shopify apps for subscriptions to try.
Not only does this mean customers can get exactly what they want but also it increases their loyalty, paving the way for repeat business. This ease of use and scalability empowers entrepreneurs to explore new possibilities in subscription-based ecommerce – all while spending less time managing orders and more time growing their business.

7. Timo Subscriptions
Timo Subscriptions is a shopify app for businesses of all sizes that helps enable subscription-based services for physical and digital goods, giving businesses the ability to create an automated stream of income from recurring purchases. With its easy setup process, it's possible to have your shop up and running within minutes.
Additionally, there are no upfront costs and minimal ongoing fees, setting you up with a hassle-free recurring revenue stream. Overall, Timo Subscriptions is an invaluable shopify plugin that could be the key to strengthening your business's bottom line.
8. Appstle Subscriptions
Appstle Subscriptions provides shopify apps for businesses seeking to create customized subscription services for their customers. They offer a variety of tools including ones that help online merchants create recurring billing, manage inventory, offer flexible pricing options, build loyalty programs and monitor customer activity. It is one of the best shopify apps for subscriptions to try.
With their cloud-based infrastructure and integration with major payment processing companies such as PayPal and Stripe, Appstle Subscriptions makes it easy for shopify users to take advantage of the world of online subscriptions.
Whether you're just beginning to explore setting up shopify subscriptions or already have a program, Appstle will ensure you have access to the right tools at an affordable price point that fits your budget.
Conclusion
Ultimately, the best shopify apps for subscriptions management all simplify onboarding, recurring payments, and overall customer experience. With Chargebee, ReCharge, Bold Subscriptions, Subbly, Recurly, and Subscriptions Go you can build and manage custom plans to create tailored customer experiences.
Boasting integrations with payment gateways like PayPal and Stripe, along with a range of additional features available with each software platform as listed in this blog post; you have the tools to streamline your subscription business and maximize growth potential.
Now that you've been equipped with all the information necessary to make an informed decision on which app works best for you; it's time to take the reigns and pick what suits your store needs best!
Read More.