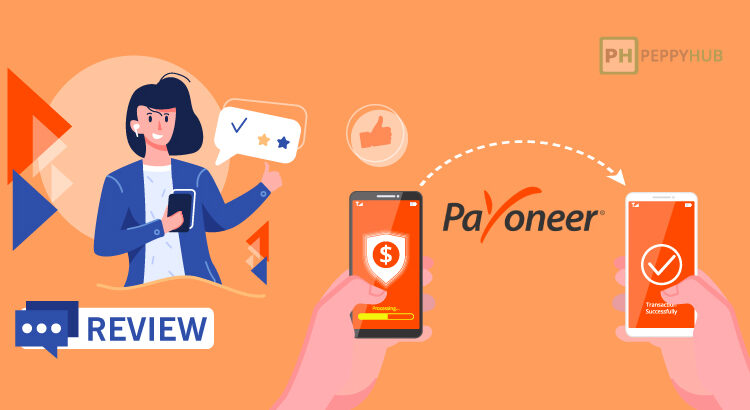 Payoneer Review 2023 | Is it an Alternative to PayPal?
Payoneer is an online payment service provider that enables you to receive and send payments to and from businesses and marketplaces from different countries worldwide. Payoneer is designed only for business payments, receipts, and currency conversion. Hence, Payoneer's services are somewhat different from a standard currency exchange provider regarding how their currency exchange service works, depending on your and the beneficiary's Payoneer accounts' status. Its services aim at business owners, professionals, freelancers, and product/service marketplaces. They give instant payment solutions, currency conversions, integrations, and ways for businesses and marketplaces to pay workers, contractors, and others. Their services are not meant for personal use. Read this Payoneer review to learn more.
Some of the marketplaces they work with include Amazon, Fiverr, Airbnb, Upwork, and more. They work across different industries, including eCommerce, advertising, stock photography, freelancing, and rentals. Payoneer is a large and successful business with over 4 million users, 200 countries, and 150 currencies.
What do we like about Payoneer?
A vast range of payment services and solutions.
Make and receive payments instantly worldwide.
Currency exchange fees are fair, but other fees can quickly add up.
What do we dislike about Payoneer?
Different types of fees can be added up quickly.
You can only use Currency conversion on money received into a Payoneer account.
Currency conversion is only meant for business transactions and payments.
Payoneer has stringent terms and conditions for service use.
Currency exchange through Payoneer can be cumbersome unless you already have money deposited in a Payoneer account.
Payoneer review: Payoneer fees & exchange rate
Payoneer has different kinds of fees; we have mentioned them down.
Signing up: Signing up for a Payoneer account is free.
Receiving payments: Accepting payments from another Payoneer customer's account via the "Make a Payment" service is free. Getting money into your local receiving account via the Global Payment Service is free for the following currencies:
EUR,
GBP,
JPY,
AUD,
CAD, and
CNY.
There is a 0% to 1% fee for USD, depending on which country the payment starts.
Receiving money immediately from customers via credit or debit card is subject to a 3% fee.
Getting money directly from customers via an eCheck in USD is subject to a 1% fee.
Getting money from marketplaces is subject to fees set by each marketplace or network. These may differ, so you should review their websites for actual rates.
Exchanging currency: Exchanging from one currency to another is subject to a 0.5% fee above the interbank rate. You can compare all fees in your Payoneer account and when you intend to make conversions, transfers, or withdrawals.
Withdrawing funds: Withdrawing funds to a bank account in your local currency, considering you have converted funds in the account, will be subject to a fee of $1.50, €1.50, or £1.50. These fees refer to transfers from a USD, EUR, or GBP receiving account to a bank account registered in the respective currency, established in the respective country, and belonging to a locally registered company or individual. Withdrawing funds to a bank account in a distinct currency will cost up to 2% above the interbank rate. Go through the Payoneer's Fees page for more information.
Using the Payoneer prepaid Mastercard: While utilizing the Payoneer card to buy with a currency other than the card's listed currency, the conversion is based on Mastercard's official currency conversion rates. Additionally, the conversion by Mastercard, Payoneer implements a currency conversion charge of up to 3.5%.
About fees levied by banks: Certain fees may be charged by banks when you transfer money. These fees are outside the control of Payoneer.
Circumstances where banks may impose additional fees, combine:
Wire transfers into or out of sender or beneficiary accounts
Transfers that are sent via SWIFT or specific other banking protocols
Beneficiary banks charging a fee to get a transfer
Intermediary banks charging fees to process money in transit
These fees could indicate that the beneficiary gets less money than stated by Payoneer due to circumstances beyond Payoneer's control. If you need to know what these extra fees are likely to be, please contact your bank and the beneficiary's bank.
Credibility security
Can I trust Payoneer? Yes. Payoneer is a vast, reputable and reliable business. Payoneer was established in 2005 and is financed by the same investors who funded Facebook, Dropbox, and Expedia. Since they were established, they have expanded to over 1,000 employees globally, located across 14 offices around the world. Thousands of companies, marketplaces, and individuals use Payoneer's services to receive payments and send funds globally. Go through this Payoneer review to know its credibility security.
Payoneer has complete international regulatory status in multiple regions, including the US, EU, Hong Kong, India, and Japan. Here is a quote from their website:
"Our core obligation at Payoneer is to protect your funds and prevent money laundering. As a regulated entity, we provide multi-jurisdictional compliance assurances to your business. When partnering with us, you can be assured that all your payee disbursements are made through a fully compliant, secure, and tightly audited payments platform that is recognized by financial regulators all around the world."
Payoneer has won many awards; some of the more recent include:
Payoneer is one of Crain's Best Places to Work in NYC
Payoneer Listed for Sixth Year in a Row on Deloitte's 2017 Technology Fast 500
Payoneer Makes Inc. 5000 Fastest-Growing Private Companies List for the Fifth Year in a Row
Payoneer is one of Inc. Magazine's Best Workplaces 2017
Payoneer review is also wholly PCI DSS compliant, indicating they provide strong payment card security.
Payoneer Service & Coverage
1. Payoneer Global Payment Service
The Global Payment Service equips you with a Payoneer receiving account. This account enables you to receive payments in multiple currencies as if you had a local bank account. When payment is made, it is accepted into your Payoneer account. You can also make payments to other Payoneer customers globally for free. But keep in mind that Payoneer services are intended only for business transactions, not personal ones.
2. Payoneer Billing Service
Payoneer's billing service works beside the Global Payment Service. You can quickly request a business payment in just a few clicks and send it to your clients. They can then pay the bill or invoice with a credit card, debit card, or bank account, and they do not require a Payoneer account. The payment will be transferred to your Payoneer receiving account.
But again, you need to keep in mind that this service is specially designed for billing clients for business products or services. The service is not fit for getting payments to sell goods or services to consumers and should be restricted to business-related transactions.
3. Payoneer Currency Conversion
Learn more about Payoneer currency conversion in this Payoneer review. Your Payoneer account keeps balances in all the currencies that you've received. You can quickly convert from one currency to another, for instance, if you have to withdraw funds in your local currency. Payoneer exchanges currency at the interbank* rate and charges an additional commission fee of 0.5% of the converted amount. Note that withdrawing funds to a bank in a distinct currency will draw a fee of up to 2% above interbank rates for converting funds into the other currency and withdrawing.
It is vital to note that they only give currency conversions for money already inside a Payoneer receiving account. You cannot fund a Payoneer account with your card or regular bank account. In those cases, the recipient would need to create a Payoneer account and request funds from you. It can make the currency exchange process cumbersome and more expensive due to pay fees. Also, note that Payoneer services' are restricted to "business only" services; they cannot be used for person-to-person currency transfers.
4. Payoneer Mass Payout Service
Payoneer runs with many established businesses and marketplaces to allow you to receive payments from the people who use that marketplace. For instance, if you rent through Airbnb, render services on Fiverr, or sell goods on Amazon, you can choose to have the money you get through those marketplaces transferred to you via Payoneer.
5. Payoneer Payments to Suppliers, Contractors, and Others
Payoneer enables you to make payments to other Payoneer accounts free of charge. You can utilize this to pay suppliers, contractors, freelancers, and others with a business relationship.
Given they have a Payoneer account, you can make payments to them for services provided or goods received. You can either send payments to them straight or request a payment from you via the Payoneer billing service. The Make a Payment Service permits a transfer of funds between Payoneer accounts for business-related purposes.
6. Withdrawing Funds from Payoneer
When you need to access your Payoneer funds, you can transfer them to your local bank account in your local currency in over 150 countries and currencies. You can also withdraw your funds to a prepaid card or via an ATM.
7. Payoneer Prepaid Credit Cards
Payoneer also presents prepaid credit cards from Mastercard that you can associate with any currency in your Payoneer account. You need to have a distinct physical card for each currency. You can obtain pricing and fees for your prepaid Payoneer card in your account details.
*The interbank rate is also known as the mid-market or standard exchange rate, which is the midpoint between the buying and selling prices of the two currencies.
8. Payoneer mobile applications
Payoneer gives a mobile app with limited functionality. The app is available for Apple and Android devices and enables you to do the following:
Immediately check all currency and card balances
Examine all transactions for all balances
Filter key transactions to preset criteria
Access information quickly with secure sign-in.
9. Extra perks and services from Payoneer
Payoneer also implements some more specific services targeted at specific types of customers:
VAT payment services — businesses can pay value-added tax to authorities in the EU and UK with the GBP and EUR funds in your Payoneer account.
Integrated payments platform — Payoneer lets businesses use its payment platforms through a comprehensive API, making it more comfortable to send and receive payments around the world, all without leaving the business's website.
API functionality — Payoneer's API enables other types of functionality, including streamlining seller's finances, ERP and accounting integrations, and collecting payments from Payoneer users.
Partner directory — Payoneer presents many integrated services across many niches and list those services and businesses in a partner directory.
In this Payoneer review, you are going to learn more about how it works. Note that Payoneer does not support you to use your Payoneer account or billing services for self-loading of money, topping up your prepaid card, gifts from family and friends, or donations. It is designed only for business-to-business use.
Payoneer review: How it works
If you already have a Payoneer account with funds in it:
The beneficiary should open up a Payoneer account
Either you or the beneficiary can convert the currency in a Payoneer account at the standard exchange rate, plus Payoneer fees
The money can be transferred to the beneficiary's account when you decide to do a money transfer between Payoneer accounts
Once the money is in the beneficiary's account, they can then withdraw it to their local bank account
There may be fees levied when they withdraw the money
If the beneficiary has a Payoneer account, but you do not:
The beneficiary can utilize Payoneer's billing service to request funds from you
You can pay the bill by credit card, debit card, or bank account
Payoneer may charge a fee depending on the type of payment you make
The beneficiary can convert the currency in a Payoneer account at the standard exchange rate, plus Payoneer fees
Once the money is in the beneficiary's account, they can then withdraw it to their local bank account
There may be fees levied when they withdraw the money
Customer reviews of Payoneer
Positive
Customers were impressed with Payoneer's customer service
Payoneer was recommended for being helpful and understanding
Users enjoyed the number of choices for sending and receiving payments
Negative
Some users had issues with Payoneer accounts being blocked
There were a few obstacles with delays to payments and pending payments
Some people complained about expensive withdrawal fees
Customer support
There are many ways to contact Payoneer, including via message, live chat, or telephone.
Final Thoughts
After reading this Payoneer review, you may get an idea of how it works and it can help you out with the payment. We hope that you like this review and it helps you better understand its functionalities.
Bonus Read: