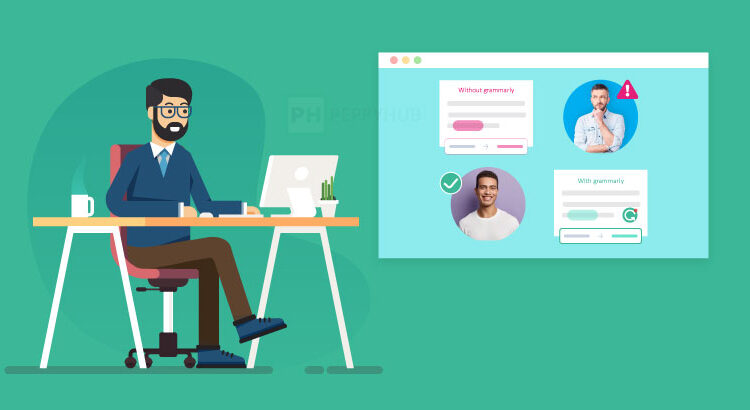 Grammarly Review 2023 | A Detailed And Honest Review
Today, in this Grammarly review, we will discover how it can help you avoid embarrassing typos and grammatical errors. Even we will see if Grammarly is the most accurate grammar checker available in the market? And is it worth paying for?
I'm using Grammarly for the past few years for grammar and spelling checkers for proofreading articles, book chapters, and blog posts. I use it regularly to prove my work and help me out to make my work error-free.
What Does Grammarly Do?
Grammarly is a writing tool that assists you in checking for several types of errors.
1. Grammar and punctuation: It identifies grammar and punctuation mistakes – basic to advanced. It also presents real-time suggestions and guidelines on improving these mistakes, such as errant commas.
2. Spell Check: It's also a strong spell-check tool that makes your writing error-free.
3. Plagiarism: Grammarly also detects plagiarism by comparing your writing to billions of web pages available across the web.
4. Writing Style: It will also encourage you to self-edit your work by giving real-time insights about your Grammarly readability score, sentence length, and so on. It is very helpful for adapting your genre-specific writing style for a precise audience.
Who Is This Grammar Checker Good For?
Grammarly helps native English speakers and those who don't write in the English language frequently. People who utilize Grammarly combine:
Bloggers
Content marketers and copywriters
Authors
Academics interested in plagiarism detection
Any business professional who requires to draft an official report, presentation, email, or social media post.
Students
Anyone who writes in English often
This grammar checker acts as another defense line for new writers and professional writers, even if they are native English speakers.
Apart from that, Grammarly allows settings specific to Canadian English, American English, British English, Australian English, and more.
You can utilize it to make sure your book, article, or blog post is correct and easy to read.
The premium version is also helpful for students who may have a lot of work they want to review. You can take out a subscription for a month, check your work, and then cancel if you want to.
But make sure that while checking that you're not violating any rules and regulations set by your university or school.
How Grammarly Premium Works
Once you create an account on Grammarly for free, take a Grammarly editor tour updated recently. With this Grammarly review, we can get to know this.
Adapting Grammarly To Your Writing Style:
You can modify Grammarly's feedback according to your genre-specific writing style – informal, formal, and so on. When you begin a new document, you can set a goal for your writing.
You can set writing goals based on your:
Intent, e.g., inform, tell a story or describe
The audience, e.g., general or expert
Style, e.g., formal or informal
Emotion, e.g., mild or strong
Domain, e.g., academic, business, or technical
The premium version of Grammarly presents insights based on these goals.
1. Using The Tool
There are several ways to utilize the Grammarly software to review your work, and you don't require any technical know-how to do it. Here are the most common ones :
Option 1: Copy and paste your complete article, book, or extracts of your writing into Grammarly for proofreading, grammar checking, and spell-check.
Option 2: By clicking on 'Import,' you can even upload a Microsoft Word document into Grammarly.
Option 3: You can utilize Grammarly as your primary writing app by writing straight in the tool. As you type, Grammarly will automatically start pointing out errors. Once you click on the "Correct with Assistant" button, Grammarly will give you the errors.
Option 4: Windows users can install a Grammarly plugin on MS Word, which will benefit you in detecting errors as you write. This plugin isn't available for MS Word in Macbooks.
2. Grammarly Suggestions
This proofreading tool indicates grammar mistakes similar to what you see in Microsoft Word after incorporating your text.
Grammarly Premium also gives more detailed suggestions than the free version (or Word) about why it is a writing mistake, such as sentence structure errors.
This is especially useful if you're a non-native English writer or if you want to enhance your knowledge of English language grammar rules. There's a Grammarly handbook loaded with grammar tips if you require more help.
However, you should nevertheless exercise judgment before determining what to fix and what to leave. Grammarly gives you tools to provide insights about your content such as –
A basic grammar checker tool for active/passive voice, wordiness, and punctuation
An accurate spell-checker
A vocabulary tool along with a readability score
Reading time estimations
Sentence structure analysis
One of Grammarly's latest features analyzes the Flesch reading level ease of your text – it determines what level of education a person requires to read your content easily.
3. The Plagiarism Detector
Your Grammarly account owns a plagiarism checker, which can help you write academic content or review a peer's work.
Bloggers and content marketers find this very helpful. It enables them to check if they have accidentally copied text from their research sources and then skipped to edit their content to make the text original.
This feature might also attract college students who are concerned about citing too heavily from their sources.
Grammarly Review: Is Grammarly Easy To Use?
All thanks to Windows and Mac apps, the web Grammarly extension, and even mobile ones, it takes only a few seconds to install Grammarly and make this real-time grammar and spelling checker part of your writing workflow.
If you want to post on Facebook, you can utilize Grammarly Premium or the free version to check your social media posts.
Where To Use Grammarly
Grammarly works wherever you need: they have desktop apps along with a Grammarly extension for your web browser. It runs everywhere with apps and add-ons for Chrome, Outlook, Microsoft Word, Mac, iOS, and Android.
You can use several different proofreading apps, including:
Grammarly MS Office add-in
A Grammarly Chrome web app that works much like Google Docs
A Grammarly Chrome plugin (this is the easiest option for new users)
Grammarly desktop app for Mac
Grammarly desktop app for Windows
Grammarly for iOS
Grammarly for Android
Over the past few years, the Grammarly desktop apps for Windows, Mac, iOS, and so on were updated.
Their team also upgraded their user experience and added many additional features like writing insights and fixing writing goals.
Our preference is the Grammarly for Mac desktop app and also the Grammarly for Chrome web app.
We also utilize the Grammarly Chrome extension to check shorter writing pieces, like emails and potentially embarrassing social media posts.
The company allows you a specialized Grammarly keyboard for mobile devices so you can use the tool to your writing on Facebook, Twitter, LinkedIn, Gmail, and other web pages and platforms you type on.
With this, you can automatically let Grammarly check on most apps on your phone, which helps create mistake-free text and documents a breeze.
The best part about this is that the Grammarly keyboard tool is free!
Grammarly Review: How Much Does Grammarly Cost?
Here are the Grammarly pricing options as of this year:
Grammarly Premium monthly subscription costs $29.95 per month.
Grammarly Premium quarterly subscription costs 19.98 per month, billed as one payment of $59.95.
Grammarly Premium annual subscription costs $11.66 per month, billed as one payment of $139.95
You could always use the free version of Grammarly if you desire to test it out first.
Grammarly Free Vs. Grammarly Premium
The free version includes most Grammarly Premium features apart from an advanced grammar checker, a plagiarism detector, and some vocabulary enhancement suggestions.
In other words, the free version is perfect for writers and bloggers with the least budget for writing tools.
If you're wondering what you will get in Grammarly Premium, it gives comprehensive information about each of your grammar mistakes in the pop-up box.
It also presents further writing insights and an ability to set writing goals. It also detects and fixes more mistakes than the free version.
You can take out a premium monthly, quarterly or annual subscription and claim discounts for each type of subscription.
Recently, Grammarly launched a business version of their software. Apart from that, the features given in the premium model, the business edition of the Grammarly software incorporates features like –
Admin and user management controls for the privacy and security of your team's work
Priority 24/7 email support
Centralized billing
Monitoring tools for checking engagement trends
Grammarly for business takes $15 per member per month and could be a viable option if you're a team in need of a grammar and spell checker tool.
How Accurate Is Grammarly And How Can It Help Writers?
When you click on a grammar error in your text, the grammar checker tool explains the problem. All you have to do is click on the arrow to discover more about the suggestions.
It recognizes possible solutions and explanations for your mistake.
Grammarly helped you in identifying:
Confused prepositions
Overuse of the passive voice
Wordy sentences
Incorrect comma usage
Repetitive words
Common writing and grammar mistakes like misplaced apostrophes
Spelling errors
Lengthy sentences to edit down
Any other grammar rules that you may have overlooked
It gets better: After using this grammar checker on many articles and book chapters, we realize that sometimes we have a bad habit of finishing sentences with prepositions.
Yes, these are more precise grammar points, but understanding your bad habits helped you tune-up my writing.
Grammarly Review: Grammarly Vs. A Human Proofreader
You must be wondering, can Grammarly replace a human proofreader?
Our answer is no.
Grammarly ignored several mistakes, especially in creative writing and fiction. It may be because fiction is more difficult to understand than non-fiction.
It doesn't always present the context or feedback that a human proofreader offers.
Whether or not you're using Grammarly, use the time to either print out and proofread what you've written or give it to another person to review.
That means paying a professional proofreader if you're writing a book.
By all means, rely on Grammarly for shorter pieces of text and adhere to generally accepted grammar rules.
Should You Get Grammarly Premium?
If you've read this Grammarly review so far, you must have an idea.
If you're a writer with a budget, install the free Chrome browser extension and examine it yourself. It includes all the functionality you require to get started.
We spent months utilizing the free Grammarly online editor without problem before writing this review of Grammarly.
We rely on a Grammarly web browser extension like the Grammarly Chrome plugin to monitor my emails, posts for social media, and so on.
The Grammarly online editor will assist you in checking for grammar, punctuation, and spelling mistakes faster. You still have to take the time to study the fundamentals of grammar.
How To Use Grammarly
Grammarly has changed a lot over the years.
In 2019 and 2020, Grammarly announced several updates that can support you in proofreading a piece of writing more efficiently. These include:
Rich text formatting and editing (helpful for copying and pasting text)
The tone of voice detection (useful for non-fiction writers, academics, and bloggers)
An ideal audience feature
More insights for your performance score
Advanced writing goals
Basic correctness and clarity detection
A consistency checker, e.g., did you write 9 a.m. or 9 a.m.?
Some of these are free, and some are premium features.
Grammarly Review: Final Thoughts
Grammarly is a valuable and affordable writing tool that fits in your toolbox. Whether you're a blogger, author, business writer, it'll assist you to detect and fix errors in your writing quickly, and it's easy to use too.
Bonus Read: