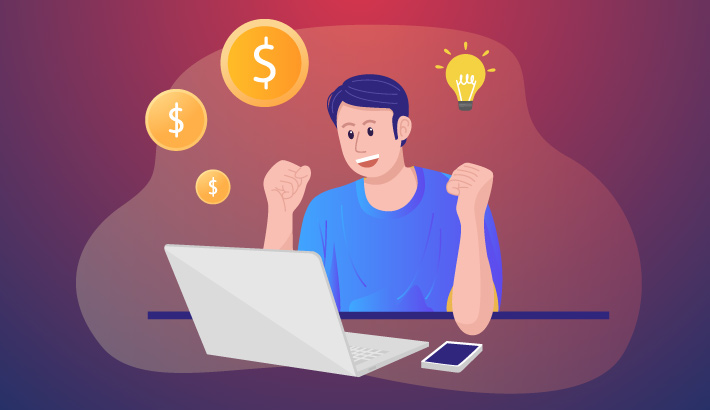 Business Ideas on How to make money online
In this pandemic era, people have lost their jobs and are looking for opportunities online. People are looking for ways and have a question about how to make money online. Therefore, we have come up with a blog that will guide you on how to make money online. Let's move forward to learn all the business ideas one by one.
How to Make Money Online
Here are some of the best tips to make money online.
1. Earn Money Online from YouTube
Today, people are making a lot of money from YouTube. Although it's not an easy option if you are not consistent and making efforts in the right direction, it is doable for all those who have creative minds.
Two types of YouTubers are thriving today, creating entertaining and funny videos, and another one who makes tutorials that are helpful as per user needs. There are numerous guides available to help you how to make money online.
2. Become a Freelancer
If you are good at designing, programming, or marketing, then there are many opportunities for you. But to leverage those opportunities and make money online, you must have the willpower to learn more. A good freelancer must own two skills, one is your main skill, and another is marketing. If you lack the second skill, it is recommended to get help from a skilled marketer to create your profile. Keep in mind that having good communication skills help you to get more clients.
3. Show off your video editing skills.
Designers and writers are not the only creative people who earn more money online for their skills. Whether it's for a particular project or on an ongoing contract, videographers are continually in demand to assist with editing, storyboarding, and filming.
If you are a part of this video world, chances are there you understand the ins and outs of pitching your work. But, we recommend you consider expanding your scope of where you're looking for gigs. Many publications and brands require video work. In today's time, everyone needs help with video editing skills. Look for influencers, fellow creators, social teams, and more for projects that pay you.
4. Make Money From Social Media
Today Instagram, Facebook, and Twitter provide limitless potential to their users. Some people charge a lot of money for just one tweet or Facebook post. It is an essential tactic on how to make money online.
You can promote content on Facebook pages on a commission basis.
The social media following is an asset for the influencer; most of them are in the entertainment domain. People associated with the fashion and entertainment domain can easily monetize their Instagram page. You can check the fan base of famous personalities, and you can imagine how important those can be for any organization that wants to advertise on such pages.
5. Income from Writing Work
If you love to write, then just start writing. There are many online experts out there who are ready to guide you to write good copies.
Many organizations are looking for excellent writers, but it isn't easy to get writers who write well. But you can become a good one. An excellent writer costs between 5,000 Rs to 20,000 Rs per article.
Start Blogging to Earn Money Online
Write to someone and make money quickly
Start writing for yourself and earn money gradually but consistently
That is a huge difference between owning a business and a freelance job. You can consider your blog as an online business; it will need some time to develop your audience. But once you begin making money from a blog, it will remain continuous.
You can generate Ads using simple Google Adsense and make money with google. Whenever someone clicks on such Ad Blocks you make money.
6. Make Money with Affiliate Marketing
Making money from affiliate marketing is similar to operating a retail shop. You can signup with retailers like Amazon and Flipkart to promote your favorite products on your website and social media to make decent money.
We consider affiliate marketing a separate option because it can adjust to all kinds of online business; in some scenarios, people do Affiliate marketing without a website.
I simply curated a list of my favorite books and linked it to Amazon so that interested people can buy books.
You can promote affiliate links in online forums, and Facebook groups, and write product reviews on LinkedIn, Medium, and Quora.
7. Go for a Product Startup
It is one of the profitable ways in this blog to make money online tactics.
It would be best if you worked hard to create a product that customers desire to buy. The complete process of beginning a product company, hiring a team, selling the product is very interesting.
There is a huge market in the personal finance space; you can begin a company or blog to promote loans to people that have a low credit score or provide a credit limit to people with a high credit score.
8. Open a Digital Store
You must have some products in mind to trade in an online store – it could be designer jewelry, electronics, or handkerchiefs.
You can start with:
validating idea,
discovering customers
procuring products and
set up the store
There are various platforms that will help you get started, like Shopify, woo commerce, and much more.
Time for Action
In this blog, you have seen many ideas that will guide you about how to make money online but keep in mind that you need to take action if you want to get started. I hope this blog helps you get started and make money online.