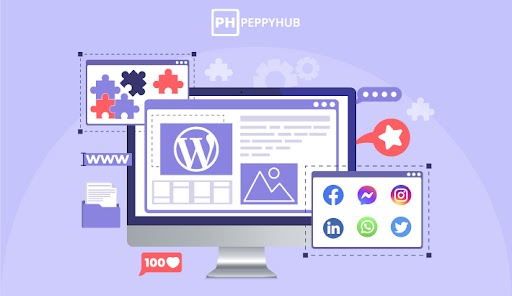 Top 10 Best WordPress Social Media Plugins (Most Are FREE!)
You'd want to include social network share buttons on your WordPress blog… However, you're having trouble sifting through the tens of thousands of social share button plugins accessible on the web. Sound familiar? Sometimes having too many options is just as tough as having too few options. And in this post, I'll share the best social media plugins for WordPress available to assist you in finding the ideal plugin for your needs.
Let's get started so your WordPress website can start generating more social shares in no time!
---
The best WordPress social share plugins.
Here are our top three WordPress social sharing plugins to save you time:
Social Snap- This is the social sharing plugin I use the most. With a restricted free version accessible on the WordPress plugin repository, it has a great feature set and is lightweight.
Novashare- The best combination of performance and usability.
Monarch- Elegant Themes membership includes a feature-rich social networking plugin at a terrific price.
10 Best WordPress Social Media Plugins
1. Social Snap
Social Snap is a well-liked one of the best social media plugins for WordPress with a well-designed interface, attractive share buttons, and a long-range of features.
Although there is a restricted free version of Social Snap accessible on WordPress.org, many of the features I'll discuss below are only available in the premium.
Let's begin with the fundamentals: social sharing. You may use Social Snap to add buttons to 30+ social networks in a number of places. You may use a "sharing hub" or a "sticky bar" in addition to standard placement choices like inline buttons and a floating sidebar.
You have a variety of button shapes, sizes, and colors to pick from. Additionally, Social Snap provides total and individual share counts, as well as the option to define minimum share counts and restore previous share counts if you change domains or convert to HTTPS.
You can also examine in-dashboard analytics to see how often your content is shared and your best-performing material, as well as change your social media metadata to manage how your content looks when it's shared.
Vertical Pinterest photos are also supported by Social Snap, which is a terrific method to gain more shares. If you're seeking an alternative to Social Warfare, this is the plugin for you. There's also a migration tool built-in.
That's the basic sharing feature, but Social Snap can go much further…if you want it to. You'll also get access to features such as:
Click to Tweet boxes – Add these boxes to your article as soon as possible to increase shares and visitors.
Social media auto-poster – Automatically distribute fresh (or old) posts to your social media networks.
Boost old posts – Re-posts your older content on Twitter and LinkedIn, giving it a second life.
Social login – Allows your site's visitors to log in using their social media accounts (useful if you run a membership site).
Device targeting – Certain networks can only be viewed on a desktop, while others can only be viewed on a mobile device. On the desktop, for example, I have an email option, but mobile visitors will see WhatsApp instead. Isn't it cool?!
2. Novashare
Novashare is a premium and one of the best social media plugins for WordPress, that was built from the ground up with speed in mind. This plugin's simplicity and scalability make it an ideal tool for any business, large or small, to promote social shares without slowing down the site.
The same team that produced the Perfmatters performance plugin develops and maintains Novashare. They provide an intuitive user interface with native WordPress styling, so you won't have to learn a new control panel. In just a few minutes, you can have Novashare up and running on your website.
Add share buttons for all of your favorite social networking platforms and see how many people have shared each post, page, or custom post type. Use a floating bar (or both!) to embed your share buttons in your article. To fit your branding, just change the colors, shapes, and alignment with the click of a button. Set breakpoints where you want them to appear so that it looks great on both desktop and mobile devices.
As a marketer, you'll like Novashare's data and alternatives. Set up your Google Analytics UTM settings and enable Bitly link shortening.
Novashare has a slew of other cool features, including:
Lightweight and fast – Scripts don't execute where they shouldn't; the front-end is under 5 KB and utilises inline SVG icons! It refreshes data in a staggered manner, giving it the best of both worlds in terms of marketing and speed.
Share count recovery – You can quickly recover your former share counts if you've changed domains, protocols (HTTP/HTTPS), or permalinks. The same may be said about altering URLs and updating outdated information. To ensure that your shares arrive, paste the previous URL into the editor.
Follow widget – Add the social follow widget to your site's sidebar or bottom to increase your following. Using the simple drag-and-drop interface, choose from more than 52 buttons and networks.
GDPR-friendly – There are no trackers, cookies, or other methods of collecting personally identifying information (PII).
Click to tweet block – With the beautiful click to Tweet boxes, you can make your tweets stand out. Simply drag and drop the Novashare block into the Block Editor or use the Classic Editor to roll it out.
3. Monarch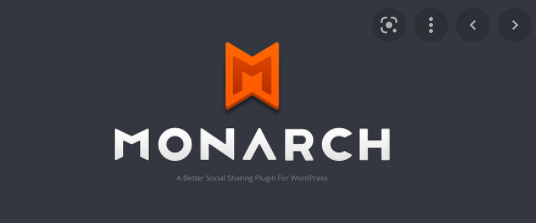 Monarch offers a versatile and one of the best social media plugins for WordPress. Elegant Themes, if you're not acquainted with the moniker, is the creator of the popular Divi theme, as well as a variety of additional plugins and themes. Elegant Themes offers a single subscription that includes all of its goods. 
Monarch helps you to show social share icons from more than 35 different networks in 5 distinct places:
Above/below post content
Floating sidebar
Pop-up window that appears automatically
Fly-in feature
On photos and videos
You may specify how your social sharing buttons are triggered in popups and fly-ins. The option to display social sharing icons when a user writes a comment is my favorite trigger.
Because you're asking after the visitor has already expressed interest by leaving a remark, this is a terrific approach to increase the conversion rate of your share buttons.
You may also add social share numbers and change the look of your buttons.
Finally, Monarch can assist you with adding social follow buttons via a shortcode or widget.
To get access to Monarch, you'll need to acquire an Elegant Themes subscription, as I previously said. But there's a lot more to that membership than social share buttons.
4. Social Warfare
Social warfare is a popular and one of the best social media plugins for WordPress that is available in both free and paid versions. While the free version is enough for basic social sharing buttons, the pro version has the majority of useful features.
These elements are what serve to distinguish Social Warfare, thus I'll focus on them for the most part.
But first, allow me to assure you that Social Warfare can manage the basics of WordPress share buttons, such as:
Buttons for sharing on social media that are simply beautiful.
All of the major social media platforms are supported (more in the pro version)
There are a variety of placement options available, including floating share buttons.
Share counts
5. Easy Social Share Buttons
Easy social share buttons deliver one of the most comprehensive feature lists I've ever seen. That might be a good or bad thing, depending on your unique requirements. But no one can argue this plugin doesn't provide you alternatives!
And the fact that Easy Social Share Buttons has a 4.66-star rating (out of 5) on over 24,000 sales indicates that a large number of customers like its breadth of capabilities.
First, let's go through the basics. Supported by Easy Social Share Buttons are:
50+ social networks
28+ different positions
52+ pre-made templates
25+ animations
That's a lot of huge numbers with plus signs, to be sure!
Then there are also plenty of more advanced features, such as:
Customization. Tweets, Open Graph data, and more may all be customised.
Minimum share counts. Allows you to display shared numbers while avoiding negative social proof by choosing a minimum quantity.
After sharing actions. After a person shares your material, you may show a custom message. You may, for example, include a like button or an email opt-in.
Share count recovery.If you change domains or switch to HTTPS, this tool can help you recover lost share numbers.
And Easy Social Share Buttons is spreading out beyond social media sharing buttons:
Email opt-ins – A built-in subscribe form module allows you to combine your sharing buttons with an email opt-in form.
Live chat –A live chat button for Facebook Messenger or Skype Live Chat can be shown.
6. MashShare
Mashshare allows you to add a certain sort of social share button to your WordPress site. Mashable employs such an approach, as its name suggests.
If you like Mashable-style social sharing buttons, that's already a compelling argument to use this plugin.
It can also let you display both the actual share count and "virtual shares" to improve social proof (though the ethics of the latter method is a little fuzzy). Personally, I believe it is dishonest).
MashShare additionally employs clever caching for those share numbers to avoid slowing down your website.
While the free version should be enough if all you need are simple Mashable-style buttons for the most prominent social networks, you can also purchase premium add-ons for:
More social networks
More social share button placement options
Click to tweet and/or select and share
Google Analytics Event Tracking
There's also a useful add-on that allows you to request that people like a page when they share one of your articles. Asking for a like right after is a great way to increase your chances because they're already engaged in your material.
7. Grow Social (formerly Social Pug)
Grow social is a freemium social share button plugin with some stunning pre-installed layouts.
You may design inline and floating social share buttons for • Facebook in the free version.
Twitter
Pinterest
LinkedIn
For social proof, you may show shared numbers beside your buttons.
The free edition is fine for most purposes, but professional webmasters may want to upgrade to the pro version, which includes a number of useful features such as:
A minimum number of shares is required to avoid unfavourable social proof.
If you've changed URLs, you can get your share count back.
Share buttons that are sticky on mobile devices. On mobile devices, buttons will "stick" to the bottom of users' displays.
More desktop placement options (popups and shortcodes)
Custom Open Graph data
Link shortening integrations with Bitly or Branch
Analytics integration to automatically add UTM parameters
More social networks
Click-to-tweet
Popular posts widget (based on share counts)
8. Customs Share Buttons with Floating Sidebar
Custom Share Buttons with Floating Sidebar although the name isn't particularly creative, it does provide a reasonable summary of what the plugin performs
It allows you to add a floating share bar to the right or left of your website. It also allows you to personalize your share buttons by adding a message.
You do have a lot of targeting choices to choose from when it comes to which sites and post types your share buttons appear on. You may also put conventional social share buttons before or after your post text, despite the plugin's name's concentration on floating sidebars.
However, there is one thing to keep in mind. Until you upgrade to the Pro edition, your floating sidebar will not be responsive. If you're using the free version, make sure the Disable Sidebar For Mobile option is checked.
9. AddToAny
AddToAny is called the "universal sharing platform" since it allows users to share to a wide range of social media platforms by just clicking a single universal Plus button. It also comes with specific icons for your most popular social media sites.
In all, you'll have access to over 100 sharing choices in a small UI. These icons can be displayed before or after your content, and in both vertical and horizontal bars (or manually via shortcodes, widgets, or template tags).
To achieve speedy page load times, everything is also lightweight and asynchronous.
There Share counts:
Share counts
Responsive design, even for floating share buttons
AMP support
Google Analytics integration
Link shortening integrations
Finally, AddToAny is the most popular social share button plugin on WordPress.org, with over 500,000 installations.
10. Sassy Social share
Sassy Social Share is mostly interesting to me because of the several button types and customization choices it offers. I can't guarantee that you'll like those styles, but they will stand out from the rest of the plugins on this list.
With over 100 sharing/bookmarking services, it also supports a large number of networks.
Before and after content, as well as floating share bars, can be included. You may also customize your share buttons to target certain post kinds or pieces of content.
Everything is responsive, and you may use mobile devices to activate or disable both vertical and horizontal floating buttons.
Share counts are supported by Sassy Social Share, which includes adjustable caching to ensure that you obtain accurate share numbers without sacrificing performance.
Finally, add-ons for things like myCRED integration, analytics, share count recovery, and more may be purchased.
Overall, this is a nice alternative if you want greater control over the appearance of your buttons.
Conclusion
There is no one-size-fits-all social networking plugin. It all depends on where you want the buttons and links to go, how many services you want to include, and how well the plugin fits into your design.
What are your favorite social media plugin for WordPress, and why? If it isn't listed here, please let us know in the comments section.