Vendor Management Software | An Ultimate Guide
Today, finding the best vendor management software can be challenging. Vendor management has become nowadays for a smooth transition of the business.
While looking for vendor management software, keep in mind that it offers a unique set of features that help you improve your communication way with vendors.
Likewise, the purpose behind making this process more productive than whatever you're doing now.
Today, in this guide, we will learn its definition, relevance, and best vendor management software to help you out.
What is a Vendor Management Software?
Vendor management software (or service) works as a communication, project, and payroll management system for companies employing freelancers and contractors.
Three main functions:
Project Management – A handy tool for task assignment, work coordination, process tracking, and other functionalities of agile project management and collaboration platforms.
Vendor Engagement – Powerful and friendly communication channels support quick and smooth interaction between managers and the contractors they work with.
Payroll Management – Easy and efficient processes to organize vendor, contract, and contractor payments, and expenses.
Now it's time to look at the advantages of vendor management software.
Advantages
Vendor management software manages everything related to vendors in one place, letting managers and business owners have immediate access to relevant data. Consider the following advantages of vendor management software:
Enhanced visibility: Engaging and procuring temporary staff members or vendors can be a complicated process. Keeping track of all the actions using paper files can make it challenging to see the overall picture. Vendor management software makes it simple to view the process with a single look and keep track of spending.

Company growth: Several companies go through seasons where they need more help. A VMS makes it possible to expand your company's employee base during the periods before these rushes begin. It allows you to keep up with seasonal demands.

Automating processes: Employing and training includes many person-hours despite whether you employ temporary employees or vendors. A vendor management system lets you automate the whole process, so you get the data you require without increasing the paper trail.

Control over finances: Limited visibility with temporary staff can lead to overpayments or need of an audit trail. Using a vendor management system enhances oversight of spending to further reduce waste. Producing reports lets you understand how your payroll compares to the market rate to adjust the cost accordingly.
How To Determine the Best Vendor Management Software
Whenever a company purchases products or services from various companies, individuals can benefit from the vendor management software. With so many software programs to pick from, knowing which options are right for your organization's particular needs cannot be easy.
So, it's important to understand the top three criteria that matter most to businesses: an audit trail, integration capability, and reporting features.
1. Integrations
Vendor management software should operate with multiple software programs, involving supply chain management and accounting software. Consider what programs you operate to track purchasing, sales, and finances and recognize which programs will run seamlessly.
As a result, the software should streamline vendor management and reduce the workload of employees.
2. Audit Trail
When it comes to audits it's essential to have authentic financial statements and accounting records. A vendor management software program must be able to keep all vendor information in one place for easy retrieval.
The software should work as a storage center for contracts and vendor agreements. It should also include a list of critical vendors, due diligence documents, and other essential information.
It will track all activities and modifications to the data, including who inserted the information and when. The software should also have an automated update feature to make it simple to maintain.
3. Reporting Features
A good vendor management program should be customizable and enable businesses to pull and print the most important information to its success. Companies that have a board of directors are expected to keep members informed of vendor relationships through reporting. These reports might involve:
Risk assessments
Information about renewals
Total inventory of third-party vendors
Ongoing activity monitoring
Terminations and any other problems with current and past vendors
Reports on significant changes with high-risk vendors
4. Pricing
The cost of a VMS can differ as it depends on the software provider. Most software providers require you to contact them for a price customized rigorously for your business and its operations. For the most part, these programs are web-based and involve cloud storage.
Cloud storage charges are based on the amount of storage, the size of every file download, and the number of transactions. For small businesses, the software cost may be the least for a single user. But, companies that need multiple-user access can expect to pay more.
Rates are typically priced by the month or by the year. Some programs allow trials so you can get a real idea of how the program will help your company before you commit long-term.
Starter packages have basic records of vendors, including when they operated and what they did. Companies that engage multiple types of vendors can expect to pay hundreds or thousands of dollars per month.
Pricing is also defined by the types of training and support that are available. For instance, higher-end systems may implement in-person support or frequent webinar training, while basic programs may only allow phone support or documentation.
Best Vendor Management Software are:
1. Ivalua Supplier Management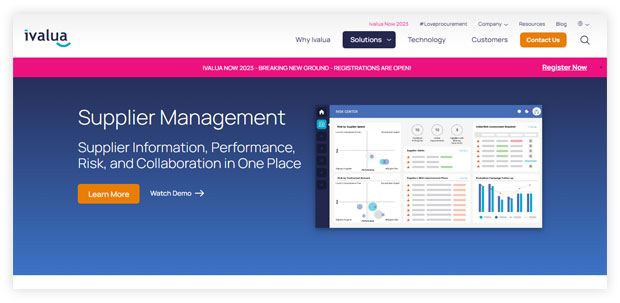 This strong SaaS solution offers 22 modules for various business processes: procure-to-pay, e-sourcing, spend analysis, and supplier management. Moreover, its supplier management platform incorporates document validation workflows, vendor data management, risk evaluation, and more.
It is suitable for those businesses who are looking for a fundamental profile management solution for their vendors. In addition, for organizations in extremely regulated industries (like manufacturing and healthcare), Ivalua allows industry-specific solution packages.
2. Tipalti
Tipalti is an award-winning global payment automation solution that is your end-to-end payroll and supplier management system, and much more. It lets you organize the administrative side of employee, vendor, and supplier payments, from onboarding to tax compliance, all in an online cloud-based solution.
It is suitable for businesses that are looking to manage their payroll and streamline other payment processes.
3. Connecteam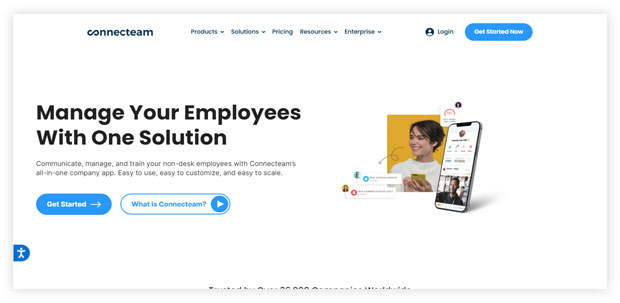 A mobile-first solution for handling and engaging your vendors and contingent workers. The Connecteam solution comprises:
A comprehensive manager dashboard.
Pre-made templates and workflows.
A built-in time clock with geo-tagging capabilities.
Comprehensive integration with payroll management systems.
It is suitable for small to medium businesses that are looking to efficiently onboard, manage, and communicate with vendors.
4. Listable
This online tool is created for managing projects with teams of freelancers, issuing payments, managing invoices, and tracking vendor performance and qualification. It's accessible online and allows vendors to manage and update their profiles.
It is suitable for companies handling more than 50 freelancers or vendors for project-based work and needs an internal directory, project management tool, and invoicing capability.
5. eBid Systems ProcureWare
ProcureWare is a supplier management, sourcing, bidding, and contract management software-as-a-service. Supplier management features support creating a customized supplier self-registration process, allowing centralized access to a searchable, up-to-date supplier database.
It is suitable for businesses looking to automate vendor diversity and support vendor project bidding.
6. Conrep
The concept is a complete solution beyond vendor management with workflow, tracking, and managing a single software system. Moreover, it allows role-based dashboards, customized workflow creation, Web forms integration into CRM, and comprehensive reporting capabilities.
It is suitable for large companies and enterprises looking for an all-in-one solution for employee, vendor, and compliance management.
7. Jaggaer
Jaggaer, earlier known as BravoSolution, is a strategic procurement solution, that combines supplier lifetime value throughout the whole procurement process. It allows contract lifetime management, procurement, invoicing, spend analysis, and other features.
Further, BravoSolution offers industry-specific combinations of the modules provided, or you can pick your own according to your business requirements.
It is suitable for companies that obtain and employ many vendors and industry-specific organizations looking for an all-in-one procurement and use analysis tool customized for regulatory compliance.
8. Beakon
Beakon is a modular system that manages safety, risk, compliance, and other phases of contractor employment. Also, it includes modules for auditing, vendor training, and even visitor management.
It is suitable for businesses working in extremely regulated and high-risk industries, including construction, aviation, transport, services, and healthcare.
9. Beeline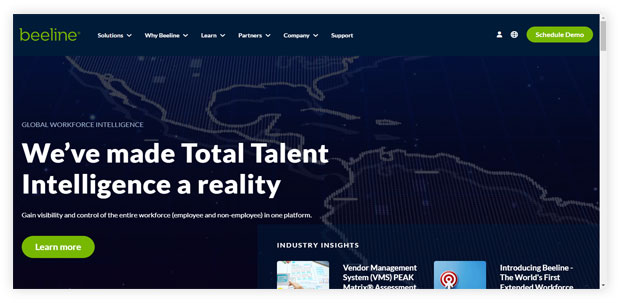 Designed specifically to cater to the requirements of organizations operating a large contingent workforce, Beeline vendor management software allows automation of service procurement, contingent staffing, resource tracking, and self-sourcing.
It is suitable for large organizations and enterprises using a massive global contingent workforce.
10. Profile Gorilla
If you face while handling all your vendor's documents, contracts, profiles, and records, then Profile Gorilla will make your life easier. This SaaS solution incorporates extensive vendor profile management and online collaboration tools suitable for businesses of most sizes.
It is suitable for organizations looking for central profile management solutions for their vendors and a place to centrally store-related "paperwork."
11. Connecting-Expertise
This cloud-based solution strives to automate as many steps as possible of the contracting process: from recruitment and contract management to tracking and invoicing.
Among many modules to select from to suit your business, Connecting-Expertise vendor management software allows the CE Marketplace to provide you with access to a broad network of niche suppliers linked to a benchmarking system of your current vendors.
It is suitable for companies to automate their vendor hiring process and grow their vendor pool using the CE Marketplace.
12. Vendor Insight
Vendor Insight extends a comprehensive and customizable platform that incorporates productivity tools, policy and compliance management tools, and control and monitoring solutions.
Moreover, this solution is explicitly meant for financial institutions, banks, and credit unions.
As such, it incorporates features and workflows that are unique for that industry, including compliance and due diligence processes in vendor qualification. Therefore, it is suitable for financial institutions.
Wrapping it up
Multiple vendor management software systems out there allow a lot more than what you might have set out as your preferences in choosing the vendor management solution for your business.
Moreover, the chances are that many of these systems incorporate features that can replace existing software and solutions in your business.
Thus, improving efficiency and cutting costs. Therefore, pick the vendor management software that best suits your business.