Best Purchase Order Software in 2023 | An Ultimate Guide
Perfect purchase order software makes sure that your business gets the inventory whenever it requires from suppliers easily and quickly.
It streamlines the complete procurement process, enabling you to get the products you require later.
There are many purchase order software available in the market, but which is the best fit for your business? If you are struggling with the same question and looking for the answer here, then you are at the right place.
As in this guide, we have compiled the best purchase order software after reviewing their quality, efficiency, and reliability.
But before we move ahead, it's crucial to understand what precisely a purchase order software is.
What is Purchase Order Software?
To learn about the software, we first need to understand what purchase orders are.
A purchase order (PO) is a document that customers share with suppliers. The document has products and/or services that need to be delivered and furnished by the supplier. Let's have a look at an example. There are several good reasons that require businesses to issue purchase orders.
Firstly, they're legally binding. That implies that once a buyer issues a PO to the supplier and gets their products and/or services, they have to pay the supplier.
It permits the customer to purchase items on credit then, which is very convenient for them.
It also helps them to maintain a record of exchanges between buyers and suppliers, and those records can be referred back to in case of any disputes—legal or otherwise.
Lenders and other financial institutions also accept purchase orders to grant loans and other financial assistance types to buyers.
Purchase order software is simply software that provides and sends purchase orders digitally and physically. It enables your business to send POs over the Internet or, if you need, print out the PO and send it via mail.
Best Purchase Order Software:
We have listed some of the best purchase order software below:
1. Quickbooks – Best purchase order software for Quickbook invoice users
Quickbooks allows invoicing and payment solutions. Apart from that, they also own excellent purchase order software. Thus, making itself a great choice for any current Quickbook users.
Using their intuitive, user-friendly interface, Quickbooks allows you to generate high-quality purchase orders quickly. They even provide unique purchase order numbers.
Each form can be customized as per your business's brand, incorporating logo, colors, and information.
Once the order gets completed, Quickbook automates the process for you. They'll convert your purchase order into a bill that you can then send to customers, replete with items, prices, and quantity of the orders.
And since it's already integrated with their invoicing solutions, you'll be capable of getting payment from customers as soon as they get the bill and make a payment.
Pricing and plans start at $12.50 / month for the Essentials plan.
While the Essentials plan should be more than sufficient for smaller businesses, we recommend going with the Plus plan. That allows more users and permissions and inventory management and a convenient tool to help you manage 1099 contractors. Great for expanding businesses.
Features:
GREAT FOR QUICKBOOK INVOICE USERS
AUTOMATED BILLING AND INVOICING
RECEIVE PAYMENT IMMEDIATELY
PRICES START AT $12.50 / MONTH
2. Coupa Procurement – The most flexible purchase order software
Coupa Procurement is one of the most sought-after purchase order software in the market.
They extend a flexible, easy-to-use purchasing system that doesn't compromise quality for affordability.
It's easy: The interface leads you through the procurement process with its simple search bar. They even inform you of products being sold at discounted prices. This enables you to save even more money and increase the value of your dollar.
It brings the uniformity of an eCommerce store you use every day like Amazon and brings it to the procurement world.
For services, their statement of work forms is amazingly straightforward. Even your most inexperienced employee can fill them out with ease.
Pair that with their email and mobile approvals process, and you can let your workflow be more streamlined when it comes to procurement.
Pricing is hidden on their website. However, Coupa gives a free live demo of their product, including a live Q&A so you can have immediate access to a representative. They'll be ready to provide you with more pricing information. You could also communicate with their sales team through a form on their website.
Features:
FLEXIBLE AND EASY-TO-USE
GREAT INTERFACE
HELPFUL ALERTS
EMAIL AND MOBILE APPROVALS
3. Procurify – Best customizable purchase order software
Procurify provides a great procurement solution.
Their focus is principally on tracking and maintaining your team's spending. You can do so with a very user-friendly dashboard and mobile interface.
You quickly have the most friendly user experience of any purchase order software on this list. Billed as the "purchasing software your team truly wants to use," their dashboards are easy, straightforward while still allowing all the features you'd want to see in a good purchase order software, such as budget tracking, customized approvals, and metrics reporting.
Their approval flows are extremely customizable. You and your team can design an approval process that's ideal for your business. You can also install customized notifications on desktop and mobile for an even more streamlined experience.
When it comes to purchasing orders themselves, they have an excellent process for that too. Your whole team can see the status of each procurement order. It enables more communication and breaks down potential roadblocks along the way.
And with their mobile app, you can make purchase orders no matter where you are. Employees can even get notifications for any updates or modifications in orders—ideal for remote and distributed teams.
Unfortunately, their prices are hidden on the website. However, you can go for a free demo from Procurify to try it out. A sales team representative will be able to provide you with a quote based on what your company requires.
Features:
ALL-IN-ONE PROCUREMENT SOLUTION
EXCELLENT AND FUN USER EXPERIENCE
TRACK BUDGETS
FREE DEMO
4. Xero – Best affordable purchase order software
Xero is award-winning accounting software. Not just accounting software, they also offer an outstanding purchase order solution.
Utilizing your inventory items, Xero supports you in completing purchase orders promptly and efficiently. Like many of the other offerings on this list, they also enable you to customize your purchase order to match your company's brand.
They help you turn your purchase orders into invoices or bills.
Xero is an excellent choice if you were utilizing Xero already. Plus, the price point at $9.00 / month is very profitable.
They also allow a free trial option. It enables you to dip your toes in the water before determining to jump in. The free trial lasts 30 days, which should be more than sufficient time for you and your team to decide whether or not you'd like to go with it.
There are a few downsides, though. For one, the knowledge curve for Xero is a little steeper than the other ones. A few reviews online from customers say that the interface can be challenging to use. Also, they sometimes yield unexpected upcharges on you if you're not cautious.
Features:
AWARD-WINNING SOFTWARE
COMPLETE PURCHASE ORDERS QUICKLY
AUTOMATED INVOICING
PRICES START AT $9/MONTH
5. ManageEngine ServiceDesk Plus – Best for purchase order software for IT teams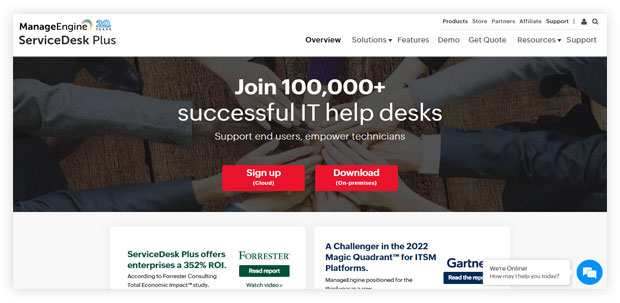 ManageEngine is an IT management solution division of Zoho.
It's no wonder then that they offer excellent purchase order software as well.
ManageEngine ServiceDesk Plus helps you optimize and automates your IT purchases. You can utilize their massive product and vendor catalog in a single dashboard to make orders and furnish billing for each one.
Of course, creating purchase orders isn't the only thing you can do with ManageEngine ServiceDesk Plus. It's also a fully-fleshed out IT help desk software that assists you with things such as:
Reporting/analytics
IT app management
ITSM workflows
Asset inventory reports
Help desk reports
Self-service portals
Project management
Service catalogs
and more.
ManageEngine also presents two different types of solutions. You can sign up for the service to be implemented on the cloud or download it on-premise.
They extend a demo for teams to test out and dip their toes in the water before jumping in. And you can also get a quote that's "tailor fit" to your business's requirements and goals.
Features:
GREAT FOR IT TEAMS
AUTOMATES TECH PURCHASES
ALL-IN-ONE DASHBOARD
FREE DEMO
Methodology for Determining Purchase Order Software
When determining a purchase order software, there are different criteria you might need to consider. We noticed three different factors we found in our reviews above were most important in good PO software.
#1. Automation
Automated features such as invoicing and billing and notifications to all relevant stakeholders are essential to a good purchase order software.
It's the set-it-and-forget-it method of obtaining inventory from vendors. You don't have to bother about the minutes of the process. You'll be able to expedite the relationship between vendor and buyer with ease and quickly.
You'll also be able to locate a purchase order, and the software will automatically assign the purchase requisition to the right stakeholder for approval. When it's approved, it automatically proceeds to the vendor.
They are no more following up with people to check if it was sent. That's the value of automation.
#2. Comprehensive catalogs
To meet your team and employees' needs, you'll need to purchase order software that provides you access to the products you want.
To that end, you'll need PO software with a comprehensive catalog of popular products. It'll supply your team with a quick and easy way to get anything from office supplies to tech products. These catalogs can be furnished by suppliers, or they can be managed by a procurement team on-site.
Either way, you need to get access to the items that you require.
#3. Budgeting
A good purchase order software shouldn't cut your pocket. Not only does that suggest its price point should be right, but the software itself should also assist you and your business stay within your budget.
It can be done in various ways. The most common way is probably through a budgeting tool customized to your business's aims and needs.
You should be able to fix the dollar amount for your budget, and the tool should be able to operate with multiple different budget types. After all, your business doesn't just have one budget for everything. It's subdivided by projects, teams, and divisions in your company.
Your purchase order software should expedite that.
Conclusion
Here's the list of our suggestions again.
Quickbooks – Best purchase order software for Quickbooks users
Coupa Procurement – Most compliant purchase order software
Procurify – Best purchase order software for customization
Xero – Best affordable purchase order software
ManageEngine ServiceDesk Plus – Best purchase order software for IT teams
If you're looking for the best one, we recommend Coupa Procurement. However, it finally depends on the requirements of your business.
Read More: