9 Best Keyword Research Tools for YouTube for 2023
Because YouTube is the world's second-largest search engine, marketers are increasingly concentrating on creating effective YouTube SEO tactics. Those techniques take into account a variety of elements, but one of the most important aspects of effective SEO is using the appropriate keywords – and YouTube keyword tools may help you avoid a lot of guesswork. So let's get started with the best keyword research tools for youtube that you can use.
A YouTube keyword tool is computer software that assists you in determining what YouTube viewers are looking for on the site, providing you with valuable insights into consumer behavior and, perhaps, a competitive advantage.
In this post, we'll go over what YouTube keyword research is, why it's essential, and a look at 9 of the most popular YouTube keyword tools on the market right now.
What is YouTube keyword research?
Keyword research is an SEO best practice that marketing professionals employ to locate the most relevant search phrases and other search terms that consumers use while seeking information.
This study aids the organization in determining which keywords to incorporate into website copy, page names, tags, and other areas in order to improve organic content discovery.
Keyword research, in the context of YouTube, is the process of determining what search phrases viewers enter into the video platform while browsing for content. How many people look up your term – and others like it?
Once you know what your target audience is looking for, you can include those keywords in the title, tags, description, and transcript of your video to improve your rankings in search engine results pages (SERPs).
But, more importantly, you can be assured that you're producing video content that your target audience is likely to seek out.
Businesses of all sizes, including one-man shops, local eateries, and small businesses, must approach search engine optimization carefully and deliberately.
However, not every company can afford to engage an SEO firm to handle the job for them, which is why YouTube keyword tools like the ones on this list are so useful. There is a keyword management process for youtube that will help you to manage your keywords fluently.
The best YouTube keyword research tools
Let's get started! We've compiled a list of the top YouTube keyword tools we've discovered online, along with a brief assessment of each. Look through this list to see which features, services, and price options are best for your company.
1. Keywordtool.io
When you search for a video on YouTube, the platform provides you with a longer list of suggested results depending on what other people have previously looked for. Keyword Tool makes use of this information to assist marketers like you in improving your YouTube SEO.
Keyword Tool is a YouTube autocomplete keyword generator that creates popular search keywords from a set of basic terms. A firm that manufactures garments for toddlers and babies, for example, would use the term "baby clothes" as a keyword on a frequent basis.
With the help of Keyword Tool, that firm may strengthen its keyword approach by including keywords like "baby clothing DIY" and "baby clothes quilt," which are both popular search searches.
You can also utilize the platform's trend data to observe when specific keywords work better throughout the year, allowing you to adjust your approach based on consumer preferences and holidays.
The most basic aspects of Keyword Tool are free, but there are lots of other capabilities worth paying for, such as cost-per-click statistics and rival keyword research. Monthly rates for Keyword Tool range from $69 to $159 based on the number of keywords you wish to analyze.
2. Keyword Keg
For example, a landscaping or home improvement business trying to boost its YouTube SEO approach may use Keyword Keg to identify popular alternative search phrases such as "landscaping ideas" and "landscaping services.
" However, because "landscaping ideas" has a difficulty rating of 70, indicating that there are already a lot of content providers vying for that phrase, they may choose to focus on "landscaping services," which has a difficulty level of 34 and is more ownable.
You may get a sampling of the findings for free, but you'll need to pay for a monthly subscription if you want a complete keyword analysis. Monthly plans range from $40 to $280, while yearly plans can save you up to 40%.
3. Ahrefs
Ahrefs is the best buddy of a marketing analyst. To help you optimize your digital content, this tool contains a large collection of SEO, competition analysis, keyword research, and keyword discovery capabilities. You know it's huge when you have clients like Facebook, Netflix, and Uber.
The platform's YouTube Keyword Tool is particularly noteworthy since it aggregates YouTube search volumes for phrases from up to 171 countries.
The tool is controlled using a simple, user-friendly dashboard. Simply put your keyword into the search field, and Ahrefs will pull data from all around the world to show you the overall search volume for each term as well as the number of hits that the search phrase received.
If consumers aren't content with the results they're seeing, it's possible that they require an interesting video from you to be satisfied with their search results. Low clicks might also indicate that the thumbnail, title, and description of a video aren't compelling enough for viewers to click on it; for more information, see this post.
Ahrefs also collects a few other fascinating data points, such as related search terms that employ your keyword and other keywords or phrases that are pertinent to your term, making it more than simply a research tool.
Ahrefs has four pricing categories, with prices ranging from $99 per month for a single user to $999 per month for an agency with five or more members.
It's one of the priciest solutions on our list, but if you're serious about keyword research, it could be worth it. Before you pay, you should absolutely take advantage of the tool's $7 7-day trial to see whether you enjoy it.
4. VidIQ
VidIQ is a YouTube Certified partner that assists video content creators in determining the ideal keywords for searchability improvement. VidIQ takes data from YouTube when you investigate a search keyword to show you what's going on with that term.
You'll be able to view useful information such as suggested tags and which top-performing videos are presently showing up in SERPs.
If you want to be even more specific, you may utilize VidIQ to look for other relevant terms and search traffic data from the previous month, year, or even since YouTube's inception.
This tool is useful for confirming if marketers are using the proper keywords, experimenting with new keyword ideas, and determining who they are competing against for greater search ranks.
VidIQ has a slew of additional tools for video makers, but the keyword research tool is only available with a paid membership. It is, nevertheless, quite reasonable for even tiny enterprises on a limited budget, at only $7.50 each month.
5. Keyword Tool Dominator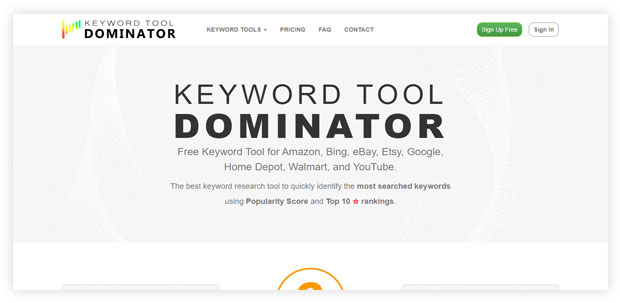 With a moniker like Keyword Tool Dominator, we had great hopes for this platform. While it isn't exactly as revolutionary as its name suggests, it is a rather simple tool for those new to keyword research. It is one of the best keyword research tools for youtube.
Simply put a term into the search window, and Keyword Tool Dominator will provide you with a long list of potential YouTube search terms that include your term.
From the same screen, you can select the keywords you wish to add to a custom list and export your list. The keyword research process – as well as the price model – is kept simple with this application.
For up to three keyword searches each day, Keyword Tool Dominator is free. If you want to search for additional terms on a regular basis, you can purchase the YouTube keyword tool for $69.99 — but it usually has an offer going on, so you might be able to get a discount.
Keyword Tool Dominator is compatible with other major search engines such as Amazon, Etsy, eBay, and others.
6. TubeBuddy
TubeBuddy is the best friend a video SEO nerd can have. This tool was designed to assist you in locating tags that are related to your search parameters.
While looking for "san Diego surfing," TubeBuddy informs viewers that there are many other popular video search terms such as "san Diego surfing 2018" and "san Diego surfing in winter" that are trending. The tool, however, exposes a lot more.
In addition to the overall score of your search keywords, the TubeBuddy dashboard shows the competitiveness of the term, the total number of times it has been searched, and other information.
TubeBuddy isn't just simple to use; it's also simple to set up owing to its lightweight Chrome plugin. The best part is that this keyword tool is completely free to use.
7. Keywords Everywhere
Keywords Everywhere is a Chrome and Firefox addon that is quite specific. Keywords Everywhere, unlike the other tools on this list, does not recommend new phrases or tags.
Instead, it shows three critical pieces of information directly on YouTube's search engine: the keyword's search volume, cost per click, and competitiveness (the number of advertisers bidding on that term on Google AdWords).
The number of marketers bidding for a term varies between 0 and 1, with lower values signifying fewer bidders.
When it comes to confirming your keywords, this type of study may be really useful. If you have a list of 15-20 search phrase candidates and one of them is expensive and difficult to own, you could choose to focus on the other, more ownable terms on your list instead.
This basic browser extension isn't the only keyword research tool you'll need, but it's a good one to have. Keywords Everywhere are completely free to download and use.
8. Kparser
The application Kparser allows you to construct keyword tags. Simply input a word or phrase into Kparser, and it will return a list of comparable high-performing tags, together with their search volume and cost per click.
This tool is particularly beneficial for international businesses since it allows you to assess keyword data and generate keywords based on location, allowing you to customize your SEO strategy to each region and language.
Kparser's basic features are free, but they won't take you very far. If you upgrade to a monthly subscription, you'll discover that the tool is reasonably priced. Subscriptions are available for as little as $4.99 per month.
9. HyperSuggest
Simply enter a search phrase, and HyperSuggest will generate a list of relevant top tags for YouTube videos in seconds, providing you with a qualifying list of search terms to include in your video title, description, tag list, and transcript.
By tying each term to its relevant YouTube SERP, HyperSuggest also makes it straightforward to see which videos are currently at the top of the search results for those phrases. HyperSuggest provides a rudimentary list of results for free, but if you want to view a comprehensive list, you'll need to switch to a Pro plan, which costs roughly $13.35 per month plus $4.40 for a YouTube search tool add-on.
---
Our go-to best keyword research tools for youtube
TubeBuddy takes the top place on our list. Why? We could go on, but here are the top four reasons why we think this YouTube keyword tool is incredible.
1. It's simple to use: TubeBuddy populates a simple, stylish UI with the most crucial information you'll need to do efficient keyword research. It's so simple to use that even non-techies will feel at ease with it.
2. It is all-encompassing: TubeBuddy integrates numerous functions into a single package, so you won't have to download various tools to do all of your research.
3. It's easy to use: TubeBuddy doesn't need you to negotiate a confusing, tiered membership scheme or download yet another clumsy piece of software to your computer. This easy-to-use browser plugin was created with simplicity in mind.
4. It's completely free: Paying for a product that performs something this particular isn't in the budget for most small and medium-sized organizations, which is why we adore TubeBuddy's price tag: $0.
We also have a tool named keyword revealer for keyword research which can also be an option for you.

Conclusion
We have mentioned all the best keyword research tools for youtube for you to make your research smoother. Must choose wisely to select your useful tool.