8 Best Shopify Apps for Reports [2023]
When it comes to eCommerce platforms, Shopify is one of the top choices for many businesses. Efficiently tracking and analyzing your store's sales and performance data is crucial for making informed decisions.
This is where Shopify apps for reports come into play. In this article, we will delve into the top 8 Shopify apps for reports, highlighting their unique features and benefits, along with their compatibility and pricing.
Best Shopify Apps for Reports are Listed Below
1. Better Reports –
Providing over 60 customizable reports, Better Reports is a robust app that empowers store owners to analyze sales performance, inventory, and customer data in multiple ways. Its visual report builder allows you to create detailed graphs and export data in various formats,
like CSV, Excel, Google Sheets, and PDF. It integrates with other Shopify apps and starts at $19.99/month.
2. Report Pundit –
Report Pundit includes over 50 pre-built reports to analyze customer behavior, sales trends, and inventory data. This app allows you to schedule reports, send them directly to your team, and export them into numerous formats. It's also compatible with other popular Shopify apps and starts at $15/month.
3. Metorik –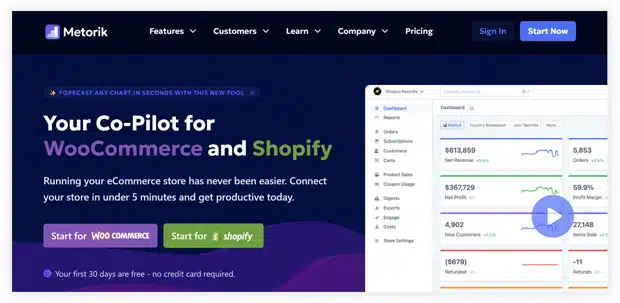 Metorik goes beyond just tracking your store's sales and customer data. It provides real-time, intelligent data-driven insights that help you make informed decisions about your eCommerce business. You can create custom reports, track abandoned carts, run cohort analysis, and more all through an intuitive interface. Its most popular plan starts at $20/month, and it offers a 30-day free trial.
4. Conversific –
Conversific is an all-in-one analytics platform that provides actionable insights to grow your eCommerce store. It offers useful reports on traffic, conversion rates, revenue, and profit, as well as customer retention and acquisition. The app presents data in clear graphs, which make it easy to spot trends and opportunities. The pricing starts at $29/month.
5. Shopify Custom Reports
One of the most straightforward, free report tools is Shopify Custom Reports. This app lets you craft custom reports with a data query tool that combines sales data, customer data, and inventory data. While it doesn't offer a visual report builder, it's free, and any Shopify store owner can use it to create simple reports.
6. Compass –
Built by Union Works, a Shopify development agency, Compass is an innovative reporting tool that empowers store owners with quick access to essential KPIs. It offers custom dashboards, pre-built reports, and email reports delivered straight to your inbox. The app costs from $19.99/month and offers a 14-day free trial.
7. Segments Analytics and Reports –
Segments is a powerful analytics platform that lets you evaluate your store's sales data, customer behavior, and marketing performance. It offers robust segmentation tools, which help you filter your data, and smart features that let you create personalized reports. The app costs $9.99/month and offers a free trial and money-back guarantee.
8. Ako Reports –
With Ako Reports, store owners get over 150 report templates to measure sales performance, inventory forecasting, and customer data. It gives you a flexible reporting tool that offers advanced filters, data visualization, and query options. Pricing starts at $49/month, and it comes with a 14 days trial to ensure you make the most out of the app.
Conclusion
Shopify apps for reports are indispensable tools for tracking your eCommerce store's sales data and customer behavior. Choosing the ideal reporting tool can make all the difference in boosting your business's performance. These eight apps can help you measure your KPIs, make informed decisions, and better anticipate future trends.
Read More.