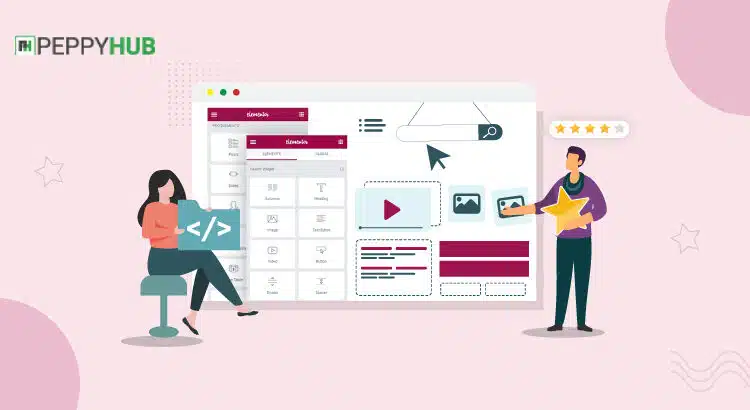 Elementor Review: Is Elementor a page builder plugin helpful for newcomers?
Elementor is a website page builder plugin that works as a substitute for the original WordPress editor with a live front-end editor. Users can design complicated layouts visually, and create their website live, without switching between the editor and the preview mode. In this elementor review, we will be looking at all the aspects comprehensively.
Let's start with Elementor's pros and cons.
Elementor Pros and Cons: Elementor review
Elementor Pros
It's a Live Front End Page Editor
Provide Website Customized Features
Give Template & Block Library
Provide Wide Mobile Responsive Options
It's a Most Persuasive Popup Builder
It Gives PRO Design Custom Headers / Footers
It Provides PRO Design Post Type Layouts
Elementor Cons
Its Features Lack of Valuable Choices
Its Template & Block Library Are Limited
Provide Support Unwilling To Give Custom Solutions
There is no Whitelabel Version
Its Header Builder Lacks Schema
About Elementor
A group of web specialists built Elementor in 2016. They aspired to get rid of the prolonged process of building websites using WordPress. Elementor gives its users both free and paid versions.
Elementor's free version has truly compelling features that can change your dull website into a professional-looking one. Elemotor, unlike the free versions of other page builders, does not provide any useful features in their free version.
If you have a confined budget, but you want to give a whole new look to your website, considering Elementor's free version is a great option.
But if you have a good budget and need more advanced features for your website, then you can consider the elementor pro version. In this elementor review, we will talk about its pro version in the latter part of the review.
Key Features of Elementor: Elementor Review
Let's learn about some of the features that elementor offers.
Front-End Page Builder- Elementor is a front-end page builder. And being a frontend builder is way more useful than a backend builder. In the backend builder, you can not review those changes you have made instantly even every time you make a modification, either small or big, like adjusting the heading's color, you have to hit "Update."
It might take a few seconds, and after that, You can review the changes. This prolonged method makes WordPress websites slow; that's why we recommend frontend page builders like Elementor for giving a faster experience.
Elementor permits users to have a real-time preview of the changes they have done. Whether you want to add a button and tweak it to get it just right or shift from a single to a multi-column layout, you can promptly review the changes you do.
This feature helps us to use time efficiently. Elementor has made adding and tweaking all CTA( call to action) buttons more accessible and easier. Not only this, but you'll also notice modules or things you can do to your websites like headings, images, texts, videos, buttons, spacers, and the left side of the screen.
All you have to do is drag and drop the module on your preferred area on the website and edit it, and now, you are ready to go.
Templates and Blocks: Elementor Review
1. Blocks
Blocks are the portions that are already pre-set, like page templates, which you can immediately load into your page. There are blocks for all the sections such as About Us, call-to-action, testimonials, FAQs, a list of features, and many more.
For adding more blocks, you have to click on the same Folder icon as before and click "Blocks." If you're looking for a particular type of block, click "Category," and you will get a dropdown menu of available categories.
Once you have done with your page's layout, you can also keep it as your preferred template so that you can reuse it later for similar pages that you'll be going to build.
And for doing that, click on the arrow alongside the green "Publish" button and click "Save as Template." A new window will pop up where you just add the name to your template. Enter the name, and click "Save."
Whenever you need to reuse your template, you can directly access it by clicking the Folder icon and clicking "My Templates."
2. Mobile-Friendly
Most of the time, as users, we visit websites on our mobile phones; therefore, it is necessary to have a mobile-friendly website. Once you start customizing your website in Elementor, it's simplistic to get carried away and for doing all sorts of things like adding margins or filling in your sections. You also have to make sure that the layout nevertheless looks good on mobile.
You can immediately do this by clicking on the Desktop icon alongside the "Publish" button and clicking "Mobile" and "Tablet." You have to keep in mind that the changes you make in one mode do not modify the other systems.
For example, if you adjust the spacing in the Mobile mode, it will not change the Desktop mode, so your original desktop formatting is protected.
3. In-Line Text Editing
You can also make changes in the preview area itself. It is an additional benefit that provides the experience simpler and faster. Many personalization options for texts are there, including changing font family, providing text shadows, color, and size, allowing drop caps, and much more.
4. Works With Any WordPress Theme
Elementor is adjustable enough to work with any of the WordPress themes, but there are four WordPress themes that people regularly agree are the most helpful themes with Elementor. These are:
Astra
Generate Press
Ocean WP
Page Builder Framework Theme
These themes have free and paid versions.
Elementor Pricing: Elementor review
In the elementor pro version, there are three packages available. There are people who have doubts that it Is elementor free? Yes, it is free, but it too offers a more advanced version in three packages: Personal, Plus, and Expert.
Elementor prices vary with the package. Each package provides the same features, but the only difference is the number of websites you want to create.
It entirely depends upon the person's obligations. If you want to build a specific website for an online business, then the personal package is enough for you, but if you are a freelancer who works to develop websites for their clients, then an expert package is a great option.
They offer a 25% renewal discount to their existing members and a 30-day money-back guarantee for their new purchases at elementor pro cost.
1. Should you upgrade to the Elementor Pro Version?
We have jotted down the top reasons that you might consider regarding up-gradation to the elementor pro features.
The Pro version entitles you to customize each and every part of your theme. With free page builders and themes, you will have a restricted option for editing just your page's content area.
Different areas like headers, footers, archives, and search results pages are almost always off-limits and require coding to edit. It empowers you with a limited choice to build your website as per your wish if you don't know how to code.
Many people have doubts, Is elementor works with any theme? The Elementor Pro version enables you to design your own themes.
Header (you can produce more than one Headers and designate them to different pages on your site)
Footers
Archive page
Single blog post page (draft a blog post template and use it for various categories, pages, or taxonomies)
404 page
Search results page
2. Extra modules will make your life simpler.
Elementor Pro has an additional 30 modules that will help users instantly build fundamental parts of a website such as:
Forms (opt-in, contact, and login forms)
Pricing tables
Grid blog posts
Price list
Countdown
Woocommerce features (products, categories, add to cart)
Flip box
Form integrations
Blockquote
Media carousel
Share buttons
Reviews
3. Get Access to the cool pro templates and blocks.
It also provides more professionally-made elementor blog templates and blocks to build astonishing websites in no time.
These templates and blocks will allow you to design websites highlighting animated headlines, slides, gorgeous-looking forms, and more advanced website features.
4. Enable you to change role access.
Each developer encounters an issue when clients take things into their own hands and start adjusting the design or moving around modules here and there. It messes up the website and complements the developer's workload. This problem is also undergone by webmasters who let content developers like writers and editors.
You can add authority, so they do not move stuff. So a smart workaround here is to change what each role can edit on your website. For doing this, tap on "Elementor" on the left side panel and select "Role Manager."
For every role, you can give them complete access to everything or restrict their Access to edit content or nothing at all.
5. Get Access to pro updates and 24/7 support.
The Elementor team gives updates frequently to fix issues and renew more features. They provide 24/7 support only to their Pro subscribers. Although they have a deep knowledge base on their website, getting guidance from their team can save you precious time and money.
6. Elementor Pro integrations make marketing easier.
Suppose you want to implement an aggressive marketing strategy with your website as a central mechanism. Integrations with other apps such as Zapier, MailChimp, HubSpot, ConvertKit, and GetResponse come in handy.
These apps will help you in creating your email list and increasing your conversion rates without ever leaving the Elementor interface.
Installing Elementor
Adding Elementor to your WordPress install is as simple as connecting any other useful plugin. If you have the Pro version, installation here is also simple. You just need to download the installation ZIP file, upload it via the 'Add Plugins' screen, and away you go. It is more adaptable than the process certain WordPress page builders follow.
Using Elementor
Let's start with the more useful section of our review. Here's how to start with Elementor. Elementor is a WordPress plugin — a somewhat more advanced one. To make it work, the first thing you require is to install and activate it. It is all standard — just like with any other WordPress plugin.
You can head right to your WordPress pages and create a new one. Right away, you'll notice the option to 'Edit with Elementor': After clicking on this main button, you're going to review the Elementor user interface. Here's what's what:
The main canvas. It is where you can put your content blocks and fix them.
The accessible content elements.
This is where you can obtain Elementor's (colors, fonts, and so on).
This is how you come back to see the content elements.
The global settings of the page you're working on.
The history revision of the page.
Switch device (desktop, tablet, mobile).
Preview modifications.
Publish the Page.
To build a basic page with Elementor, you have to learn the page structure hierarchy that it uses:
A page can have any number of sections in it.
Each section owns one or more columns.
Each column can comprise around one or more content elements.
Lastly, each content element can be designed exclusively.
So, You need to go like this.
First, move to the Page → Sections → Columns → Content → Styling
To start with you can either add a readymade template or add a blank section:
In that new segment, you can add new columns, and then populate them with content by swiftly dragging and dropping specific blocks from the sidebar. Even you can reset these sections with drag-and-drop as well.
Once you have a content block in place, you can click on it to modify the minute details of what's in it and its presentation. There are three major tabs available for that: Content, Style, and Advanced.
One by one, you can work with single content blocks until you have the whole page ready.
Overall, Elementor is very smooth to handle and relatively automatic. Once you learn the page/structure hierarchy and know all of the content elements, working with your pages becomes rather fun. Especially when you start getting some advanced features.
Final Thoughts
After reading this elementor review, you may have learned that elementor is an excellent WordPress page builder plugin. It offers many features, not only in the paid version but also in the free version.