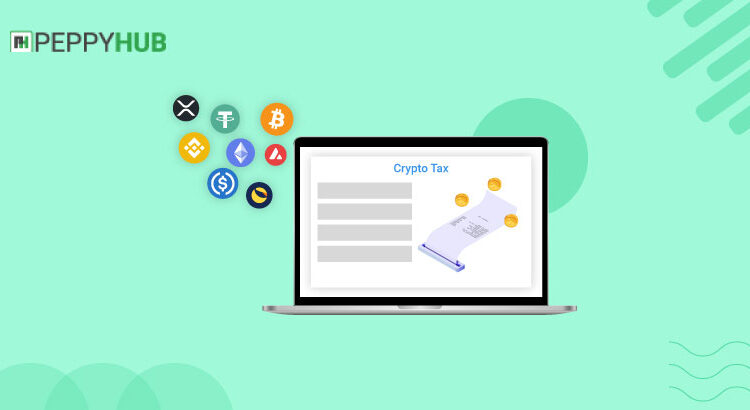 9 Best Crypto Tax Software to Consider in 2023
Are you looking for the best crypto tax software to make filing taxes from your crypto profits easier and stress-free? You've come to the right place! Cryptocurrency investors and traders suddenly have many options when choosing a reliable tax reporting software or service.
With so many different platforms available, selecting one that fits your needs can be confusing and daunting. To help make this task more accessible, we've compiled a list of the 9 best crypto tax software solutions you should consider in 2023.
Best Crypto Tax Software
1. TokenTax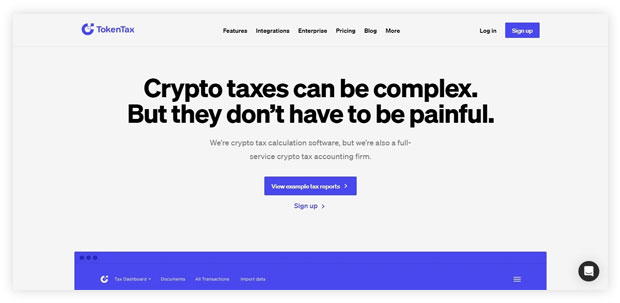 TokenTax is the best crypto tax software designed to make filing cryptocurrency-related taxes easier than ever. It provides users access to various helpful tools that can simplify the process, such as a portfolio tracker and capital gains calculator.
In addition, TokenTax integrates with several popular crypto exchanges, allowing users to quickly and easily upload transactions for an accurate tax return. The user-friendly interface makes it convenient for newcomers and experienced traders alike, meaning anyone involved in crypto trading can benefit from TokenTax's crypto tax software solutions.
2. CoinTracking
CoinTracking is an invaluable crypto tax software solution for tracking cryptocurrency holdings and logging transactions across all major exchanges. The sleek dashboard provides an overview of your portfolio balance in real time, while the tax reports tab puts your capital gains in clear sight.
Its valuable analysis tools allow users to compare coins against each other and detect possible losses or risks associated with continued investments in the currency market. With data exports available for nearly every tax authority worldwide, CoinTracking is an ideal crypto tax solution for investors looking to stay organized and remain compliant with their spending habits.
3. Accointing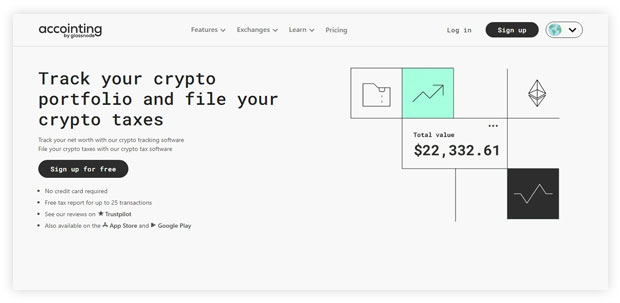 Accointing is an innovative crypto tax software designed with the cryptocurrency investor in mind. Accointing allows the user to save time in organizing their taxes and other financials by providing tracking and management for any crypto transactions.
Automated reports will enable the user to stay updated with global and local regulatory guidelines while also keeping a close eye on portfolios.
This crypto tax software is a convenient tool for anyone who wants a reliable, accurate system for monitoring financials on crypto trading – giving users peace of mind knowing that their records are being properly taken care of.
4. BlockPit
BlockPit is an innovative crypto tax software that offers a complete solution for crypto traders to track their gains and losses accurately. It helps users figure out their gains and makes it easy to generate tax reports that are formatted as needed according to the laws in their country.
By creating a single platform where one can conduct all necessary activities, BlockPit makes life much easier for crypto traders who want to stay on board with the law. No matter what crypto trading activity you're involved in, BlockPit is there to help you make sure your finances are reported correctly and on time.
5. TaxBit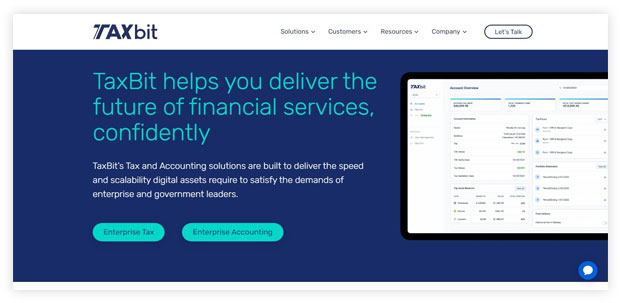 TaxBit is crypto tax software that makes the paperwork and file organization for cryptocurrency investments less cumbersome. This software does all the hard work for you, providing helpful reports and detailed data analysis and delivering customized recommendations to help you optimize your tax planning and filing.
Instead of taking up precious time manually inputting, tracking and understanding complicated crypto activities, TaxBit takes care of it in a fraction of the time with secure cloud storage, archiving each step. For anyone with cryptocurrency investments or trading income, TaxBit is an invaluable tool that streamlines crypto taxes and simplifies the filing season.
6. CoinPanda
If you are new to the world of cryptocurrencies, CoinPanda can be a great way to learn the ropes and ensure you follow all the rules. This crypto tax software allows users to accurately calculate taxes on profits they have made with cryptos, using advanced algorithms and considering every position in your past transactions.
No matter your understanding of cryptos and taxes, CoinPanda makes filing taxes easy and efficient! They also provide many helpful resources on their website to help new users get started.
7. Koinly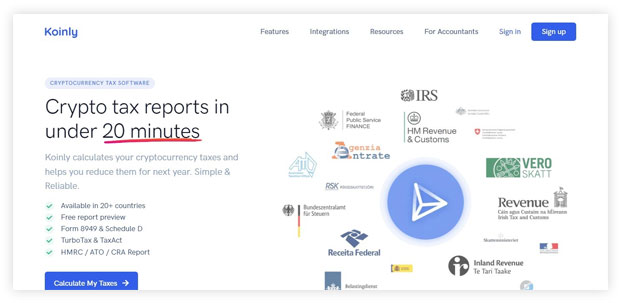 Koinly is a crypto tax software that makes it easier to track and analyze crypto assets for tax filing accurately. From automated transaction categorization to creating accurate capital gain reports, Koinly simplifies taking care of your crypto tax obligations.
It supports most major cryptos, including Bitcoin, Ethereum, Litecoin and over 1000 other cryptos across 3200 exchanges and wallets.
All you have to do is sync up your accounts, and Koinly will show you precisely what needs to be reported on taxes! With Koinly tracking your crypto asset transactions, making sure that taxes are paid accurately has never been easier.
8. CoinLedger
CoinLedger is a crypto tax software company that provides innovative solutions for cryptocurrency taxation. Tax professionals use their software and individual taxpayers to report cryptocurrency transactions and minimize their tax liability accurately.
CoinLedger's crypto tax software is the most reliable and user-friendly solution on the market, and it is constantly updating to ensure compliance with all new tax laws.
9. ZenLedger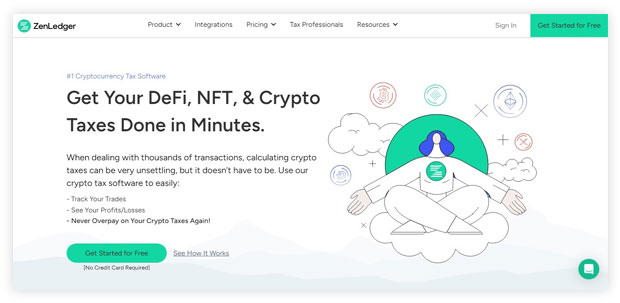 For those looking for the best crypto tax software, ZenLedger is the ideal solution. Their powerful accounting technology, automated workflows, and user-friendly interface make it the perfect tool to help manage your crypto taxes.
It's simple and efficient—ZenLedger lets you import transactions through various sources and creates asset reports ready to present to your tax advisor in just minutes! Plus, their support team is available on-call to answer any questions. With ZenLedger, keeping track of your crypto taxes has never been easier.
Conclusion
Researching the best crypto tax software of 2023 will require you to consider all your needs and priorities. You want a platform that meets your goals, whether cost-effectiveness, top-tier customer service, or a strong community presence.
Each of these nine products has pros and cons, so make sure you are comfortable with whichever one you pick.
With better non-custodial wallets being developed alongside more rigorous regulations for crypto transactions every day, the crypto tax world is constantly evolving; however, when it comes down to managing your taxes year after year, there's no magical solution —simply finding the tool that fits you best.
By considering these suggestions and networking within the larger crypto space, you can successfully manage your taxes with whatever software works for you.
Read More: