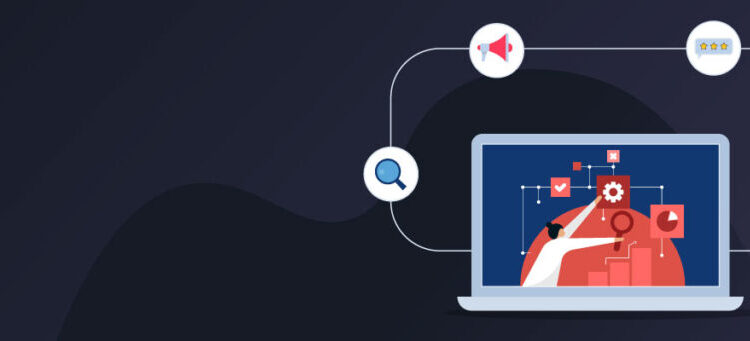 What is Marketing Automation? 10 Reasons to Consider Marketing Automation
Marketing automation is the need of the hour. This technology enables companies to automate, streamline, and scale marketing efforts and workflows to improve operational efficiency and increase revenue.
Being a marketer, we understand that every day you face exhausting expectations and aims. Like every marketer, you are also required to generate rewarding outcomes in tight schedules.
In addition, in a digital age where everything is measurable, you probably undergo a lot of pressure to show your driving impact. Therefore, it is important to have the right tools that will help you achieve your goals and showcase the results.
Before we move ahead and understand that, why should you consider marketing automation? It is important to understand what marketing automation is.
What is marketing automation?
Marketing automation is all about employing software to automate everyday marketing activities. Many marketing departments automate monotonous tasks such as email marketing, social media posting, and even ad campaigns — not just for the cause of efficiency, but so they can present a more personalized experience for their customers. In addition, the marketing automation technology makes these tasks more manageable.
Marketing automation technology can help you scale your programs, deliver personalized and targeted information, align with sales, and gauge effectiveness.
10 Reasons to Consider Marketing Automation
1. Higher Focus on Personalization
Today, personalization has set up a standard when it comes to advertisement. According to Forbes, 71% of consumers feel frustrated when they find the shopping experience is impersonal, with 91% saying they would likely go for more personalized brands.
Marketing automation efficiently allows you to spend more time curating your SEO and content marketing, in addition to the value proposition. It will let you focus on more significant activities rather than parsing data manually. As a result, you can focus more on your customers and provide them with the care and attention they deserve.
Not only this, but it will also allow you to have access to relevant data via a professional automated marketing platform. Further, it empowers you to build your business organically by automating a wide range of common tasks that focus away from personalization.
Click to know about: What is Personalization?
2. Streamlined Data Processing
Given that your brand will do business with customers and clients globally, you will naturally generate a lot of data. This data is extremely valuable for your continued progress on the market, but it is also time-consuming to process.
Introduce marketing automation; as such, a platform can streamline your data processing and extrapolation quite efficiently. You can transfer raw data processing to an automation platform while you and your coworkers concentrate on discerning analyzed data and generate new content.
Writing assistance such as Subjecto and Hemingway Editor can assist you to write personalized data-based content well.
3. Quality Lead Generation
One of the key components of marketing automation is lead generation, particularly when your potential leads are likely to engage with your brand. Adding marketing automation to your consumer journey pipeline will enable you to extrapolate the specific leads worth pursuing further.
It goes hand in hand with personalization, as two distinct demographics will usually require a diverse approach to secure their conversion.
4. Informed Decision-Making
It's usually difficult to make the right choice regarding future business development, content marketing, or an advertisement campaign to proceed. With marketing automation, however, that process is somewhat easier as you will have access to more accurate customer data than otherwise.
A centralized marketing automation platform will enable your staff to decide whether any plan you've executed makes sense, judging by past market performance. All thanks to marketing automation, you can quickly manage new marketing strategies and experiment with them in a safe environment without worrying about resource loss.
5. Smarter re-engagement and increased campaign efficiency
It's a well-known fact that marketing automation can work effectively when it comes to driving engagement. But what if your prospects fail to engage or they slowly start fading away and drop interest? But wait, before you think to stop making efforts, it's helpful to observe that marketing automation allows you to re-engage customers the same way as it is to attract and retain them in the first place.
The first approach you can use to achieve is smart segmentation. Sadly, most email lists are unsegmented, too generic, and so vast that your customers view the same messages, no matter how much effort you put into differentiating your audience. To make your emails powerful, you have to segregate your list based on the level of engagement like fully engaged, semi-engaged, and least engaged.
The other method to segregate your list is to consider an amalgamation of demographics and behaviour. For example, you can design unique emails for semi-engaged people based on their last purchase, location, gender, and average spending.
The other way is to utilize automated triggers. These kinds of campaigns have a lot more power than generic emails and make a lot of sense. Over 75% of email revenue is produced by automated campaigns and not the typical "batch and blast emails." Employing marketing automation software, you can monitor the clicked links when your emails are sent, which will help you discover your emails' future courses.
For instance, a customer opens an abandoned shopping cart email but does not buy. Your next email should be closely associated with the abandoned link to prompt the customer to purchase. In addition, you could incorporate things like an exclusive discount or free shipping.
A marketing automation tool assists you to launch a fantastic re-engagement campaign by addressing all issues and helping you get your customers back.
6. Lead Nurturing Opportunities
Lead nurturing is the obvious continuation of lead generation, as existing customers will have some expectations from your brand. Therefore, again personalization comes into the scene, given the newly gained customers' behavior data you will have access to.
According to Smart Insight, 72% of customers will engage with you when you consider personalized marketing, along with discounts and new product promotions as the most desired message types.
Utilizing a marketing automation platform enables you to quickly access the data regarding past customer communications with your website or storefront. Consequently, this data can cater to every customer's requirements to ensure their brand loyalty and consecutive purchase.
7. Sales/Marketing Centralization
When it comes to centralization, depending on the size of your team and the company as a whole, cross-department collaboration may be an issue. Nevertheless, marketing automation can support you to alter those shortcomings by offering a more centralized software solution into the mix.
Such a platform will enable your staff to have a look at both marketing and sales data without the risk of interference or misplacement of sensitive data.
Moreover, your staff can cooperate on common personalization and marketing goals more quickly, thanks to the cloud-based nature of marketing automation.
This can significantly diminish your staff's margin for mistakes and assure no loss of resources occurs due to poor communication between coworkers.
8. Higher Accountability & Ownership
Marketing automation is much more than just data extrapolation as it can provide your staff with more options for customer journey mapping. In addition, you can provide your staff with far more responsibility and control over the customer journey by stretching marketing automation into omnichannel integration.
Platforms such as Facebook, LinkedIn, and even Pinterest can become relevant data sources for your marketing requirements. The more diverse your data pool becomes, the better chances you will target the right leads with your content marketing.
Subsequently, lead nurturing and more data generation will become more comfortable to manage and give your staff far more choices to work with.
9. Less Downtime, Better Productivity
One of the top reasons you should consider adding marketing automation into your workflow is its ability to save your staff time. Companies without any automation suffer because of abundant manual data processing, which is usually prone to human mistakes.
A marketing automation platform created specifically to keep tabs on data and extrapolate important strands of it will never do that.
Moreover, enhanced emphasis on automation will leave your staff with enough time during working hours to concentrate on customer servicing and brainstorming.
This can grant your business significantly less downtime caused by data processing and increase your overall production pipeline going forward.
10. Get big picture data
While dealing with the issue of improving your ROI and securing success, you have immediate access to your important marketing KPIs. If you utilize multiple tools, you'll spend a huge amount of time switching between platforms and find the task of joining your metrics to your campaign absolutely onerous.
A marketing automation tool allows you to tag your whole marketing activities with the associated campaign. It provides you to better picture your traffic, clicks, conversion rates, and more all in one place.
Powerful, multi-functional tools like NotifyVisitors give you a bigger picture of your data and how things work together, rather than forcing you to switch platforms.
Add to that; you can obtain reports and look at the performance of different metrics in real-time.
While applying a specific tool created to track the impact of your marketing efforts on your sales, you can observe the red flags and poor performance and adjust your strategies immediately.
Wrapping up
This is the year of experiments and advancements. As a result, more and more businesses are considering marketing automation to stay competitive.
As a result, automation has become a modern need, not a luxury, that will help you draw the line and assess how useful a marketing automation platform may be in your company, as per your company's current marketing and personalization strategies.
Read More: