What is marketing automation software?
Every firm wants to boost revenue and expand quickly while spending less money. However, many firms fail to link their people, processes, and technology to meet these goals. To make this easy, marketing automation software was introduced.
This is an issue that marketing automation solves. It allows businesses to simplify, automate, and track marketing operations and workflows in order to improve operational efficiency and accelerate revenue growth. Businesses may use this software to market more efficiently across several channels and automate repetitive tasks.
Many current marketing activities, including lead generation, segmentation, lead nurturing and scoring, relationship marketing, cross-sell and upsell, retention, ROI assessment, and account-based marketing, is made possible by marketing automation.
If you don't use marketing automation, according to marketing guru John McTigue, you're just guessing and hoping that people will fall for your hook and buy your products. "Buyers don't do that," he argues, citing statistics. "They want to be able to learn at their own speed and to be contacted when they want further information or are ready to purchase." That is made possible by a well-designed marketing automation approach."
Marketing automation is one of the fastest-growing technologies, according to Forrester's Marketing Automation Technology Forecast, 2017 through 2023. Marketing automation solutions that were previously exclusively available to large firms are now more broadly available and scalable for small and mid-sized businesses. It's no wonder that marketing automation has become a need rather than a nice-to-have.
Best marketing automation software
HubSpot Marketing Automation
ManyChat
NotifyVisitors
Moosend
Omnisend
Ontraport
SendinBlue
1. HubSpot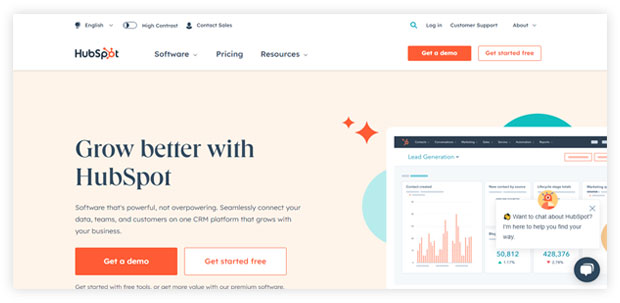 In terms of features, HubSpot's marketing automation is one of the most powerful solutions on our list. It's also one of the most popular in terms of consumer feedback, sitting in the G2 Crowd quadrant's upper right corner:
Of course, HubSpot offers a comprehensive growth suite, which includes sales, marketing, and support tools that all interact seamlessly with HubSpot's CRM. Having all of your data and growth operations in one location can open up a world of innovative automation possibilities that would be difficult or impossible to do with several solutions.
HubSpot's marketing automation feature features an easy-to-use visual board where you can create basic or complex conditional processes on its own:
It takes time to understand the technology (though with HubSpot Academy's support, you'll be able to scale up faster), but once you do, the creative possibilities are unlimited. You may create basic email list autoresponders or a sophisticated network of rules to target certain users with the correct email, live chat, and website experience, among other things.
Basically, the workflows tool automates processes beyond email, allowing you to extend your business and spend less time on mundane duties.
2. ManyChat
It's not just about email when it comes to marketing automation software. Consider how you could automate some of the more routine chats on other platforms. ManyChat is a chatbot that can do exactly that on Facebook Messenger as well as via SMS.
With their templates and easy-to-use drag-and-drop interface, you can create a bot in minutes. Furthermore, you may sync the information you gather about your users with your CRM and other applications.
3. Notifyvisitors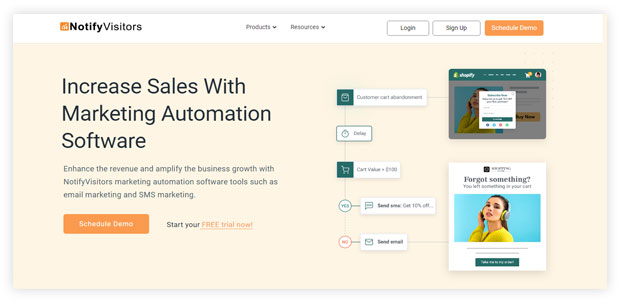 Notifyvisitors.com is a multi-channel marketing automation platform used by over 15000 companies around the world, including Vodafone, Jetairways, Domino's, American Express, Axis Bank, PVR Cinemas, Idea, Emirates, HDFC Bank, TataSky, and many others.
Notifyvisitors.com provides all of the following services in one place:
PWA stands for Public Works Administration (Progressive Web Application)
WYSIWYG editor for personalization
A-B testing, heatmaps, session recording, and form analysis are all examples of CRO.
Push alerts, banners, and lead collection forms are all ways to engage customers.
A chatbot is a computer program that communicates (AI-driven)
Development of AMP Pages
Attribution monitoring, Journey Builder, and Cohort & Funnel analysis are all examples of analytics.
Invitereferrals.com is a program that allows you to suggest a friend (App and Web).
Key benefits of using NotifyVisitors
Customers may be reached through a variety of channels and devices, including online and mobile, email, SMS, and in-app advertising and surveys.
Create customized push, email, and SMS communications utilizing the visitor's personal data to increase client engagement.
Integrate with a variety of platforms, including Magento, Bigcommerce, Shopify, Drupal, and others, to streamline marketing automation procedures.
Users may utilize analytics tools to set targets and track campaign progress. Users may optimize future campaigns by looking at CTRs (click-through rates), timings, channels, and conversions.
Use heatmaps to see how visitors interact with the user's website and forms and keep track of every click and mouse movement.
4. Moosend
Moosend is a cloud-based email marketing platform that helps you manage multiple email campaigns, mailing lists, newsletters, and more using marketing automation.
Email templates, automation tools, real-time analytics, and a drag-and-drop email editor are all included in the solution, which is appropriate for freelancers and organizations of any size.
Moosend offers a variety of adaptable, customizable email newsletter templates, allowing customers to tailor each piece to their own brand.
Emails may be tested and evaluated on a variety of devices right from the email editor. Users with little prior expertise may add, delete, and alter items using the drag-and-drop editor, providing a code view for those with HTML and CSS knowledge.
Users may view their email design history at any moment, and draughts are automatically preserved.
Users may develop unique opt-in forms and embed them on their website, Facebook page, or blog to gather subscriber data. Any subscriber data may be used to segment email lists, and campaigns can be tailored to different subscriber segments.
Users may utilize Moosend's automation features to construct automated processes for a variety of circumstances, including new subscriptions, cart abandonment, and subscriber anniversaries, by selecting trigger events, adding filters, and selecting actions.
There are also pre-built workflow templates that users may entirely customize. Users may see email open rates across different devices and email clients, performance by geography, subscriber activity, click-through rate (CTR) for many links in a single campaign, and more using Moosend's real-time campaign analytics.
Key benefits of using Moosend:
Custom opt-in forms may be designed to collect any visitor data needed and then put on websites, blogs, Facebook pages, and other third-party sites.
Users may design their own emails from or alter existing templates with the drag-and-drop newsletter editor, and preview emails to see how they look on different devices.
Marketing automation may handle a variety of events, including abandoned carts, user onboarding, and lead scoring, and allow users to specify actions based on a variety of event triggers and filters.
Users may track the click-through rate (CTR) for many links in the same email campaign, analyse campaign performance by nation, and view statistics for the devices and email clients used by subscribers.
Users may utilise the Moosend API to automate marketing operations, interface with third-party apps, and more.
5. Omnisend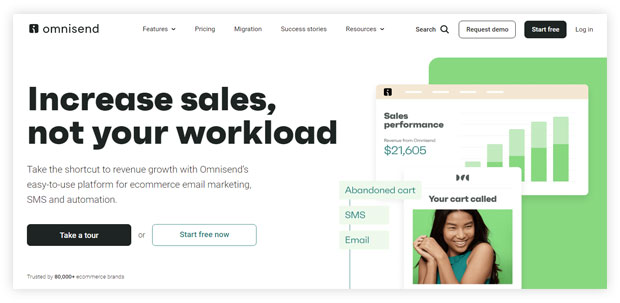 Omnisend is an eCommerce-specific omnichannel marketing automation software.
Creating attractive email campaigns is easier than ever before with email marketing at its foundation. Create converting newsletters with the easy-to-use editor and grow your subscriber base with a choice of registration options.
You can customize your message based on consumer data, campaign engagement, and purchasing activity using Omnisend's elegant automation.
Omnisend is pre-integrated with popular eCommerce systems such as Shopify, Shopify Plus, BigCommerce, Woocommerce, and others, making it ready to use right away.
Unlike other systems, Omnisend allows you to communicate with your consumers by combining many channels into a single automated workflow: email, SMS, push notifications, and more.
To provide an immersive consumer experience, you may also integrate your segments with Google and Facebook retargeting advertisements. Omnichannel marketing is not only possible but also simple using Omnisend.
Use forms like registration boxes, pop-ups, the interactive Wheel of Fortune, and landing pages to get to know clients from their first visit to the online business. Send intriguing emails to consumers that will surprise them, such as gift boxes, scratch cards, and discount coupon codes.
Freelancers and agencies are invited to join the Omnisend partner program. This program was developed to assist Freelancers and Agencies in growing their businesses, gaining new clients, and receiving industry-leading revenue share for referred and managed accounts.
Key benefits of using Omnisend
Omnisend provides a number of effective forms to assist you to capture every visitor.
Personalization of the customer experience through marketing automation software(cart recovery, order confirmation, order follow-up, welcome, re-activation, birthday emails).
Regular campaigns that are more successful and complex, result in better sales and open and click rates.
Users may send more focused messages to subscribers who have been segmented, allowing them to convey the correct messages to the right individuals.
Simple content editor for newsletters, campaigns, and automated emails that only need to be set up once.
Omnisend comes with actionable data that help users better understand their consumers and track and compare performance.
6. Ontraport
Ontraport is a cloud-based platform that allows companies of all sizes to centralize their sales, marketing, customer service, and other activities in one location.
Marketing automation features are included in the platform, allowing businesses to design, administer, and manage marketing campaigns with configurable templates and deliver targeted emails or text messages to clients.
To gather customer data for marketing activities, track lead sources, sell memberships and subscriptions, and process payments, Ontraport allows marketers to create and publish customizable landing pages with custom forms, fields, content, and domains.
A drag-and-drop page builder, templates library, split testing, real-time notifications, automation log, role-based permissions, eCommerce administration, and more are among the features available.
Administrators may utilize the CRM system included in the platform to measure page views, purchases, and link clicks, create a unique workflow for sales teams, and manage activities, projects, product launches, and more.
Through reporting and analytics, Ontraport allows managers to receive insight into budgets, campaign performance, trends, conversion rates, leads, revenue, and customer experience.
It also integrates with a number of third-party apps, including QuickBooks, Xero, Zapier, PieSync, Google Calendar, JotForm, ZenDesk, Shopify, and others.
7. SendinBlue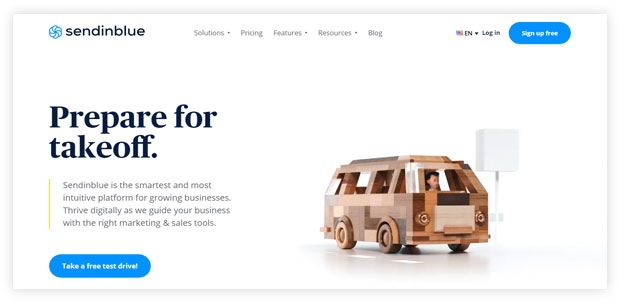 Through email campaigns, transactional emails, SMS messages, marketing automation software, Facebook Advertising, chat, CRM, and retargeting ads, Sendinblue enables organizations to develop and grow connections.
Key benefits of using Sendinblue
Spend less money.
Get a good deal on email marketing. Switching to Sendinblue saves money for most clients, which they can reinvest in other areas that are vital to their business.
Make the most of your time.
Within a single Sendinblue account, you can manage email marketing, text message (SMS) marketing, and transactional communications (by email and SMS).
Seek assistance
Supported by a group of people who are committed to your achievement. While some firms cut corners on customer care, we're here to assist you by email, phone, and Twitter!
I hope this blog on marketing automation software helps you to get a brief knowledge.