A Guide On The Best Digital Asset Management Software
Today, more and more companies are expanding, upgrading, and becoming more digitized with digital asset management software. The volume of their digital assets such as documents, images, videos, audio files, visuals, animation, or any other piece of media content is also growing tremendously.
And this is the exact reason why having digital asset management software is crucial for companies in this digital era. It provides the best way to organize and utilize such a massive volume of digital assets.
Digital asset management software enables you to upload, store, manage, share, and track all your digital assets in one place. From one single central source, it is always accessible to you from all your devices irrespective of time and location. To ensure that all your data files are secure and guarded, Digital asset management software automatically does backup and syncing.
Furthermore, it also provides you with an access control system in which as an admin, you will have the right to grant or deny access to specific users to specific files so that the right people can only use your assets at the right time.
To archive your past digital assets, and automate and streamline content and creative workflows, you can use digital asset management software.
With digital asset management(DAM) software, You can easily discover any required file from among the hundreds of thousands of folders.
It allows you to assign metadata to each asset which makes the searching process a matter of seconds.
How to choose a digital asset management software that works best and generates great results for you?
Before we dwell on the analysis of different top-rated digital asset management software, you need to know exactly what you're looking for in DAM software.
Top factors that need to be considered
1. DAM category
The followings are the types of asset management software specifically designed for varying needs and use cases:
Brand Asset Management: Centered on marketing and sales material (logos, product images, etc.)
Library Asset Management: Centered on storing and retrieving a huge volume of media assets that don't change frequently
Production Asset Management: Centered on storing and managing assets that are changing frequently
Digital Supply Chain services: Centered on distributing assets to digital retailers or third parties.
You need to choose a category that fulfills your needs. For example, if you only need a place to store your assets, then having a digital rights management feature isn't much important.
However, this will be a crucial feature for those who need to distribute digital assets to third parties.
2. Asset Types
As they are different file types, you need to understand that every DAM software doesn't essentially support every single file type.
Apart from basic file types such as images, videos, audio recordings, and basic documents, if your business also uses complex files such as 3D files or panoramic files.
Then you must make sure to choose from among those DAM software that supports them.
3. Team size
If you're running a startup or have a team of content creators to work then you might not have similar requirements as an intermediate-sized enterprise, therefore choose DAM according to the extent of your needs.
Best Digital Asset Management Software
After analyzing various Digital asset management software, we can confidently recommend these seven digital asset management software for your company.
Canto
Brandfolder
Adobe Experience Manager Assets
IntelligenceBank
Cloudinary
Extensis Portfolio
Widen
1) Canto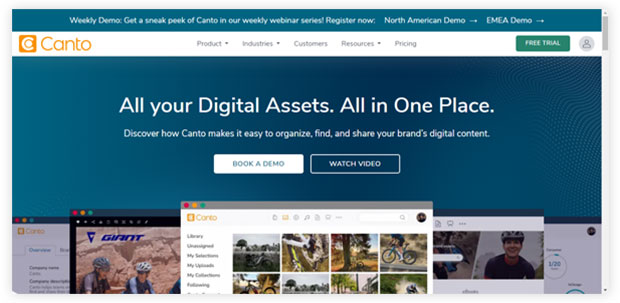 For more than 25 years, Canto DAM software is available for use, and now it becomes a pioneer in the DAM software market.
2500 plus companies, including huge institutions such as Ralph Lauren, NASA, American Red Cross, Harvard University, and United Airlines, use Canto DAM to manage their digital assets.
One of Canto's best things is its progressive approach; over the years, it has adapted quickly to the changing needs and developments.
In Canto DAM, you just need to add your files to folders or smart albums to automatically organize them by their types such as image, video, presentation, document, or other types of file formats.
Some of the best features and advantages of Canto include:
Simple default & keyword search
Advanced search tools, including Facial recognition.
Custom shared libraries
Sharing links and Expiring share links (for time-sensitive content)
Advanced download options
Visual previews
Version histories
Branding tools
Roles and Permissions
Collaboration portal
Security features
Analysis and reporting
And the feature list goes on and on. Altogether, Canto provides almost all the features a company could need in Digital asset management software.
Canto DAM software uses Amazon web service, which is amongst the most flexible and fastest cloud operations, and it also ensures every safety measure to protect your digital assets.
Canto integrates various tools and platforms such as Linkedin, Outlook, Google Drive, Slack, and many more.
To protect your assets from unauthorized uses, Canto provides you options to set custom permissions and simply apply digital rights management.
2) Brandfolder
Another name that comes in the list of best DAM software is Brandfolder.
With a good presence in the market, its client list includes startups, Fortune 500s, and everything in between.
It doesn't matter how many features a Digital asset management software provides you unless you know how to use them properly.
This is the exact thing Brandfolder's designers kept in their minds while designing its DAM software.
Brandfolder, with its various features, ensures that its clients don't have to dwell on software's technicalities and get the easiest way to navigate around and use its asset data management tool.
Its top features list also includes Brand Intelligence which identifies your top-performing content and tells you how your assets are being used and who uses them by adopting modern technologies such as Artificial intelligence and machine learning.
With Brandfolder DAM software, You won't have to worry about asset-sharing options.
You can effortlessly share your assets, groups of assets, and a complete folder of assets with internal and external users using privacy controls CDN embed links, and user-specific permissions.
One thing which attracts people towards Brandfolder DAM software is that it offers specific services for many different industries such as:
Agencies
Food and beverage
Retail
Manufacturing
Franchises
Sports
Technology
And not just these, it also offers a role-based variant of Brandfolder, for categories such as marketers, CMOs, creatives, brand managers, and creative operations.
Brandfolder DAM software also ensures every safety measure so that your content remains safe and secure in its cloud-based central space.
3) Adobe Experience Manager Assets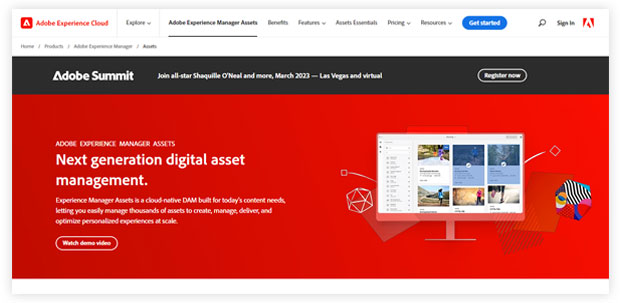 Founded in 1982, Adobe Inc. stands as one of the largest software companies in the world.
Whenever you buy some software from Adobe, you know that you're investing in a worthwhile product. The same thing applies to Adobe experience manager assets; robust DAM software with multiple features.
It is a cloud-based digital asset management software that will help you to easily organize and manage hundreds of thousands of digital content at a scale.
Already known for its advanced features, Its asset automation performance comes on top. Using artificial technology can automatically tag files, crop images, share assets, and many more things.
For Asset Management, Adobe's automated tools work the best, and they can also be a great time-saver for you because the management of your assets will be done in minutes which would usually take hours.
The followings are some of the best features of Adobe experience manager assets:
Asset check-out
Collections
Asset insights
Brand portal tools
Support advanced file types such as 3D, panoramic, VR, and more.
File version history
Multilingual asset management
One important thing to note here is that if you're a beginner in digital asset management, Adobe Experience Manager Assets might not suit you.
Because it requires you to have some technical expertise to learn and use some of its advanced features.
Therefore, If you're searching for basic asset storage and sharing capacities, this Adobe software probably gonna confuse you.
So if you're some kind of tech-savvy, Adobe Experience Manager Assets is the DAM software you'll prefer.
4) Intelligencebank
For Digital assets management, IntelligenceBank is among those DAM software you can rely on.
Intelligencebank DAM software not only helps your company in creating, storing, managing, and distributing digital assets but it also gives you the benefit of advanced AI metadata tagging and 'On the fly' file transformations, all from a single source.
With Intelligencebank's universal connector, you can easily Log in with SSO (Single sign-on) and access your platform directly from WordPress, Drupal, Adobe Creative Cloud, and hundreds more
. And to connect easily with other technologies such as Dropbox, Facebook, JIRA, Asana, Slack, Shopify, and anything you're using, Intelligencebank will provide you with pre-configured workflow integrations.
This software also gives you the benefit of automatic keyword tagging and facial recognition, which will save a lot of time for you.
It also supports the upload action of any type of file from any source and makes your assets' usage and digital rights an easier process to manage.
Some of the best features of Intelligencebank DAM software are:
Powerful search, global filters & Metadata
Automatic keyword tagging and facial recognition
Email alerts and Email links
Usage Tracking
Image conversion
Creative collaboration tools with internal and external teams
Video transformation
Custom branding
Protected hosting and daily backups
Custom storage configuration
One important thing to note here is that all features don't come as standard when buying this Intelligencebank DAM software.
It offers optional services and add-ons for things such as SSO(single sign-on), two-factor authentication, creative templates, and more.
5) Cloudinary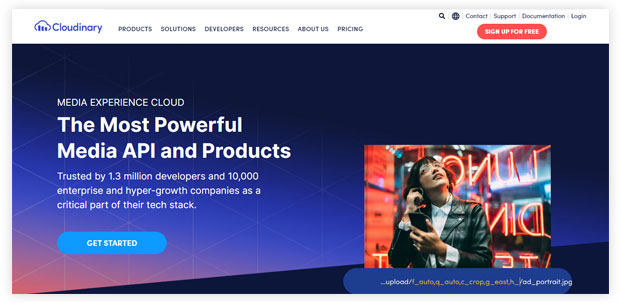 Cloudinary DAM software is considered one of the top-rated DAM software, trusted by thousands of enterprises and lakhs of developers worldwide, including well-known brands such as Petco, Whole Foods, Peloton, Under Armor, Lyft, and Sony.
What makes Cloudinary different is that, unlike other DAM software, it's not only built for enterprises but also offers plans for individual users, developers, small businesses, and teams.
Some of the best features of Cloudinary DAM software are:
Efficient and rapid upload
AI-based content analysis
Full metadata control
Advanced search and discovery
Role-based user management
Folders and collections for access control and collaboration
Dynamic image and video transformations
Extensive APIs for integrating with your existing workflows
Cloudinary offers several plans with pricing accordingly:
Free — $0
Plus — $89 per month
Advanced — $224 per month
Custom — You have to request a quote for it.
The first two plans, the Free and Plus plan, are not ideal for managing assets at scale as they have a singular user limit.
You'll get five users limit with the advanced plan, and the Custom plan is for larger teams.
One problem with Cloudinary's plans is that sometimes they can be confusing for you as it works on the monthly-credit system.
In this system you'll get a certain number of credits per month, which go towards things like file transformations, storage, or net viewing bandwidth, depending on your tier, but yet, it's a cost-effective and worthwhile DAM software.
6) Extensis Portfolio
Extensis Portfolio is one of the best tools for digital asset management and brand asset management to navigate and a simple user interface.
Just like other DAM software, It also helps you to upload, store, manage, share, and track all your digital assets in one place, from one single central source.
If you're a content creator, then Extensis Portfolio is the software you want to use as it's specially designed to manage content across multiple brands, projects, or clients.
Some of the Extensis Portfolio's best features and benefits are:
Automatic keyword tagging
Fast and easy uploads
Advanced search tools
Automated workflows
Drag and drop files
'On the fly' File conversion
Share assets with the web builder
Flexible deployment
Apart from big businesses and enterprises, Extensis Portfolio also offers plans for individuals and small teams.
7) Widen
For more than 70 years, this cloud-based Widen Inc. has been around in the software market. For managing assets, Widen DAM software is an ideal solution for both small and big enterprises.
Over the years, it has adapted to modern needs; the interface has a simple and advanced dashboard that enables you to manage the complete lifecycle of creation to the archive for all assets.
Some of the best features and benefits of the Widen DAM are:
Enterprise-grade security
Embed codes and share links
Full previews
Automatic tagging
Asset rights management
Version controls
Full previews
Faceted search
Asset analytics
User roles and permissions
Global CDN
Custom notifications
File conversions
Apart from its DAM service, Widen offers market resource management, product information management, and brand management solutions.
Conclusion:
We hope you're now fully capable of choosing a digital asset management software based on your business's requirements that will perform best and give the greatest results for your business.