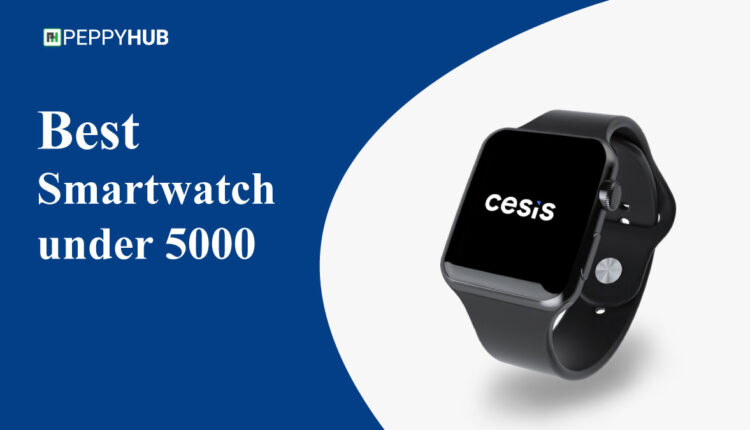 Best Smartwatch Under 5000 in India in 2023 With Latest Features
You've come to the correct spot if you're looking for a smartwatch but don't want to pay a large amount. We'll look at some of the best smartwatch under 5000 rupees in this post.
The Noise colorfit ultra 2, Realme Watch 2 Pro, Amazfit Bip U Pro, and others are among the top options available in India for around 5000 rupees. These are all well-known brands with outstanding features like call function, Spo02 sensor, and AMOLED display, among others.
So, if you're seeking the finest smartwatch in India around 5000 rupees, this article is a must-read.
We'll go through each product in detail and help you choose the one that's right for you. Let's get started without further ado!
7 Best Smartwatch Under 5000 in India
1. Noise colorfit ultra 2
The Noise ColorFit Ultra 2 smartwatch boasts a sleek and it costs Rs 5,499, a fashionable style that is sure to catch attention. The watch is built of high-quality stainless steel with a polycarbonate back. The watchband is soft and comfy silicon, and the watch is available in a range of colors.
The side button awakens and shuts off the display, which is quite useful. Overall, the Noise ColorFit Ultra 2 smartwatch has an appealing design and a high-quality build, making it one of the top choices. Noise ColorFit Ultra 2 is one of the best smartwatch under 5000.
The wide and crisp display of the Noise ColorFit Ultra smartwatch is amazing. It has a 1.78-inch AMOLED display with a 368×448 pixel resolution. As a result, the display is big and crisp, making it simple to read. There's also a display that's always on. Overall, you'll be able to see more tiny details on the screen than you would on other similar devices.
With all functions activated, the smartwatch's 210mAh battery comfortably lasts for nearly a week on a single charge. The watch lasted around four days even with continuous heart rate monitoring and sleep tracking switched on. According to the manufacturer, charging the watch from zero to 100 percent takes two hours.
If you're searching for a watch with a lot of features, the Noise colorfit ultra 2 is a wonderful option. This watch offers everything you need to keep healthy and active, including over 60 sports modes, Spo02, and a heart rate monitor. In addition, for women who wish to keep track of their health, the female cycle tracker is a terrific complement.
And, with the Oxygen Monitor, you can be confident that you're obtaining exact blood oxygen levels all of the time. So, if you want a superb smartwatch with all the bells and whistles, the Noise colorfit ultra is the way to go!
Calls, texts, emails, and app notifications are all notified in real-time by the wristwatch. You may personalize the watch face to your desire, and it comes with over 100 cloud-based watch faces.
2. Realme Watch 2 Pro
Realme will release its wristwatch on July 22, 2021. Metallic silver and Space Gray are the two colors offered. It has a metallic look, however, it was initially designed with a plastic body and silicone straps. It costs Rs 4,599.
The 1.75-inch IPS LCD display on the Realme Watch 2 Pro is 56 percent bigger than the previous generation. The smartwatch's display resolution is 320 x 385 pixels, with a refresh rate of 30 frames per second. It has a display brightness of 600 nits, so seeing it inside or outdoors is not a problem.
The Realme Watch 2 Pro is equipped with a 390mAh lithium-ion battery that can last up to 14 days on a single charge. In addition, the watch's magnetic charging characteristics allow it to be fully charged in around two hours.
The Realme Link software makes the smartwatch compatible with both Android and iOS. The watch includes 100+ watch faces to choose from, as well as the ability to add a live watch face.
Running, walking, football, table tennis, cricket, hockey, yoga, and other activities may all be tracked with the wearable gadget. Heart rate sensors, SpO2 sensors to measure blood oxygen levels, 3-axis accelerometer, Sleep monitor, Steps Throughout the Day, Calories, Distance, Water drinking reminder, and other standard functions are available for health tracking.
Music control, remote camera, find my phone, weather forecast, low battery reminder, brightness adjustment, IoT control, and many more features are available. All alerts (such as calls, texts, emails, and social media) will appear on your wrist while you wear the watch.
In addition to the foregoing, it has an IP68 classification, indicating that it is both waterproof and splashproof. Swimming, however, is not advised.
3. Noise ColorFit Ultra
The Noise ColorFit Ultra is the third smartwatch on our list, and it was released on July 16, 2021. Space Blue, Cloud Gray, and Gunmetal Gray are the three hues offered. This comes under the price of Rs 3,199.
It has a pleasant feel thanks to its aircraft-grade aluminum body and silicone strap. The smartwatch is lightweight, weighing only 48 grams, and has a wonderful design and construction quality.
A 1.75-inch TruView HD display is included. The dial is big, rectangular, and has a 320 × 385 pixel resolution. The display's brightness is excellent, so viewing it in direct sunlight is not a problem.
It contains a 300 mAh lithium-ion polymer battery that charges in 2 hours. It lasts roughly 9 days in usual usage, according to the makers, after being completely charged. It has a 30-day standby time.
The gadget may be linked to both Android and iOS; however, iOS 10 and above or Android 4.4 and above are required for connectivity. Bluetooth v5.1 is supported. The watch is also entirely configurable, with over 100 distinct watch faces to choose from. It is one of the best smartwatch under 5000.
ColorFit Ultra has 60 different sports modes. As a result, it can monitor nearly any form of activity. SpO2, Stress Monitor, Step Tracker, Calories Burned, Distance Travelled, Activity History, Sleep Monitor, Breathe, Female Health Tracking & Reminder are also included in the health monitoring functions.
Call and SMS quick reply (Android only), Camera controls, Find my Phone Feature, World clock, Stock market information (available via OTA), Torch, Caller Name Information, Hand Wash Reminder, Sedentary Reminder, Hydration Reminder, Low Battery Reminder, Weather Forecast, Stopwatch, and many other smart features are also available.
With an IP68 water resistance rating, this wristwatch is completely waterproof. This smartwatch is not appropriate for swimming; if you want a smartwatch that is suitable for swimming, move on to the next device.
4. Amazfit Bip U Pro
This wristwatch's name will obviously come up when the topic of the best smartwatch under 5000 is discussed. The Amazfit Bip U Pro was released in April 2021 and has a cost of Rs 4,999. This model comes in three colors: black, green, and pink. The body is constructed of polycarbonate, while the silicone straps are made of silicone. The watch is extremely light, weighing only 31 grams.
The Amazfit Bip U Pro has a rectangular dial and a 1.43′′ full-color IPS LCD display. 2.5D glass with anti-fingerprint coating protects the display. The display has a resolution of 302x320p. The display's brightness is also really good, so you won't have any trouble reading it in direct sunlight.
The smartwatch's battery life, according to the makers, may last up to 9 days under normal use. However, to achieve the projected battery life, you must disable capabilities like GPS and the 24 * 4 heart rate monitor. Furthermore, charging the battery takes around two hours, and the charging mechanism is Clip / 2-pins POGO pin.
The Amazfit Beep U Pro smartwatch is compatible with both Android and iOS devices. The Mi-Fit and Zepp applications are used to link it to a mobile device. There are also 50 watch faces accessible in the app, as well as the option to upload your own photos as a watch face.
The Amazfit Bip U has 60 different sports modes to track. Cycling, skating, kickboxing, jogging, yoga, dance, and much more can all be tracked with this app. All of the capabilities for health tracking, such as spo2 monitoring, stress monitoring, and breath counting, are available. Message Notification, Pomodoro Clock, Mobile Phone Music Control, World Clock, Alarm Clock, Remote Control Mobile Phone Camera, Stopwatch, Find My Phone, Countdown, and Weather Forecasts are among the other essential functions.
The watch is 5 ATM waterproof, so you may wear it when swimming or getting wet in the rain. The Amazfit Beep U Pro also features a built-in GPS capability, whereas the other two smartwatches do not. Alexa Voice Command Futures are also included in this wristwatch. In terms of features, it is, therefore, a leading Smartwatch.
5. Noise Colorfit Pro 3 or Pro 3 Assists
In this pricing range, the Noise Color Fit Pro 3 is a solid choice. It costs Rs 3,799. Jet blue, jet black, smoke green, smoke grey, rose pink and rose red are the six gorgeous color options for the smartwatch. The smartwatch's body is constructed of metal, while the straps are made of silicone. The smartwatch comes with six interchangeable bands that may be purchased separately. It is one of the best smartwatch under 5000.
Noise ColorFit Pro 3 Assist was recently released. It has all of the same features as Noise ColorFit Pro 3, with the exception of Alexa Voice Command. You can do it as well.
The smartwatch sports a 1.55-inch TrueView TMT display and a square dial. This touchscreen display has a resolution of 320×360 pixels. And because of its high brightness, using sunlight during the day will not be an issue.
The watch has a 210 mAh battery capacity and supports magnetic charging. In regular use, the battery charges in 2 hours and gives 10 days of battery life on a single charge.
The Noise ColorFit Pro 3 Smartwatch is compatible with OS 9.0 and above, as well as Android 4.4 and higher. To get all of the data from your phone, you'll need to download the NoiseFit App. Noise ColorFit Pro 3 includes 5 bespoke watch faces as well as 60+ cloud-based watch faces.
This wristwatch has 14 different sports modes that it can track. So you can keep track of your walks, hikes, treadmill workouts, spin classes, runs, climbs, and riding. For health tracking, a heart rate monitor, spo2 monitoring, stress monitoring, and breath counting are all available.
In addition, the wristwatch is water-resistant to a depth of 50 meters. So it's safe to wear it in the rain, shower, or even in the pool.
You don't have to glance at your phone to get alerts from the watch, such as incoming calls, emails, messages, social media, and numerous apps. There is also the option of using Bluetooth 5.0 for communication.
6. Realme Watch S
If you prefer a watch with a round dial over one with a rectangular dial, I recommend Realme Watch S. It was first released on April 6, 2021. In India, the watch is offered in two colors: black and silver.
The watch is elegant and durable thanks to its silicone straps, metal frame, and plastic rear body. The watch is only 48 grams in weight. The Realme Watch S is one of the most affordable smartwatches on the market. Realme Watch S costs Rs 4,699.
The display of the Realme Watch S is protected by Corning Gorilla Glass 3 and an aluminum alloy casing, giving it a premium appearance and exceptional durability.
It has a TFT-LCD touchscreen with auto-brightness adjustment and a display size of 3.3 cm (1.3 inches). The display's brightness is excellent, providing a pleasant viewing experience both indoors and outdoors.
This watch has excellent battery life. It contains a 390 mAh lithium-ion battery that lasts 12-15 days when used moderately.
A magnetic charger is included with the Realme Watch S. It takes roughly 2 hours to completely charge the watch from zero.
Both Android and iOS operating systems are supported by the Realme Smartwatch S. To access all of the data on your phone, you'll need to download the Realme Link App. The watch comes with over 100 watch faces, allowing you to modify the look of your wristwatch on a daily basis.
Indore cycle, table tennis, stationary bike, Indore Run, basketball, football, elliptical, badminton, yoga, cricket, rowing machine, and strength training are among the 16 sports modes supported by Realme Smart Watch S.
There are also real-time heart rate monitors, blood oxygen monitors, sleep monitors, meditation, and drinking reminders available for health tracking.
7. Fire-Boltt 360 Pro
The Fire-Boltt 360 Pro is one of the top smartwatches under 5000 with a calling function. It has a sleek appearance and several capabilities, including a call function and a Spo02 monitor. It costs Rs 3,999. This watch has an amazing battery life and is water-resistant. The 360 Pro by Fire-Boltt is the finest option if you're seeking the best smartwatch under 5000 with a calling capability.
With a high resolution of 360 * 360, a display size of 1.32 inches, and a circular dial, the Fire-Boltt 360 Pro display is one of the finest in its class. The colors are vibrant, and the image quality is superb. The capacitive touch screen is sensitive and allows for both tap and swipe operations.
The smartwatch is powered by a 170 mAh battery that may last up to 7 days. If you utilize Bluetooth calling functions often, you may expect a battery life of 2 to 3 days.
With the built-in speaker and microphone on this wristwatch, you can make and receive calls right from your wrist. A dial pad, the ability to check recent calls, and the ability to sync your phone's contacts should all be included in the finest wristwatch.
Connect Earpods & Play & Save Local Music is another fantastic feature for top smartwatches under 5000. You may use this method to connect your earpods and listen to music. In addition, there is 512MB of built-in RAM for storing music.
There are eight sports modes on the smartwatch, as well as basic health-tracking functions. Real-time Blood Oxygen Monitoring, Dynamic Heart Rate Monitoring, and Body Temperature Measurement are just a few of the health tracking capabilities.
Music control and camera control are among the smartwatch's functions. The smartwatch is ip68 waterproof and flash resistant, so it may be worn in light rain and during workouts, but it is not suitable for swimming.
Conclusion
We hope that after reading this article, you will be able to pick the best smartwatch under 5000 for you. Comment below with your favorite smartwatch and which one you plan to purchase from these lists. Take precautions and maintain your health.
Bonus Read: