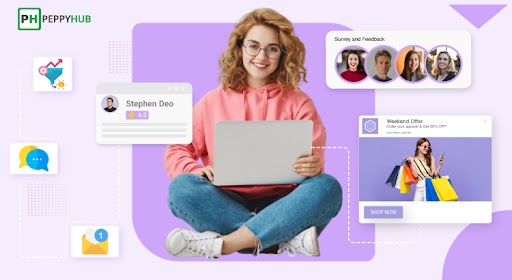 Powerful Website Engagement tools – To Engage, Retain And Drive New Customers To Your Site.
Today, digitally, there is a cut-throat competition era where everyone is trying to grab users' attention. The only goal they have is to bring traffic to their website. But really, getting traffic is the only thing? No, it's not. Converting and engaging are also important as user expectations are high today. So, to make things easier and understandable for you, I have compiled the most effective website engagement tools that you can give a try.
Let's move forward and have a look at them.
Website Engagement Tools:
Surveys and feedback are great ways to reach your users and understand them in a better way. The purpose of utilizing them is to understand a brand thoroughly. These are some of the website engagement tools to help you out.
A. Survey and Feedback Tools
NotifyVisitors: Notify visitors survey builders are professional-looking and conversational forms where you can simply customize your surveys to get all the relevant information and obtain the data with a simple click.

Survey Monkey: When we talk about SurveyMonkey, its user-friendly and personalized question suggestion and the possibility of replication make it a big timesaver for similar or follow-up surveys.

Google Forms: Google Forms are a widespread form builder that is free to use, provides various functionalities, and works in synchronization with GoogleDrive so that you have simply access them within Google format docs.

Survicate: Survicate provides one of the website engagement tools that incorporate effective website widgets that let you create short surveys and accumulate the feedback you want – be it on your product, services, or website.

Yotpo: Yotpo is a great choice for you to consider while looking to collect reviews from users. It has a real-time notification system along with automated email selection. It also provides you with an option to share the review on your site.

WebEngage: WebEngage is another user engagement tool that owns an alternative for A/B testing for your website features. It gives plenty of feedback formats that empower you to collect more insightful data for improving user engagement rates.
B. Marketing Insight (User Analytics)
Today, to engage your users successfully, you have to assemble quality data and utilize this intelligence to create multi-channel and personalized strategies.
Your priority must include implementing powerful analytical tools as they simply translate the behavior of new users into real insights upon which you can act. Utilizing those insights to generate reports for optimizing your strategy as you progress. Look at these powerful website engagement tools.
Google Analytics: Everyone knows about google analytics, as it is the best freemium analytics tool. It helps webmasters get started, allowing you to analyze the most relevant metrics, including the page's average time, session duration, or new users.

Heap: Heap is an easy-to-use analytics tool that automatically obtains and measures every user action. Heaps of users' activity include taps, swipes, page views, form submissions, clicks, etc.

NotifyVisitors A/B testing solutions: It includes many handy functionalities that further cover visitor surveying, multivariate testing, or heatmaps. It's a perfect tool to help you with constant optimization as you can overview the progress through reliable and readily available reports.

Optimizely: Optimizely is another significant A/B testing and other conversion optimization features tool. It mainly focuses on the experimentation of the web, and personalization. It enables you to do multiple experiments on the same page, assuring you that you make the most out of your efforts.

NotifyVisitors Heatmap: NotifyVisitors is a session replay software that indicates that you can track visitor movements and play them back with heat maps and comprehensive reports valuable for optimizing content.

Klout: It is an ideal tool for streamlining your content marketing. It continually monitors users, recognizes content that they will be interested in, and allows you to share that content quickly.

Contentful: It lets developers and marketers act simultaneously, leading to a more apparent and more agile launch of the digital product.
C. Chat ( Direct Communication)
Chat is one of the most effective customer engagement tools out there as it's a direct form of communication with the user. A sound customer support system automatically increases the engagement rate.
Whatever option you pick, you have to make sure that it matches your necessities, be it a 24/7 support tool or mobile support.
Zendesk: It is a popular live online engagement tool that owns a knowledgeable database along with effective personalization abilities. Its self-help service tool lets your users be self-reliant, and this feature makes this tool even more effective.

LiveChat: LiveChat is a strong chat option as it covers 24/7 chat and prevents you from losing users due to a lack of guidance or unresolved issues.

Drift: Drift is a simple chatbot builder if you want to automate your chat. You can instantly leverage conversational marketing with a simple setup to drive and qualify your digital inbound traffic. It is one of the powerful website engagement tool.

ProProfs Chat: ProProfs Chat is a great live chat software that helps you obtain more leads and keep analyzing the customers' browsing habits and activities in real time. It empowers you to present instant support from any device; all you need is to log in to the dashboard.

Needle: Needle is one of the customer engagement tools that provide customer service where they connect their users with the expert.
D. Email Marketing
Whenever we talk about website engagement tools, email marketing, and push notifications are listed at the top of the list. As they are projected as the tool to experience exponential growth, therefore, companies are more likely to use them to be their full potential.
Personalized efforts are critical; therefore, leverage the below tools to customize emails and targeted push notifications.
NotifyVisitors: NotifyVisitors offers email marketing software perfect for businesses of any size. Their user-friendly platform lets you easily create email campaigns, segment customers, and analyze results! With a vast array of customization options, NotifyVisitors makes email marketing easier. Whether you're starting or an experienced email marketer, NotifyVisitors has the tools to reach your goals. Save time and make more money with this powerful email marketing solution!
Hubspot: We all have heard about Hubspot. With strong capacities for segmentation, analytics, and email tracking, this is a lead generation and conversion tool, you must give a try.

Mailchimp: In the online engagement tools world, Mailchimp has secured a good rank. Mailchimp has been known for its personalized marketing platform, along with detailed analytics and reports features. These features let you dive deep into your email strategy.

Klaviyo: Klaviyo is also an inclusive email marketing tool that has great segmentation functionalities. With smooth integrations with eCommerce platforms, it's prevalent among online vendors.

SendGrid: If you are facing any issues while forwarding emails like your mail ends up landing in the spam box, you must give SendGrid a try. While focusing on deliverability, it also monitors and prevents email throttling and other common obstacles.

Wrapping it up
Boosting user engagement with website engagement tools requires patience as it is a continuous flow of effort. Keep this thing in mind that your website's expectations cannot be met overnight; it demands a readiness to experiment and considerable patience.