What is Inbound Marketing? Successful Inbound Marketing Strategy for 2023
The purpose of the inbound marketing methodology is to attract, engage, and delight website visitors and provide valuable content at every stage of the buyer's journey — eventually converting prospects into customers and promoters of your brand.
Inbound marketing can build upon one another to accomplish this goal, but whether for lack of a marketing budget or lack of knowledge for each component's value in an inbound marketing strategy, many companies don't commit to a complete inbound marketing program.
What is Inbound Marketing?
To put it simply, Inbound marketing is the process of encouraging potential customers so that they can learn more about your company. It usually happens before the customer is inclined to make a purchase, but making a connection can turn into brand preference and, eventually, leads and revenue. Inbound marketing is an approach that employs many forms of pull marketing—content marketing, blogs, events, social media, search engine optimization (SEO), and more—to build brand awareness and attract new business.
Whereas outbound marketing seeks out customers, inbound marketing concentrates on visibility so that potential buyers can find you. Instead of "renting attention," companies using inbound marketing concentrate on new techniques geared toward building awareness, improving relationships, and generating leads.
Successful Inbound Marketing Strategies for 2023
1. User-generated content
Especially ratings and reviews. If you've ever looked for a product online, you've possibly read reviews before buying. Adding reviews to your site extends two key benefits:
It can increase your organic search engine ranking.
It pulls visitors to your site and increases their confidence in buying your products.
If you aren't currently displaying customer reviews on your site, then you should start. This small effort can significantly increase your eCommerce conversion rate and customer satisfaction.
2. Social media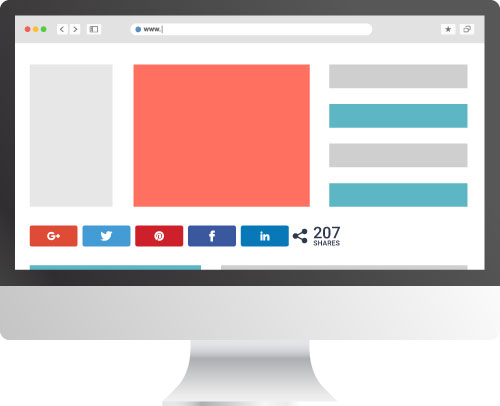 Social media also acts as a crucial factor in your inbound strategy.
These same concepts are even more critical in eCommerce, where influencer marketing can significantly increase your product reach. So, in addition to setting global social buttons on your site and incentivizing social shares, think about creating flexible content guidelines to make sure that your brand is accurately designed regardless of the channel.
3. Paid media
Tactics of Paid media include:
Paid search advertising.
Social media advertising.
Display advertising.
Paid search advertising is an attractive strategy to attract new customers because people who click on a paid ad have a high purchase intent. On the other hand, display and social media advertising are usually more geared toward growing brand reach.
Likewise, you can build lookalike audiences on Facebook to get users similar to your existing customers. And as a quick note, always make sure to watch Facebook and Google's data guidelines. By concentrating on your approach, you can significantly increase your paid media ROI.
4. Catalogue optimization
Catalogue optimization is the method of analyzing, optimizing, and streamlining the products you strive to maximize revenue for your business.
When you operate an eCommerce site, you should constantly analyze your products and learn what's selling, what's not selling, and where you can eliminate friction to make it simpler for customers to buy. For example, consider ordering products using a matrix that compares website traffic and conversion rate.
Look at top-selling products- These products experience massive traffic, high conversion, and sell day in and day out.
Watch for products that experience more moderate traffic, but high conversion-These products need promotion—and with a little more traffic, they will begin to expand your store. On the other side of our matrix, we own products with high website traffic but low conversion. Consider experimenting with product page content and the user experience to close the deal further to develop this category.
Look at products with moderate traffic and low conversions. These are taking up space on your site and should be eliminated.
Once you've ensured that your products are turning at a high rate, you need to recognize ways to capture micro and micro-conversions from your website traffic.
The quicker you can capture an email address and join it with a cookie on a user's internet browser, the faster you'll be able to communicate with them in a more personalized and vital way. Try experimenting with various discounts or awards to attract them to convert.
5. Blogging
Blogging is an indispensable facet of a long-term content strategy. Popular blogs share relevant information and expertise with prospective customers. That information develops trust, builds brand loyalty, and leads to more purchases.
Although writing blogs is time-consuming, designating some hours each week can significantly return your investment.
While writing for eCommerce specifically, always add a clear path so that they can buy through your blog. You can do this by including product images and links that go straight to related product pages.
Also, giving a free trial is one of the only means to let your product market itself.
For seasonal content, try building shopping guides with titles like "What to purchase for your husband, wife, child, or friend." Guides like these can significantly reshape your organic SEO and encourage your customers through their buying process.
6. Email marketing
Email marketing is a strategy that's the most compatible with supporting an eCommerce sales funnel. In addition to marketing automation, don't forget to list emails to drive sales around promotions. Email is still the most potent converting channel for various e-tailers and allows a consistent revenue stream. At the same time, while sending email, always A/B test email templates and messaging.
A/B Testing is a way of comparing two variants of a webpage, email, app, and so on against each other to decide which one performs better.
Over time, this experiment will help you recognize which emails drive the most profits and how to adjust your future approach.
7. Live chat
Despite their purchasing stage, users enjoy responsive customer service. In addition to a phone support line, various eCommerce companies offer a live chat option on their website. Although real-time cooperation is an effective option to consider, it's usually too expensive and hard to achieve for growing businesses.
Instead, many businesses invest in chatbots, automated Q&A systems that imitate human interaction using artificial intelligence. You can utilize these tools to manage frontline customer service requests and transfer to a live human being as demanded.
8. Re-engagement campaign
Sadly, the time may come when your existing customers go dormant. Even sadder, it's usually more costly to get a new customer than it is to get an existing one to purchase again.
If someone has purchased from you in the past but hasn't made a purchase lately, it's probably time to reach out. The aim here is to save the customer before they reach the point they will never buy again.
To get ahead of this problem, build segmented lists based on the last order date. This could involve customers who bought 90, 180, and 365 days ago. Then, regularly checking in with these contacts can further re-engage them and move them to convert again.
Remember to regularly review your email lists and eliminate inactive customers from these lists after a certain period. It really will depend on your situation, but if someone doesn't initiate one of your emails throughout one to two years, then it might be time to think about removing them from your list. On the other hand, if you continue to email them, it could harm your email deliverability. Not to mention, emailing constantly inactive people isn't a fruitful use of your time.
9. Loyalty program
A great idea to incentivize a customer to buy from you again is building a customer loyalty program based on different purchasing tiers. Then, as customers pay more, they'll get exclusive incentives to promote repeat purchases and reward brand loyalty.
Sending notes or gifts on special occasions is a great way to please your customers. Although sending physical gifts may not be realistic, what about sending a birthday discount or anniversary code to thank your customers for recommending you? Even though they are effortless to set up with marketing automation, these messages can leave a lasting impact on your customers.
10. Site search
While shopping online, few experiences are more frustrating than not getting the product you require. To fix this issue, consider joining site search to your eCommerce store.
To optimize for customers utilizing site search, you should assess:
Product users search for doing the comparison with products they click.
Products that are sent to the cart from site search.
Products that are finally purchased.
Product combinations that are seen and bought.
Once you learn how your site search performs, you can return more thoughtful and consistent results that meet customer expectations.
11. Forms
When in a dilemma, allowing more ways for a possibility or customer to contact you will continually improve their experience. Consider adding a form or email address on your website for common inquiries.
Alright, so now your users are ready to buy. In addition to offering a seamless and mobile-friendly checkout experience, you should think about how messaging and merchandising can add to your bottom line.
12. Analytics
A crucial part of your job as an inbound marketer is to:
Determine how to track your progress and failures (i.e., what's working, what's not, and why), and
Determine how your inbound marketing activities are advancing your organization to meet its overall business goals and objectives.
Keep these tactics in mind while considering how you want to retain your audience on your website.
13. Marketing Automation & Lead Nurturing Workflows
Research by HubSpot shows that 67% of marketers are utilizing automation. At the same time, 70% of companies that automate state a benefit of better-targeted customer communication.
Marketing automation can support you in achieving many objectives; among its advantages is the ability to automate and scale lead nurturing workflows that improve your content in alignment with the buyer's journey and prospect behaviours.
The automation enables users to apply logic and behaviour to produce targeted, effective automated workflows. The use of marketing automation is expected to grow, and businesses can imitate tactics deployed by the most successful market leaders to attain similar success.
Automation typically replaces the cold call with contextual marketing, working as a win-win for prospects and your sales team.
14. Video Content
We could put video content under a more broad category called "content publishing," but like blogging and advanced content, video deserves its section all its own. Online video content has exploded, and it's expected that video traffic will make up about 80% of consumer internet traffic by 2023! So there's really no better time than right now to utilize video as part of your inbound marketing strategy.
There's a broad array of video content in the modern manufacturing space that can strike the interest of your prospects, including product demos, customer testimonials, capability demos, case studies, video presentations, and vlogs. The purpose here is to educate your audience and let them know the value of your products or services.
15. Take That "Thank You" Page Up a Notch
Traditionally, people consider thank you pages merely the web page that provides them with the offer they requested to download or fill out a form. But, thank you pages are added opportunities to contribute value and engage with customers. For example, think about adding a call to action, such as a survey, webinar, event invitation, or promotion—or utilizing the thank you page to showcase new content offerings.
16. Search Engine Optimization (SEO)
Since we have talked about the significance of blogging and advanced content, but without a search engine optimization strategy, this content might never be discovered organically in the first place. Therefore, SEO is integral to almost every part of a solid inbound marketing strategy. Quality SEO starts with keyword analysis and a well-defined keyword approach that homes in on words and phrases your target personas are likely to be searching — those that address their pain points.
While many other circumstances influence SEO, including website user experience (e.g., mobile-first design and website security), it all begins with determining the best keywords based on your potential buyers and building highly targeted content around them.
Conclusion
We hope you found this article valuable on inbound marketing. If you want to know more do let us know in the comments.
Read More: