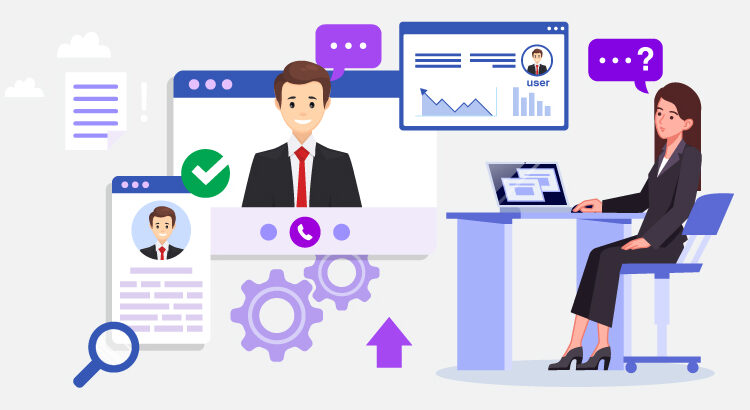 How to give a successful interview online in 2023
The COVID-19 pandemic has revolutionized the way the whole world works. When it comes to work and jobs, a paradigm shift has been witnessed in many companies' functions and the way they hire people. As the pandemic made us work online to control physical touch, therefore there is a rise in remote job interviews trend. Since how to give a successful interview online are new common, thus nervousness before an interview is a common affair.
Nowadays, interviews are being conducted online, many things have been changed, and you may encounter new challenges to overcome.
While the standard rules continue the same, some things do vary when the process of the interview becomes digital. Earlier, a candidate would walk into an office environment already prepared for an interview.
Now, the environment will depend on how you choose to set it up on your end. In other words, you have power now, and you must use it wisely, so if you are looking to know how to give a successful interview online, then read the tips below to get succeeded. 
Let's have a look at some tips now.
How to give a successful interview online
There are numerous ways that will help you find a new job. Here are a few tips that can help you equip yourself on how to give a successful interview online without making too many efforts out of your comfort zone!
#1: Position yourself carefully
While you are on a video call with your friends or family, some of them might be hardly audible and/or visible. You need to keep in mind that it can also happen during an online interview. Thus, pick a room with natural lighting on the interview day so that you have a neutral background that looks great.
In case if there is no neutral background available, then it is advisable to put a sheet behind yourselves or use a plain Zoom background (practice with both beforehand). Make sure that your laptop has good speakers; if not, then it is better to use hands-free/earphones.
Otherwise, every time the panel puts forward a question, you might keep asking them to repeat it.
#2: Don't open multiple tabs and turn off notifications.
It is another important tactic that is common for both your online interview and physical interview! Just like having a real conversation, don't begin reviewing your email in the middle of your virtual interview. Even if your video is not switched on, it only diverts you.
Moreover, the notification 'ping!' can be misleading for the interviewer also. Receiving notifications can throw you off if you are already nervous. So shut all other windows, tabs, files on your computer. It will also improve your internet connection speed and enhance your chances of not having a technical glitch.
#3: Multiple test runs!
When you are ready to give an online interview, it is advisable to run a test run first. Just like a physical interview, you can prepare for a test interview with a friend with some recent interview questions at the same time of the day when the interview is scheduled for.
If you are using WiFi, then make sure that other house devices are disconnected to avoid internet glitches during a call.
A test run will also let you see what could become a pain point on D-day, and you can try avoiding as many problems as possible. If your connection is uneven, you might need to consider installing a WiFi booster. On the final day, you can log in about an hour beforehand so that last-minute updates do not pose a problem.
Moreover, be careful about details such as your full name, spellings, profile photograph, etc.
#4: Practice, practice, and then practice some more
It is one of the most important tips in this blog on how to give a successful interview online. If you have given any speech in high school, you may have rehearsed a lot in front of a mirror. In case of a video call, you can record yourself conversing.
This will benefit you to get comfortable with the technology and encourage you to understand what you can improve. 
Start practicing your introduction and watch the recording.
Determine whether you want to mirror your video.
Practice hand gestures, and notice if you want to remove anything distracting from the frame
#5: Body language
While giving a physical interview, you are in a particular room with several other factors. But in a virtual interview, you are the only thing to focus on for the panel. Particularly during an admission interview, when the panel has to communicate with many people, making a lasting impression is crucial. Apart from what you deliver, your body language also plays a vital role in it.
This is another reason why recording and practicing yourself is essential. There may be a few gestures that you don't even realize you are doing until you view them on camera.
Also, always look into the camera. Eye contact is significant during any conversation. But when you are on Zoom/Skype, you have to look at the camera, not at the person on the other side. So you can maybe adjust your computer to be at your eye level (use books or a table).
#6: Go for a full-dress rehearsal!
It is one of the basic yet useful tips: an online interview or a normal one. Go for a test with the clothes you are planning to wear on the final day. Go for something that contrasts with your chosen background.
For instance, good formal attire (normally mandatory in job interviews) is a plain shirt button-up shirt. But, if the background is white too, you might need to consider carrying a black blazer over it or changing your shirt's color. You can also avoid:
Stripes – they can be distracting, and if your bandwidth is low, it can be strobing.
Patterns like triangles and diamonds – can cause undesirable noise in the video.
Shiny, sparkly clothes – the light might ponder, and you will be unaware of it, but the other person might find it distracting.
Dangling jewelry or hand ornaments that can fly around when you move your hands or head.
#7: Be prepared for out-of-the-book questions.
As the times have drastically evolved over the past few months, so have the questions meant for candidates. Young minds looking to enter companies or higher education are supposed to know answers to questions such as 'How can the COVID crisis be handled better?'. These questions need short but meaningful answers. Research and be prepared for such questions.
Ask them issues about work/education culture in their institution in the times of corona. There is a thin line between inquisitive and downright interrogating them. So ask things you are curious about because you cannot physically experience the place you are interviewing for.
Some bonus tips on how to give a successful interview online!
Talk to someone who has had experience with online interviews; it is okay to ask for help.
If you perceive that the interview time might clash with noisy chores around the house, it's alright to request a rescheduling; these are tough times.
Equip yourself beforehand to face issues that might occur during the call. Don't lose your cool; tell them that there is an issue and reconnect—practice managing them if they do occur.
Be aware of your surroundings.
Wrapping it up
Finally, remember it's just an interview. Be positive, and remember that you have a lot more authority over space. You don't have to use six subways and navigate a new area to get to the place you require to be in. You have to travel to the next room. There is lesser pressure, and you won't arrive flustered to the interview.
It's just that the interviewer/panel wants to see how you conduct yourself in person. Keep that in mind, and don't be too stressed once the interview begins.I hope this blog helps you understand how to give a successful interview online.
All the best!
Read more: