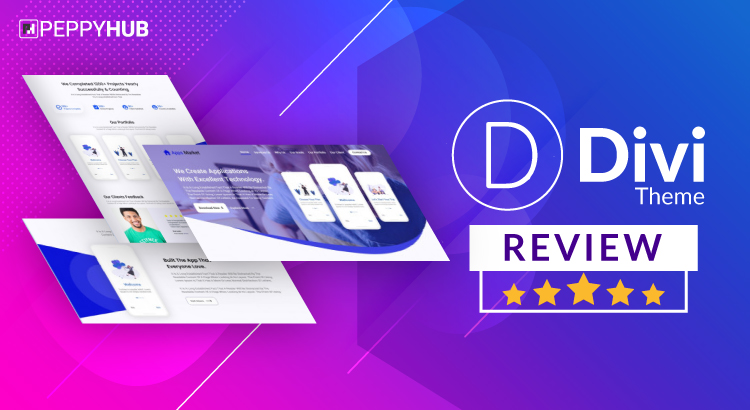 Divi Theme Review 2023 : A Useful WordPress Theme Builder
You may have heard about this theme, but if you are still unsure whether it is the right choice for you or not? Don't worry; we're here to help you. In this Divi theme review, we will look at everything:
What things work brilliantly well.
What could serve better?
What you could utilize it for.
Where and who should avoid utilizing it.
After that, you can decide whether you want to proceed with it or not.
Let's look at all the aspects one by one.
What we will cover in this Divi Theme Review
What is the Divi WordPress theme?
Introduction of Divi 4.0
Divi Theme Pros and Cons
Divi Pricing
Divi Theme – Features Overview
Different aspects of the DIVI theme are
Divi Layouts and Page Templates
Divi Theme Builder
Documentation and User Support
Security
1. What is the Divi WordPress theme?
Divi WordPress theme was first started in 2013 but has been through several significant updates that constantly improve the product making it one of the most common options in the multipurpose WordPress themes category.
This Divi theme review covers the functionality released in Divi 3.0 and Divi 4.0.
The Divi comes in two styles. The WordPress theme and the Divi plugin, officially recognized as the Divi Builder. Utilizing the plugin, you can utilize the page builder functionality of the Divi theme to any WordPress website, irrespective of the theme you use. Remember that the Divi theme and Divi plugin cannot be bought separately; they are both parts of the single bundle price. You will later understand how this is still deserving because, for one single price, you get access to ALL of the products from Elegant Themes that you can apply on an unlimited number of websites.
Let's start digging into the various aspects of Divi.
2. Introduction of Divi 4.0
As we have mentioned earlier, Divi has released several major product updates. The Divi 4.0 theme began the Divi theme builder and was released in October of 2019.
The significant aspect of the Divi 4.0 release is the brand new Divi Theme Builder. Using the already thriving Divi builder and modules already, you can customize all areas of a website.
The Theme Builder takes control of the built-in Divi builder and extends it to all areas of building a website, enabling you to build:
custom headers,
custom footers,
product templates,
blog post templates,
404 pages
category pages,
and more.
You can customize any part of any page of your website. It means that you're not just customizing the several aspects of what is already built, but you can create the different components yourself from scratch to match your specific needs.
Not only that, but you can also pick which post, page, category, etc., you need your custom templates applied to.
The new version has drawn together some of Divi's most powerful features, including the Dynamic Content and WooCommerce Modules, together with the astonishing design power of the builder itself to give you complete control over your whole website.
Before we move ahead in this Divi Theme review, it's time to look at its pros and cons.
3. Divi Theme Pros and Cons
Pros
A proper multipurpose WordPress theme that suitable for any project. Using the site layouts, page templates, and vast array of website elements and modules, it is easy to create an excellent result in any niche.

Powerful page builder – The Divi builder has come of age and is an excellent tool to use to improve productivity, no need for using an additional page builder with the theme.

Full WooCommerce support – WooCommerce is fully supported both through the site layouts and various customization options.

Theme builder capabilities – Divi 4.0 has taken the customizations to the next level through the theme-building capabilities added to the theme.

Regular updates and improvements – The Elegant Themes team is on the ball and has frequent major updates and improvements. They are also one of the strongest vendors in the industry.

Good support and documentation – Divi has an excellent community around it, and the vendor has a good support system together with detailed and helpful documentation.

Excellent value with lifetime updates – the pricing of this WordPress theme provides excellent value, especially considering that you get the theme, the page builder, the Extra theme, Bloom and Monarch plugins, all of which you can use on unlimited sites. Lifetime access gives you unlimited sites, unlimited updates, and unlimited support.
Cons
The vast feature set, the long learning curve – The sheer number of features available might make it overwhelming for anybody who has not used a similar concept before and might take some time to master.

Shortcodes are embedded – Given the way the Divi builder works, most pages will have shortcodes embedded in them that might make it harder to move away from the theme once you start using it, especially for custom-built pages.
Now move forward in this Divi theme review to check its pricing.

4. Divi Pricing
The next part of our Divi review is something you'll also need to consider – the price. The great thing is there isn't much to think about with Elegant Themes when it comes to pricing.
You simply cannot beat the value offered by Elegant Themes. We haven't come across any other offer like this one.
Divi comes in two pricing options:
Yearly Access
Lifetime Access
Yearly Access is priced at $89, while Lifetime Access is priced at $249.
While if you had to compare this price to other products (let's say Avada at $60), there are a few differences that you need to be aware of.
You can use Divi on unlimited websites (other WordPress themes require you to purchase a new license for each site),
You get access to ALL products from Elegant Themes (including the Extra theme, Bloom, and Monarch plugins),
You can use any of the 110+ full website layouts,
You have unlimited support,
You have a 30-day money-back guarantee.
Now, comes the most significant part of this Divi theme review where we will be looking at features and analyzing them.
5. Divi Theme Review – Features Overview
Some of the highlights of this theme include:
Divi builder – Elegant Themes practiced one of the major releases (3.0) to build a new version of the Divi Builder. The backend builder and the front-end builder now display a live version, updated in real-time; you'll understand what the result will look like – a whole What You See is What You Get page.
Hundreds of high-quality templates, multiple page layouts, and site layouts – to assist you to speed up the process of generating a website, Divi comes bundled with a large list of 800+ ready-made, high-quality templates for different pages (using various types of common page layouts) and 110+ complete site layouts and designs catering to different niches.
40+ Website Elements – Modules are the building block of the Divi theme and page builder. There are over 40 modules or website elements to pick from, comprising Call To Action, Sliders, Galleries, Contact Forms, Testimonials, Comments, Portfolio, Blogs, Counters, Pricing Tables, Dividers, and many more.
Drag & drop + responsive – The next important thing is that rather than editing a visual representation, you'll be operating on the actual live blocks. You'll be dragging the actual pieces of content, such as headers, text, images, together with rows and contains. Everything you add to a page or website is completely responsive; you can tweak the behavior of every element for different devices.
No refresh – instant visual updates – The Divi Builder is powered by React and a new standard in real-time visual experiences, assuring that anything you do is updated on the fly. You don't ought to perform any page refreshes to view content updates; everything is visible in real-time, as you can view in the various animated gifs in this article.
Split testing functions – For many of those whose online presence turns around constant small improvements to increase their business, Divi contains built-in split testing features such that you can run tests and optimize accordingly.
Additional WordPress themes and plugins – The procurement of the Divi theme means that you get access to all the products by Elegant Themes. This involves the Extra theme, a Magazine WordPress theme, the Bloom email opt-in plugin, and Monarch – a perfect tool for getting more shares and followers.
Let's start diving a bit deeper into the various aspects of the Divi theme, starting with the User Interface.
6. Different aspects of the DIVI theme
We are convinced this is one of the most significant factors contributing to determining which tool you choose for building your website. A good WordPress theme has a sharp focus on the User Interface to ensure the end-user can get the most out of the product without being overwhelmed, confused, or hampered by the UI.
This User Interface of Divi is intuitive, smooth, elegant, easy, clean, and most importantly, fast and snappy to work with.
This means that while running, you'll find that the theme "guides" you to what you want to do next, in the sense that it is very simple to work with it.
Although older versions of Divi have a problem of feeling very heavy to work with, Elegant Themes have been putting a lot of effort into performance, and these days it is a breeze to work with.
The Divi builder is dead-simple to manage. In essence, to build pages, you first build a "structure" of the page, then drag and drop elements into them.
Once you've done this, click on the + sign, add a Row or website element and then customize it as needed and on to the next.
Each element used to build your pages has many customization options that you can use to create the design that you require. For example, check out the below.
The followings tabs are available as part of the customization options of each website element:
Content – deals with the actual content in the website element
Design – parameters for such stuff as spacing, sizes, borders, shadows, transforms, animations, etc.
Advanced – responsiveness visibility, CSS classes or IDs for custom styles, Custom CSS, transitions, positions, and scroll effects.
Splitting these into multiple tabs keeps things organized and clean. For example, in the Advanced tab, you can decide whether or not you want to tune the responsiveness feature of the current element or whether you want to add custom styling.
But since these are Advanced options, they are kept out of the way most of the time. This is a very clean interface that is a pleasure to use. No clutter, no overwhelming lists of options.
Just the necessary stuff in the right places at the right time.
46 Modules or Website Elements
If you were worried about not having enough elements, we believe the below display of ALL the available content modules should calm your concerns.
These modules are an essential part of the Divi builder. There are separate modules for different page elements, most of which we have mentioned above.
A sweet feature we've found to be great is the Undo function that includes autosave and history of the actions you've taken while designing.
Users can simply ctrl+Z or command+Z to backtrack the last actions.
We've already discussed how various aspects of Divi are very easy to use. But we'd like to stress this point even further.
The team from Elegant Themes has always given the ease of use a priority in developing their products. Rather than aiming their products at experienced users who know it all and figure things out even if they are not too straightforward, Elegant Themes has taken the opposite direction.
They create products that are easy to use for everyone. Whether it's your first time developing a website, or your thousandth time, using Divi is simple and intuitive.
This doesn't mean that the product doesn't have a learning curve. In reality, Divi has a different user experience than that of the default WordPress per see, so you'll need some time to familiarize yourself with the way it works. Once you do, though, you'll be more productive than ever.
Divi is highly portable. Given that one of the target users are designers and agencies, who will want to reuse some stuff between websites, Divi makes it easy to transfer layouts and other assets between WordPress sites.
7. Divi Layouts and Page Templates
Another feature that deserves a special mention is the Divi Layouts and Page Templates.
As somebody planning to create a new website, you've probably got a design in mind. However, creating this from scratch will take some time. Moreover, if you haven't got much experience yet, it will be harder for you to develop a pixel-perfect design.
This is where Site Layouts and Page templates using different page layouts are a winning formula.
Site Layouts allow you to choose an existing, fully-design site layout and import it into your website. This will create a full website for you, with your only job from there onwards being the customization of the actual content to your own needs.
As you can you can choose from in every conceivable niche, including:
Restaurants, cafes, and other food-related businesses
Various types of creative and other agencies
Fashion and beauty
Service-oriented businesses such as construction, plumbing, etc
Sports, fitness, and wellness
SaaS companies, corporations, and other businesses
Educational institutions
Various types of eCommerce and online shops
Medical sites and clinics
and plenty more
Each of the complete sites above will have different page layouts that can be used depending on the area of the site, such as:
homepage
blog layout
single sidebar or multi-sidebar
no sidebar
And other common page layouts.
7.1 Your Reusable Content
If you are a designer or a creative agency, you can also design your page templates and full site layouts and save them to reuse in the future. These become part of the Divi Library.
In this way, you don't have to redo pages repeatedly every time you have a new client, especially if you operate in specific sectors that tend to have similar content. This feature can also be used to create different versions of similar pages, such as creating various landing pages for running campaigns.
You could create the basic skeleton of the page, save it as a page template, and then reuse it repeatedly to create different versions.
This is a great timesaver.
7.2 Languages and RTL
The Divi theme is fully multi-language enabled. Elegant Themes have long understood that this is an important feature of any product and have made the Divi theme fully translatable into 32 different languages!
That also includes RTL languages thanks to the Right To Left Support; the theme can automatically switch to RTL mode.
8. Divi Theme Builder
Let's have a deeper look into the Divi theme builder, a brand new feature of Divi 4.0.
With previous versions of the Divi theme, customizations were mostly restricted to building custom posts or pages. This has now changed thanks to the Divi Theme Builder!
As the name implies, you can now use the Divi theme builder to customize all and any part of your website. The beauty of this is that you'll STILL be using the page builder tools you already know and love!
No need to learn a new system just for this. If you can design a beautiful homepage, then you already know how to design a beautiful theme builder template with the ability to customize any page, section, header, footer, archives, or anywhere else you'd like to design to your specifications.
8.1 Full Creative Control
Accessing this will bring you to the new Divi Theme Builder page, where you can see all of the templates you've created and where they're currently being applied to.
We defined a Global Header and Global Footer that will be displayed on all parts of the website. Then, we have different templates for All Posts, 404 pages, All Category Pages, All Products, and Blog.
As you can see, with the theme builder, one can now design ANY page or ANY parts of a website. This is the power of the new theme builder released recently.
8.2 Custom Headers and Footers
Typically, you'll want to create a global custom header and footer templates first as the default website template.
Once you've done this, you can now customize these templates. Once you apply these, the header and footer of your website will change to display your custom new custom designs.
Before v4.0, you would need to install third-party plugins to customize Divi's header and footer areas. This is no longer necessary; you can customize everything directly within the theme itself!
You can add any elements to your header and footer. From navigation menus to logos to countdown timers and other dynamic content – pretty much all of the 40+ Divi modules are available for you to use.
Below, you can see what a page looks like in a default Divi installation.
With the new theme builder, this same page can now look like this. You can see that there is a completely new custom Global Header and Global Footer.
While the body remained the same, the header and the footer are now completely customized to your specific needs.
All of this is made possible thanks to the Divi Theme Builder.
Tip: this custom header and footer layout template can be downloaded from the Elegant Theme's official website!
8.3 Custom Body Layouts
Now that we've seen the possibilities for the headers and footers, let's look at what can be done to the body of Divi pages.
By now, you know that you can use the page builder to create custom pages, like your homepage, about page, or any other page. You can even use it to create custom blog posts and products!
If you're a designer, you know it can get tedious to create a page builder template and then export it every time we create a new content piece.
It would be much better to create custom body layout templates that can be created and edited once and be applied to the entire site! This is where the custom body layouts come in to make life better.
With custom body layouts, you can change the structure of such pages as
archive page,
404 pages,
Search results page,
blog posts,
products,
etc.
8.4 Divi Leads
We've mentioned the Bloom plugin several times during this article. Bloom is essentially an email opt-in plugin that you can use to generate leads for your business.
But Divi goes further than this using the Divi Leads tool, which also features a split-testing function.
As you know, one of the major reasons for building a website is to generate more revenue. This starts with getting good leads. And if you want to maximize your site's revenue, you need to be at the top of your game when it comes to leads.
Small improvements in your lead-generation mechanism can lead to drastic improvements hence why the unique split-testing feature of Divi is a remarkable unique selling point.
Discussing Divi Leads in detail here would take a whole new article; that's why we suggest clicking the link to understand more about how the Divi Leads optimization system works.
Suffice to say you can perform:
Create variants of pages
Define the goal of a test subject
View test results in the form of clicks, sales, conversions, bounce rate, reads, goal engagement
See a full visual analysis of the test results.
In reality, everything you need to perform full testing for optimization of lead generation. Note that services that perform such testing typically are priced as a monthly subscription service, so this is saving you a ton of money!
The split testing is integrated into the Divi Builder.
To run a test, you simply have to choose the page element you want to test, let's say a form, then enable Divi Leads for that element.
You then create the second version of that element; this will be the variant. The tool will then automatically show one version to part of your audience and the other version to another segment of your visitors to ensure a fair distribution.
Each test also defines a goal, such as clicks, conversions, reduced bounce rate, or visiting a new page. Once the test starts to run, it also generates statistical data so that you can discover your conversion winner and stop the test and enable the winning variant.
9. Documentation and User Support
9.1 Detailed Documentation
Despite the simplicity that the Divi theme offer, if you ever find your way in unfamiliar territory, there is good, detailed documentation to help you out. The documentation is well laid out and gives plenty of good examples of how to achieve results.
The documentation also contains plenty of video walkthroughs to see something being done, and follow it, which is a preferred learning method. Also, the YouTube channel from Elegant Themes is full of useful tutorials.
Besides the documentation, users of Divi have access to full support.
9.2 Messenger Support
The primary support method comes using the chat or messenger found on the Divi website. Simply click on the chat icon and start a conversation with any member of the team. The responses are prompt and helpful. Support is responsive, helpful, and prompt.
9.3 Facebook Groups
There is also a Divi Theme Users Group on Facebook where the community helps out each other. There are more than 50,000 members in this group at the time of updating this article.
Several other unofficial Divi user groups ask and help each other out with basic and advanced queries. And there are tens of thousands of articles about the various aspects of using Divi.
If you plan on using Divi but are not sure whether there is enough support, you can see from the above that there will be plenty of places to find help.
10. Security First
Even though WordPress is secure enough not to have many security concerns, we know that there have been more than just a few vulnerabilities in the past few years. Divi has also had its vulnerabilities.
The great thing is that the team from Elegant Themes is very quick to respond to such security issues with prompt updates to patch any flaws.
In general, Divi uses secure and safe coding practices that handle any security concerns like no other product. The theme has also been secured and certified as safe by WordPress security company Sucuri through a complete code audit.
Divi theme Review: What's new?
For the most part, very few things have changed on how you would use the Divi Theme Builder (formerly known as the Divi Page Builder). You can go to any supported post type and edit them using the good old page builder as usual.
The UI also remains largely the same. It's the same theme that you're familiar with.
If you haven't used Divi before version 3.0, you can pick up everything pretty easily. There are changes, but these are minor, and you will easily find your way through them.
The only major changes are in the Theme Builder. 
The usual Divi menu in the admin dashboard now has a sub-item called "Theme Builder, " which is where most of the new stuff can be found.
Final Thoughts
We have that you find this Divi theme review useful. We recommend you to read it till the end to know more about it. If you like this review please like and share it.
Bonus Read: