7 Website Personalization Tools to Boost Engagement
Personalized content is key to boosting engagement on your website. There are a variety of personalization tools available to help you customize your website content to fit your audience's needs. Here are 7 of the best website personalization tool to consider using on your website:
Best Website Personalization Tool To Try
1. NotifyVisitors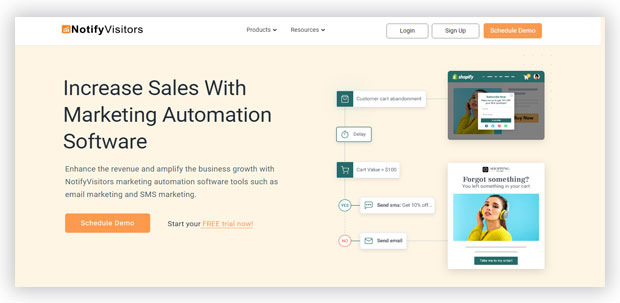 NotifyVisitors offers website personalization tools that take website engagement to the next level. Their unique approach uses real-time data and advanced analytics to identify returning and new website visitors, allowing website managers to customize content to end-users.
NotifyVisitors also tracks user behavior on a website, stores it in a database, and enables intelligent suggestions for website messaging. The result? Increased website conversion rates and more satisfied website visitors. Get ready to watch your website engagement soar with NotifyVisitors' personalization tools!
2. Google Analytics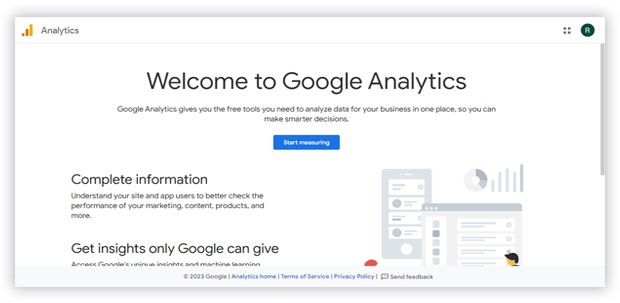 Google Analytics is a powerful website personalization tool that provides website owners with an in-depth analysis of website visitor behavior. It helps website owners to measure website performance and optimize user experience by identifying which website elements are most successful and converting website visitors into customers or leads.
Google Analytics also provides helpful reporting features such as keyword tracking, website search insights, and referral source tracking. With its comprehensive data set, website owners can tailor their websites based on user preferences to create more efficient and engaging experiences for website visitors.
3. AdRoll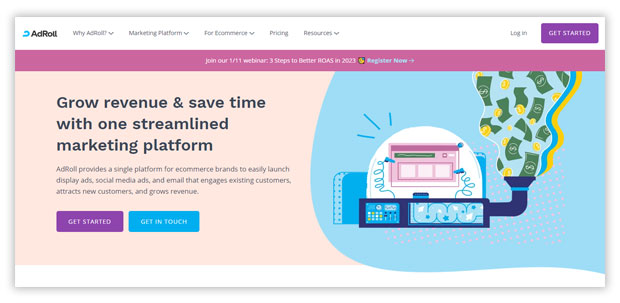 AdRoll is an innovative digital advertising platform that helps businesses of all sizes take their marketing to the next level. It offers a suite of powerful and easy-to-use solutions designed to reach customers more effectively. With AdRoll's cutting-edge targeting solutions, you can tailor your campaigns to match exactly what your target audience will want, ensuring that every ad you create reaches the right people at the right time.
You'll also be able to track results and analyze which activities are having the greatest effect on conversions and sales. What's more, it's incredibly cost-effective making it a great tool for any business looking for a high return on investment online marketing strategy.
4. Crazy Egg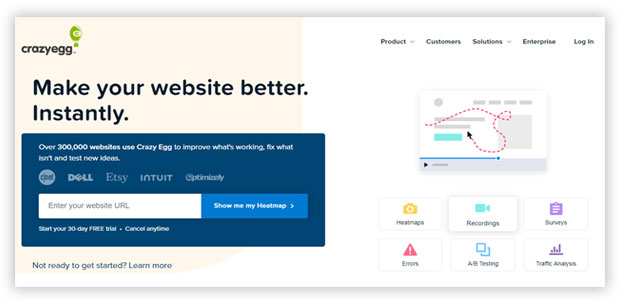 Crazy Egg is an innovative website personalization tool that allows website owners to understand their website in a much more substantial way. It enables website owners to view website performance from each aspect, such as where website visitors click on the website and how far down website pages they scroll.
The data provided by Crazy Egg allows website owners to see which elements on their website work, giving them the opportunity to learn what not to do or where there may be room for improvement. Through the use of this powerful tool, website owners can rest easy knowing that they have made decisions based on the proper data delivered by Crazy Egg – ensuring success in all aspects of their website marketing endeavors.
5. OptinMonster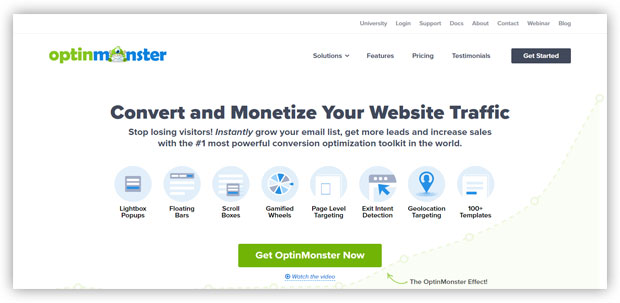 OptinMonster is a powerful software that helps businesses increase conversions and maximize their profits. It enables users to create customized popup forms that convert visitors into subscribers, leads, and customers. With an intuitive drag-and-drop builder, designing high-converting options with OptinMonster is effortless and fun.
It includes features such as exit-intent technology and campaigns that can be A/B tested for maximum success. It syncs easily with many email platforms like Mailchimp, Constant Contact, etc., so businesses can take advantage of email marketing within minutes. So if your goal is to increase engagement and attract more sales, then consider giving OptinMonster a try!
6. HubSpot Personalization
HubSpot Personalization has revolutionized the way businesses interact with their customers. By leveraging user data, companies are able to customize content and experiences that align with their particular buyer persona. Not only is this great for businesses in terms of fostering deeper connections and relationships with their customers, but it gives customers an added sense of value and appreciation when they're presented with content specifically tailored to them.
Companies using HubSpot Personalization have seen a marked improvement in user engagement and customer satisfaction, ultimately leading to increased sales. It's clear why this powerful tool has become a modern business essential: personalization unlocks endless possibilities for boosting customer interaction and improving the bottom line.
7. Segment
A segment is an incredibly useful website personalization tool that allows businesses to develop better customer relationships. It works by allowing website owners to create their own unique customer segments, customize website content for different user types, and analyze website and marketing performance to increase ROI.
The segment also offers website automation capabilities, such as email notifications when customers return to the website and triggers when certain conditions have been met, making website management more efficient.
Lastly, Segment integrates with a wide range of data sources, from website analytics to CRM tools, in order to collect customer data and create further actionable insights into customer behavior. With Segment's incredible suite of features, website personalization has never been so powerful!
Conclusion
If you're looking for ways to increase engagement on your website, personalization is a great place to start. By using some of the tools and strategies we've outlined above, you can give your visitors a more personalized experience that will keep them coming back for more.
Have you tried any of these website personalization tools? What other techniques do you use to boost engagement on your site? Let us know in the comments below!
Read More: