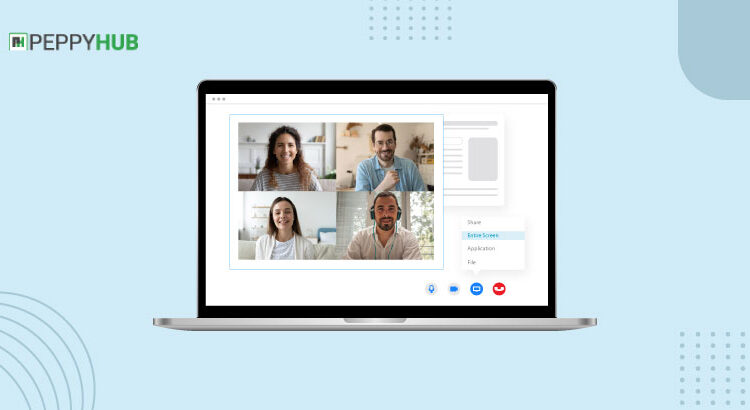 9 Best Screen Sharing Software In 2023
Screen sharing is becoming more and more commonplace, with businesses and remote workers needing to collaborate using the most up-to-date tools. Sharing your screen allows effective communication, no matter if you are in the same office or not. Here we have listed 9 of the best screen sharing software that can help communication within teams as well as between businesses and customers easier than ever before!
These innovative applications can be used for online meetings, tutorials, presentations, demonstrations and more – making them essential for efficient digital collaboration. Read on to find out which app suits your business requirements best.
9 Best Screen Sharing Software
1. Google Meet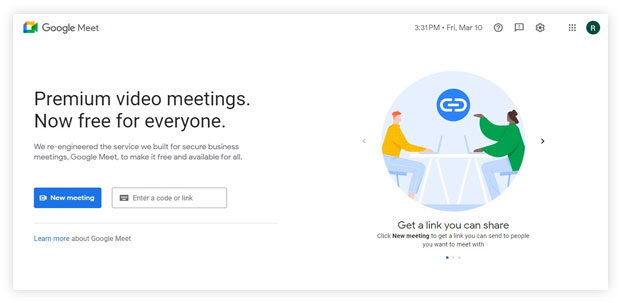 Google Meet is a screen-sharing software that makes it easy for people to collaborate on projects both near and far. With the ability to chat, screen share, and make video calls, conversations become interactive experiences with no time or location boundaries.
The software eliminates the hassle associated with downloads or updates since you can use it directly in the web browser.
With features such as screen capturing, whiteboarding, and breakout rooms there are constant opportunities for workflow engagement even while remote. Google Meet is an essential tool for anyone needing screen sharing capabilities in their business or personal life.
2. Zoom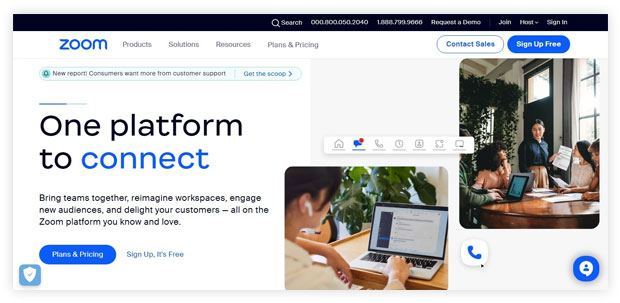 Zoom has become an incredibly useful screen-sharing software to help make remote work and studying easier. By introducing so many tasks and activities that usually require physical presence into a virtual format, many businesses and education institutions can continue functioning during the global pandemic.
Zoom offers a wide range of features along with its screen sharing capabilities such as file sharing, annotations, recording meetings and breakout rooms.
Furthermore, it also provides advanced security features to prevent uninvited guests from accessing meetings. Thus, utilizing Zoom gives users the peace of mind knowing their discussions are safe while relying on the technology to keep connected with others virtually.
3. Slack
Slack is a screen sharing software that offers organizations an efficient and intuitive way to communicate. It provides employees with real time messaging, audio and video capabilities, as well as the ability to share documents and images with one click.
Teams have the option of creating private channels that are dedicated to specific topics, allowing them to declutter their group communications easily.
Additionally, chatbot integrations enable users to automate manual tasks like finding contact information or scheduling meetings, further simplifying tasks for users.
With its versatile features, Slack is revolutionizing workplace communication, ushering in a more streamlined and efficient system of management.
4. CoScreen
CoScreen is screen sharing software designed to make collaboration between people easier and more efficient. With the right technology, tasks can be executed faster and with greater accuracy, and this screen sharing software is designed to offer just that.
It provides an easy-to-use interface that allows multiple users to interact with the same screen in real-time, enabling them to work together on projects or presentations in no time.
Unlike other screen sharing applications, CoScreen ensures a secure connection between users without sacrificing speed or efficiency. For those looking for a powerful screen sharing tool that enhances their productivity, CoScreen is a perfect choice.
5. Surfly
Surfly is a screen sharing software, which enables users to collaborate online without downloading or installing anything. It provides an easy-to-use platform for screen sharing, and has the added benefit of allowing multiple people to be in the same browser window at the same time.
Whether you're creating tutorials with step-by-step instructions, troubleshooting customer issues, providing real-time visuals of your product while talking on the phone, or wanting to share information quickly and securely with colleagues who are geographically dispersed – Surfly can save you both time and hassle when compared to traditional screen sharing methods.
Best of all, it promotes collaboration and reduces the amount of miscommunication that can sometimes occur when some users are attempting to explain details over video chat applications.
As remote working needs continue growing exponentially, Surfly provides a great alternative solution for companies looking for efficient screen sharing technology without compromising on user experience or security.
6. TeamViewer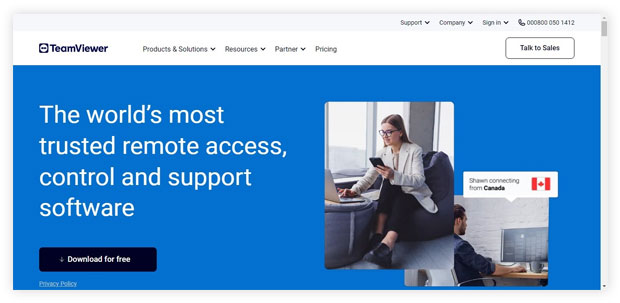 TeamViewer is a screen sharing software frequently used for remote work, allowing users to control a computer from a distance.
This innovative piece of digital technology can be especially useful for professionals in the workplace, helping them to collaborate across different offices or with experts far away.
TeamViewer enables screen sharing and video conferencing, eliminating the need for lengthy emails or confusing teleconferences.
It facilitates more efficient communication by providing real-time connectivity among all members of any group large or small.
Furthermore, it is incredibly secure and reliable, offering high-grade encryption technology that keeps documents and information inaccessible during screen presentations, providing maximum data protection.
With all these features at hand, there's really no better way to stay connected while working remotely than using TeamViewer.
7. Screenleap
Screenleap is a screen sharing software that allows users to quickly and easily share their screen with others over the internet.
This incredibly useful tool makes it easy for business professionals, students, and more to collaborate as if everyone was working in the same place.
By connecting people from different locations all over the world, Screenleap removes any geographic boundaries to make collaboration a breeze.
For those times when screen sharing is necessary, there's no better way than Screenleap.
8. Splashtop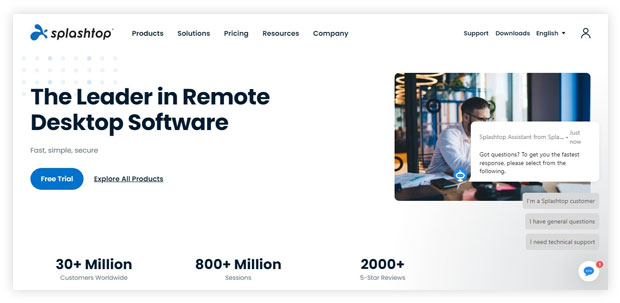 Splashtop is screen sharing software used by individuals and organizations around the world. It enables users to instantly access their computers across multiple devices, allowing them to securely share, edit, and collaborate on documents and tasks from anywhere.
Splashtop leverages its patented streaming technology, providing an extra layer of security and leading to a seamless experience online.
With industry-leading speeds, it's no wonder that Splashtop is gaining in popularity for those looking for a user-friendly screen sharing platform.
From remote support sessions to collaborating with colleagues across the globe, there are a variety of ways that Splashtop can enhance any situation. Simply put – it's screen sharing made easy.
9. Mikogo
Mikogo is a screen sharing software, which makes it easier and faster than ever to collaborate remotely. It offers a range of convenient features, including secure screen sharing, file transfer, VoIP audio chat, text chat and remote control.
With just a few clicks you can share your screen with any number of participants so you can all work together on the same page.
There's no installation necessary – simply join an online meeting as a guest or host, and then start collaborating right away. With its high levels of security and reliable performance, Mikogo is a great tool for any business that wants to stay connected with their remote employees or customers.
Conclusion
As organizations come to grips with increasingly remote workforces, the need for an effective and reliable screen sharing tool is all the more important.
Thankfully, there are plenty of great options available in 2023. The nine best are Screenleap, TeamViewer, Mikogo and much more.
By weighing up each product's features and performance metrics according to your specific requirements, you'll be sure to find the best screen sharing software for your team.
Keep in mind that most products are open to trial runs before purchase or implementation, making it easier to assess value for money and ROI before committing.
Ultimately though each team is different and success depends on how recently updated technologies were used appropriately across all business functions – but if you've done your homework these 9 options can be just what you need.
Read more