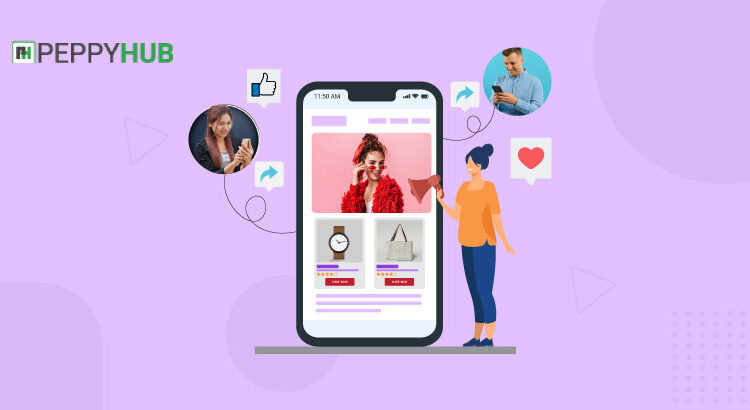 17+ Best Referral Marketing Software [2023 Edition]
Referral marketing is one of the most powerful tools for businesses that want to take their sales game to the next level. It leverages word-of-mouth brand promotion, which heavily influences customers' buying decisions. If you're looking for reliable, powerful, and best referral marketing software to help grow your business in 2023, this blog post has got you covered.
Read on to discover 15+ of the best referral marketing software suitable for any budget or organization size. Plus, we'll answer some of your pressing questions about referral marketing so you can get up and running quickly and efficiently.
Let's dive in to learn about them.
Best Referral Marketing Software for Your Business
1. InviteReferrals
InviteReferrals is the best referral marketing software available today. This comprehensive solution will not only help you build a comprehensive online referral network, but it will also help you track and measure your success over time. With end-to-end tracking, you can see how much each person has contributed to your growth.
You'll be able to see who brings in customers and reward them accordingly – creating a loyal customer base from the start. Additionally, InviteReferrals features customized messages and incentives so that you can target specific customers with offers that best suit their needs for maximum engagement. With this incredible suite of tools, you can jumpstart your referral marketing program and watch your business grow.
2. Extole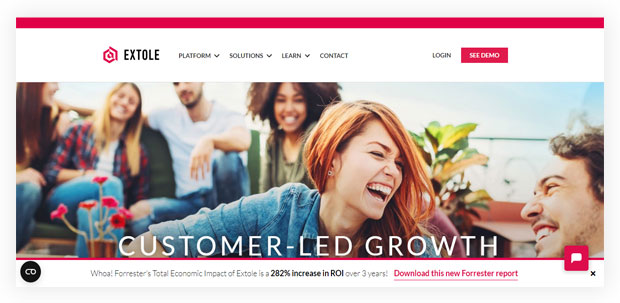 When it comes to referral marketing software, Extole is best-in-class. It provides the tools and solutions that enable companies to easily launch powerful, best-of-breed referral programs. With Extole's advanced features and integrations, businesses can drive strong referral performance through automated emails and custom social campaigns and easily track their growth across different channels. Extole is truly a remarkable tool, enabling businesses to boost their marketing ROI and bring maximum value to their customers.
3. Refersion
Refersion is quickly becoming one of the best referral marketing software programs available. This software allows businesses to easily set up and manage their referral programs to help drive customer acquisition and loyalty. With simple tools, businesses can customize payment types, track all sales activity, build customer profiles and even reward customers with coupons or other promotions.
Refersion's state-of-the-art analytics provides insight into customer behavior, allowing businesses to further optimize their strategies accordingly. As an all-in-one solution for looking after an organization's referral program needs, Refersion stands out from the crowd and is consistently praised by customers worldwide for its efficiency and reliability.
4. ReferralCandy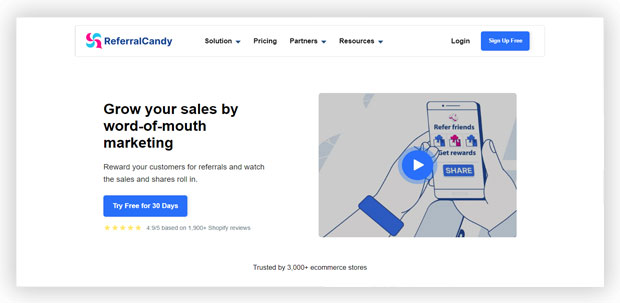 ReferralCandy has been touted as the best referral marketing software due to its capability to help brands grow their businesses and increase sales. It has proven tools that provide businesses with improved visibility for their products and services, which increases customer engagement and drives more sales leads.
Furthermore, Referral Candy amplifies the impact of referral campaigns by incentivizing customers to refer friends, bringing in new customers with lower acquisition costs. Its unique user interface makes it easy to understand and use even for those without technical know-how; this makes it ideal for companies of all sizes looking for a reliable referral marketing solution.
5. Friendbuy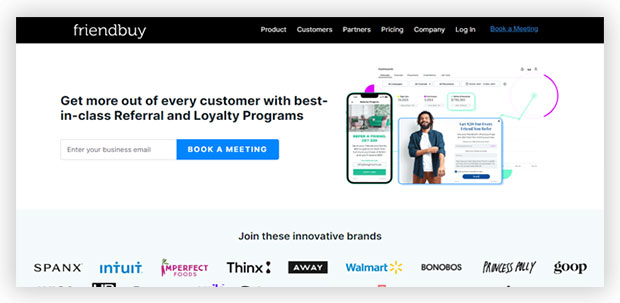 Friendbuy is the best referral marketing software available on the market today. It allows businesses to quickly and easily create custom refer-a-friend programs. It helps improve customer loyalty by allowing customers to spread their love of a company through friends and connections. Furthermore, Friendbuy features advanced analytics and insights – such as real-time segmentation – that help inform strategies and optimize conversions.
All this combined makes it easy for businesses to grow their networks without all the typical roadblocks of referral campaigns, such as complicated processes, crunching numbers, and devising creative solutions. In short, Friendbuy can be a real game-changer for businesses looking to market their products or services more effectively.
6. Genius Referrals
If your business wants to improve its referral marketing, look no further than Genius Referrals. This best-in-class referral software helps you manage existing referrals through automated emails and online tools so that you can generate more referrals. Genius Referrals stands out thanks to its powerful marketing automation and dashboarding features, allowing you to easily create custom campaigns while seeing data-driven insights into who your best referrers are and what kind of incentive works best for them. Additionally, integration possibilities with popular applications such as Salesforce and HubSpot make Genius Referrals even more effective. With Genius Referrals, achieving success in referral marketing is simpler than ever.
7. Viral Loops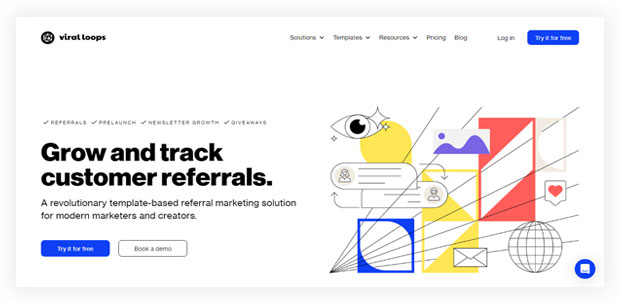 Viral Loops has been praised as the best referral marketing software available, and it's easy to see why. It helps businesses utilize referrals as an effective growth tool and track results accurately. This efficient referral program automates tasks, allowing you to quickly gain insight into various data points, such as the number of sign-ups, conversions, clicks, and more.
Thanks to Viral Loops' sophisticated back-end technology, companies can rapidly accelerate their growth in just a few clicks. Offering comprehensive features that meet all marketing needs and exceed expectations has made Viral Loops an industry leader in referral program software.
8. MentionMe
MentionMe is the best referral marketing software available. It allows businesses to pull in new customers and boost their loyalty programs. With MentionMe, companies can track referrals, monitor performance, measure ROI, and personalize their programs.
Not only does it help companies increase their customer engagement, but it also provides complete visibility when turning existing customers into brand advocates who are eager to recommend the business to others. Overall, MentionMe makes it easy for businesses to develop rewarding referral programs and optimize them for maximum performance.
9. Saasquatch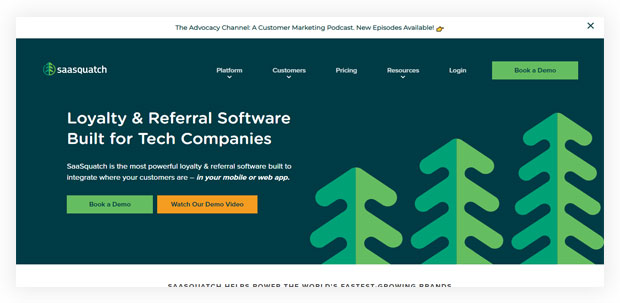 Saasquatch is a best-in-class referral marketing software that allows companies to create and manage effective referral programs. Saasquatch enables companies to maximize their customer engagement potential quickly and with minimal effort. By allowing businesses to leverage social media's power, Saasquatch helps increase brand awareness, generate new leads, and establish trust with existing customers.
Additionally, the integrated analytics dashboard provides an in-depth overview of a company's referral program performance, helping them adjust its strategy for maximum effectiveness. Saasquatch is an invaluable tool for any business looking to capitalize on the immense power of referral marketing.
10. GrowSurf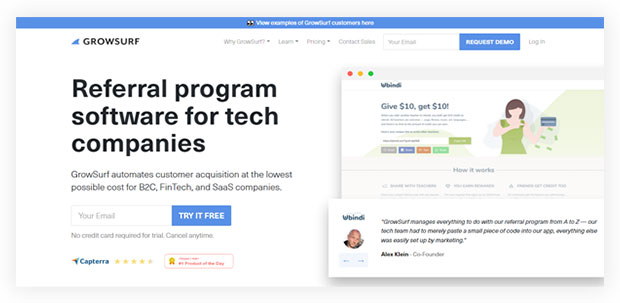 GrowSurf is a best-in-class referral marketing software designed to help businesses of all sizes strengthen their online presence. It enables them to create customized campaigns, tap into new audiences, and grow their customer base efficiently and cost-effectively.
GrowSurf also makes it easy for companies to track the progress of their campaigns in real-time, ensuring that they always stay up to date with the best possible results. Thanks to this innovative solution, businesses everywhere can capture more leads and convert customers quickly.
11. Vyper
Vyper is the best referral marketing software on the market today. It provides tools that let you easily track, manage, and assess user engagement for referral campaigns; views are tracked with unique links free. Their marketing campaigns are automated, saving you valuable time. With Vyper, users can consistently create high-converting rewards-based contests, viral giveaways, sweepstakes, and loyalty programs.
Get the best referral marketing tools when using Vyper! Offering customization options to best suit your goals without any coding knowledge required. Create an unlimited number of rewarding experiences worldwide while driving leads and sales.
12. Referral Factory
Referral Factory is the best referral marketing software available on the market today. This comprehensive software allows businesses to maximize growth with improved customer engagement and acquisition. It provides extensive tools, such as automated campaigns and intelligent tracking, that help you run your referral program more effectively. With Referral Factory, you can measure user activity accurately, analyze customer data quickly and customize your campaigns without taking any extra time or effort. The best part of using this amazing product is that its results are guaranteed – your referral numbers will drastically increase within weeks of using Referral Factory.
13. Affise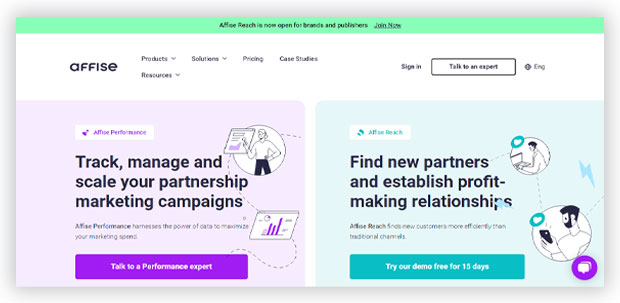 If you are looking for the best referral marketing software, Affise has it all. It offers an array of features that make creating and managing effective referral programs easy. With an intuitive interface, flexible commission rules and payouts, trust-worthy protection systems, customized tracking codes, and more, Affise makes managing affiliates simpler than ever before.
Its highly efficient platform also gives you plenty of opportunities to optimize your campaigns to maximize conversions and drive sales. So if you are looking for the best performance-based marketing solution available today, you should look at Affise to get started.
14. Talkable
Talkable is the best referral marketing software for businesses looking to reward customers for endorsements of their products. With Talkable, customers can use various platforms to spread the word about the company, from a simple share-link on Twitter to more creative ideas provided by Talkable. Customers will be rewarded with discounts and other incentives for referring friends and family. Additionally, companies can get detailed analytics about their referral strategies by tracking clicks and adjusting accordingly. For businesses looking to increase their reach through word-of-mouth marketing, Talkable is an essential element of success.
15. Yotpo
If you are looking for best-in-class referral marketing software, look no further than Yotpo. It is the industry-leading smart marketing platform that provides all the tools and resources necessary to create powerful referral campaigns for your business. Whether you want to reward customers for sharing their content or offer a discount for referring friends, Yotpo can make it happen easily.
With their detailed analytics, AI-powered personalization engine, and automated campaigns, Yotpo will have your online presence booming in no time. So what are you waiting for? Start taking advantage of referrals today with Yotpo's best-in-class software solution!
16. Influitive
Influitive is the best referral marketing software for businesses interested in leveraging their existing customer base and brand communities to fill their sales pipelines. Along with the competitive analytics offered by Influitive, it makes the perfect toolkit to grow your business through referrals.
Thanks to Influitive's impactful campaigns focused on recognition, incentives, and nurturing customer relationships; businesses can create opportunities to reach out to their best customers and turn them into powerful advocates.
17. CrewFire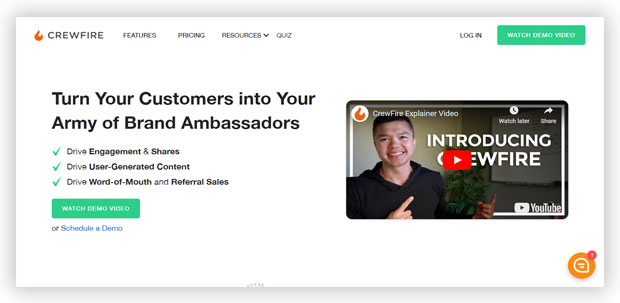 CrewFire is the best referral marketing software for brands, businesses, and influencers. It is an effective solution to get long-term results by helping to attract new customers through word-of-mouth campaigns. The software harnesses the power of social media and user reviews to reward advocates who ignite true brand loyalty with friends and family.
CrewFire offers customer insights and analytics that fuel a focused approach to outreach, enabling businesses to make better decisions based on real-time data, which maximizes their return on investment surrounding marketing initiatives. With CrewFire's customer support, automated feature updates, and cutting-edge technology, finding the best referral marketing software is peerless.
18. Referral Rock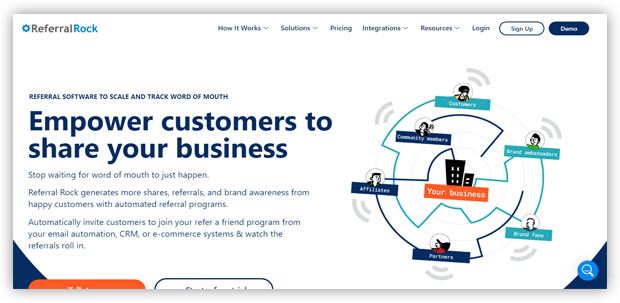 Referral Rock is the best referral marketing software on the market. It allows users to drive more leads, increase sales and build customer loyalty through effective referral marketing. With Referral Rock, you can design, track and manage powerful referral campaigns that generate amazing results for your business. You'll get all the necessary tools to create strong customer relationships, measure campaign performance, and reward participants for successful referrals. With its easy-to-use setup wizard, automated workflows, and reporting system, Referral Rock makes it easier than ever before to turn referrals into success. Take advantage of this cutting-edge software today to help your business grow like never before.
Conclusion
Most of the providers in our list offer a wide range of features, from simple tracking and sharing to robust automation. You can't go wrong with any of them, but we encourage you to try a few before settling on one—especially if you have specific referral marketing needs. We hope this roundup has given you some ideas about the best referral marketing software that is right for your business. Thanks for reading.
Read More: