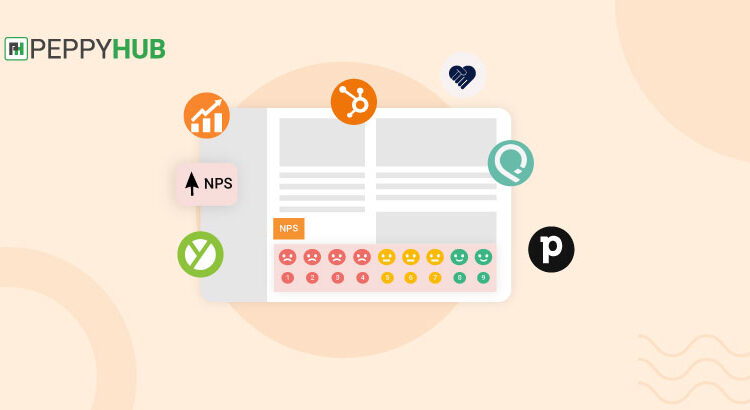 7 Best NPS Software for Your Business to Try in 2023
Customer feedback is crucial for businesses – it helps you understand what your customers think of your product or service, and how likely they are to continue using it or referring it to others. Let's know more about the best NPS software.
That's where Net Promoter Scores (NPS) come in. NPS measures customer satisfaction and loyalty and provides valuable insights into how you can improve your business.
There are a number of different NPS software tools available, so we've put together a list of the 7 best options to help you choose the right one for your business.
7 Best NPS Software for Your Business
1. NotifyVisitors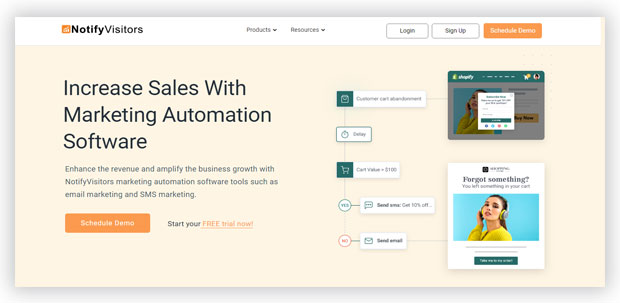 NotifyVisitors has been recognized as the best NPS software on the market, offering an easy-to-use platform and powerful insights for companies.
Analyze customer feedback across channels and departments to understand customer experience better. Their intuitive tools allow you to track user satisfaction over time and identify ways to improve your services.
Not only does NotifyVisitors offer best-of-breed NPS software solutions designed for businesses of all sizes, but it also helps managers easily engage with customers by providing personalized messages, surveys, and promotions directly in their messaging windows.
With its reliable features, wise insights, and simple yet powerful user interface, NotifyVisitors is well-positioned to help companies cultivate customer loyalty faster than ever before.
2. HubSpot Sales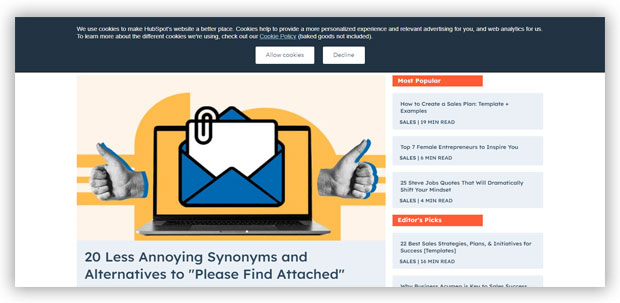 HubSpot Sales is a one-stop shop for sales professionals looking to get the most out of their efforts. This powerful software solution provides users with all the resources they need to make sales, track customer data, and more.
The best part? It's incredibly easy to use, even for beginners. With its intuitive interface, helpful tutorials, and step-by-step guidance that helps you understand how it works within minutes, HubSpot Sales makes selling simpler than ever before.
Combining this platform with other marketing tactics like SEO or email campaigns can make your sales results skyrocket.
3. Pipedrive
Pipedrive is a powerful and intuitive sales CRM that can help any business grow. It provides an easy-to-use dashboard, customizable features, and intuitive reporting. With Pipedrive, you can easily manage leads, contacts, and deals while tracking progress and gaining insights into your team's performance.
You can also work with colleagues in Pipedrive's integrated collaboration platform to maximize efficiency.
Keep your workflow organized with automated tasks, time-tracking tools, and reminders so that no deadline or key action goes forgotten. Thanks to Pipedrive's intelligent automation capabilities, you'll never miss an opportunity to close a sale again.
4. SalesforceIQ Inbox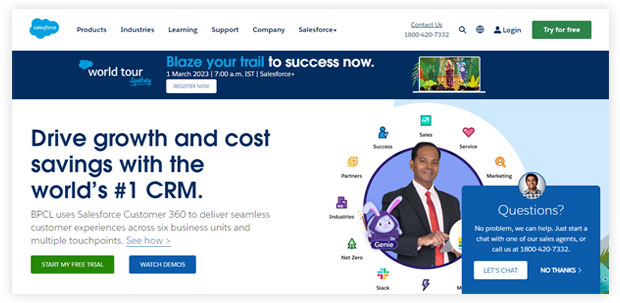 SalesforceIQ Inbox is a unique and powerful platform that brings intelligence and automation from SalesforceIQ to your email inbox.
Combining social-listening, natural language processing, human data insights, and sophisticated analytics transforms how users engage with their customers.
By combining automated messages, user-generated content, and customized follow-up sequences, you can keep up with customer conversations in real-time.
As a result, SalesforceIQ Inbox makes customer engagement faster and easier while freeing up valuable time for more important tasks.
It's an ideal way to use the power of SalesforceIQ to provide an unforgettable customer experience while also generating additional sales leads and improving customer loyalty.
5. Yesware
Yesware is the best NPS software available. It features a powerful suite of tools ranging from simple score tracking to comprehensive surveys, giving businesses everywhere a comprehensive solution that provides insights into customer satisfaction.
The best part is that it's dead simple to set up and use–in no time, businesses can start collecting data and analyzing their customers' feedback.
The features are incredibly intuitive, making it easy to get started quickly. The real-time reporting capabilities give companies the best window into customer satisfaction of any NPS software out there.
With Yesware, your business can leverage customer feedback in no time at all.
6. Outreach
Outreach is an incredibly important part of life, whether it's in a school setting, business environment, or community center. It involves actively reaching out to those who need assistance or help – and sometimes even just a listening ear.
Outreach is about creating connections and making sure that no one feels isolated or ignored. There are so many ways to outreach; from phone calls to emails and even attending events such as town halls, there are plenty of opportunities for anyone to become involved in their community.
It takes courage, compassion, and a true commitment to providing support resources that can make a real difference. If we wish to build stronger relationships between people and create an even more vibrant society, we have to prioritize outreach within our everyday lives!
7. ToutApp
ToutApp is an email automation platform that anyone in sales, recruitment or customer service should consider as it can help them simplify their daily workflow.
Its innovative list-building tool makes it super simple to produce highly targeted lists tailored to the preferences of your team, plus its personalized templates can be used to reach out to customers much more efficiently.
Another plus is that ToutApp has a great analytics feature that helps track click-throughs, open rates, and more – so you can quickly identify how effective each email campaign is.
All in all, ToutApp is an awesome app that any professional would benefit from integrating into their everyday communications efforts.
Conclusion
If you're in sales, there's a good chance you're always on the lookout for new tools to help you close more deals. Luckily, there are plenty of great options out there. I
n this blog post, we've listed seven of the best NPS software available today. Do you have experience with any of these tools? What other sales tools would you recommend? Let us know in the comments below!
Read More: